Updated on April 26th, 2022
Easiest Flooring To Install Yourself

The floor in our house is maybe the most important thing to get right.
Hardwood flooring is a great option, but can be expensive and hard to install. Wood floors requires professional installation and it takes time to get the job done correctly.
There is a way to circumvent professional installers though. You can Install the flooring yourself. Having a DIY flooring project will allow you to save money, and do everything at your own pace.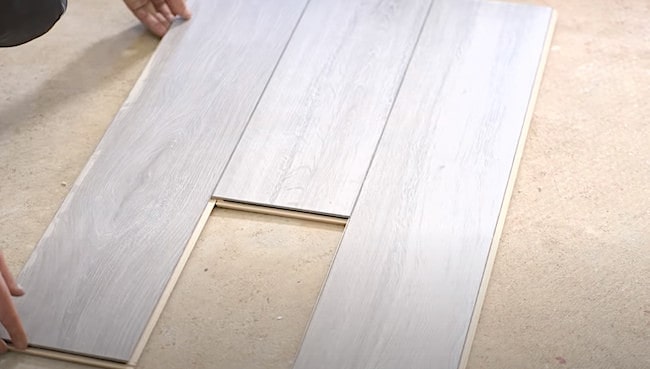 There are many DIY flooring options to choose from: paint over your existing floor, lay down porcelain tile, use luxury vinyl tiles and more.
However, the perceived size the new flooring will have on your rooms is an important consideration. Depending on material type and color, the flooring can be installed to make your room appear bigger or even smaller depending on what feel you are going for.
Vinyl Flooring
As a result of the PVC used to manufacture vinyl flooring in the form of sheeting, tiles, and planks, this type of flooring is long-lasting and waterproof.
Vinyl sheet flooring is one of the least expensive flooring options on the market, it requires only occasional cleaning. It can last for up to 25 years if you manage a proper installation and maintain it well.
Vinyl floors, whether they are vinyl sheet flooring, a luxury vinyl tile, or peel and stick tiles, are a good DIY flooring option because they are easy to install.
Plank vinyl is the most cost-effective way to get the look of expensive hardwood or stone flooring without the high price tag. Because planks can be purchased in smaller quantities (unlike sheet vinyl), the installation process is simplified.
Peel-and-stick or click-and-lock methods can be used to install vinyl planks. Even if you've never done any home improvement work before, installation is usually straightforward!
Laminate Flooring
Laminate flooring is one of the easiest floors to install and it's also extremely durable, making it ideal for areas with a lot of traffic.
Laminate is a great hardwood floor substitute if you like the look of wood but don't like the price. It is also easy to install, and it can last longer if you clean it properly using this 6 step process.
Nonetheless, what is laminate flooring, and how does it differ from other flooring options? Similar to vinyl planks, it has a core layer, an image layer, and a wear layer.
As a composite product, laminate is also available in click-together boards. If you're looking for an easy-to-install floor that doesn't require a contractor, this is it.
As an alternative, there are a limited number of boards that can be attached with glue or nails.
It's important to remember that some types of flooring require acclimatization before installation. Because of the wood core in laminate flooring, this makes it one of those types of floors.
Before installing your laminate planks, allow them to rest for two days at home. Take your time, and don't rush!
Engineered Hardwood Flooring
Installing engineered hardwood flooring as a floating floor is very common.
It is possible to get solid hardwood with click-together joints, but it's not common. It's also challenging to install solid hardwood because it must be nailed, stapled, or glued to the underlayment.
Contrary to popular belief, click-together floating floor configurations of engineered wood are as simple to install as those of laminate or LVT.
Engineered hardwood floors may not be the easiest flooring to install, but they are going to pay off since they are of higher quality than vinyl planks or carpet tiles. This is especially true since they are a kind of water-resistant flooring which can be cleaned using cleansing floor gadgets and may be refinished depending on the wood thickness to remove unwanted scuffs or scratches.
Painted Wood Flooring
If your existing floors are wood flooring or laminate flooring, you may want to consider painting your floor.
The only tools you need for this DIY project are a paintbrush and a bit of paint. You would be surprised how much better you could make your floor look in just a few hours if you only paint it over.
Carpet Tiles
The modular carpet floor tiles are a brilliant idea, in our opinion. With a wide variety of patterns and colors to choose from, they're one of the easiest flooring options to put in place.
Installing carpet tiles is a simple task that requires no special skills. Everything is just a matter of peeling and sticking.
A double-sided carpet tape, a utility knife, a tile cutter, and a measuring tape are all you'll need for this installation process.
We can assure you that the equipment you'll need to lay your carpet tiles correctly isn't prohibitively expensive.
All you need to do is cut your carpet tiles into carpet squares, and lay them down how you please. It is very easy to install.
---
Frequently Asked Questions
✓ What flooring is warmest?
Carpet flooring is the warmest and as a general rule, the thicker the carpet, the warmer it will be to touch. Carpet and carpet tiles are also one of the easiest floorings to install, however, it isn't suitable for every room such as kitchens or bathrooms.
✓ What is cheaper to install, carpet or vinyl flooring?
Taking into consideration installation costs AND upkeep costs, vinyl flooring equates to being the cheaper flooring to have in your home. It is the upkeep costs of carpets that is more labor intensive and therefore making it more expensive to maintain in the long run.
✓ Is it better to glue or float vinyl plank flooring?
The answer will depend on the area you intend to cover. Floating your vinyl plank floors in smaller areas such as bathrooms, kitchens and hallways is a good option and the easiest approach. However, in larger areas, a glue down approach is more viable and produces more durability.

Having said that, the glue down approach in smaller rooms might also be appropriate depending on circumstances.