Updated on April 26th, 2022
Flooring For Basements That Flood

There is nothing worse than having to replace your flooring every time it gets wet, especially if you live in a region prone to flooding or have seen the damage that flooding can wreak to homes and businesses. So, what can you do to prevent flooding to ruin your flooring? And what are the best flooring options? We'll address the following questions in this article.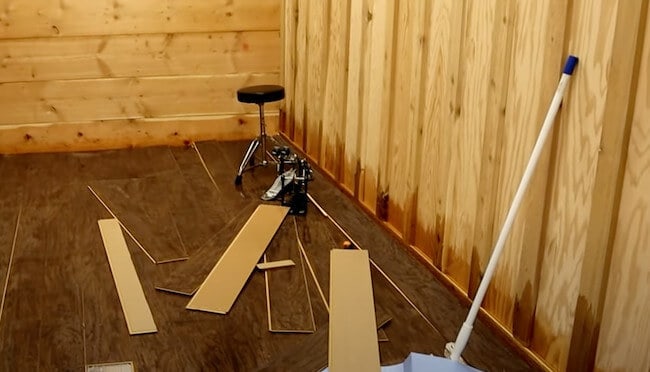 How much can your flooring endure?
Some floor coverings work better than others when it comes to keeping a flooded basement dry.
Engineered wood, hardwood, and carpet flooring are all bad choices for basement floors in flood-prone areas because they quickly deteriorate in the event of a flood. Mold and mildew can grow on carpets after the water dries out, which is why it's important to clean your carpets regularly. It might be difficult to get rid of mold from your carpet without the assistance of a professional (including reconstructing sections of your floor).
Additionally, hardwood, laminate, and engineered wood floors face flooding difficulties. When submerged in water for a long period of time, laminate floors, for example, lose their original shape and may have bumps, air pockets, and other distortions.
Aside from rotting and color changes, hardwood and engineered wood floors can have a negative impact on the look of your home if left neglected.
However, some floors are able to endure flooding. Floors made of concrete, rubber, and tile are the finest solutions for areas that are susceptible to flooding. It is possible to quickly dry and clean your floor without incurring additional fees.
Flooring Options for a Flood-Prone Basement
For any homeowner who wishes to maximize the space in their basement, basement flooding can be a problem.
When it comes to protecting the bottom parts of your home from water damage, installing suitable flooring is a great way to do so without incurring additional repair and maintenance expenditures following a period of heavy rain.
The following are the greatest basement flooring options if your basement has ever been flooded.
Concrete floors are a cost-effective and long-lasting solution for basement flooding. Repairing flood-prone basements (and other parts of a home) can be a significant financial burden for some homeowners.
As a result, they may choose to put a concrete floor in their homes during the dry season to ensure their families safety. Most concrete flooring installation costs between $0.5 and $1.00 per square foot (though rates vary depending on the region and desired aesthetics).
Because concrete is so water-resistant, even if your floor is flooded for an extended period, it will be largely unharmed. The ease with which a concrete floor can be maintained is unmatched. After the storm has passed, all you need to do is mop up any excess water and thoroughly clean your floors.
Not all concrete floors are abrasive and unpleasant as is commonly thought. You can protect your basement from water damage with a polished concrete floor.
When it comes to basement flooding damage, rubber is becoming an increasingly popular option for homeowners.
Rubber's waterproof properties make it an excellent choice for basement floors because of the protection it provides against the damaging effects of standing water. After a period of heavy rain, you don't need to replace your rubber floor.
Using rubber on your floor provides tremendous traction. Cleaning and maintenance activities can result in slip and fall injuries. Such incidents can be avoided if your floor is covered in rubber mats (and help you to ensure the safety of others within your living space).
The installation and removal of a rubber floor are quite simple compared to other options. Your floor surface can be ruined by mold, mildew, and other fungal organisms if left unmanaged.
As an added bonus, rubber's smooth texture provides additional padding for your feet as you walk throughout your basement.
Ceramic tiles continue to be one of the greatest options for a basement floor that is prone to flooding. When it comes to varied levels of flooding, the tiles give a long-lasting solution that does not cause substantial damage.
Ceramic tile floors are available in a variety of sizes, patterns, and forms to suit your preferences. Even when completely submerged for extended periods of time, the glazed surfaces remain impervious to moisture. The means the surface of ceramic tiles can be shined even after flooding, as they remain unspoiled.
They are most suited for dealing with water infiltration from the top side of your basement, as opposed to moisture seeping in from beneath the surface of the tiles.
When water seeps in from beneath the floor and into the grout layer between individual tiles, the grout layer is susceptible to damage. This is why laying ceramic tiles over subfloors properly and evenly while carefully grouting is paramount. However, the installation of a waterproof membrane beneath the tiles, on the other hand, can effectively put your mind at ease and keep moisture at bay.
Ceramic tiles give your basement a polished and authentic appearance, while the cost of installation may be more than with other options on this list.
Vinyl floors are made of synthetic materials, which makes them an excellent choice for a flooded basement because they are water-resistant.
The product is available in a variety of forms, including rolled sheets, tiles, and planks. Some vinyl floors are pre-prepared with stick-on adhesives, which means that all you have to do is spread the flooring over a surface, smooth it out, and wait for it to bond to the floor.
There may not always be a latex adhesive applied to an interlocking vinyl floor design in order to provide further waterproofing protection (possibly because it is not part of the planned design), and the design may be sensitive to moisture leakage when water seeps in between the crevices.
A rolled vinyl floor might be a preferable option in this situation. It consists of a long vinyl sheet that is applied to the surface of your basement with a strong, waterproof latex adhesive. Water leaks are prevented by the huge sheets, which reduce the amount of area available for such an occurrence to occur.
When vinyl flooring is submerged underwater for an extended period of time, one of the most noticeable disadvantages is that the flooring becomes damaged. The floodwater seeps into your home through cracks and crevices, causing damage to your subflooring. Mold can also develop beneath the surface of the floor.
Placing additional waterproofing elements such as a waterproof membrane underneath your vinyl flooring (or just installing a vinyl floor over tiles or concrete to protect against such damages) will help to protect your basement floor.
Vinyl flooring is low-maintenance and provides a cost-effective, aesthetically pleasing finish to your basement's floor surface. During the installation process, the floor type is incredibly basic, and it is not always necessary to engage a professional.
Is it possible for vinyl plank flooring to survive flooding?
Vinyl planks can withstand flooding, but the amount to which they do so is dependent on the design of the vinyl, the composition of the subfloor, the manner of installation, and the extent of the flooding.
The majority of vinyl planks can only endure damp conditions for a short length of time before the water leaks cause harm to the sub-layers of the floor beneath. There are small holes around the edges of interlocking vinyl tiles that may allow water to seep through, which is an issue when working on a basement that is prone to flooding.
During a flood, vinyl flooring with a waterproof membrane layer between the floor surface and the subsurface may endure higher water levels and more moisture than standard vinyl flooring.
On a flood-prone surface, however, a vinyl sheet is a far superior option to employing vinyl planks, which are more expensive.
Precautions you need to take when installing your flood resistant flooring
A good rule of thumb for them is to stay away from adhesives if at all feasible. This allows you to remove the flooring if it becomes wet and allow both the surface flooring and the subflooring to completely dry before reinstalling it.
It is then possible to reinstall the flooded carpeting, vinyl flooring, plastic flooring, or rubber flooring without the risk of mold or mildew forming.
If you want to adhere your flood flooring to the subfloor, the double-sided tape would be the next best alternative after that. Polyurethane adhesives that have been exposed to moisture are also available. When it comes to gluing down flooring in flood zones, it is best to consult with a Greatmats customer care expert.
How you can restore your floodproof flooring after it's been soaked in water
In the majority of cases, you'll want to take the flooring out, clean it, let it dry, and then reinstall it again.
When it comes to modular tiles or interlocking mats, they are really useful. The handy sizing makes it simple to deinstall and reinstall the system after use. Because it will allow airflow beneath the tiles, plastic raised flooring will allow for a quicker re-installation than other types of flooring.
As a result, if your subfloor is not totally dry for any reason, it will still have a chance to dry once the raised floor tiles are reinstalled. Tiles, rolls, and mats with flat bottoms will collect moisture beneath them. Whenever possible, it is advisable to allow all of the components to dry completely before reinstalling them.
How much can you expect to pay for good quality flooring for flood-prone areas?
EVA foam tiles, button top rubber mats – developed for horse stall wash bays – and rolled rubber flooring are examples of products at the low end of the price spectrum. These can be found for less than $2 per square foot on the secondary market. High-end deck, pool, and entry tiles, on the other hand, can cost upwards of $30 per square foot and are available in a variety of designs.
Flooring options such as PVC floor tiles, interlocking rubber tiles, and carpet glued foam tiles begin at slightly more than $2 per square foot. Starting at approximately $3 per square foot for polypropylene tiles and fake grass,
The majority of raised floor tiles are priced at roughly $4 per square foot. These are available with a plastic base and can have carpet or vinyl coverings on the tops of the chairs.
---