Updated on May 11th, 2022
Flooring For Home Exercise Room

Ever since the pandemic started, more and more people have been opting for home gyms to maintain their fitness routine.
Choosing the suitable machines and getting all the equipment you may need is a long process, but choosing the right flooring is also something you need to think about.
If you choose your workout room flooring, these are some of the best options you need to consider.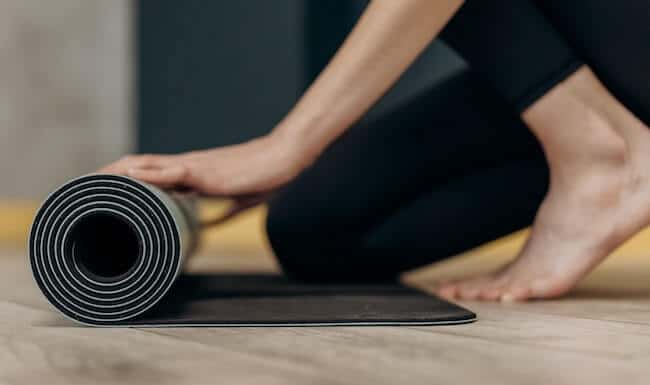 What Are The Right Flooring Options?
What will be the excellent home gym flooring usually depends on the surface of your floor and on the type of gym equipment you want to add to your home.
If you are looking to do simple exercises on the yoga mat, you will look for a completely different gym flooring than when adding heavy equipment.
An enduring and strong gym flooring is a must, and you also need to make sure the existing flooring is not slippery (brought on by sweat) because it can lead to serious accidents and pain!
Like with any environment where working out takes place, hygiene also becomes a factor. Having the option of sanitizing your floor regularly without damaging it is a must.
These are some of the best gym flooring options for every home gym, and you should inspect all of them before you make a decision.
Ruber flooring options are one of the most popular, and they are frequently used as gym floors, too, so most people decide to bring them to their home.
It absorbs shock amazingly, which is why so many people choose it for their home gym floors as protection, especially if they are beginners or have family members who are older and don't have that much gym experience. This ability to absorb shock efficiently also makes it one of the best flooring for sound proofing, meaning there's no need to disturb those beneath you while you get your sessions in.
They are an excellent cover for concrete floors, and rubber gym flooring is a fantastic option if you are trying to transform your basement into a home gym.
Rubber gym flooring can be bought anywhere, even in your local Target store, so you definitely won't struggle too much to find an adequate size.
Make sure you measure your new gym floor the right way because you don't want to get a smaller one than you need.
You can get rubber flooring in simple rubber rolls, rubber mats, or interlocking tiles, so choose the one that works best for you.
Foam flooring is also a pretty popular option because it resembles exercise mats and is very comfortable.
Some people choose it because, with this one, they will be able to exercise directly on the floor without any mats needed.
Foam floor tiles are very easy to install, and even though they are not that shock absorbent, they can still be very comfortable and make your exercise experience a lot better.
If you want to make your own home gym without having to call anyone else to tell you, you should get foam interlocking mats or tiles because they are extremely easy to install.
It is also one of the cheapest options, deal with fitness equipment quite well and are tough enough to endure deep machine cleaning provided your machine is designed to suck up the water fast enough to prevent soaking.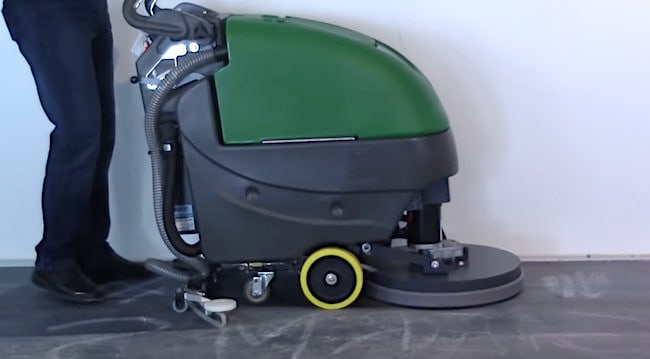 They also come in many different colors, and you can choose the one that will bring life to your gym space and make the whole surroundings a lot more entertaining and stimulating.
Even though most people who are already exercising a lot definitely wouldn't think of a carpet as the best solution for their home gym flooring.
You can get a carpet tile or those carpets that basically stretch from one wall to another that you can install by yourself too.
I would recommend you to check out the quality of carpet tiles before you buy them because you want to get a stable and enduring low pile carpet that can handle weight machines.
They come in many different colors, so you will be able to choose those that work best with your interior, and you also don't need to stress about glue down installation because you can just put them on the floor and start installing your home gym; immediately!
Carpets are rarely water resistant, so this may be a problem for some, but easy installation and affordability make it a great option.
Vinyl floor is also something a lot of people are into because it is 100% water resistant, very easy to clean, and you will be able to add it to your living space without any problems.
It is also a great option if you are trying to build a gym in your basement because it can deal well with heavy equipment, and it is shock absorbent.
You don't need to get any luxury vinyl flooring because your floor exercises will work well on any sort of vinyl floors, and your workout room will be cleaned easily with this cover.
It is great even for intense workouts, and it is one of the commercial grade purchases, but still, it seems to be extremely durable and provides you with vinyl tiles that are easy to install.
I would recommend it for those of you who have a home gym full of heavy equipment like treadmills because it will sustain pressure without problems.
Vinyl can also be the best home gym flooring if you do a lot of exercises with heavy weights and if several people tend to use your basement gym simultaneously.
The easiest way to install them is by buying them in vinyl mats or vinyl floor tiles, but check out shock absorption before you start exercising.
Cork flooring has the best shock absorbent powers, and it is made for people who have a professional home gym and heavy equipment.
It is water resistant, and it also resists mold and different insects and fires, but since it can fade easily, I would recommend you use it for rooms with little to no direct sunlight, like your garage.
This is one of the flooring options that will work the best when it is glued down to the floor, so I would recommend you to always do it, at least for security reasons.
The easy installation process will allow you to get it into your room after just an hour, and you don't need to do any additional floor work to prepare it for cork.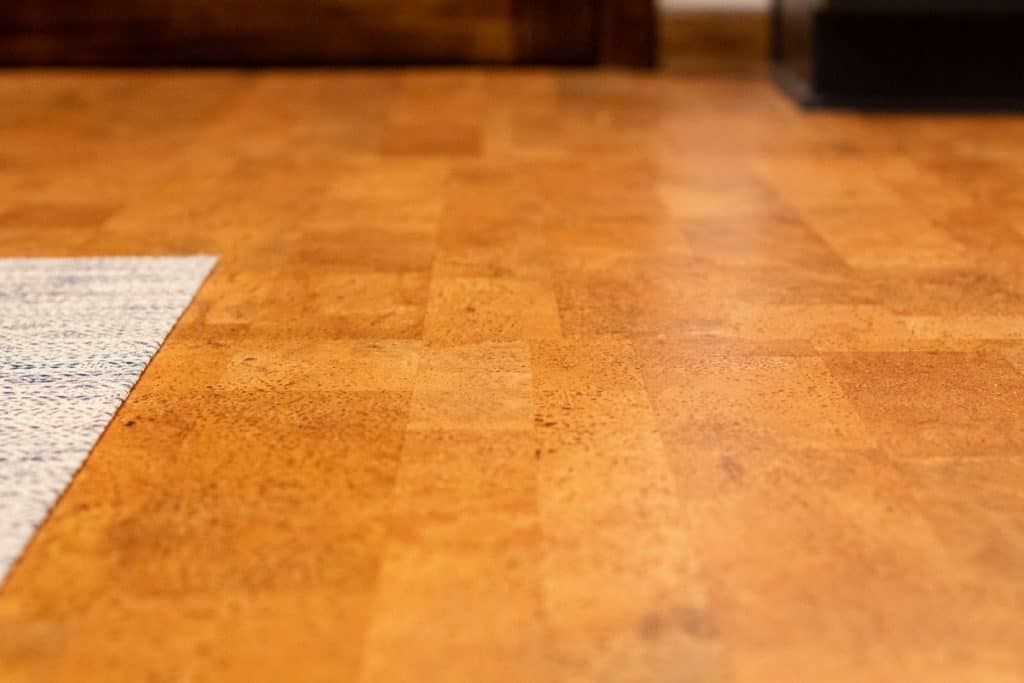 ---