How to Deep Clean Bathroom Floor

Are you one of those people who are always trying to keep your bathroom floors as shiny as possible?
If you are a real bathroom floor cleaner freak, then, you are reading the right guide through deep clean bathroom floors.
As I have already tried everything to keep my bathroom bright and shining, I will share all my experiences with you.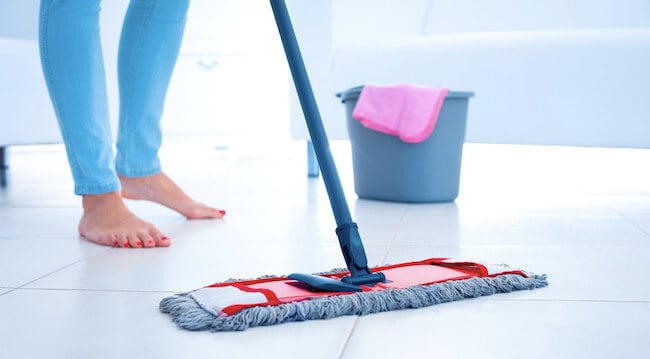 In the next sections, you are going to find everything you have ever wanted to know about how to deep clean bathroom floors, what the basic cleaning steps are, and what is the best cleaning solution for your bathroom floors.
Let's start with our practical cleaning bathroom floor guide!
Cleaning Supplies to Deep Clean Bathroom Floors
Before you start with your deep-clean bathroom floors, it is necessary to have some cleaning supplies with you. Here's the list of all things needed to perfectly clean a bathroom.
One spray bottle
Microfiber cloth
Extra clean cloth
Grout brush
Clean sponge dampened
Dish soap
Lemon juice
White vinegar
Baking soda
Bathroom cleaner
Disinfecting spray
Steam cleaner
Protective rubber gloves
Step by Step Instructions for Deep Clean Bathroom Floors
Following the next step by step instructions, you will become a true bathroom floor cleaner, and everyone will ask you for a cleaning solution and cleaning tips.
Let me take you on a journey to the ultimate deep cleaning process.
Step 1 – Preparation is key
You should make some free space for cleaning properly bathroom tiles.
Remove all the bath mats from the bathroom, and look for your vacuum cleaner.
If you have a small bathroom, it is okay if you want to clean your bathroom floor with a sweeping brush from time to time.
But, to collect all the dust and dirt, it is better to use a vacuum cleaner every time before you do the bathroom floor deep cleaning.
Once you vacuum everything around the toilet, bathtub, shower, and vanity, it's time to start a real job.
Step 2 – Ventilate the bathroom
Before applying any cleaning product, you should leave your window open or turn on the ventilation.
It is very important to provide enough air circulation because cleaning products usually have a very strong smell, and they release toxic fumes that shouldn't be inhaled.
If you aren't a fan of using branded cleaning products, you can easily make your cleaning solution for bathroom floors.
I often mix cleaning agents with DIY products because they give the best results.
For making a bathroom floor cleaner you will need a spray bottle, white vinegar, lemon juice, and baking soda.
Always use distilled white vinegar boiled in a kettle.
Pour it in the spray bottle, add a few spoons of baking soda, and a few drops of lemon juice. Lemon juice is a strong cleaner, and it smells refreshing at the same time.
You can also add a few drops of dish soap to this DIY cleaning product, and the dish soap will just increase its cleaning power.
On the other side, if you don't have time to prepare your DIY cleaning product, always buy cleaning products that include hydrogen peroxide because it is very useful in killing all kinds of bacteria, such as bleach solution products.
Step 3 – Clean the tub & shower
I always start my deep cleaning bathroom with the tub or shower, and the cleaning solution for both options is pretty much the same.
Apply a cleaning product all away in the tub, shower, and on the shower walls. Take a clean sponge, and rub all the surfaces. Leave it for 15 min.
While you are waiting for those minutes to pass, let's move on to the next step.
It's time to clean a bathroom sink and a toilet.
Step 4 – Move to the sink & toilet
When you clean a bathroom sink and a toilet, start from the bottom to the top.
Spray the bottom part of the sink first, and clean it using a damp cloth. Then, pass on the bottom of the toilet, and repeat the movements.
You should always clean your sink first, and then the toilet because much dirt is usually on the toilet bottom, and not on the sink bottom.
After you are done with all this work, it's time for the top of the sink and the toilet bowl.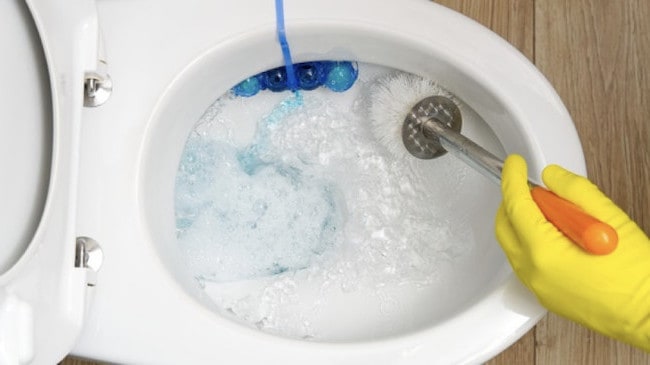 Repeat the same method as you did with the tub or the shower, and leave the product on the mentioned surfaces for several minutes.
Meanwhile, turn on the hot water in your tub or shower, cover a shower curtain, and let the hot water does its job.
The warm water will make condensation on the shower walls and will remove dirt under the heat.
One of the bathroom clean hacks is the secret of the quick wipe.
Wipe condensation from the tile surface quickly using a microfiber cloth. Do not close the window to reduce the room's humidity level.
Take off the cleaning product from the sink using a scrub brush and warm water.
To finish cleaning the toilet bowl, apply a little bit of a toilet cleaner, use a toilet brush, and flush.
With vinegar and baking soda mixture, spay the toilet seat, and wipe. Repeat this process twice.
Do not use any toilet cleaners directly on the toilet seat because you don't want to make any skin irritations. Vinegar and baking soda will do a great job.
Step 5 – Shower curtains or doors
Before we finally come to the bathroom floor, there are a few more things we have to do.
Shower curtains are usually washable, and they easily can be cleaned in the washing machine.
Vinegar solution is great for yellow color on shower curtains.
Apply some vinegar solution on a shower curtain, take it off, and place it in the washing machine, together with some dirty towels that can help to clean soap scum.
We all know how soap scum can be boring.
To clean shower doors, choose a glass cleaner or a window cleaner, but don't forget to take a new cloth, or an old cotton t-shirt because your shower doors have to be flawless.
Considering a shower head and the faucet handles, the best option is to spray them with white vinegar and baking soda.
Then, cover a shower head with a plastic bag. Do the same thing with faucet handles, and leave them overnight.
Step 6 – Deep clean bathroom floor
Fill in the bucket with clean water. Add two cups of a tile product into the bucket, and clean bathroom, mopping the entire floor.
You should know that you won't remove stains, and tile grout with just one cleaning. You have to repeat the cleaning process and clean your bathroom once again.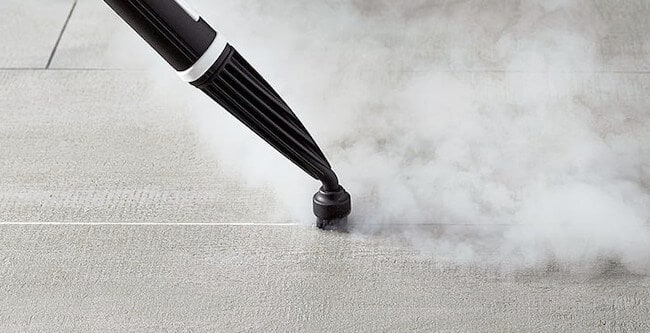 Stubborn stains and grout lines make the tile floor look ugly and dirty. That's why you should apply bathroom flooring cleaner directly on the tile grout.
Wait for a few minutes, and use a scrub brush to get rid of the grout lines.
The best option for bathroom floor tiles is to use a hardwood floor machine. However, there aren't too many people who have a steam cleaner in the house.
Clean a bathroom floor with a mop cleaner and clean water. Then, clean a bathroom floor once again to remove excess water and the whole floor product of it.
Let the entire bathroom completely dry.
Step 7 – Prevent germs from spreading
Bathroom cleaning finishes with door knobs.
Spray the door knobs, and clean them with a microfiber cloth. This final step is announcing that your deep clean bathroom job is officially over.
Conclusion
I hope that this bathroom cleaning guide helped a lot with your bathroom cleaning routines.
However, if you have more doubts about how to clean the bathroom floor, be darlings, and read the FAQ section below.
Frequently Asked Questions
✓ How do I clean my bathroom floor without drains?
The cleaning process is the same as for a bathroom floor with drains. The only catch is to completely dry your bathroom floor and mop it with a dry cloth to remove excess water and prevent further stains.
✓ How do you clean old bathroom floors?
An old bathroom floor requests deeper cleaning than other floor types.
Before mopping the floor with warm water and a grout cleaner, you should sweep the floor to get rid of all the dust and dirt.
Then, mop the floor with a tile cleaner or a steam cleaner and wash it off with clear water.

✓ How do you deep clean bathroom tiles?
The best way to deep clean bathroom tiles is to buy a steam cleaner.
It can be a big investment in the beginning, but trust me, a steam cleaner is the king of cleaning bathroom tiles without the use of any chemicals.