Can you put laminate flooring over laminate flooring? It's a question that many homeowners are asking themselves as they look to give their home's flooring a much-needed facelift. After all, laminate is relatively inexpensive, comes in a variety of colors, and is easy to install. But can you put a second layer of laminate over an existing layer?

The answer is a bit complicated and depends on the condition of the existing laminate flooring and the installation processes. Don't worry though, in this blog post we breakdown everything you need to know. From the importance of assessing existing flooring condition to the best practices for laying the new laminate, we cover it all. So don't put in your new laminate just yet—let's look further into the issue of if you can lay laminate flooring over laminate flooring.
Quick Overview of Key Points
It is generally not recommended to install new laminate flooring over existing laminate due to the risk of compromising the stability of the floor. In some cases, you may be able to have them installed by a professional with adequate preparation and support.
"As a flooring contractor with 30 years of experience, I can tell you that it's not standard practice to install laminate over existing laminate. The main concern here is that the underlayer of the existing laminate might not be stable enough to support another layer, leading to possible distortions, gaps, or even cracks over time. Instead, I recommend removing the old laminate first, ensuring a strong, stable base for your new flooring – an essential step to guaranteeing a long lifespan for your new laminate floor."

Benedict Giles, Flooring Contractor
Can You Put Laminate Over Laminate Flooring?
Can you put laminate flooring over laminate flooring? The short answer is yes – if the surface of the existing floor is flat and even, you can install new laminate over it. However, there are a few things to keep in mind before starting the project.

First off, you should ensure that your existing laminate is structurally sound. If it is warped or damaged in any way, then it must be replaced prior to installation. Otherwise, it could cause issues with the installation process and affect the performance of the new flooring.

Another important consideration is the thickness of your existing laminate. If it's too thick, then it might not be compatible with the new material and will need to be removed first. On the other hand, if it's too thin then there may not be enough support for the new layer.

Finally, your laminate flooring must be completely dry before laying a new layer on top. Moisture can cause swelling in the material and lead to buckling and unsightly seams in your finished product.

Overall, while putting laminate over laminate can be done if done with care and attention to detail, there are still certain risks associated with doing so. As such, we would recommend discussing this option with a professional installer who can provide tailored advice specific to your situation and needs before proceeding with installation.

With all that said about whether or not you can put laminate over laminate flooring, now let's move onto how to get started when completing this project.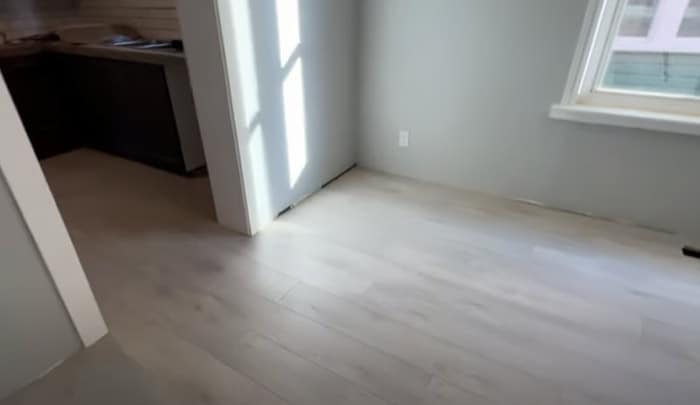 Key Points to Remember
You can install new laminate flooring over existing laminate flooring, but there are important factors to consider before beginning the project. Make sure that the existing laminate is structurally sound and not warped or damaged. Check the thickness of the existing laminate material and ensure it is compatible with the new material. The existing laminate should also be completely dry before laying a new layer on top. It is recommended to consult a professional installer for tailored advice before proceeding with installation as there are certain risks associated with putting laminate over laminate flooring.
How to Get Started
When you are considering installing laminate flooring over laminate flooring, there are a few things to consider before getting started. Before deciding whether this project is right for you, it's important to look at the pros and cons.

On the plus side, any additional construction or demolition isn't necessary. You don't need to tear anything up, so there's less mess and lower labor costs involved. You can also save money on materials since the existing surface can be utilized as the sub-flooring underneath the new layers and padding if needed.

On the other hand, it's harder to ensure that padding and additional underlayment are properly secured when installing over existing layers of laminate. Not only this instability poses risk of damage over time, but it can also make it difficult to replace individual planks in the case of repair. In addition, two layers of floating laminate can reduce noise reduction capabilities due to how each piece interacts with its neighbor.

No matter what approach you take with your project, some extra considerations need to taken into account when installing laminate flooring on top of another layer of laminate. With these points in mind, let's move onto the next step in this process: preparing your sub-floor.
Preparing Your Sub-Floor
Before you begin the process of laying a new laminate flooring over laminate flooring, it's important to prepare your sub-floor. The way in which you prepare your sub-floor will depend on whether or not you're attempting to install the same type of laminate flooring or a different one.

If it's the same type of laminate that's already on the sub-floor, then all you should have to do is make sure that the surface is clean and free of dirt, debris, and any other contaminants. Vacuum and sweep the area thoroughly before moving forward with installation.

However, if you're installing a different type of laminate than what's already on the sub-floor, such as an engineered wood or vinyl plank, then you may need to take more extensive measures. This could include sanding down any existing irregularities in order to create a smooth base for the new flooring. You may also need to fill in any cracks and gaps with mortar or grout, depending on the severity of them.

It's also highly recommended that you use some sort of moisture block underlayment that helps protect against future water damage. The kind and brand of underlayment will depend on type of flooring being installed.

It's also worth considering whether or not there are any adhesive materials still attached to the underlying laminate flooring. If so, then these must be removed with a professional solvent before anything else can be done.

Debating both sides of the argument, some people feel that installing another layer of laminate over an existing one is always acceptable because both types of flooring are made from similar materials, so they can seamlessly integrate together without issue. However, others feel that it may be more beneficial to start with a clean slate and ensure complete adherence by replacing all existing materials before installation begins.

In either case, preparation work needs to be carefully considered and undertaken to ensure successful results when installing laminate flooring over existing laminate flooring. Now that the sub-floor has been prepared properly, the next step is to consider what your options are when it comes to selecting a new laminate flooring system. The following section will explore your available laminate flooring options in greater detail.
Your Laminate Flooring Options
When it comes to installing new laminate flooring, you have a number of options for types and styles. First, consider whether you want traditional hardwood-look laminate boards or if you prefer the vinyl option. Traditional hardwood-look laminate boards are composed of several thin layers of material that has been fused together with heat and pressure. This type of laminate is highly durable and often times cheaper than traditional hardwood flooring. Vinyl laminate flooring looks identical to regular hardwood, but it is made from plastic and is much more affordable.

For those looking to put in a new layer of laminate over their existing floor, there are pros and cons to both types. For example, vinyl laminate flooring is easy to install over existing laminate, as long as both floors have similar textures and are at the same height. Additionally, this type of flooring is easier to clean due to its water-resistant surface. On the other hand, traditional laminate may be more difficult to install due to its thicker design. Moreover, it may not always fit with your existing floors in terms of color or texture. Ultimately, homeowners must weigh the advantages and disadvantages of each when making a decision about which type to install for their new laminate layer.

Now that we have discussed some of the available laminate flooring options, let's look into the next step – thickness and layer options. With these two factors being instrumental in how your finished product will look, it is important to understand them before starting your project…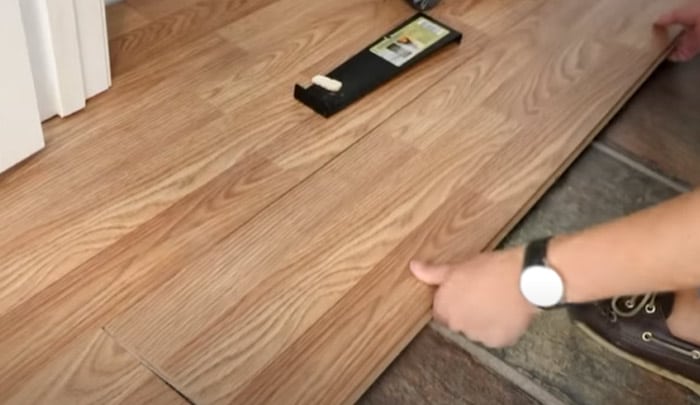 Thickness and Layer Options
When considering whether to put laminate flooring over laminate flooring, the thickness of each layer must be considered. The thicker the layers, the better the recycled material will fit onto the subfloor. There are two basic options for thickness–6mm and 12mm.

The 6mm option provides a thinner, but quite durable and long-lasting solution. It's very popular in areas where sound reduction is desired and it gives a low profile look that creates an elegant finished product. However it may not be strong enough on its own to withstand heavy loads or foot traffic in high traffic areas of a room.

The 12mm option is much thicker and heavier duty than the 6mm option. It provides a much more substantial feel as well as added protection from any potential wear and tear from area rugs or furniture. Additionally, this thickness is known for being stronger than the 6mm option with more sound reduction capabilities. On the other hand, due to it's heavier weight this thicker option may require extra support frames or underlayment when installation is done on a second story or higher level of a house.

It's important to consider both layer options before making your decision about what type of flooring is best suited for your needs. Ultimately, either layer will provide an appealing look but it may be wise to lean towards the 12 mm layer if you intend on high levels of foot traffic being present in a room or area where you plan on installing laminate flooring over laminate flooring.

Now that you have a better understanding of thickness and layer options, the next section will focus on types of installation techniques.
Laminate flooring can be installed directly on top of an existing laminate floor if the installation meets certain requirements, such as no grooves, no bumps, and a level subfloor.
Industry standards recommend against laying a second layer of any kind of floating floor over an existing one due to potential problems caused by moisture build-up between the two layers.
According to a study conducted in 2015, second layers of laminate flooring are more likely to become damaged due to increased wear from the additional layer.
Types of Installation Techniques
When deciding on whether to install laminate flooring over existing laminate, the type of installation technique is one of the most important factors to consider. While it can be great for reducing labor cost and time, there are some things to consider when choosing an installation technique.

Nailing/stapling is perhaps the most popular choice of laminate floor installation, especially when used in conjunction with an underlayment. This method involves using a hammer and nails or staples to adhere the boards directly to the subfloor. Advantages of this technique include being able to secure multiple rows of flooring at one time and superior sound absorption. On the downside, quality floors may require special finishing nails that can be expensive and overdriving them could potentially damage boards. Overdriving may also cause an unclean finish if done incorrectly or when used in older homes where subfloors may be uneven or not level.

Another approach is called the "floating floor" installation method, which involves fitting boards together with interlocking tongues and grooves before laying them down. This installation procedure does not necessitate nails or staples to attach the planks – instead, they are held in place by an adhesive compound applied after each board is fitted into its respective grooves. While this technique definitely requires more time for each plank row, its main benefits are easy removal should any problems arise as well as easier effective sound proofing due to increased joint stability between boards.

No matter which type of installation technique is chosen for installing laminate over existing laminate floors, there are both pros and cons associated with it that need to be kept in mind before making a final decision. It is crucial to ensure that the floating method is particularly suitable for high-end laminates that require specific temperature and humidity settings during and after installation so that no risk of buckling occurs when finished.

Knowing what type of installation techniques are available, as well as their different advantages and disadvantages in different scenarios, gives you a better understanding of how best to approach putting new laminate flooring over existing laminate flooring. With this information, you can now move onto looking into what type of floor would be suitable for use here next.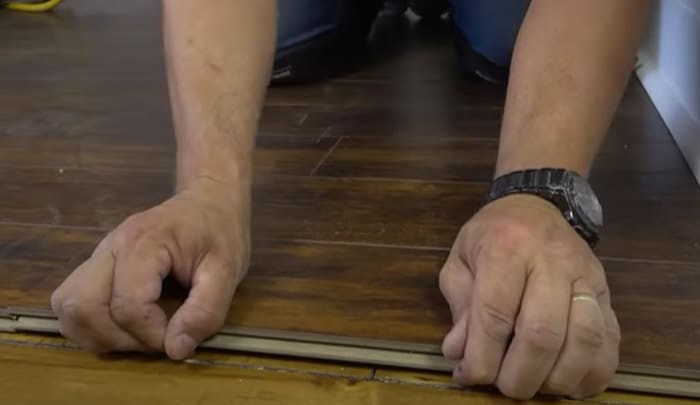 What Type of Floor Would Be Suitable?
When considering if you should put laminate flooring over existing laminate, it's important to first determine whether the existing floor is still in good condition. If it is beginning to wear down and lose its luster, then putting a new layer of laminate on top may not be the best choice. This is because any issues with the older layer of laminate will likely cause problems with the new layer, such as warping, squeaking, and buckling due to moisture.

On the other hand, if the existing laminate is in good shape, it can be a viable option to cover it up with a new layer of laminate. Doing so can give your rooms a fresh, updated look without having to start from scratch and rip out the older layers of flooring. However, this approach does need to be met with caution as adding too many layers of laminate can create an unstable surface that is more prone to water damage and other issues over time.

At the end of the day, it requires careful consideration before deciding whether putting new laminated flooring over old is the right choice for your space. As with any major home improvement project, it's always recommended that you conduct thorough research before making a decision. With that said, let's take a look at the pros and cons of putting new laminate over an older layer in order to help you make an informed decision.
Pros and Cons of Putting New Laminate Over Older Laminate
When deciding whether or not to install new laminate over existing, there are both pros and cons to consider. Here's what you need to know:

Pros of Putting Laminate Flooring Over Laminate Flooring

The biggest pro of laying down new laminate flooring over existing is speed and efficiency. Installing new laminate on top of an existing layer often does not require any tools other than a miter saw for cutting the boards to fit. For this reason, it may be a great choice for someone who needs to complete the flooring installation quickly and wants to do as much of the work themselves as possible.

Another benefit of installing new laminate over existing is that it will save time because the subfloor does not need to be prepped first in most cases. This saves money on labor costs compared to completely replacing the floor. It can also give a more uniform look than when starting with a completely bare subfloor, which may be beneficial in homes with uneven floors or carpeted areas as well.

Cons of Putting Laminate Flooring Over Laminate Flooring

The main disadvantage of installing new laminate over existing is that it will only work in certain situations where the existing layer is level, clean, and dry. If there are bumps, ridges, bumps, or any other irregularities on the floor, these should all be removed before starting the installation process. Additionally if moisture is present beneath the old layer this may cause problems with adhesion and long-term durability.

Another downside is that layering one type of flooring directly on top of another reduces the height which can result in difficulty installing doors over time. In some cases it may be necessary to trim down door frames for them to open properly after the installation is complete.

In conclusion, there are both pros and cons when considering putting new laminate over existing laminate flooring. While this type of installation process requires less preparation compared to adding new flooring onto a bare subfloor, caution should still be taken to ensure that all conditions beneath the old layer are suitable for installation and that additional carpentry work such as trimming door frames may be necessary down the line depending on how much height was reduced by layering one type of flooring directly on top of another.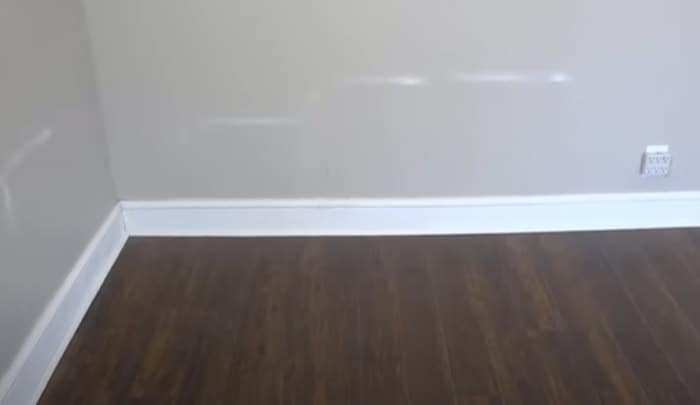 Answers to Common Questions with Explanations
Does the existing laminate need to be removed before installing new laminate?
Yes, it is important to remove the existing laminate flooring before installing new laminate flooring. This is because the old flooring can interfere with the installation of the new laminate, causing an uneven installation and creating a weak bond between the floor and subfloor. Additionally, if debris from removing the old flooring is left behind, it can cause problems when laying down the new laminate as well. To ensure smooth and successful installation, it is essential to make sure all old materials have been removed and disposed of properly.
What are some potential risks associated with installing laminate flooring over existing laminate?
The potential risks associated with installing laminate flooring over existing laminate include uneven surfaces and unequal wear. Uneven surfaces can create an unsightly appearance, detract from the aesthetic of the room, and cause additional installation issues such as gaps in between boards and difficult transitions to different flooring types. Additionally, due to the added height of the new layer of laminate, any areas that are already worn down may become even more so, potentially resulting in damage to the underlying surface. Other risks include a lack of adhesion between the layers and possible warping due to moisture accumulation beneath them.

Ultimately, it is best to remove any existing laminate before installing a new layer on top because this will ensure a level surface and provide the best protection for both layers.
What benefits are there to installing laminate flooring over existing laminate?
The primary benefit of installing laminate flooring over existing laminate is that it can drastically improve the look and feel of an otherwise outdated room. Laminate flooring is durable, easy to clean and offers vast design options with a variety of colors, textures and wood-like finishes. Furthermore, it can give a room a fresh, modern look without having to completely replace the existing flooring. Installing new laminate flooring over existing laminate also helps protect any weakened parts of the subfloor from further damage as long as it is in good condition. Installing new laminate flooring is significantly faster than replacing or refinishing other types of flooring and requires minimal tools or labor. Overall, installing laminate flooring over existing laminate offers many benefits for homeowners looking to quickly update their home's look.
References
https://www.pratthomes.ca/5-benefits-of-laminate-flooring/
https://www.thespruce.com/how-to-lay-laminate-flooring-1822250