Updated on April 26th, 2022
Refinishing Engineered Hardwood Floors

Refinishing an engineered wood floor is not something that people usually like to do. Just as with any solid wood floor, abrasive procedures such as sanding deep scratches, cleaning build up of wax residue, and applying a new coat of varnish can be done poorly to damage your floor for good.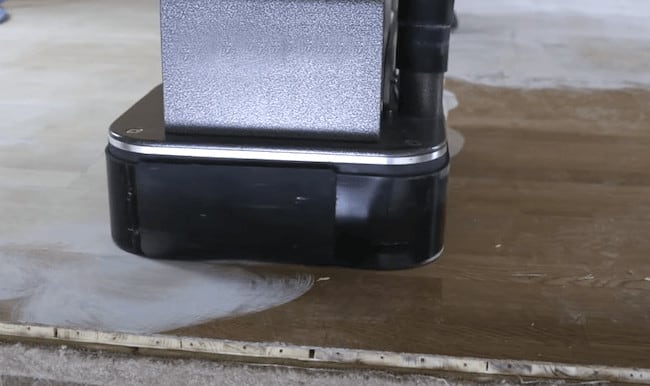 But you don't have to worry, because today we are going to tell you all about how to refinish your engineered wood surface and making it look brand new without going through the gruelling process of installing a new floor.
The process we will cover includes:
Finding out how thick the flooring planks are
How to sand the entire floor properly
What to do after the sanding
How to use a polyurethane sealant
Find the Thickness of the Wood
If you want to refinish engineered hardwood floors, you will have to figure out if there's enough thickness to the plank. The thickness pertains to the Wear layer of the wood flooring.
Depending on the thickness of your solid hardwood floors you can only perform a certain number of refinishes. You can refinish engineered hardwood flooring only so many times before you start to destroy the hardwood floor itself.
Refinishing Engineered hardwood flooring must be approached with caution. If the wear layer is between 2mm and 8mm, you will be able to refinish engineered wood floors from 1 to 10 times before it starts to destroy the wood flooring itself.
If the wear layer of your wood flooring is 1 mm or less, you should avoid refinishing your engineered hardwood flooring completely.
Prepare for Sanding
In order to produce a high-quality product, you must first prepare your workspace. In order to begin, get rid of all of the furnishings and carpets in the room.
Do a thorough sweep and vacuum of the area to get rid of all the dust. To ensure a fresh start, dust the room.
Remove the heat register vent covers. A towel can be stuffed into the vent.
A sawdust barrier prevents re-coating your freshly varnished surfaces with sawdust blown back into the vent. Painter's tape can be used to protect electrical outlets from sawdust.
To keep dust from spreading throughout the house, cover the doors with plastic sheeting.
The engineered hardwood floor can now be examined and prepared. A staple or nail sticking out of the floor should be the first thing to look for.
Our sandpaper is going to be shredded by these. Remove the staples and countersink the nails.
If you had to countersink nails or find any other damage to the engineered hardwood floor, you may need to repair the holes. Wood filler is needed to fill in minor holes, deep scratches, and other minor damage.
Wood glue and fine sawdust can be used to make a matching patch. During the sanding processes listed below, this must be done.
To make sure it's ready to sand, follow the instructions on the container for the recommended drying times.
Sand the Entire Engineered Hardwood Floor
A Drum Sander or an Orbital Sander: Which Is Better for Sanding?
Walk-behind sanders come in two flavors: drum and orbital. Consider your level of expertise before deciding which one to choose.
Inexperienced DIYers should steer clear of drum sanders, which can be dangerous and difficult to use.
Some of the most serious engineered hardwood floor issues can be addressed with an orbital sander, but it will not have any effect on the floor itself. An orbital sander is the best option for most novice or intermediate-level DIYers.
Despite this, if you rent an orbital sander from your local hardware store, be sure to ask for a demonstration from one of the experts on staff when you arrive to pick up the equipment.
Time to Start Standing Your Engineered Wood Floor
You need to make one. Now is the time to repair any nail holes or gouges in your engineered hardwood floor with wood filler that matches your floor's color.
A color-accurate DIY solution for patching the holes is to use some of the sanded sawdust in combination with some white glue. It's as simple as combining the two ingredients and using a putty knife to apply it like any other wood filler.
Use medium-grit sandpaper, such as fifty or sixty grit, to refinish the floor. Drawing pencil lines all over the room will help you remember where you've already sanded because the color of the floor won't change.
The sanding will remove the pencil, allowing you to see your progress.
After you have done this, you can consider your engineered hardwood flooring sanded. You are one step closer to finishing your refinish.
Clean the Wood Floors
Because you'll be applying a final product, you'll want to be extra careful this time about cleaning everything thoroughly. Use a damp cloth or tack cloth to remove any remaining dust after vacuuming.
You may wish to use a mineral spirits-soaked cloth as a final step. Even if you follow a specific procedure, the most important thing is to ensure a dust and grime free wood surface to prevent any damage on the final polish.
If you use oil or chemical-based cleaners on the floor, they may interfere with the final layer's ability to adhere to the wood.
Apply Your Desired Stain
You can see the wood's natural color and decide whether or not to stain it at this point. If you want to stain the wood, go slow and with the grain.
You should be working in small spaces and at a leisurely pace.
Follow the manufacturer's drying instructions for your specific stain. Most stains require two coats of paint to get the best results.
IF you decide to go over that you will end up with dark wood floors.
Add a Polyurethane Topcoat
Polyurethane or varnish can be applied as soon as the stain dries. I'll demonstrate this with a water-based polyurethane.
Like a stain, this should be applied in broad strokes in the direction of the grain of the wood. You can use a foam roller or pads to distribute it.
To dry, follow the instructions on the can. Applying 2 to 4 coats of polyurethane is recommended.
In high-use areas, more coats should be used. Before applying the final layer of varnish, use a buffer to remove any imperfections on the surface and ensure a flawless finish.
Apply the final coat of polyurethane after a thorough clean and vacuum of the surface.
Complete drying is required. For light foot traffic, this could take 1 day, and for carpets and furniture, it could take three days.
---
Frequently Asked Questions
✓ Is refinishing engineered wood floors damaging?
As we've said earlier, depending on the wear layer of the wood floors, there is only so much wear and tear a hardwood floor can take. Wood floors in general don't take kindly to sanding and refinishing, whether it is an engineered wood floor, solid wood, real wood, or laminate flooring.
✓ What are all the tools I need for sanding and refinishing?
The sanding process is not can be done in many ways, you can use a belt sander, even though flooring experts advise against using a belt sander since it is not that easy to control. You can also use simple sandpaper so you can have much more control over the spots that you want to work on. Sandpaper is good for wearing out the thin layer, but you shouldn't use it on the whole house.