Updated on April 26th, 2022
What is Luxury Vinyl Plank Flooring?

Nothing changes the overall look of a house like restored or new flooring. There are many types of flooring, including parquet tile floors, laminate floors, ceramic tile floors and increasingly popular LVP floors, the abbreviation that stands for Luxury Vinyl Plank flooring.
The popularity of Luxury Vinyl Plank flooring lies in its cost-effectiveness and availability in a staggering number of colors and patterns. Besides, it is comfortable underfoot and very easy to clean. But that's not all.
Are you thinking about installing LVP flooring in your home? This article will help you find out:
What is LVP Flooring
Flooring plays a vital role in the overall look and feel of your home. Since it is one of the largest elements in the house, it creates an instant impact.
That's why it is important not only to address the beauty of the flooring but also the practicality and maintenance to ensure you get the most out of it.
Luxury Vinyl Plank flooring satisfies all of those conditions. It is a resilient type of vinyl flooring that comes either in large sheets that need to be cut or easy-to-install tiles.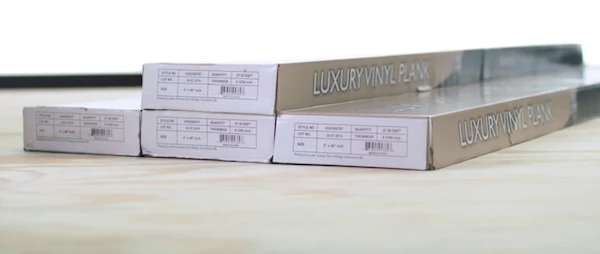 It is a synthetic product that is often coated with strong, long-lasting coverings to resist stains and tears. It is most often found in kitchens and bathrooms, but it can be used almost anywhere.
Pros of Luxury Vinyl Plank Flooring
There are many benefits of installing LVP flooring options, these including the following:
❶ Wide range
Luxury Vinyl flooring is available in many different patterns and colors and you are bound to find one that matches your furnishings perfectly.
There is a variety of solid colors and many patterns that resemble natural stone. You can easily mix and match vinyl planks of different colors and create a custom floor that'll stop traffic.
❷ Versatility
Thanks to the influx of new printing technologies, vinyl flooring now comes in both composite tiles, planks and sheets, so you can choose which one works best for you. They are suitable for all rooms, especially a dining room and living room.
Besides, you can combine a number of different engineered luxury vinyl designs and create a signature floor.
❸ Easy Maintenance and Cleaning
Like laminate flooring, resilient floors like Luxury Vinyl offer easy maintenance and cleaning.
Cleaning entails regular dry mopping, vacuuming and using a slightly damp cloth to pick up dirt or dust.
Nonabrasive cleaner will help remove heel marks from the vinyl plank, rubbing alcohol for ink, acetone-based nail polish remover for nail polish stains and mineral spirits for paint or permanent markers. It is that easy.
❹ Water resistant
LVP flooring is impervious to water, except if the tiles are torn or at the seams. This will ensure that your floor lasts a long time even if you install it in your kitchen or bathroom.
❺ Easy to install
Since LVP flooring tiles come in ready-to-use tiles, they are very easy to install. The same applies to installing luxury vinyl sheets which you can just peel and stick.
❻ Longevity
Since it is often coated with strong, long-lasting coverings, it can resist stains and tears for quite a long time. If the floor gets damaged with time, it is very easy to repair.
❼ Cost-effectiveness
Of course, you can come across more and less expensive options but, generally speaking, luxury vinyl plank flooring is very affordable.
In fact, it is more affordable than hardwood floorboards and that's why LVP is increasingly gaining popularity.
All these factors ensure that you get good value for money.
Cons of Luxury Vinyl Planks
There is one disadvantage when it comes to installing LVP flooring: thin LVP planks.
❶ Thin LVP Planks
The LVP Flooring planks or tiles are usually thin, which can pose a problem if the subfloor is not level and even. This can lead to your vinyl flooring lifting up with time and result in floating floor.
Still, you can safeguard against this potential disadvantage by taking necessary measures to make the wooden subfloor even before installing LVP flooring.
How to Install Vinyl Plank Flooring
There are several steps that must be taken to make sure you have a professionally installed floor when all it's said and done.
Step ❶: Remove or cut back
First of all, if doors and moldings have already been installed in your room, you might need to remove some planks or cut others back, so that's the first step to do.
Step ❷: Inspect
Then, inspect the existing flooring for loose seams, tears, chips, air bubbles or uneven areas.
Step ❸: Pre-cut
The next step is pre-cutting all tiles before installing. Measure the distance between the wall using a framing square. Measure the distance between the marks and dry-fit tiles. This is like the preparation stage to test everything before installing it.
Step ❹: Make the subfloor flat
Apart from being stiff, subfloors must also be reasonably flat or else floor would not consistently contact the subfloor, causing squeaks and lifting.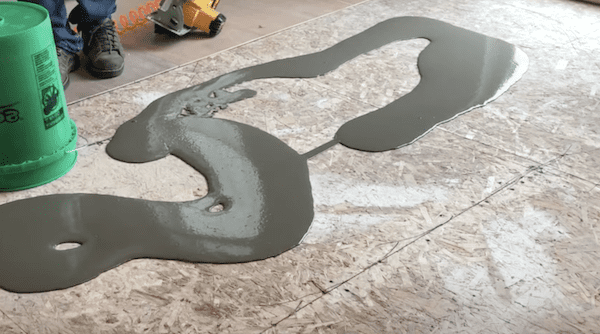 You can either use self-leveling liquids or glue down cedar shims. Fill the center with a piece of plywood and feather the edges out using shims.
Step ❺: Clean the subfloor
Once the subfloor is flat, you also need to ensure it is free of debris before installing tiles. Sweep up any dirt on the subfloor and vacuum.
Step ❻: Install cork underlayment
Step ❼: Vapor retarder
To ensure your floor is installed correctly, install a vapor retarder atop the subfloor. Any other type of adhesive will work as well.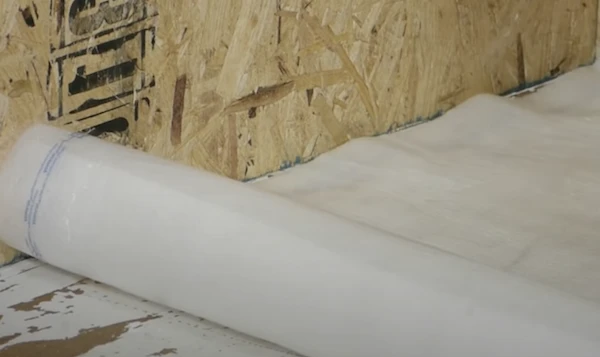 It needs to be spread on the underlayment before the floor covering is installed. Apply adhesive around the intersection of the layout lines and spread the adhesive.
Step ❽: LVP floor covering
If you are sure the tiles fit, it is time to install them. Repeat the process until the room is completely covered.
Step ❾: Check
Check the entire floor for loose areas, press down on the tiles.
Step ❿: Install metal threshold bars at the borders
How to Install Luxury Vinyl Sheets
Vinyl sheets are perfect for bathrooms and kitchens. In case you opt for sheet vinyl plank flooring instead of planks, here is what you need to do.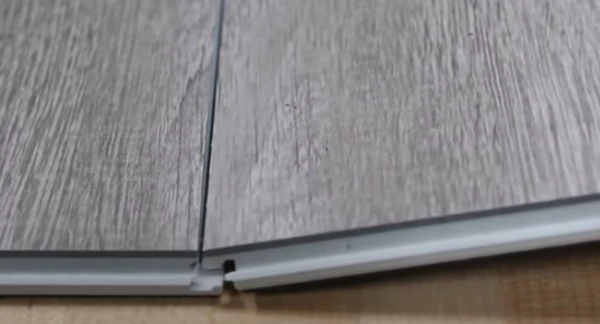 Step ❶: Floor prep
Sweep and vacuum the underlayment thoroughly before installing LVP flooring to ensure a smooth, flawless finish. Small pieces of debris will create bumps in the flooring.
Step ❷: Handle LVP sheets with care
Avoid creasing or tearing. The sheet vinyl should be at room temperature before you begin.
Step ❸: Unrolling
Unroll the flooring with care and turn it pattern-side up for marking.
Step ❹: Overlapping edges
Overlap the edges of the sheets by two inches. Align the sheets so the pattern matches and tape the sheets together.
Step ❺: Position and tape.
Position the paper template over the vinyl and tape it in place. Remove the template.
Step ❻: Cutting process
Cut the sheet with a sharp linoleum knife and use a straightedge as a guide.
Step ❼: Transfer
Transfer the vinyl sheet to the installation area.
Step ❽: Seam cut
Cut the seams using a straightedge along the pattern lines.
Step ❾: Remove both pieces of scrap flooring
It should now run continuously across the adjoining sheets of flooring.
Step ❿: Fold back the edges
On both sheets fold back the edges and lay the seam edges one at a time onto the adhesive. The seam should be tight, so press it together.
Step ⓫: Adhesive application
Apply flooring adhesive underneath and start gluing the sheets down.
Some types of sheets are self-adhesive and if you opt for them, you won't have to use any adhesive underneath. In any case, installing LVP is a fun do-it-yourself process for the whole family.
LVP Flooring Care
Resilient floors like LVP are a beautiful alternative to hardwood floors and their care. They are, however, more sophisticated and easier to maintain.
The process of cleaning takes only 10 minutes of your time and the skills you need are vacuuming, mopping, using a flexible spatula and working with strong cleaners.
On a regular basis, you only need to sweep the floor, vacuum, dry mop and occasionally wet mop if you need to pick up dirt or dust. You can also do this using a slightly damp cloth.
Sometimes you might have to remove tough stains such as wax, crayon, wine, mustard, nail polish, paint, permanent marker and similar.
To do this, a wet mop won't help. Refrain from using a steam cleaner. Instead, follow these guidelines instead.
Damage: Wax
Solution: Use a plastic scraper to scrape the wax off the floor. If the wax stain persists, place a paper towel on the wax and lay an old towel over this. Set a warm clothing iron on the towel for a few seconds until the wax warms. Then, scrape it with a plastic scraper again.
Damage: Crayon
Solution: To remove crayon stains from your engineered vinyl planks, dab a cloth in mineral spirits and scrub the area clean. Rinse the area using a damp cloth.
Damage: Nail polish
Solution: Use a cloth and acetone-based nail polish remover. Use a damp cloth afterwards and nail polish stains will disappear from the engineered vinyl plank flooring.
Damage: Paint
Solution: While the paint is still wet, soak it up with a dry cloth and then wipe it with a cloth dabbed in mineral spirits. Then, use a plastic scraper. Go over it with rubbing alcohol.
Damage: Ink
Solution: Use a citrus-based cleaner or rubbing alcohol and a cloth to solve this issue on your engineered vinyl plank.
Replacing LVP Flooring
Repalacing LVP flooring depends on the type of damage. In some cases, you can get away with replacing only a plank or two, which is also known as patching. In other cases, however, you need to make a bit more effort.
To replace the LVP Planks:
❶ Remove the damaged floor boards using a pry bar and replace them with boards cut to fit.
❷ Build the subfloor in the patch area so that the new surface will be flush. You can use thin plywood and building paper.
❸ Scrape away remaining adhesive with a putty knife.
❹ When the floor is dry, apply a thin layer of vinyl tile adhesive onto the underlayment.
❺ Fill gaps in floors using the new planks or tiles.
Patching sheet vinyl is slightly different:
❶ Measure the width and length of the damaged area. Cut a bit larger than the damaged area.
❷ Lay the patch over the damaged area, matching the pattern lines. Secure with duct tape. Cut through the new vinyl and press with the knife to cut both layers.
❸ Use an electric heat gun to soften the underlying adhesive and remove the damaged section of floor. When the sheet is loose, pry up the damaged area.
❹ Scrape off the remaining adhesive and apply new adhesive to the patch, using a trowel with a V-shaped notches at a 45 degrees angle.
❺ Set one edge of the patch in place and press with a rolling pin to create a solid bond. Start at the center and work toward the edges.
❻ Let the adhesive dry overnight.
Final Word
Despite the widespread demand for traditional hardwood flooring, laminate flooring and porcelain-tile floors, the resilient LVP flooring remains extremely popular. That's because it is surprisingly durable, quite affordable, quick to install, easy to clean and suitable for all rooms.
Think about the type of flooring you want to purchase – luxury vinyl tile floor, vinyl planks or vinyl sheets and follow this guide to ensure you have a professionally installed LVP flooring.
Frequently Asked Questions
✓ Which one is Better - LVP Flooring or Laminate Flooring?
If you plan to purchase water-resistant and scratch-resistant floor that will last you a long time and that allows you to create your own unique floor design, go for the luxury vinyl floors. Besides, they are more affordable than laminate flooring or solid hardwood, but still look like real wood. They are well-suited to any room and there are no tripping hazards.
✓ Is LVP Flooring More Affordable than Hardwood Flooring?
Surprisingly enough, not only does LVP flooring mimic the appearance of natural hardwood flooring, it is also a lot more affordable than engineered hardwood or laminate planks. It is designed for both residential and commercial applications. The installation process is also easier since many designs can be installed in a peel-and-stick method.