If thinking about all the extra work and money that goes into preparing a basement for everyday use is overwhelming, you're not alone. While basements that flood can offer a great deal of extra space, they also come with a laundry list of concerns, one of which being which type of flooring to use. Finding a floor that stands up to water and moisture can be tricky. With so much to consider, which flooring makes the cut? Read on to learn more about the best flooring options for basements that flood.
Quick Insight
The most water-resistant and durable type of flooring for basements that are prone to flooding is vinyl plank flooring. Rubber, cork, and engineered wood with protective coatings are also good options.
Water-Resistant Flooring
Water-resistant flooring is a great option for basements that flood because it is designed to withstand moisture without incurring damage. Water-resistant flooring typically comes in the form of laminate flooring, luxury vinyl tiles and sheets, or ceramic tile. Depending on the material, water-resistant flooring can provide a high level of protection from water or be literally waterproof.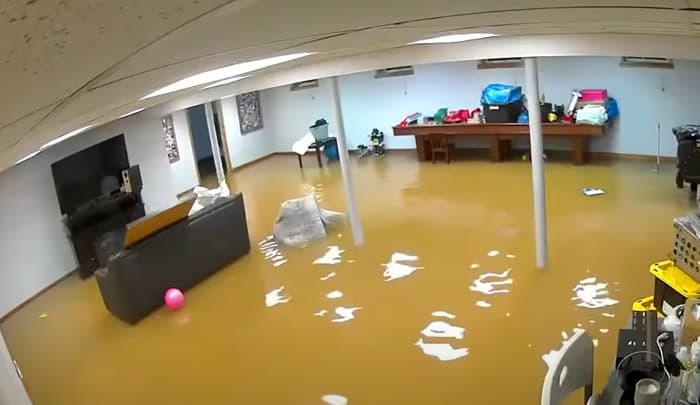 Arguments for water-resistant flooring include its durability and its ability to keep water out. It stands up to high levels of foot traffic and does not require additional sealants or coatings, unlike other types of flooring. Additionally, the latest technology used in the manufacturing process of these products has greatly improved water-resistance.

However, there are also a few drawbacks associated with water-resistant flooring. For example, it can be more expensive than traditional tile, laminate, or carpeting due to the enhanced protection provided; however, prices can vary depending on quality and brands. Additionally, depending on the material chosen for the project, installation may require meticulous attention to detail and specialized tools, so it's best to consult with an experienced contractor to decide if this is a practical choice.

Undoubtedly, water-resistant flooring can protect basements from flooding and provide homeowners with a long lasting solution. But careful consideration should be taken when evaluating costs and proper installation techniques to ensure that the investment will pay off in the long run. Now that we've discussed water-resistant flooring options, let's explore another popular choice: vinyl.
According to Home Advisor, Pro, concrete is the most recommended type of flooring for basements that flood due to its extreme durability.
A 2018 survey by Fixr found that 34% of Americans who have had to replace their basement flooring due to flooding chose vinyl as their replacement material.
According to Bob Vila, tile is another popular option because it can handle high traffic and moisture better than some other materials and it also looks great.
Vinyl
Vinyl flooring is a popular option for basements that may experience increased moisture or flooding, given its durability and water-resistance. Vinyl planks boast a high tolerance for moisture, making them ideal for rooms like basements exposed to humidity, dampness, and flooding. They are available in many patterns and colors, providing flexibility for homeowners who want to customize the look of their basement.

On the other hand, vinyl is not always the most cost-effective option. It is often among the priciest choices for basement flooring and can be difficult to replace if damage occurs. In addition, those with allergies may find vinyl problematic due to its potential off-gassing of chemicals such as phthalates.

For budget-conscious homeowners who are looking for an affordable solution that offers some water resistance, the next best option is plastic flooring.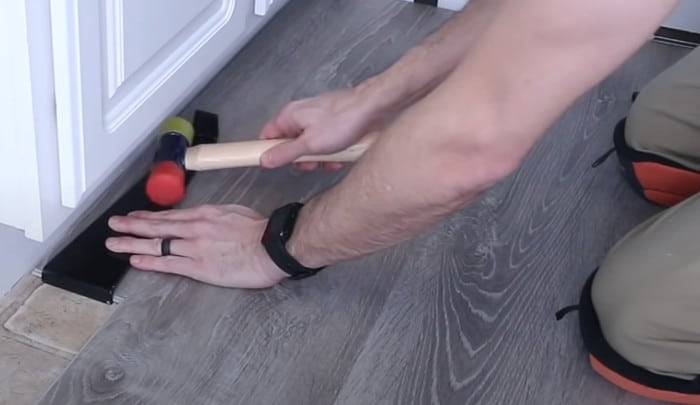 Key Points to Know
Vinyl flooring is a popular option for basements as it is durable, water-resistant and available in many patterns and colors. However, it can be pricey to replace in case of damage and may have off-gassing of chemicals, so it may not be the best choice for those with allergies. Plastic flooring is an affordable alternative with some water resistance.
Plastic
Plastic flooring is one of the more affordable options for basements that flood. It's especially effective for dealing with moisture because, if the floor does become wet, it can quickly be wiped up and even submerged without becoming damaged. Plastic's shine, nonporous surface and range of colors make it more aesthetically pleasing than other waterproof floors, such as concrete or vinyl.

However, plastic flooring has some limitations when used in basements that flood. One consideration is that it can be cold to the touch, making it uncomfortable to walk on with bare feet. Also, installing a team of plastic planks can be difficult and time-consuming; it's often a job best left to professionals. Although plastic is budget-friendly and hardy, it may not be a practical choice unless you anticipate regular flooding in your basement.

With its own pros and cons in mind, plastic flooring has potential as an option for waterproofing a basement that floods regularly. However, subfloor considerations are critical to the overall structural integrity and longevity of the floor. The next section will discuss what to keep in mind when looking at subfloor options for basements that flood.
Subfloor Considerations
When selecting the most suitable flooring for a basement prone to flooding, the foundation of the floor must first be taken into consideration. A subfloor is an important structural layer, beneath finished flooring material, that adds insulation and support. Because basements often form cold spots in a home as air naturally moves downwards, an upgraded subfloor with extra insulation can help keep areas warm and dry during periods of flooding. Those seeking a firmer foundation may opt for plywood as it is denser than other materials such as OSB (oriented strand board), though concrete is also an acceptable choice.

The most popular installations over concrete are floating wood floors or luxury vinyl tile. When installing over plywood, the choice expands slightly due to the denser substrate. Engineered or laminate wood, sheet vinyl, or ceramic tile can be installed directly but carpet should typically not be installed due to potential moisture issues.

It's important to weigh both options beforehand because each has its own unique pros and cons. Concrete is durable and can act as additional insulation but it's difficult to work with and modify if necessary while plywood offers versatility though it can warp over time when consistently exposed to moisture and humidity.

No matter which subfloor option is chosen, proper installation techniques are necessary for keeping out unwanted moisture from accumulating and damaging the space.

Now that we've discussed subfloor considerations, let's move on to exploring what types of floors don't absorb moisture in our next section about: Floors That Don't Absorb Moisture.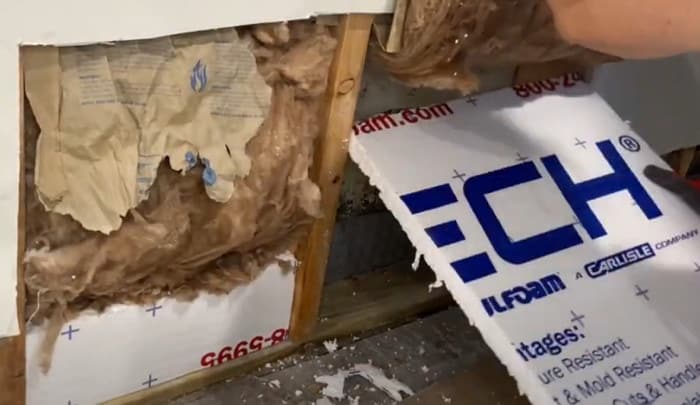 Floors That Don't Absorb Moisture
Floors That Don't Absorb Moisture are a great option in basements that may flood. These materials include linoleum, vinyl, and tile. Linoleum is an especially popular choice for its durability, affordability, and scratch resistance. It can also be installed in sheets or tiles to suit your individual needs and budget. Vinyl is another great choice for wet basement floors since it's waterproof. This means you don't have to worry about moisture damaging the material the way you would with other flooring options like wood or carpeting. Vinyl also comes in a variety of designs and styles, including simulated wood grains, so you can get that look without the hassle of maintaining real wood. Lastly, tile can be used in basement floors due to its low porosity. Tile doesn't absorb water as quickly as other materials, making it one of the best options when it comes to wet basement floors.

On the downside, these types of non-absorbent flooring can be more difficult to install due to their weight and size. Proper installation is essential in order to prevent any future issues from arising from moisture damage in the basement. Additionally, some people may find these materials cold and uncomfortable underfoot compared to warmer materials like carpet or wood.

No matter which material you choose for your flooded basement flooring, it's important to understand the pros and cons before settling on any one type of flooring option. By doing so, you'll be sure to make an informed decision that meets all your needs for style and functionality as well as moisture protection for your space.

Now let's move onto the next section about Laminate Flooring – a cost-effective option that looks and feels just like hardwood flooring but without all the maintenance required by real wood planks!
Laminate Flooring
Laminate flooring is a popular choice for basements due to its ability to resist moisture. It's constructed from four layers of synthetic materials, with the top layer being a photo-realistic image of wood, stone, or tile.

The advantages of laminate flooring include being low maintenance and its ease of installation; it can be clicked together in a floating installation style, with no need for glue or nails. Laminate offers moderate stain resistance as well and does not require refinishing. It's also one of the most budget-friendly options available compared to other materials.

On the contrary, laminate flooring isn't ideal in basements that flood frequently because the water will sit on top of the surface. If the basement floods while there is laminate installed, it may need to be replaced as the water seeps through and damages the underlying layers.

While laminate flooring is affordable and easy to install, Hardwood Flooring is an option you should consider for your basement if you experience frequent flooding.
Hardwood Flooring
Hardwood flooring in basements that flood may seem counterintuitive when it comes to basement flooring, but this option can actually be feasible in certain cases. Some types of wood floors stand up better to moisture than others, such as bamboo and cork – both of which are more "water-resistant" options, although not waterproof.

One benefit of hardwood over other flooring materials is its softness. Hardwood floors don't become slippery when wet like tile and other hard surfaces, making them easier on feet and a less hazardous walking surface. As long as they are properly sealed, they can also provide a higher level of warmth than other materials, which can be especially useful during cold and damp months.

On the downside, hardwood floors that become wet can develop cracks if not regularly maintained. It's important to invest in a high-quality water sealant for your floors to minimize the effects of moisture. Additionally, hardwood floors may be more costly upfront than other materials.

Overall, hardwood flooring in basements that flood is possible with proper maintenance and careful selection of the type of wood used. Those who opt for this option should weigh the pros and cons carefully before committing to this investment while ensuring their floors are sufficiently sealed. Moving forward to the next section, let's explore another common flooring material used in basements that flood: Tile and ceramic flooring.
Tile and Ceramic Flooring
Tile and ceramic flooring is one of the most popular options for basement floors due to its durability and attractive design. Ceramic tile flooring can be an economical solution for basements, as it offers both a timeless look and protection against moisture. Tiling can easily be wiped or mopped clean of excess water and should not stain if installed correctly. The major downside is that tiling may have a high installation cost, depending on the type of tile chosen, which can increase the overall cost of the project. If proper water-proofing measures are not taken, ceramic tile flooring has the potential to absorb lower levels of water, leading to more frequent repair and maintenance over time.

Although there are risks associated with using tile or ceramic flooring in a basement that floods, there are steps homeowners can take to protect their investment. One option is to use waterproof epoxy grout instead of traditional grout. This helps keep excess water from seeping into the cracks between tiles and prevents damage to the surface. Additionally, sealants designed for basement floors can provide additional layers of protection against flooding and help extend the life of your tile.

Ultimately, when considering tile or ceramic flooring for your flooded basement, it's important to weigh all factors carefully before making a decisions. Taking the necessary precautions ahead of time will ensure lasting results and less time spent maintaining your new floor in the long run.

The next section will examine another option for basements that flood: floating floors.
Floating Floors for Basement Floods
Floating floors, like laminate and vinyl planks, are often seen as a good option for basements that flood. This type of floor is made up of planks that are held together with a "floating" tongue-and-groove system that can be installed directly on top of concrete or existing flooring. With no attachment or adhesive needed to keep them in place, plastic floating floors allow harmful moisture to escape freely underneath the panels with little risk of mold growth.

However, when it comes to flooding basements, the debate around floating floors can become heated. Some contend that if there is an extensive amount of water present during a flood event that goes above the height of the planks, then damage may occur and this option will not be as beneficial as interlocking tiles or sheet vinyl. On the other hand, advocates argue that floating floors are inherently more waterproof than adhesive-backed tiles and carpet, proving to be a reasonable choice for areas prone to occasional flooding.

Though there are valid pros and cons to consider for those looking for basement flooring options following a flood event, it's important to weigh all variables before making a decision. With clear understanding of basement conditions, paired with regular maintenance and proper drainage systems, floating floors offer an attractive and functioning solution.

As you consider the best options available after flood damage in your basement, let's look closer at your potential choice of installing your new flooring.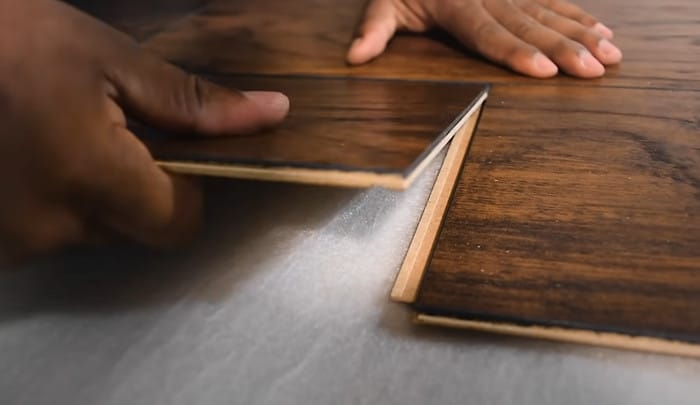 Installing Your Basement Floor
When it comes to the installation process for basement flooring, there are two schools of thought. The first is that installing the flooring before the flooding occurs can allow for a much easier cleanup, making for a less stressful repair job. The downside of this method is that if moisture does enter the basement and finds its way beneath the finished floor, it could damage the subfloor and potentially cause structural issues.

The other school of thought advocates waiting until after any potential flood waters have receded before laying down your new flooring. This option can be more time consuming as all flooring materials will need to be cleaned and dried before installation, but it has the benefit of guaranteeing that no moisture remains beneath floorboards, thus minimizing the risk of any further damage to the subfloor or structure.

No matter which route you choose, remember to choose flooring materials that are waterproof and designed to resist potential mold and water damage such as luxury vinyl plank or tile, ceramic tile, and engineered hardwood. These materials should help reduce costs associated with repairs stemming from future flooding events.

It's also important to pay attention to how your basement was built when selecting flooring materials. If there is evidence of excessive moisture (e.g., condensation on walls or floors), then you may need to install something like an epoxy coating with a vapor retardant agent in order to create a seal and protect your new floor from seeping water. Other options include installing a sump pump or an interior drainage system, taking steps to ensure effective waterproofing outside of the home (such as grading away from the foundation), improving overall ventilation in your basement, and running a dehumidifier regularly in order to prevent excess moisture buildup in your basement space.

Ultimately, deciding on when (or even if) to install your new basement floor can depend on many factors including budget, timeline restraints, and building code considerations—be sure to consult local professionals who will be able to advise on what option might work best for you given your specific situation.
Common Questions and Their Answers
What is the lifespan of this type of flooring in a basement that floods?
The lifespan of any type of flooring in a basement that floods will depend largely on the level of flooding and how long the water is allowed to sit. Generally speaking, however, all types of flooring, including carpet, vinyl, laminate and even concrete, are likely to suffer in a basement that experiences flooding. They can start to show signs of damage after only short-term exposure to moisture and may need to be replaced within the first year of installation. To extend the life of your basement flooring, investing in waterproofing solutions such as sump pumps or drains may provide some additional protection.
Does this type of flooring provide sufficient water resistance?
Yes, the type of flooring discussed in the book does provide sufficient water resistance. There are a number of options for basement flooring that are specifically designed to stand up to moisture and flooding, including rubberized laminate, non-porous tile, or engineered hardwood or vinyl. These types of flooring have a protective top layer that resists liquid penetration and helps prevent water damage. Additionally, many of these floorings have a raised edge that further shields against water seepage. With the right installation and maintenance practices in place, such as sealing grout lines and keeping floors surface clean, this type of flooring can provide an effective barrier against flooding.
Are there any DIY solutions to creating waterproof flooring in a basement?
Yes, there are a variety of DIY solutions to creating waterproof flooring in a basement. These include using epoxy flooring systems, concrete sealers, and/or polyurethane coatings on existing floors. Epoxy flooring is highly water-resistant and comes in both kit form or can be professionally applied. Concrete sealers help protect against water penetration by forming a barrier between the substrate and the moisture underneath the floor. Polyurethane coating is also an option, creating a durable and waterproof wall covering that can be applied directly over the existing subfloor material. Whichever solution is chosen, it is important to follow all instructions carefully for best results.
References
https://www.forbes.com/home-improvement/flooring/types-of-flooring/
https://www.flooringamerica.com/blog/whats-the-most-popular-flooring-in-new-homes