Properly staggering laminate flooring is something very easy to do, but yet extremely important.
Not only does proper staggering add stability to your laminate floors, but it also makes the wood pattern look lavish and stand out.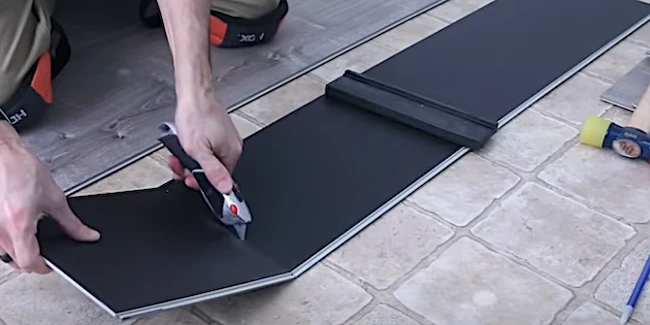 Understanding the basic concepts as to why staggering matters will mean laying a more aesthetically pleasing floor, that's structurally sound, while also requiring less maintenance.
In this article you will find how to do this in a way that is affordable, resilient and absolutely gorgeous.
"Staggering laminate flooring boils down to two main components – aesthetics and structure. A suitable staggering pattern, typically 30% to 50% off each board, not only harmonizes the visual balance of your room but also maximizes the structural integrity of your floor. In this craft, thirty years of experience have taught me that precision and an eye for balance transform ordinary spaces into extraordinary ones. It's much more than simply laying boards – it's carving coherence into a room."

Gregory "The Tile" Tannenbaum, Master Floorer
What to Consider Before Installing Laminate Floors
Here are three factors to consider before installing laminate floors:
Are you daring enough to stagger your laminate floors?
The stagger patterns depending on the style of your home.
Get a visual representation of your idea to confirm it's to your liking.
Choosing the Design of Laminate for Your Floor
Choosing the right design for your new floors is paramount, as now is the time to match it around your home style. A nice tile will take your room to a whole new level. Even vinyl flooring looks amazing, just go to a store for a fair comparison.
There is a wide range of laminate board designs to choose from, perfect for your kitchen, bathroom, or any room in your home for that matter. You can go with one that looks like stone, brick or concrete. Width should also be a major factor depending on your style.
If your home style is more contemporary, go for light colors of laminate, or even go for the very rich and exquisite all white floors! It would make your home visually wider and you can adjust your furniture accordingly as well!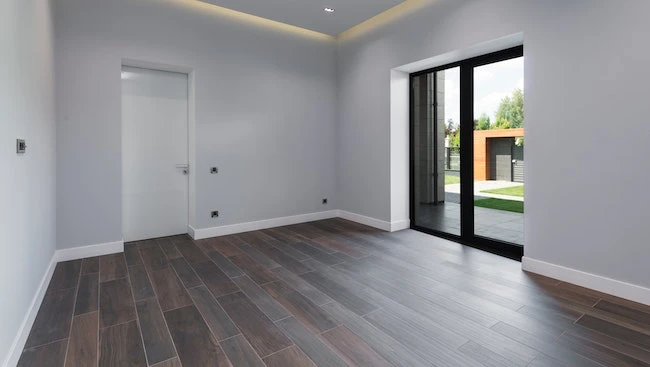 If your personality is on the quiet side, you cannot go wrong with the industrial look, or just very cozy and warm colors like hazelnut.
Laminate planks cost around $10 x square foot. You can find more expensive options if you are going for a much more luxurious finish that even looks like ceramic tile. With the help of a calculator you can easily determine the number of tiles you are going to need.
The opportunities are truly endless and now is the time to express yourself through your home.
Quick Answer
To stagger laminate flooring you have to follow the specific instructions provided by the manufacturer. Then, clean the room, prepare the subfloor, add an underlayment sheet, climatize and lay down the planks to complete the installation process.
The Plan For Perfectly Staggered Laminate Planks
Staggering your laminate planks is necessary. A floating floor that's not adequately staggered will not only look strange, but will lack the required strength and stability for the laminate to stay put.
Over time you will likely notice some loose planks, planks with issues locking together, and sections that move out of place or away from the walls.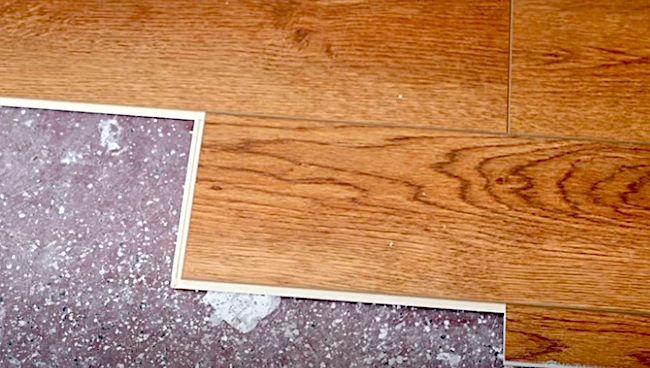 Consider these 8 steps & rules to carefully staggering your planks and ensure the job is done correctly:
Step 1: Follow the manufacturer's instructions
Before you stagger floating floors, always check the instructions first. This will save on time and money, and it will also assure that all procedures and guidelines regarding safety are followed.
Always follow the manufacturer's instructions!
Step 2: Prepare the room for flooring
Before getting ready to install the laminate, remove any obstacles that may get in the way, including any baseboards on the joints between the wall and the floor, existing staples or nails.
And obviously – clean the floors thoroughly with a broom or vacuum cleaner. We recommend using a vacuum cleaner with a HEPA filter to avoid dirt and other particles returning to the room.
Step 3: Prepare the subfloor
Preparing the subfloor is very important, go wrong here and the desired results will fail. It needs to be flat, smooth, and most importantly firm.
At this point, you can also put the laminate planks onto the subfloor to check if it is flat and there's no rocking – also you get a sneak peak on how your future floors will look.
To achieve this, use a leveler and measure the inclination of the floor. The bubble must be as close to the middle as possible, but don't worry it is not 100% centered. If the bubble is not giving you a good read, you might have to fix the floor level before moving forward with the installation. If you are going to install a carpet, this would be the last step before the installation.
* Laminate flooring can also be installed on top of any other existing flooring type, as long as it is flat and attached firmly to the subfloor.
Step 4: Add underlayment sheets
Choosing the right underlayment sheets is very important. Underlayment sheets are the groundwork to your laminate flooring, and they will deliver thermal isolation, a moisture barrier and smooth out any existing bumps.
Place the underlayment on the floor leaving 1/4 inch between each pad. then apply a filler to close the gaps and let it sit for one day, more if possible.
There are different types of underlayment sheets, so make sure you check the instructions again and use the right one suited for your laminate!
The most common underlayment is made with plywood, this material is very affordable coming at only $2 x square foot.
Step 5: Climatize your laminate planks
Whichever room your laminate boards will be fitted, will be the same room you leave them in for 48hrs. The real width will probably change during this period, not dong this will definitely cause a problem as time passes.
This has to be done before the installation process so they can adjust to the temperature and humidity of that specific room. You do not want the laminate to expand or contract after they have been installed. This is extremely important if you chose wood boards.
In the meantime, you can check out other areas form your house if you are planning on changing the tiles for them as well.
Step 6: Laying Down the First Row
Now all the prep work is complete, it is time to figure our how to lay flat that first board and start the installation process.
All laminate planks come in the same length. So how are you going to form a step pattern, and stagger the laminate boards in a way that you like? The secret is in trimming and cutting the planks to the exact length and width so that they fit together like puzzles.
We suggest you start installing laminate planks from the left to the right of the room. You can begin with installing laminate wood or vinyl plank flooring with the trimmed part along the wall, but pay close attention to the expansion gap. A distance of half an inch from the gap is highly recommended, and a tape measure will come in handy in this case. Try using spacers to make sure they are all in line too!
After laying the first row of laminate planks, you need to make sure that you have all aligned end joints and they are closed. The best way to do that is to use the right tools like a hammer and secure the end joints.
Step 7: Laying Down The Second Row
Installing first row should not have been extremely difficult, and after you nailed that one, the adjacent second row should be much easier. By now you already learned that the last plank from the first row did not fit completely, and you thought of cutting it off – which is, in fact, the way to go. You can use it to start installing second row with it. Carry on with staggering laminate planks by the end of second row.
The trick to achieving the irregular pattern, which is important for the final, chic and gorgeous look of your laminate flooring, is to do the opposite of what you did at the end of first rows! We do not recommend to use the cut off from the second row to start the next row, because we do not want you to get into the trap called the h-joint. H-joints can negatively affect the whole structure of the laid floor, and give you a regular pattern which we are trying to avoid at all costs!

To begin with the third row, take a whole laminate plank, cut it off into a length you want and start staggering third row with it. Sounds like so much fun, right?!
After you are done with staggering the third row of the laminate floor, use the piece of the board you have left from the second row to start fourth row with! Easy, just like puzzles! Move along with the same pattern, make sure you have proper spacing between the laminate planks, and you should be done with the last row of your floor in no time!
Another fact to have in mind, is that most laminate planks have click and lock system. So make sure to hold them at a 45-degree angle while connecting them from one row to the next one.
If the boards you have chosen do not have the click and lock system, they should be connected with glue. Also make sure to use the recommended glue for the type you have. PVA glue is great for wood floors while cement glue is excellent for vinyl and other synthetic materials.
Be careful with connecting the boards together and moving them onto the floor, and always make sure to use a hammer with light pressure to anchor the boards.
Step 8: Laying Down the Last Row
The final row and the last row is usually the most difficult row in laminate flooring installation. It is because the remaining laminate planks will not fit the space. This is why you need to use a jigsaw or a table saw to rip them. It sounds difficult, but having a new laminate floor is so worth the trouble!
Use the jigsaw with a slow setting to carefully cut the edge of the board. Don't worry if you cut a little bit more, you can fix this latter with some filler.
Why Staggering Laminate Flooring is Important?
Besides looking a little odd, not staggering laminate flooring can create many crucial issues.
For example, firmness and endurance; if the laminate planks are not firmly secured to one another they can disengage. To make sure that structural stability is satisfactory and the flooring is safe, we need to follow all of the steps for proper staggering. If you are still not sure about doing it yourself, just get an estimate from a local company, just make rouse they have good reviews.
As for the aesthetics aspect of the staggering, if the flooring is not staggered (or properly staggered for that matter) it will flat out look weird!
Installing a laminate floor is like putting together a puzzle, but in this case, you can make the pieces fit to your own style. You can simply add an area rug, this will change the style completely.
Correct staggering provides a safe flooring, that will stay in place for a long time which is why we hope these tips will drive you to follow the manufacturer's instructions!
Good luck!
References
https://www.bobvila.com/articles/laminate-vs-hardwood/
https://www.thespruce.com/laminate-flooring-pros-and-cons-1821644