Updated on July 27th, 2021
7 Best Hard Floor Cleaner Machines For Your Home

If you have hardwood floors, laminate, tile, bamboo, or even cork, you know the challenges of keeping your floor clean. Each type of hard flooring requires special care when cleaning, and the right cleaner machine can make the process easier.
We've gone over the most popular models and share our favorite picks of the year. Whether you're looking for a cleaning machine to keep your wood floors polished or you want an affordable and reliable vacuum with excellent suction, we have you covered.
The Benefits of Hard Floor Cleaner Machines
Hard flooring comes in a variety of materials, such as wood or laminate. Even though each type is designed to last for years, cleaning is a "must" for extending the life of your flooring.
Many people choose hard flooring because they think it's less work than carpeting. In some ways it is, but non-carpeted flooring still requires frequent cleaning and maintenance.
Depending on the type of flooring you have, a regular mop and a bucket of water might not keep it clean. Hardwood floors, for instance, benefit from occasional mopping but too much water can do more harm than good.
Hard floor cleaner machines are designed to protect your floor as you clean, and most are affordable and easy to use. With the right cleaner, you can spend less time cleaning and doing more of what you enjoy. A hard floor cleaner machine may actually make cleaning your floors a little bit fun!
Best Surface Cleaner Machines
---
| | | | |
| --- | --- | --- | --- |
| #1 | BISSELL CrossWave Max | | A true all-in-one cleaner with smart technology for quicker cleaning & prolonged performance. |
---
| | | | |
| --- | --- | --- | --- |
| #2 | BISSELL CrossWave | | One of the few multi-cleaning mops suitable for sealed wood, laminate and also excellent for cleaning area rugs. |
---
| | | | |
| --- | --- | --- | --- |
| #3 | BISSELL Spinwave | | Similar to its brother CrossWave but specifically designed for sealed hard wood floor. |
---
Before You Clean Your Hard Wood Floors
The hard floor cleaner machines are safe to use on nearly every type of hard flooring, but if you have concerns about how to clean a specific floor, talk to a local flooring expert.
They are likely to give you helpful cleaning tips. If they try to sell you products that are similar to our recommendations, our suggestions are likely to be more affordable and work just as well (if not better).
We usually like to quickly prep the surface we're about to clean by removing excessive dust, rocks and other debris with a duster. You may want to vacuum dust off your hardwood floors to prevent any scratching before polishing.
BISSELL CrossWave Cordless Max All in One Surface Cleaner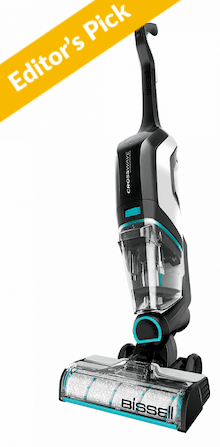 Our favorite all-in-one cleaning machine to date. The BISSEL CrossWave Max not only acts as a wet and dry vacuum cleaner, it can tackle multiple surfaces and rug areas too… all with cordless freedom.
The improved edge cleaning technology is designed to pick up any dust or pet hairs that gather along baseboards and corners of your home, making cleaning far quicker, more thorough and easier.
What makes this cleansing gadget stand out from the rest is its self cleaning cycle ability for maintained cleaning performance and Wi-Fi connection capabilities providing useful tips for machine maintenance.
This makes the CrossWave Max one of the most technologically advanced cleaning machine in the market today and all at a affordable price.
| Bissell CrossWave Max Specification Table | |
| --- | --- |
| Weight | 11.5 lb |
| Cleaning path width | 12" |
| Run time | 30 mins |
| Power source | Lithium-Ion Battery 36V |
| Battery charge time | 4 hrs |
| Wifi enabled | Yes |
| Run noise level | 65-70dB |
| Cordless | Yes |
| Two-tank technology | Yes |
---
BISSELL CrossWave Floor and Carpet Cleaner with Wet-Dry Vacuum

The BISSELL CrossWave Cleaner is one of our favorites because not only is it suitable for sealed wood and laminate; it does an excellent job of cleaning area rugs. Say good-bye to multiple cleaning machines.
The CrossWave Cleaner cleans similar to a scrub brush and a bucket of floor cleaner, but it's easier on your body, cleans an area faster, and cleans more thoroughly. The cleaner has a dual-action brush roll that rotates at 3,500 RPMs and comes with a multi-surface cleaning solution. Whether you're trying to clean pet stains and odors or gently clean a laminate floor, BISSELL has the right cleaning solution for you.
The water tank has a 28oz. Capacity and the dirt tank holds up to about 14 oz. of dirty water. The cleaner has a 25-foot cleaning cord, swivel steering, and a cleaning path of one foot wide.
---
BISSELL Spinwave Powered Hardwood Floor Mop and Cleaner

Hardwood floors are challenging to clean, especially when you're trying not to scratch the surface or use too much water. The Spinwave cleaner has a compartment for floor cleaner, which you can easily spray on the floor by pressing a button on the handle.
There are two reusable and washable microfiber pads which will clean and polish your hardwood floors without damaging the surface.
It's important to note that the BISSELL Spinwave cleaner is only safe for sealed hardwood floors. Like with other cleaners, attempting to clean your hardwood floors that are sealed can cause damage. Another thing we love about the Spinwave cleaner is that it's an excellent option for other hard flooring.
---

Vacuums are a "must have" in most households but it's challenging to find one that works well, gets all the dirt, and is easy to use on all types of surfaces. While the Shark Navigator doesn't have any "wet" cleaning capabilities, it's one of our favorite upright vacuums on the market right now.
Not only is it lighter than other uprights, but it has a detachable canister, which makes it easier to clean various areas of your home without lugging a vacuum up and down stairs. Want to keep your wood stairs as clean as your laminate flooring? The Shark Navigator can handle all surfaces from carpeting to hard flooring.
The HEPA filter helps to catch dust and allergens, and the clear canister shows you just how much dirt and pet hair you're cleaning off of your floors. The gentle brush is perfect for hard floors, and the rolling brush is ideal for carpet. All you need to do is flip the switch and vacuum.
---
Vmai Electric Mop with Polisher and Scrubber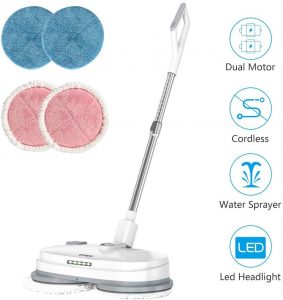 If you've ever tried to polish or scrub your floor with an industrial floor cleaner from a rental place, you can probably attest how long and arduous the process is just to clean your floors.
The vmai Electric Mop can seemingly do it all. It's a cordless spin mop, a hardwood floor cleaner, a floor polisher, a tile scrubber, and waxing capabilities.
In addition to it being a multipurpose floor cleaning tool you never have to trip over a cord or feel limited by where your outlet is located. You have 35 minutes of cleaning time before the battery needs recharging and in that time, you can scrub, polish, gently clean, or wax the hard floors in your home.
---
Gladwell Cordless Electric Mop
Like the vmai electric mop, the Gladwell Electric mop has similar capabilities. It has an integrated sprayer, reusable microfiber scrubbing pads, and can wax, dry/wet mop, and polish a variety of hard floor surfaces.
We like that the Gladwell mop has a wider degree of swivel than the vmai (180-degree vs. 60-degrees). The Gladwell Electric Mop is quiet, cordless, and has a space-saving design, so you can easily store it in a utility closet.
One nice feature is how it's designed to effortlessly glide along multiple surfaces including wood, marble, tile, and laminate floors.
---
Homitt Electric Mop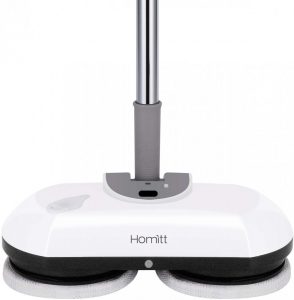 The Homitt Electric Mop has many of the features that we want in a cordless hard floor cleaner. The Homitt has an ergonomic handle and telescoping rod to ensure comfort and ease of use while cleaning, polishing, or waxing your floors. The floor cleaner comes with washable dual-sided wash pads. There's no need to spend money on cleaning solutions, you can make your own and put it in the water tank.
What sets the Homitt apart from similar cleaners? The running time lasts longer, and we also like the 90-degree swivel.
Our Favorite Choice
We think that most of the floor cleaner machines on the market do a great job of keeping your hard flooring clean. In fact, picking a clear winner was hard as there was very little in it, but our top pick for the best hard floor cleaner machine is the BISSELL Crosswave Max.
Not only does the floor cleaner machine have wet and dry capabilities, but its self cleaning cycle ability not only extends the machine's life, it also maintains a strong and constant cleaning performance.
---
Frequently Asked Questions
✓ How can I deep clean my hardwood floors?
Firstly, remove dust and debris using a broom or a hardwood floor vacuum cleaner by cleaning in the same direction as the floorboards.