If you have hardwood floors, laminate, tile, bamboo, or even cork, you know the challenges of keeping your floor clean. Each type of hard flooring requires special care when cleaning, and the right cleaner machine can make the process easier. The cost of a floor cleaning machine machines can change drastically depending on your needs.
We've gone over the most popular models and share our favorite picks of the year. Whether you're looking for a floor cleaning machine to keep your wood floors polished or you want an affordable and reliable vacuum with excellent suction, we have you covered.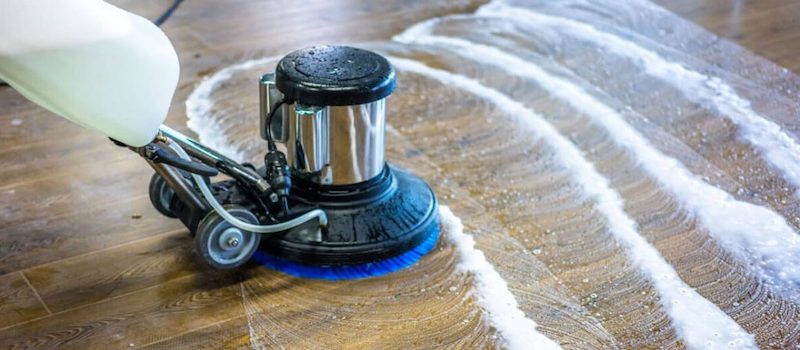 "Using the wrong cleaner is like using sandpaper on your beautiful hardwood floors – it does more harm than good. Knowledge is power; understanding the type of wood, its finish, and proper machinery can make a significant difference in maintaining the longevity of your hardwood flooring."

Hugo Beauchamp , Hardwood Flooring Specialist
The Benefits of Hard Floor Cleaner Machines
Hard flooring comes in a variety of materials, such as wood or laminate. Even though each type is designed to last for years, cleaning is a "must" for extending the life of your flooring.
Depending on the type of flooring you have, a regular mop and a bucket of water might not keep it clean. Hardwood floors, for instance, benefit from occasional mopping but too much water can do more harm than good.
Hard floor cleaner machines are designed to protect your floor as you clean, and most are affordable and easy to use. With the right equipment, you can spend less time cleaning and doing more of what you enjoy. A hard floor cleaner machine may actually make cleaning your floors a fun experience!
Before You Clean Your Hard Wood Floors
The hard floor cleaner machines are safe to use on nearly every type of hard flooring, but if you have concerns about how to clean a specific floor, talk to a local flooring expert.
They are likely to give you helpful cleaning tips. If they try to sell you products that are similar to our recommendations, our suggestions are likely to be more affordable and work just as well (if not better).
Quick Answer
The highest-rated hardwood cleaner is the Bissel Crosswave Cordeess Max due to its stellar battery life and powerful suction.
We usually like to quickly prep the surface we're about to clean by removing excessive dust, rocks and other debris with a duster. You may want to vacuum dust off your hardwood floors to prevent any scratching before polishing.
BISSELL CrossWave Cordless Max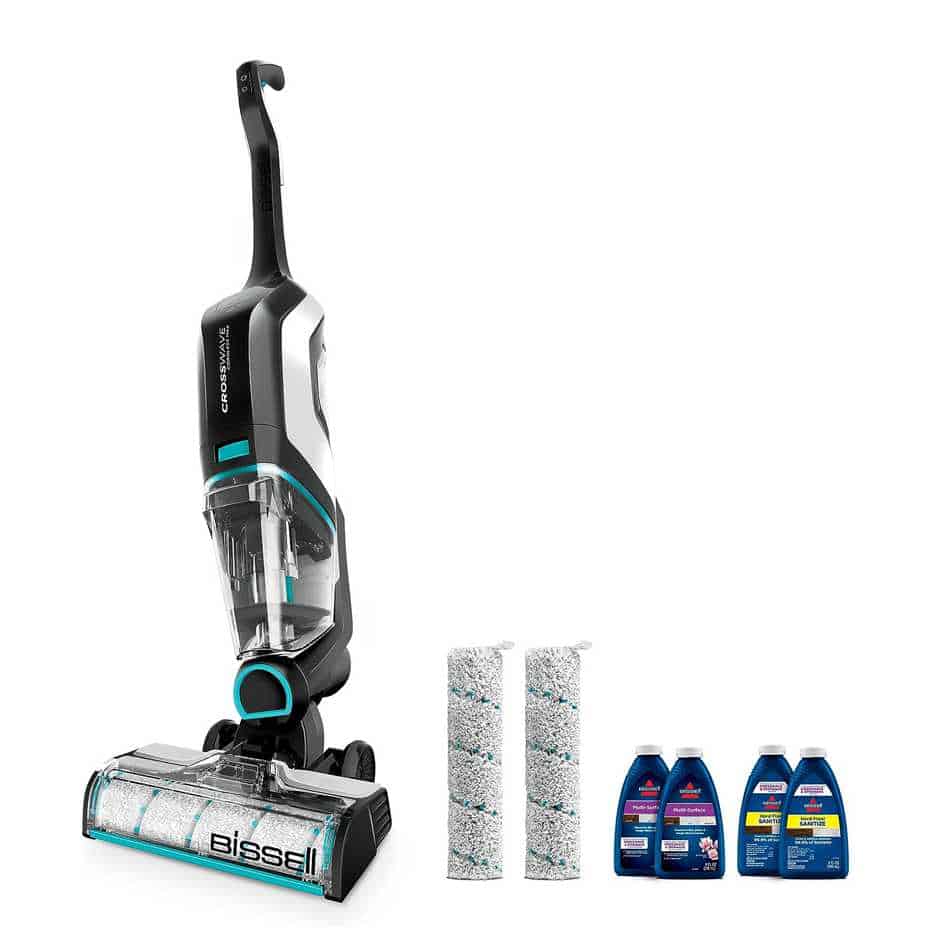 The BISSELL CrossWave Cordless Max, a revolutionary cleaning solution that not only transforms your cleaning routine but also supports a heartwarming cause. With every purchase, BISSELL extends its support to the BISSELL Pet Foundation, aiding their mission to rescue and protect homeless pets, allowing you to clean with compassion.
The freedom of cordless cleaning while simultaneously vacuuming and washing your floors. Powered by a robust 36V lithium-ion battery, this cleaning marvel provides up to 30 minutes of uninterrupted cleaning power, allowing you to tackle larger areas without interruption.
Pet owners will appreciate the enhanced edge cleaning ability, effortlessly lifting pet hair that accumulates along baseboards and corners, leaving your home pristine and fur-free.
Stay connected and informed through its WiFi connected capabilities, seamlessly integrating with the BISSELL Connect app. Receive helpful alerts, track maintenance, access usage tips, and conveniently reorder formulas and accessories with Amazon Dash Replenishment.
With a self-cleaning cycle, the CrossWave Cordless Max ensures consistent and optimal cleaning performance, eliminating the hassle of manual maintenance.
From tile to sealed wood floors, laminate, linoleum, rubber floor mats, pressed wood floors, and even area rugs, this multi-surface cleaning wonder handles them all safely and effectively, leaving your floors refreshed and spotless.
Elevate your cleaning game while contributing to a compassionate cause with the BISSELL CrossWave Cordless Max. Experience the convenience of versatile cleaning and make a difference in the lives of homeless pets with each purchase.
Laresar Cordless Vacuum Cleaner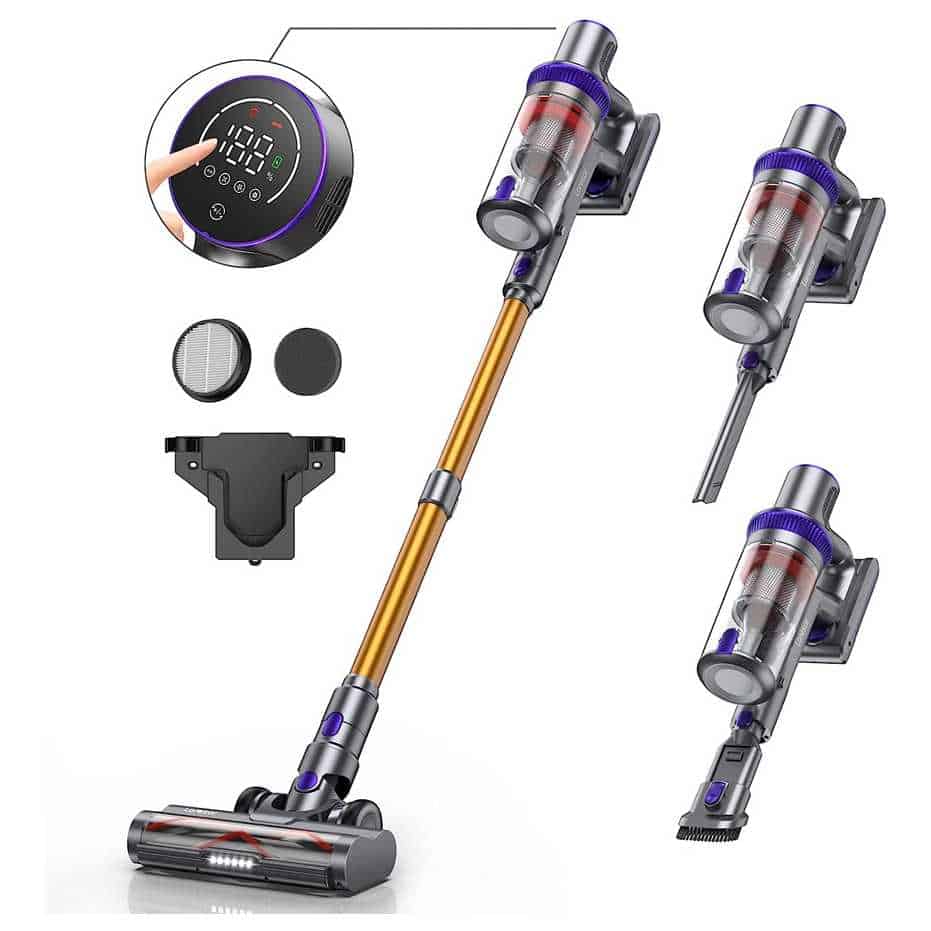 The Laresar Cordless Vacuum Cleaner is a cutting-edge cleaning solution that redefines convenience and efficiency. Equipped with a range of intelligent features, this vacuum cleaner makes cleaning a breeze while keeping you in control.
The LED Smart Panel is a standout feature, providing real-time updates on battery life and vacuum cleaner status. Thanks to the built-in sensor, you can easily monitor the operational details. A red alarm on the LED panel signals blockages in the roller brush or the vacuum host, ensuring uninterrupted performance. The "+/-" button offers cleaning mode customization, with options including Eco, Standard, and Boost modes.
Under the hood, the Laresar Cordless Vacuum Cleaner boasts a powerful 400W brushless motor and a robust 7 x 2500mAh lithium-ion battery. This translates to an impressive 33 Kpa suction power, enabling deep and thorough cleaning. With up to 50 minutes of autonomous operation in Eco mode (or 15 minutes in Boost mode), this vacuum provides prolonged cleaning sessions. Recharging is swift, requiring only 4-4.5 hours for a full charge.
The innovative V-roller design of the Elite 3 enhances its performance on both floors and carpets while minimizing hair tangles. The Series 5's powerful electric floor brush ensures efficient edge cleaning for comprehensive results.
User-friendliness is paramount with the Elite 3. The dust cup can be effortlessly emptied with a single touch, streamlining maintenance. Plus, a wall mount is included for organized storage of vacuum cleaner accessories.
Shark NV356E Navigator Lift-Away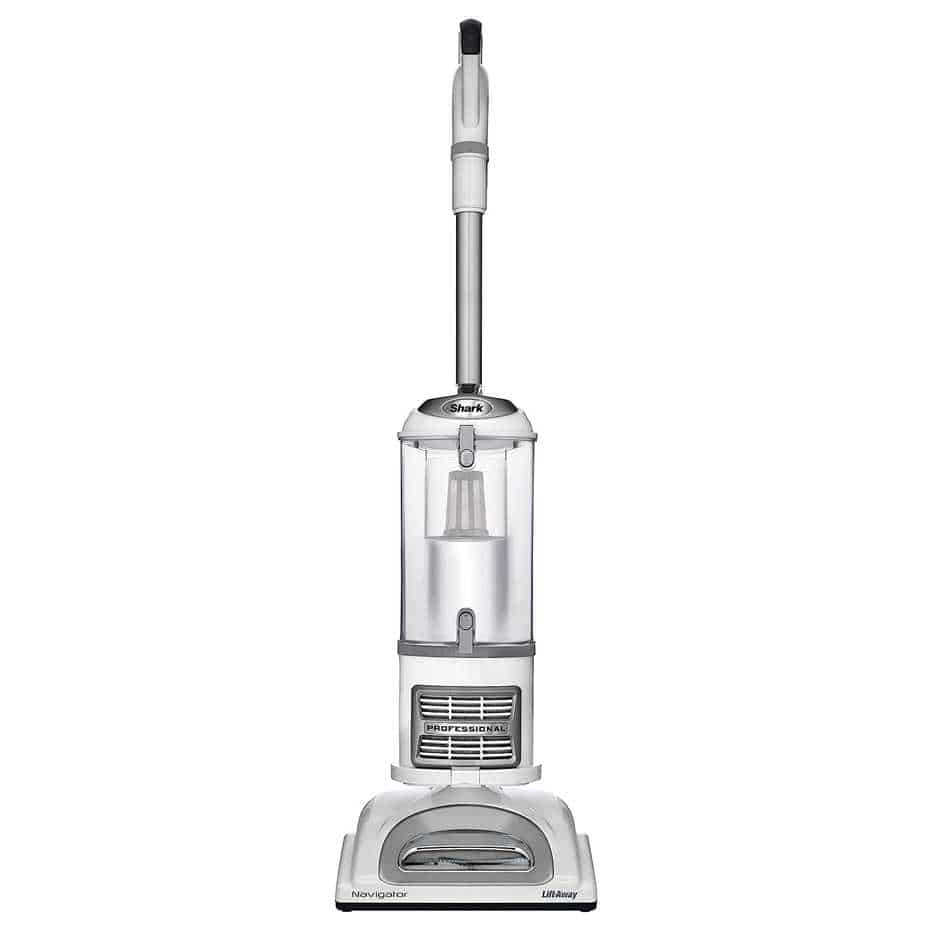 The Shark NV356E Navigator Lift-Away effortlessly tackles a range of cleaning tasks with superior functionality. Elevate your cleaning routine with its exceptional features that deliver professional-grade results.
For those concerned about allergens, the Anti-Allergen Complete Seal technology combined with a HEPA filter captures an impressive 99.9% of dust and allergens inside the vacuum. This ensures a cleaner and healthier living environment, especially for those sensitive to airborne particles.
The Brushroll Shutoff feature allows instant transition between deep carpet cleaning and gentle bare floor cleaning, ensuring optimal results across various surfaces. Pet owners will delight in its ability to effortlessly pick up pet hair, loose debris, and dander, effectively refreshing upholstery and surfaces.
Navigating tight spaces and corners is a breeze with the Swivel Steering mechanism, providing enhanced maneuverability for thorough cleaning. The extra-large-capacity dust cup boasts a 2.2-quart capacity, facilitating longer cleaning sessions. When it's time to empty, the dust cup can be easily removed for quick debris disposal.
Enhance your cleaning arsenal with the included crevice tool and dusting brush, enabling access to corners, baseboards, tight spaces, ceilings, and delicate surfaces like fans, blinds, lampshades, and keyboards.
Gladwell Cordless Electric Mop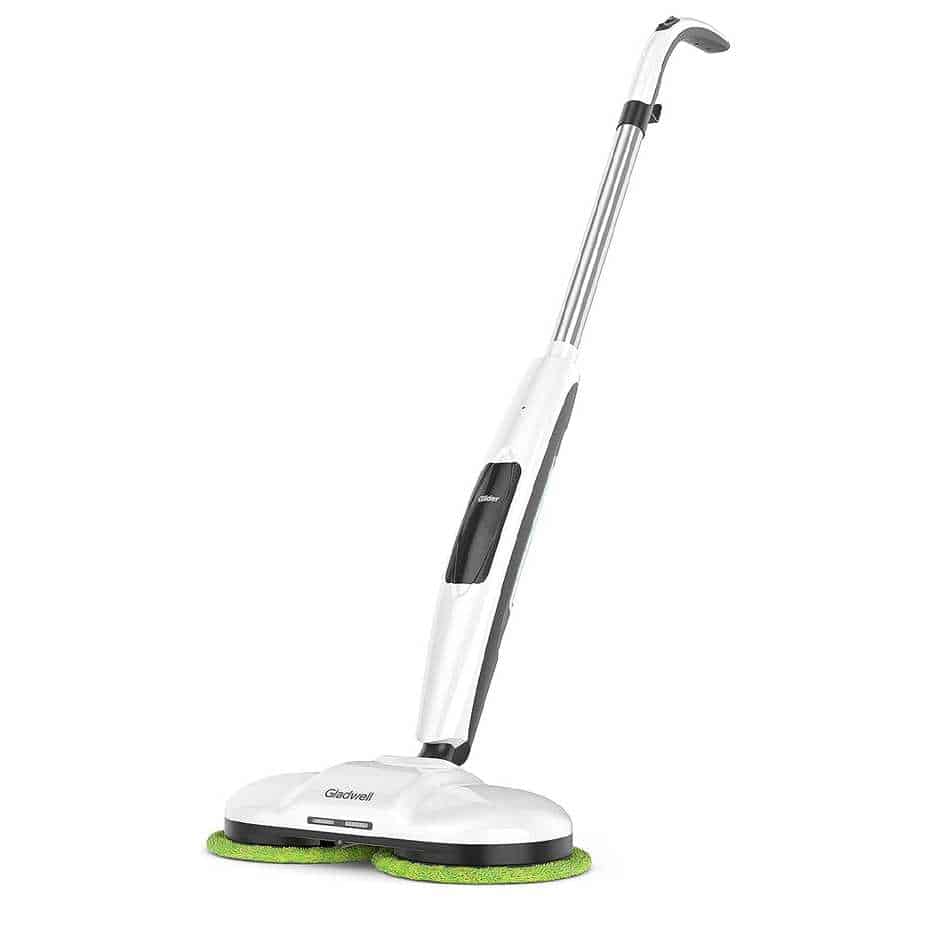 The Gladwell Cordless Electric Mop, a revolution in home cleaning. This innovative mop boasts an ultra-thin 3-inch base and cordless design, ensuring effortless usability and convenient storage, without compromising valuable space. Its handle's 180-degree rotation grants painless access to every nook and cranny of your home, while the enduring battery empowers uninterrupted cleaning sessions. Swift charging means a mere 2-hour boost bestows ample battery life for multiple floor cleanings.
Versatility reigns supreme with the Glider, offering waxing, mopping, and quick spraying options to adapt to every cleaning scenario. Conquer even the most stubborn stains with tailored precision. Unleash the power of dual-spin motors that work tirelessly to swiftly eliminate grime, dirt, and unsightly stains from all surfaces, be it marble, wood, tile, or laminate floors.
Embrace tranquility as you clean, for the Glider operates at a mere 60dB, ensuring a peaceful ambiance without disrupting your neighborhood. This mop is designed to harmonize efficiency with serenity.
PurSteam Steam Mop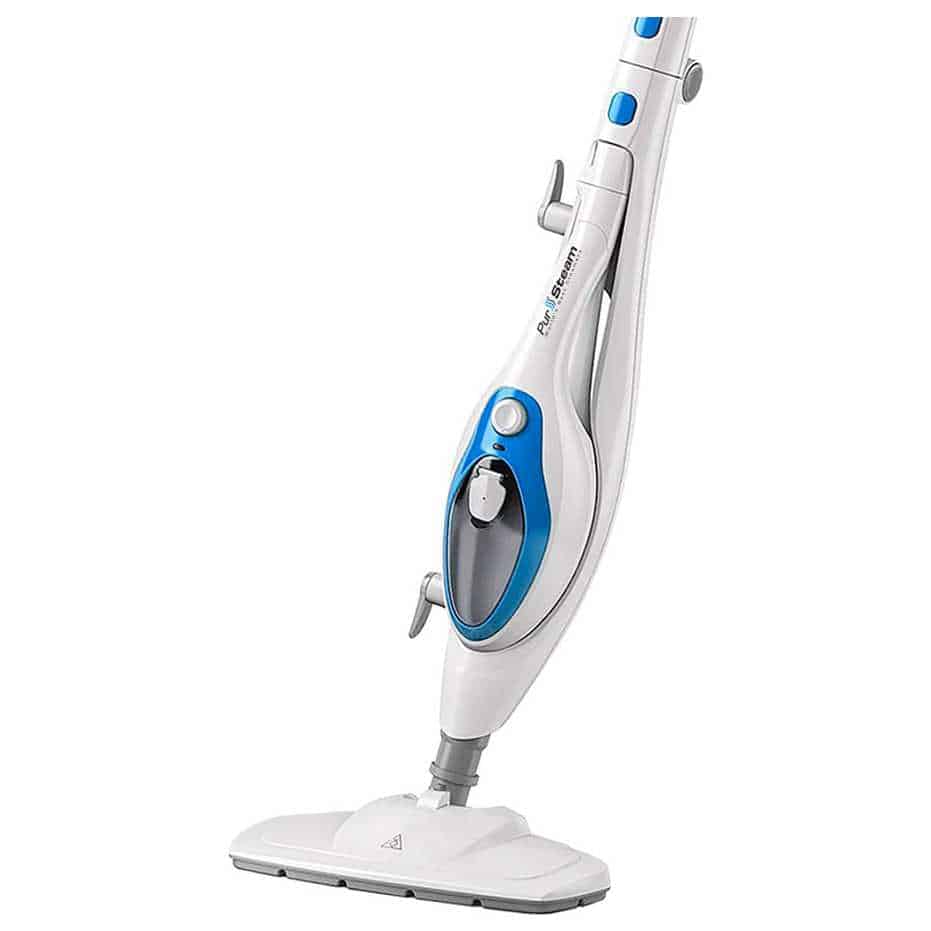 The PurSteam Steam Mop Cleaner, a 10-in-1 solution that revolutionizes household cleaning. Say goodbye to the hassle of cleaning with the power of steam. This remarkable steam mop is designed to tackle every corner of your home efficiently, making it a haven of freshness.
Beyond floors, this steam mop boasts a built-in handheld steam cleaner and a flexible hose that empower you to clean various surfaces with ease. It's not just a floor steam mop or carpet cleaner, it's a true multitasker. Safeguarding your loved ones, the PurSteam Steam Mop Cleaner is child and pet safe, operating without harsh chemicals, making your floors gleam anew.
Equipped with a specialized surface scrubber, it guarantees comprehensive cleaning from top to bottom, catering to glass, sealed stone, stainless steel, and sealed tile/grout. Lightweight and easy to maneuver, the mop offers three adjustable steam modes to cater to your specific needs. Its 380 ml (12.8 oz) reservoir provides up to 25 minutes of steam at the lowest setting and approximately 12 minutes at the highest. The best part? It relies solely on tap water, eliminating the need for expensive detergents.
From hardwood floors to vinyl, tiles, marble, and ceramic tiles, the PurSteam Steam Mop Cleaner is safe for all surfaces. Its built-in handheld steam cleaner extends its functionality throughout your home. With convenient attachments, let the power of steam effortlessly handle your cleaning needs.
Bona Hardwood Floor Premium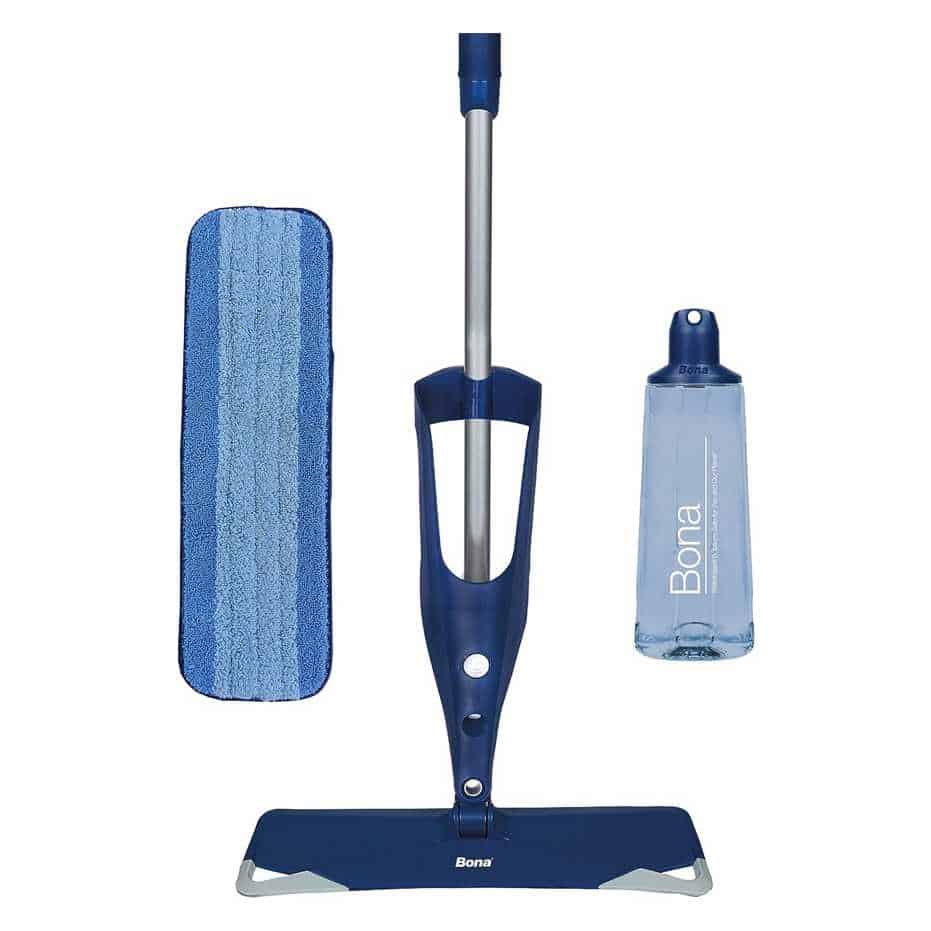 The Bona Hardwood Floor Premium Spray Mop, a versatile solution for efficient and effective hardwood floor cleaning. Crafted with a focus on performance, this spray mop comes equipped with a dual zone microfiber pad that ensures a thorough clean for all unwaxed, unoiled, polyurethane-finished wood floors.
Featuring an extra-large microfiber towel head, this mop takes cleaning to the next level, boasting a 40% faster cleaning speed compared to leading competitors. The locking strips make attaching and removing the microfiber cloth pad a breeze, elevating the overall cleaning experience.
In line with sustainability, the reusable and refillable design of the mop allows you to easily replenish the hard surface floor cleaner solution cartridge, reducing plastic waste. The machine washable microfiber pad can be used repeatedly, enhancing both convenience and eco-friendliness.
Designed with practicality in mind, the Bona Premium Spray Mop offers a durable and lightweight build, complete with a secondary grip, flexible rubber corners, and an easy locking strip microfiber cloth. The addition of a retractable hook ensures effortless storage, making it a valuable household essential.
This comprehensive package includes the Premium Bona Mop, an empty Bona Refillable Cartridge, a 34-ounce ready-to-use Bona Hardwood Floor Cleaner Refill, and a Bona Microfiber Cleaning Pad. Crafted with sustainability at heart, it's worth noting that this product is made using 90% post-consumer recycled material. Upgrade your cleaning routine with the Bona Hardwood Floor Premium Spray Mop, your go-to tool for achieving spotless and gleaming hardwood floors.
Shark WD101 HydroVac XL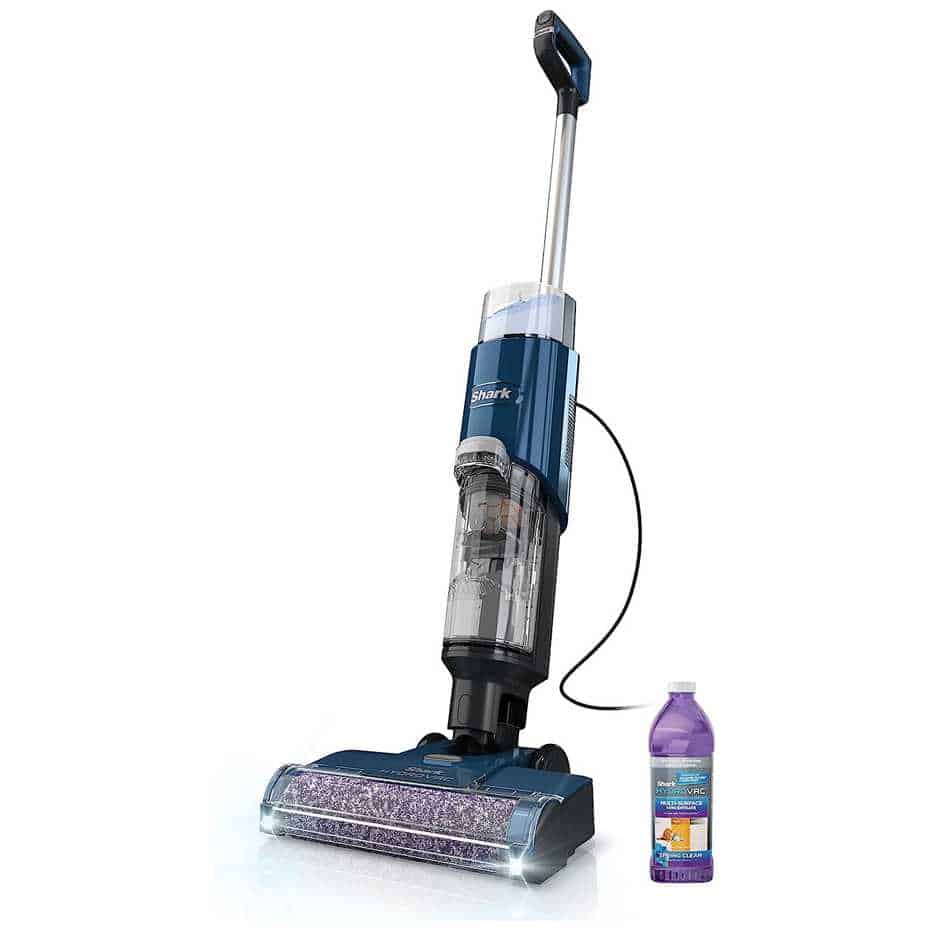 The Shark WD101 HydroVac XL is a revolutionary 3-in-1 cleaning solution designed to transform the way you maintain your living spaces. This corded multi-surface cleaner brings together the power of vacuuming, mopping, and self-cleaning, all in a single device. With a formidable 1200.0 watts of power, it tackles the toughest messes with ease.
From wet spills to dry debris, the HydroVac XL's potent suction and hydro mopping capabilities effortlessly draw in dirt, stains, and grime, leaving behind pristine, streak-free surfaces that you can walk on almost immediately. Unlike traditional cleaning methods, the continuous self-cleaning system actively prevents dirt from being re-deposited onto your floors. Additionally, the antimicrobial brushroll technology helps combat odors and bacterial growth, ensuring a hygienic cleaning process.
Versatility is a cornerstone of the HydroVac XL's design, catering to a range of sealed hard floors, including hardwood, tile, marble, and laminate. It extends its prowess to area rugs, eliminating surface dirt and odors, making it a perfect companion for pet owners seeking a fresh and odor-free environment.
Efficiency meets convenience with the debris filtration technology integrated into the dirty water tank, efficiently separating solids from liquids. This thoughtful design simplifies the emptying process, while the self-clean mode ensures the device remains ready for the next use.
Shark WD201 HydroVac Cordless Pro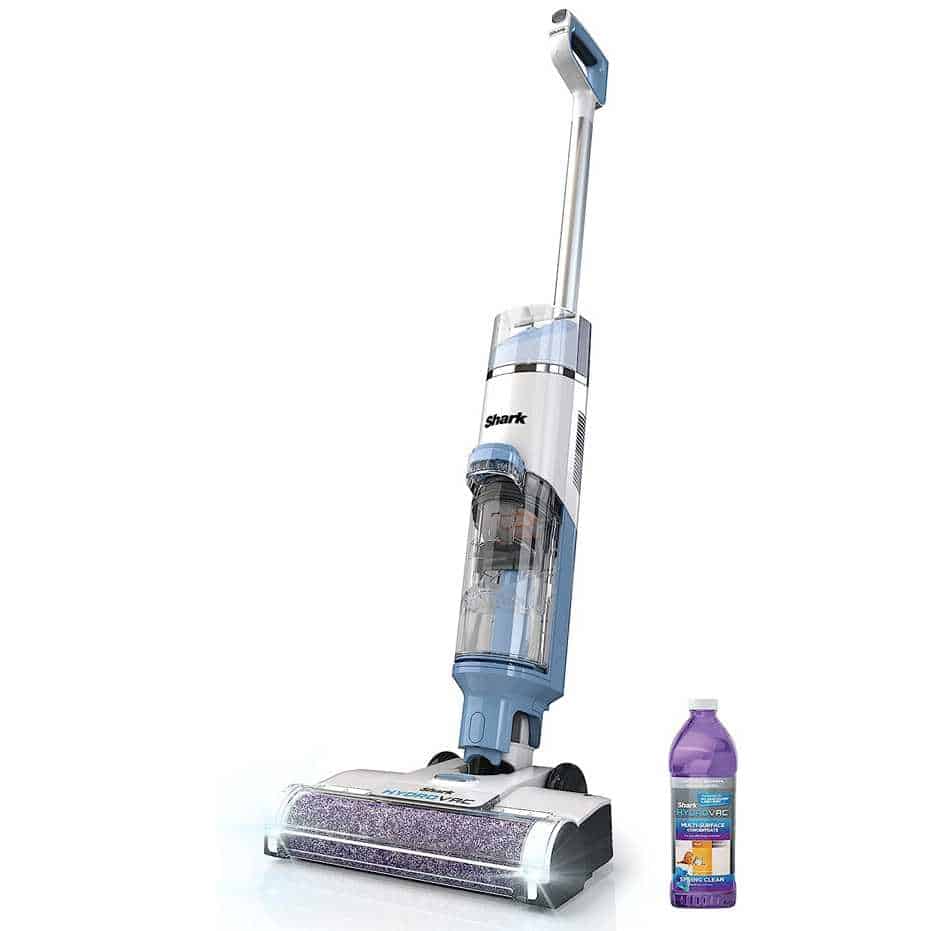 The Shark WD201 HydroVac redefines your floor maintenance routine. Seamlessly combining vacuuming, mopping, and self-cleaning capabilities, the Shark HydroVac Cordless Pro XL is engineered to deliver a deep clean on hard floors and area rugs.
Equipped with powerful suction and hydro mopping technology, the HydroVac effortlessly tackles wet and dry messes, ensuring a streak-free, immaculate surface that's ready to be walked on in no time. Its continuous self-cleaning system actively prevents dirt from being redistributed onto your floors, complemented by the antimicrobial brushroll that resists odors and bacteria buildup.
Designed to cater to diverse surfaces, the HydroVac is your go-to solution for sealed hardwood, tile, marble, and laminate floors. Additionally, its effectiveness extends to area rugs, eliminating surface dirt and odors, making it a must-have for pet owners seeking a clean and fresh living environment.
The Shark HydroVac doesn't stop at cleaning alone, it also neutralizes and prevents odors through its specially formulated 12 oz. multi-surface concentrate with odor-neutralizing technology. Effortless cleanup is guaranteed with the advanced debris filtration system, separating solids from liquids in the dirty water tank for easy disposal.
Featuring an intelligently designed extra-large clean tank, the HydroVac optimizes cleaning efficiency with its smart suction and flow control system. Navigating across various floor types is a breeze, thanks to the LED display that provides real-time information on battery life, surface type, and tank levels. Embrace the convenience of cordless cleaning, enabling you to move seamlessly between rooms without tethering to an outlet.
Dreametech H12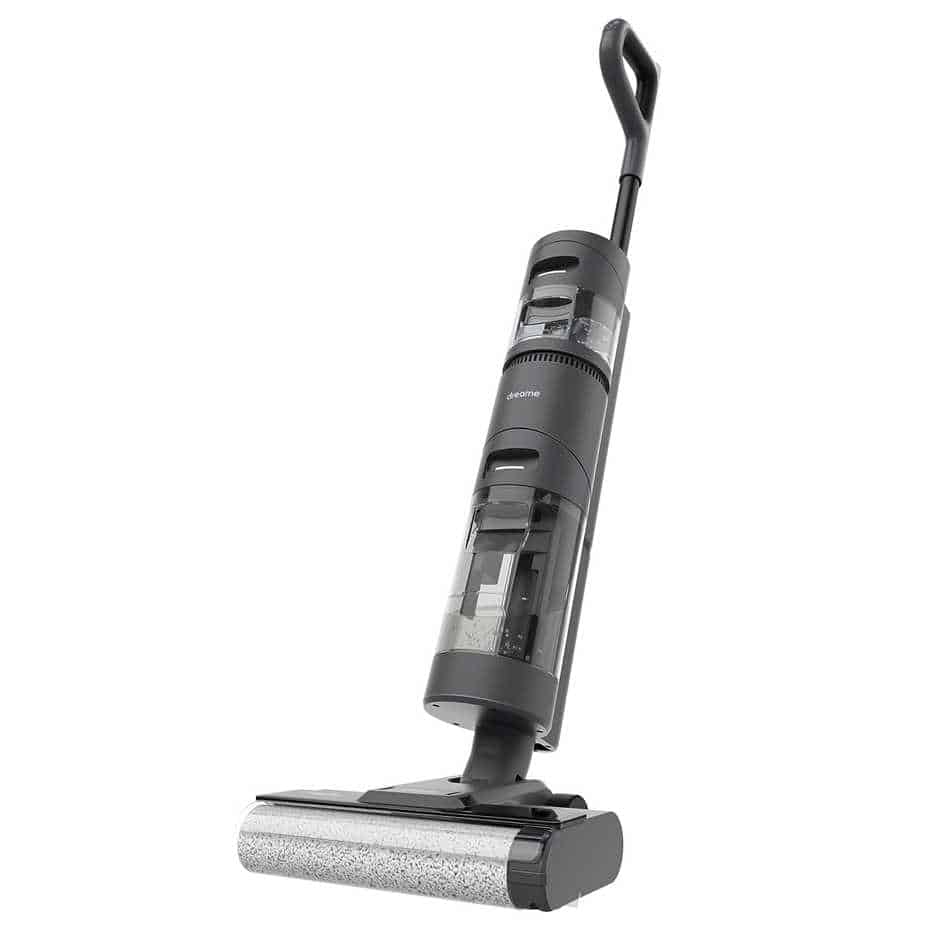 The Dreametech H12, an innovative cleaning solution designed to tackle every corner of your home. Equipped with an advanced edge cleaning design, this device boasts a state-of-the-art rotating brush that effortlessly reaches and cleans tricky areas near skirting boards, ensuring a thorough clean.
Say goodbye to interruptions during your cleaning routine with the Dreametech H12's remarkable features. Its substantial 900mL clean water tank, combined with a high-capacity battery pack, empowers you to clean continuously for up to 35 minutes* without the need for frequent stops and recharging. (*Runtime based on Dreametech laboratory testing)
Maintaining the device's optimal performance is effortless with the self-cleaning feature. The integrated brush scraper ensures that the brushes remain pristine. Just a single button press after cleaning and the H12 cleans itself, ensuring it's always ready for your next cleaning session.
Intelligence meets efficiency with the Dreametech H12. Smart mess detection triggers automatic power and suction adjustments for effective cleaning. An LED screen provides clear progress tracking, while voice instructions guide you through maximizing your cleaning efforts. Elevate your cleaning experience with the Dreametech H12's revolutionary capabilities.
Tineco Floor ONE S3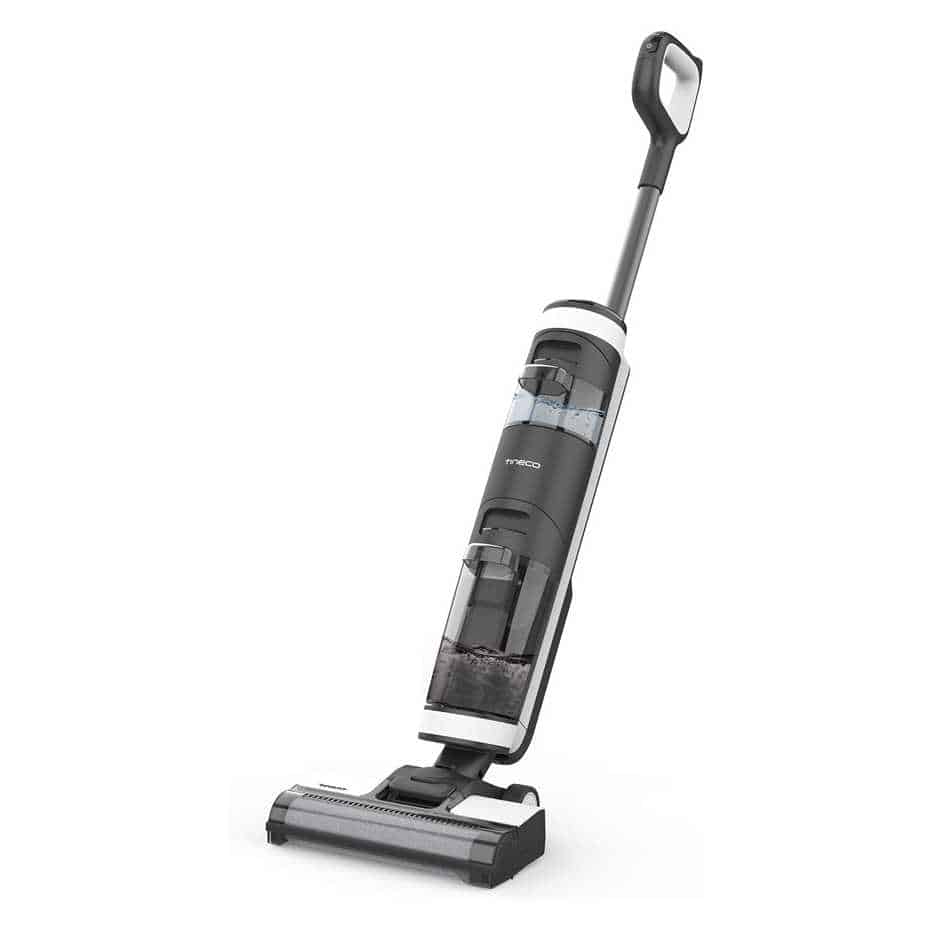 The Tineco Floor ONE S3, Efficiency meets innovation with the self-propelled, which seamlessly vacuums and washes your sealed hard floors in a single, intelligent step. Say goodbye to time-consuming routines as this smart device streamlines your cleaning process, achieving an optimal clean in less time.
Cordless and lightweight, the FLOOR ONE S3 guarantees a hassle-free experience. Its extended runtime of up to 35 minutes, thanks to intelligently optimized suction and battery power, ensures thorough cleaning without interruption. The 5-in-1 self-cleaning system not only maintains the cleanliness of your floors but also keeps your hands, system, and home odor-free.
This is a next-level convenience with the all-in-one LED display, built-in app connectivity, and voice assistant feature. Monitor cleaning performance effortlessly and enjoy the ultimate hard floor cleaning experience with the FLOOR ONE S3.
Bissell Power Fresh Steam Mop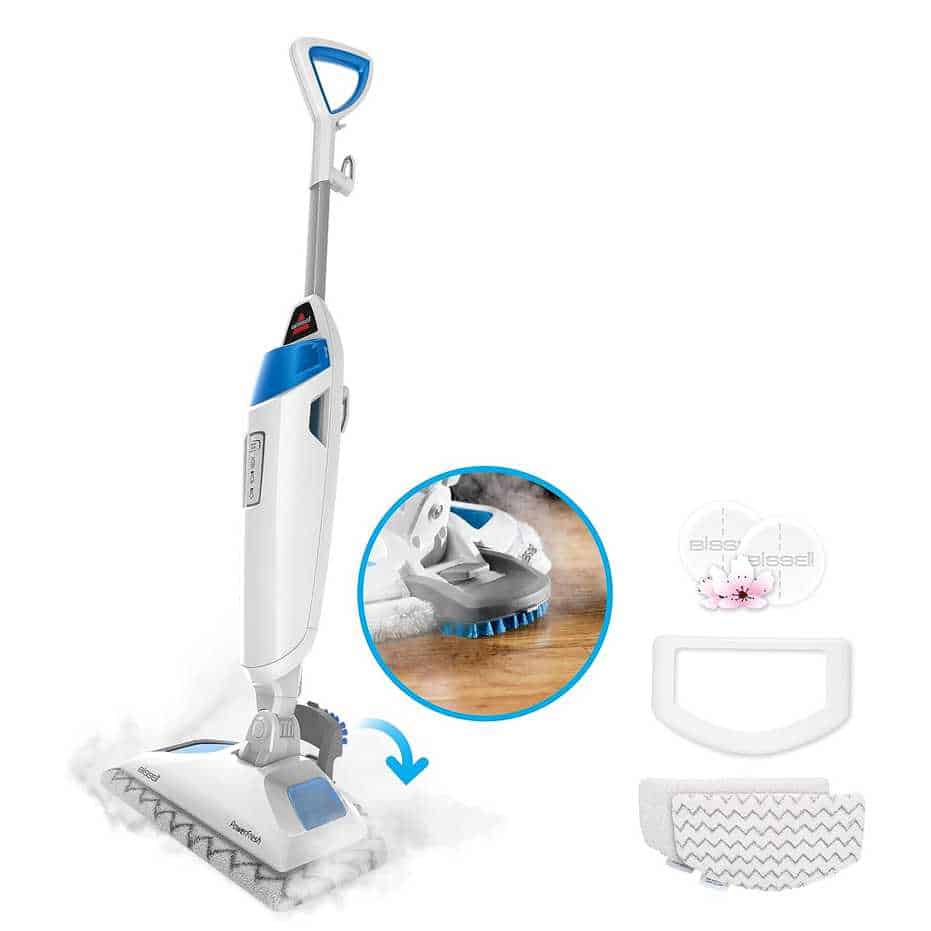 The Bissell Power Fresh Steam Mop will achieve immaculate and sanitized sealed hard floors, all without the need for harsh chemicals. Harnessing the natural potency of steam, this steam mop effortlessly annihilates 99.9 percent of germs and bacteria, ensuring a healthier environment for your home.
The intelligent Smart Set digital steam control empowers users to select from high, medium, or low steam settings, tailoring the cleaning process to match diverse needs. With a swift warm-up time of just 30 seconds, the steam mop is always ready for action, assisted by a generous 23-foot power cord for hassle-free maneuverability.
The comprehensive package includes essentials such as a microfiber soft pad, microfiber scrubby pad, and two spring breeze fragrance discs, infusing a delightful freshness into the cleaning routine. Additionally, the inclusion of a carpet glider expands the mop's versatility. Boasting 1500 watts of power, this corded appliance exhibits remarkable efficiency. Its low-profile mop head effortlessly accesses corners and edges, and the removable water tank simplifies refills. With variable packaging graphics, the Bissell Power Fresh Steam Mop promises not only superior cleaning but also an aesthetic fit for any environment.
Moolan Steam Mop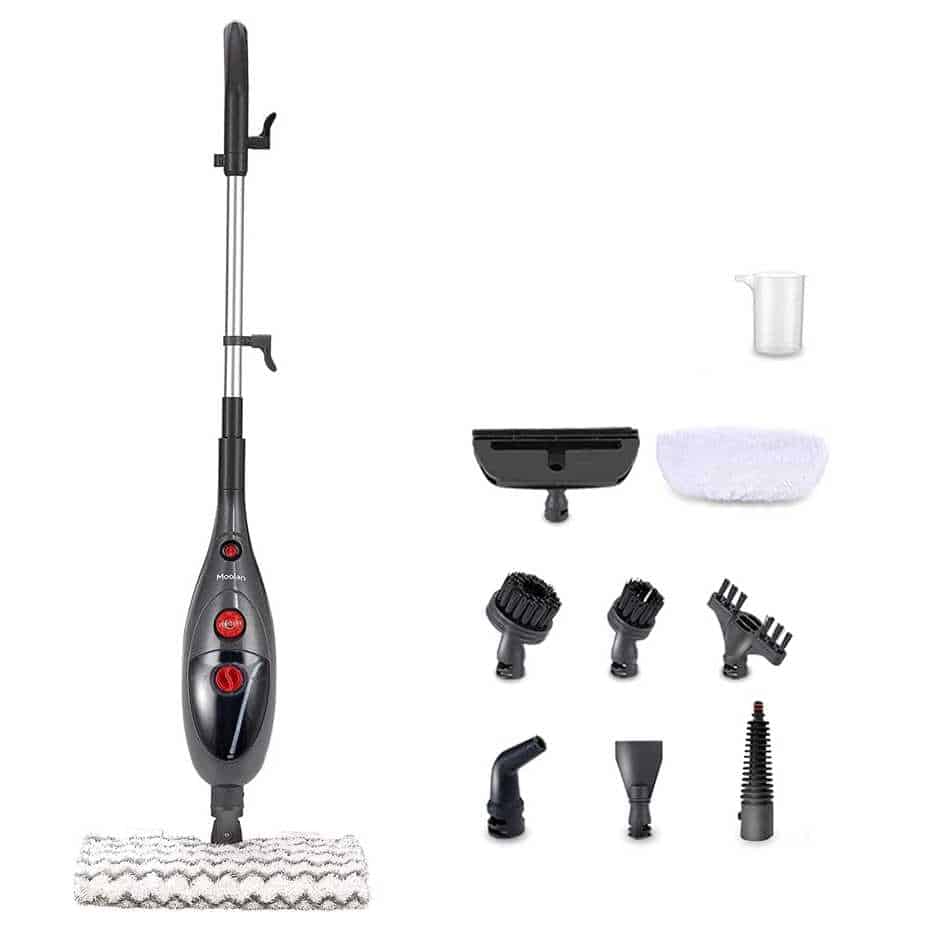 With a generous 400 ml (13.5 oz) water tank, the Moolan Steam Mop quickly generates heated steam in just 15 seconds, ensuring a prompt start to your cleaning routine. It's a versatile choice, completely safe for use on a variety of surfaces including hardwood floors, vinyl, tiles, marble, ceramic, and porcelain tiles.
For a deep and thorough clean, this floor steamer harnesses high temperatures of up to 248 °F, effectively tackling stubborn stains and oil residues. Adjust your steam intensity with the convenient dial, offering both high and low settings to match your specific cleaning needs.
Our Favorite Choice
We think that most of the floor cleaner machines on the market do a great job of keeping your hard flooring clean. In fact, picking a clear winner was hard as there was very little in it, but our top pick for the best hard floor cleaner machine is the BISSELL CrossWave Cordless Max
Not only does the floor cleaner machine have wet and dry capabilities, but its self cleaning cycle ability not only extends the machine's life, it also maintains a strong and constant cleaning performance.
References
https://cleanhire.co.uk/how-to-use-a-floor-scrubber-machine/
https://ohsospotless.com/floor-cleaner-liquids/
---
Frequently Asked Questions
✓ How can I deep clean my hardwood floors?
Firstly, remove dust and debris using a broom or a hardwood floor vacuum cleaner by cleaning in the same direction as the floorboards. Next used a microfibre mop that's damp (not too wet to stain the wood), and give the floor a once over to pick up any remaining particles and/or smudges. Finally mop floors with your deep cleaner product designed specifically for wood floors. Try to focus on one small area at a time to make sure you thoroughly cover the whole area. Be sure to clean your mop regularly as not to transfer dirt back onto the floor... once again, while doing this, make sure you follow the direction of the floor boards.
✓ Can I steam clean my hardwood floors?
Provided your wood floors are sealed, then they can withstand the moisture and heat coming from steam. Not only that, steam truly disinfects the floor, kills bacteria & leaves them streak-free.
The only time to avoid steam, or a wet mop for that matter, is when your wood floors are unsealed. They are more susceptible to moisture and water damage!
✓ How can you tell if your hardwood floors are sealed?
Before using steam or water to clean your wood floors, it's paramount to make sure they are sealed properly to avoid moisture from getting through and causing damage... this will be an expensive mistake.
Pour a bead of water on one of your boards (away from the seam). After about 5 mins come back and check to see if the bead of water has retained its shape and size. If it has, it means not water has soaked through and indicates your wood floor is sealed. There is a caveat though, you need to test this in different areas of your floor, particularly the area that gets the most use, as the seal may have worn away at these areas.