If you have hardwood floors, laminate, tile, bamboo, or even cork, you know the challenges of keeping your floor clean. Each type of hard flooring requires special care when cleaning, and the right cleaner machine can make the process easier. The cost of a floor cleaning machine machines can change drastically depending on your needs.
We've gone over the most popular models and share our favorite picks of the year. Whether you're looking for a floor cleaning machine to keep your wood floors polished or you want an affordable and reliable vacuum with excellent suction, we have you covered.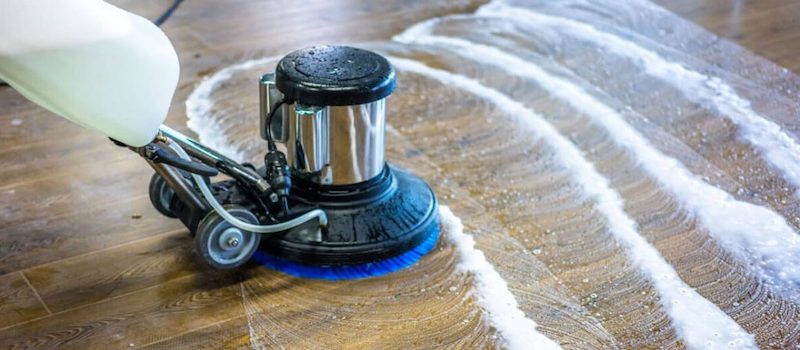 The Benefits of Hard Floor Cleaner Machines
Hard flooring comes in a variety of materials, such as wood or laminate. Even though each type is designed to last for years, cleaning is a "must" for extending the life of your flooring.
Depending on the type of flooring you have, a regular mop and a bucket of water might not keep it clean. Hardwood floors, for instance, benefit from occasional mopping but too much water can do more harm than good.
Hard floor cleaner machines are designed to protect your floor as you clean, and most are affordable and easy to use. With the right equipment, you can spend less time cleaning and doing more of what you enjoy. A hard floor cleaner machine may actually make cleaning your floors a fun experience!
Before You Clean Your Hard Wood Floors
The hard floor cleaner machines are safe to use on nearly every type of hard flooring, but if you have concerns about how to clean a specific floor, talk to a local flooring expert.
They are likely to give you helpful cleaning tips. If they try to sell you products that are similar to our recommendations, our suggestions are likely to be more affordable and work just as well (if not better).
Quick Answer
The highest-rated hardwood cleaner is the Bissel Crosswave Cordeess Max due to its stellar battery life and powerful suction.
We usually like to quickly prep the surface we're about to clean by removing excessive dust, rocks and other debris with a duster. You may want to vacuum dust off your hardwood floors to prevent any scratching before polishing.
❶BISSELL CrossWave Cordless Max All-In-One Surface Cleaner
Our favorite all-in-one cleaning machine to date. The BISSEL CrossWave Max not only acts as a wet and dry vacuum cleaner, it can tackle multiple surfaces and rug areas too… all with cordless freedom.
The improved edge cleaning technology is designed to pick up any dust or pet hairs that gather along baseboards and corners of your home, making cleaning far quicker, more thorough and easier.
What makes this cleansing gadget stand out from the rest is its self-cleaning cycle ability for maintained cleaning performance and Wi-Fi connection capabilities providing useful tips for machine maintenance.
| Bissell CrossWave Max Specification Table | |
| --- | --- |
| Weight | 11.5 lb |
| Cleaning path width | 12" |
| Run time | 30 mins |
| Power source | Lithium-Ion Battery 36V |
| Battery charge time | 4 hrs |
| Wifi enabled | Yes |
| Run noise level | 65-70dB |
| Cordless | Yes |
| Two-tank technology | Yes |
This makes the CrossWave Max one of the most technologically advanced cleaning machine in the market today and all at a affordable price.
---
❷BISSELL CrossWave Floor and Carpet Cleaner with Wet-Dry Vacuum
The BISSELL CrossWave Cleaner is one of our favorites because not only is it suitable for sealed wood and laminate; it does an excellent job of cleaning area rugs. Say good-bye to multiple cleaning machines.
The CrossWave Cleaner cleans similar to a scrub brush and a bucket of floor cleaner, but it's easier on your body, cleans an area faster, and cleans more thoroughly. The cleaner has a dual-action brush roll that rotates at 3,500 RPMs and comes with a multi-surface cleaning solution. Whether you're trying to clean pet stains and odors or gently clean a laminate floor, BISSELL has the efficient cleaning solution for you.
The water tank has a 28oz. Capacity and the dirt tank holds up to about 14 oz. of dirty water. The cleaner has a 25-foot cleaning cord, swivel steering, and a cleaning path of one foot wide.
---
❸BISSELL Spinwave Powered Hardwood Floor Mop and Cleaner
Hardwood floors are challenging to clean, especially when you're trying not to scratch the surface or use too much water. The Spinwave cleaner has a compartment for floor cleaner, which you can easily spray on the floor by pressing a button on the handle.
There are two reusable and washable microfiber pads which will clean and polish your hardwood floors without damaging the surface.
It's important to note that the BISSELL Spinwave cleaner is only safe for sealed hardwood floors. Like with other cleaners, attempting to clean your hardwood floors that are sealed can cause damage. Another thing we love about the Spinwave cleaner is that it's an excellent option for other hard flooring.
---
❹Tineco Floor One S3 Hardwood Cleaner
Unlike the previous product on our list that also came from Tineco, the S3 cordless cleaner comes with a few more advanced features.
This product features an iLoop smart sensor that detects any mess, wet or dry, and automatically adjusts the suction and water dispense for the best cleaning results.
Being that it's cordless and lightweight makes it easy for anyone to use. It can run for up to 35 minutes; thus, you will have more than enough time to clean any immediate mess.
The 5-in-1 one-touch self-cleaning system will do most of the job for you so that you won't even have to get your hands dirty ever again. The self-cleaning feature scrubs the rollers and dispenses water making your device clean and odor-free.
The most remarkable thing about this scrubber is the all-in-one LED display and built-in app connectivity.
With the help of Tineco app, your cleaning experience will never be the same again. The app will provide you with real-time performance monitoring as well as reminders and tech support.
This cleaner is most definitely a man among boys and if you are into cleaning, this machine is a must-have.
---
❺Tineco iFloor Complete Cordless Wet Dry Vacuum
Being that the Tineco iFloor mop is cordless and lightweight makes it easy to manoeuvre while cleaning. The battery can last up to 22 minutes, allowing for sufficient cleaning time to get the job done without too much hassle.
It can clean up any mess, from pet hair to any sticky residue. It has two tanks, one for clean water and one for cleaning solutions making it perfect for efficient cleaning.
Its capabilities exceed any expectations; it cleans any floor type from hardwood to marble. The "hand-free" self-cleaning system will keep its inner tubes and brush rollers odor-free.
This product comes with two brush rollers, a self-cleaning storage tray, a charging adaptor, a 3 in 1 cleaning tool, and two Tineco cleaning solutions.
A fine choice of a product at a reasonable price!
---
❻Shark Navigator Lift-Away Professional
Not only is it lighter than other uprights, but it has a detachable canister, which makes it easier to clean various areas of your home without lugging a vacuum up and down stairs. Want to keep your wood stairs as clean as your laminate flooring? The Shark Navigator can handle all surfaces from carpeting to hard flooring.
The HEPA filter helps to catch dust and allergens, and the clear canister shows you just how much dirt and pet hair you're cleaning off of your floors. The gentle brush is perfect for hard floors, and the rolling brush is ideal for carpet. All you need to do is flip the switch and vacuum.
---
❼Vmai Electric Mop with Polisher and Scrubber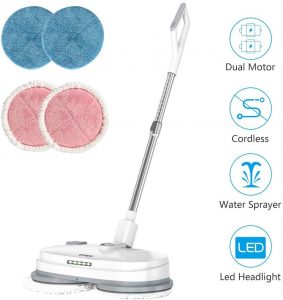 If you've ever tried to polish or scrub your floor with an industrial floor cleaner from a rental place, you can probably attest how long and arduous the process is just to clean your floors.
The vmai Electric Mop can seemingly do it all. It's a cordless spin mop, a hardwood floor cleaner, a floor polisher, a tile scrubber, and waxing capabilities.
In addition to it being a multipurpose floor cleaning tool you never have to trip over a cord or feel limited by where your outlet is located. You have 35 minutes of cleaning time before the battery needs recharging and in that time, you can scrub, polish, gently clean, or wax the hard floors in your home.
---
❽Gladwell Cordless Electric Mop
Like the vmai electric mop, the Gladwell Electric mop has similar capabilities and cleaning power. It has an integrated sprayer, reusable microfiber scrubbing pads, and can wax, dry/wet mop, and polish a variety of hard floor surfaces.
We like that the Gladwell mop has a wider degree of swivel than the vmai (180-degree vs. 60-degrees). The Gladwell Electric Mop is quiet, cordless, and has a space-saving design, so you can easily store it in a utility closet.
One nice feature is how it's designed to effortlessly glide along multiple surfaces including wood, marble, tile, and laminate floors.
---
❾Hoover FloorMate Deluxe Hard Floor Cleaner
When we look at budget-friendly products, this one exceeds all expectations. Being at the price range of any regular cheap cleaner, this machine is the perfect low budget match for all your needs.
It can be used for any floor type, from hardwood to sealed wood and vinyl. This Hoover FloorMate Deluxe will deliver top-notch cleaning, while gently going over the surface of your delicate floors.
The dual tank technology will separate the dirty water from the clean, preventing dirty water from ever touching your floor again.
If you've had excess water issues in the past, the wash-dry mode will clean your floor, while the suction will remove the excess water into the dirty water tank.
It weighs a little bit under 14 pounds, which makes it easy to carry around the house and up and down the stairs.
If you stump upon a big and stubborn mess, this cleaner has a fingertip control system that will apply extra cleaning solution if needed. Removing stains has never been easier.
---
❿ PurSteam Steam Mop Cleaner
This is one of the most affordable products on the list, but yet a good-quality one.
This 10-in-1 steam mop makes cleaning much faster and easier, and it doesn't only clean floors. You can clean your carpets, and believe it or not, you can also clean your windows and mirrors with this multi-purpose product.
It's chemical-free and comes with a unique surface scrubber to easily remove any hardened stains. The lightweight mop cleaner with three adjustable mods makes it possible for you to set the right amount of steam power to best suit your needs.
The 340ml tank is a little on the low side, but the cleaner can run for up to 25 minutes if set to the lowest power setting. Running on tap water alone makes it a perfect economical & environmental solution for all of us.
With this price range, you won't find a better solution. The overall quality of the product is impressive, considering its cost. It also comes with a built-in handheld steam cleaner.
---
⓫ Homitt Electric Mop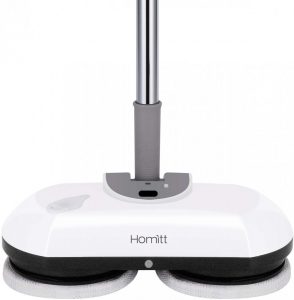 The Homitt Electric Mop has many of the features that we want in a cordless hard floor cleaner. The Homitt has an ergonomic handle and telescoping rod to ensure comfort and ease of use while cleaning, polishing, or waxing your floors. The floor cleaner comes with washable dual-sided wash pads. There's no need to spend money on cleaning solutions, you can make your own and put it in the water tank.
What sets the Homitt apart from similar cleaners? The running time lasts longer, and we also like the 90-degree swivel.
---
⓬ Bona Hardwood Floor Spray Mop
When I start cleaning, I always look for the fastest and easiest solution. That being said, this product brings precisely that to the table.
The first to mention is that it's completely safe for any floor type. It comes with an extra-large mop head that covers a larger surface ares for cleaning your floors faster than the competition.
The machine-washable pad can be washed and reused up to 500 times which saves on cost and helps the environment.
The Bona spray mop is lightweight, making it very easy to use. It has a secondary grip for a more comfortable option and a retractable hook for easy storage.
The soft and flexible edges prevent furniture from sustaining any damage while cleaning and the refillable cartridge is also at your disposal so that you don't have to buy a new cartridge every time you run out of cleaning solution.
With this product, cleaning was never more straightforward, just the way I like it. As easy as spray-and-mop. This easy-to-use, fast-drying spray mop will have your floors looking like marbles in no time.
How To Know Which Hardwood Cleaner Best Suits Your Needs?
Choosing between a wide variety of hardwood floor cleaners can be troublesome sometimes. Here, we're going to lay out a couple of things to pay attention to when deciding which floor cleaner to buy.
Defining Your Price Tag
As with all home appliances, the price of hardwood cleaners can vary greatly. Depending on the features and the quality of the product, you can find them from $70 to $400.
Therefore, before you even begin to browse products, set your budget. Knowing your budget can be quite helpful when it comes to selecting and comparing products that you wish to purchase. This also helps narrow down your options, eliminating over choice that comes with the vast products on the market.
In my experience, the $200 mark is an optimal price if you want good performance and quality, but of course there are exceptions.
Manoeuvrability & Weight
Cleaning a floor surface requires moving around a lot. So considering the weight of the cleaner would be a smart thing to do.
Lightweight is not always necessarily a good thing, but being too heavy is bad too. I've noticed machines that feel "solid" and finely balanced, with some weight to them were more manoeuvrable and easier to control than lighter products.
If you are looking for a light-weight option, there are machine cleaners that are only 10lbs, although heavier machines usually come with more power.
Pad Type
The softer, the better. That should be your motto when choosing a pad for your hardwood cleaner.
As the pad will be in constant contact with your floor while cleaning, be sure to look for a microfibre one or any other soft material pads to avoid scratches.
Tank Capacity
When it comes to the tank capacity, my opinion is that it's the last thing to worry about.
The only difference that a tank capacity will make is how many times you will need to refill your floor cleaner during cleaning. The overall features and performance are not affected by the tank capacity.
However, this is not to say that tank capacity should not be considered when making your purchase, especially if having a very big house.
I would also suggest going for a dual tank. This directly enhances overall performance.
---
Our Favorite Choice
We think that most of the floor cleaner machines on the market do a great job of keeping your hard flooring clean. In fact, picking a clear winner was hard as there was very little in it, but our top pick for the best hard floor cleaner machine is the BISSELL Crosswave Max.
Not only does the floor cleaner machine have wet and dry capabilities, but its self cleaning cycle ability not only extends the machine's life, it also maintains a strong and constant cleaning performance.
References
https://cleanhire.co.uk/how-to-use-a-floor-scrubber-machine/
https://ohsospotless.com/floor-cleaner-liquids/
---
Frequently Asked Questions
✓ How can I deep clean my hardwood floors?
Firstly, remove dust and debris using a broom or a hardwood floor vacuum cleaner by cleaning in the same direction as the floorboards. Next used a microfibre mop that's damp (not too wet to stain the wood), and give the floor a once over to pick up any remaining particles and/or smudges. Finally mop floors with your deep cleaner product designed specifically for wood floors. Try to focus on one small area at a time to make sure you thoroughly cover the whole area. Be sure to clean your mop regularly as not to transfer dirt back onto the floor... once again, while doing this, make sure you follow the direction of the floor boards.
✓ Can I steam clean my hardwood floors?
Provided your wood floors are sealed, then they can withstand the moisture and heat coming from steam. Not only that, steam truly disinfects the floor, kills bacteria & leaves them streak-free.
The only time to avoid steam, or a wet mop for that matter, is when your wood floors are unsealed. They are more susceptible to moisture and water damage!
✓ How can you tell if your hardwood floors are sealed?
Before using steam or water to clean your wood floors, it's paramount to make sure they are sealed properly to avoid moisture from getting through and causing damage... this will be an expensive mistake.
Pour a bead of water on one of your boards (away from the seam). After about 5 mins come back and check to see if the bead of water has retained its shape and size. If it has, it means not water has soaked through and indicates your wood floor is sealed. There is a caveat though, you need to test this in different areas of your floor, particularly the area that gets the most use, as the seal may have worn away at these areas.