Over the course of a year, all the time we spend at the faucet washing food, our hands, and doing other tasks can add up. One of the simplest ways to improve our lives is to invest in a quality kitchen faucet.
Touchless faucets have been all the rage recently. Among pro chefs as well as interior designers, touchless technology has eclipsed traditional pull handle designs. However, it can be challenging to find the faucet that checks off all your requirements.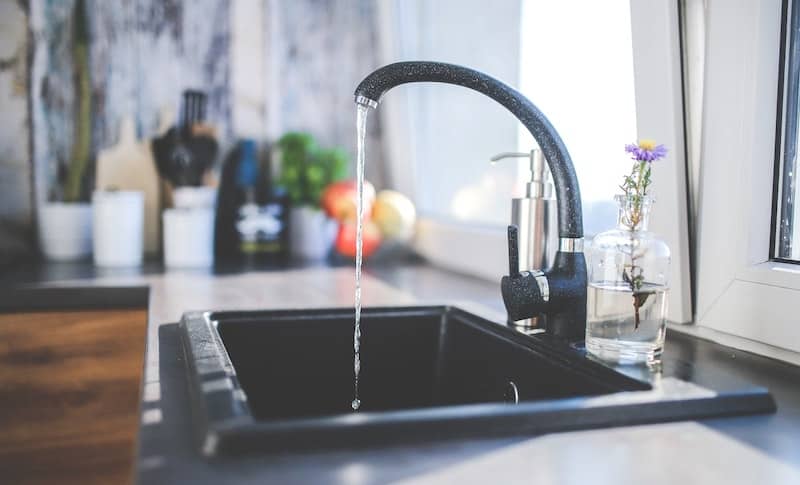 To make the process of picking out the perfect faucet brand a little easier, we've put together our list of the best touchless kitchen faucets that we recommend to all our readers. After checking out our review, we're sure that you'll know the ins and outs of touchless faucets and–who knows?– perhaps even discover a model that's just right for your home.
Quick answer
The best touchless faucet available is the Moen Arbor MotionSense Two-Sensor 7594ESRS. However, you have to consider several factors such as sink type, water connection and budget before choosing the right faucet for your kitchen.
"In my many years as a plumber, my clients often ask me to recommend an easy-to-use and efficient kitchen faucet. My advice has always been to choose a touchless kitchen faucet that offers durability, ease of installation, and appropriate sensor sensitivity, as I've seen in my extensive work experience that these features significantly enhance the user experience."

Hamilton Fergus, Professional Plumber
What Is a Touchless Kitchen Faucet?
Although touchless faucets may seem a little futuristic, the basic components that comprise them are straightforward. Touchless faucets take advantage of an infra-red motion sensors that, when triggered by the waving of your hand under the spout, open and close the water flow.
As you might imagine, you can save a lot of time by controlling the water with the wave of a hand, it is estimated that a touchless faucet can reduce water waste by a 50%. Touchless faucets allow you to avoid repetitively twisting a water lever. You'll also keep the surfaces of the spout and lever clean at the same time while keeping away microorganisms that commonly grow in kitchens, preventing cross-contamination and reducing germ spread by half.
You'll have the option to use the lever too. The difference with touchless faucets is an additional power source for the sensor and a special solenoid valve that responds to the sensor and opens or closes the water. All of the internal parts are easy to repair and replace.
Benefits of Owning a Touchless Faucet
Since the kitchen is the most commonly used room in the home, it's smart to do research on the benefits of the fixtures before purchasing new ones. If you buy a quality touchless faucet like those in our review, you'll notice the advantages right away:
What to Keep in Mind Before Making Your Purchase
Everyone operates their kitchen in unique ways, so you'll likely have unique needs when looking for the best touchless kitchen faucet. There are some features most touchless faucets share, which are useful to keep in mind when looking for your ideal model.
First of all, the finish of the faucet itself. The options run the gamut from chrome and stainless steel to more costly surfaces like nickel and zinc alloys. Since you won't be smudging the faucet with fingerprints often, it's a good idea to find a finish that looks great in your kitchen.
Next, be mindful of the number of sensors the faucet includes. More sensors mean more accuracy and a higher price. Be on the lookout for models with overly sensitive sensors. These fixtures may turn on the water from very slight disturbances in the air and result in wasted water.
Finally, we recommend you research different types of power supply. Less costly models will generally have a battery that needs replacing occasionally (once or twice a month). Pricier faucets will have AC transformers that plug in. If you have access to a power outlet near your sink, direct power is a preferred option.
The 4 Best Touchless Kitchen Faucets Available Today
Now that we've put some of the common touchless faucet features and options into perspective, let's take a look at our top 4 recommended brands you can purchase today!
The GEOATON Touchless Faucet
The GEOATON Touchless Faucet, a beacon of health-consciousness for families. The faucet prioritizes the well-being of users by delivering pristine drinking water through its patented lead-free tap heart. GEOATON's dedication to uncompromised water quality establishes it as a prime choice for health-conscious households.
Boasting a dual motion sensor system, the faucet redefines convenience with its touchless operation. The infrared motion sensor enables seamless hands-free functionality, and the retractable faucet head activates water flow upon extension, automatically turning off when restored to its original position – an innovative blend of efficiency and technology.
Streamlined installation is a standout feature of the GEOATON faucet, incorporating an integrated hose system that obviates the need for professional plumbing assistance. Setting it apart is the 10-inch deck that effortlessly fits into three kitchen tap holes, seamlessly adapting to various sink configurations.
Operational simplicity meets contemporary aesthetics as GEOATON introduces a single-handle design, allowing users to effortlessly control water temperature and flow. The 360-degree nozzle rotation offers a comprehensive cleaning experience, with versatile modes like road spray, stream, spray, and pause catering to tasks ranging from irrigation to multitasking convenience.
GEOATON's assurance of excellence is underscored by its robust warranty. A 100-day 100% refund guarantee and a hassle-free 360-day return or exchange policy provide users with unparalleled confidence in their purchase. For those embracing a healthier lifestyle, the GEOATON Touchless Faucet is not just an acquisition but a step towards enhanced well-being. Embrace the future of faucets today.
GIMILI Touchless Faucet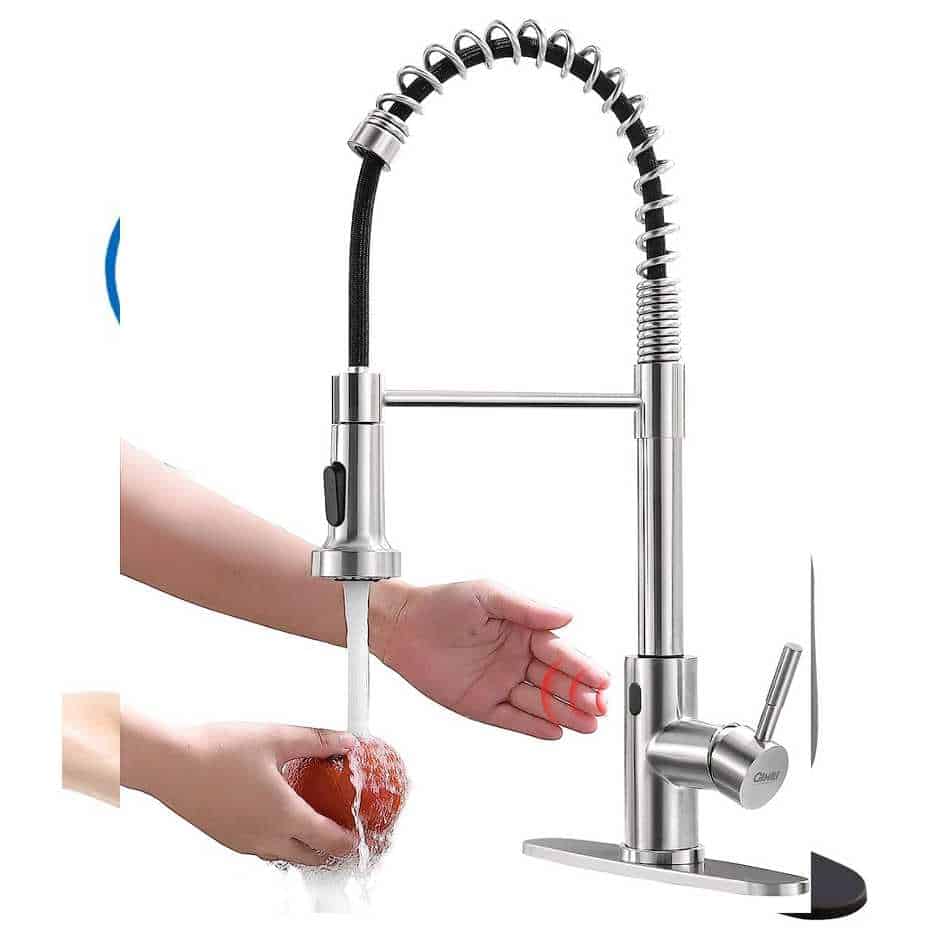 The GIMILI Touchless Faucet, a pinnacle of modern convenience and functionality for any kitchen. This faucet is designed to elevate your kitchen experience with its cutting-edge touchless technology, enabling seamless operation with a simple wave of the hand. Swiftly switch between functions in just 0.5 seconds, and enjoy the added benefit of automatic shut-off after 3 minutes of inactivity to prevent unintended usage. Please note that the GIMILI touchless faucet is not compatible with the GIMILI adapter.
Experience the versatility of the GIMILI touchless faucet's multifunctional sprayer. With two distinct settings. Stream for efficient water filling and Spray for vigorous cleaning, it adapts effortlessly to your kitchen tasks, providing unmatched flexibility.
Prioritizing safety and quality, the GIMILI touchless faucet features a lead-free solid brass body that ensures the well-being of your family. The inclusion of ceramic filters, having successfully passed 500,000 cycle tests, guarantees up to a decade of peace of mind without the need for replacement.
Installation is a breeze, thanks to the comprehensive package containing all required mounting hardware. The faucet is suitable for both single-hole and three-hole sinks, rendering the need for a plumber or specialized tools obsolete. The accompanying installation manual empowers you to achieve a DIY installation within approximately 30 minutes.
The OWOFAN Faucet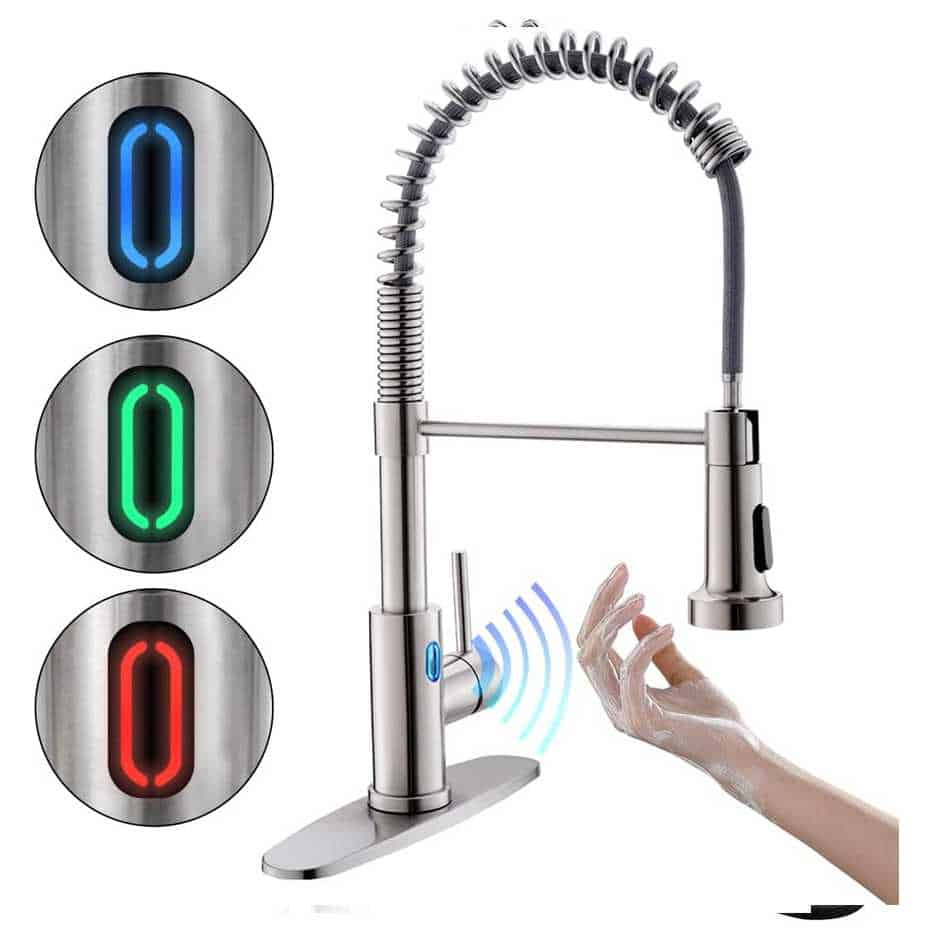 The OWOFAN Faucet, a game-changer in kitchen functionality. Designed with motion activation, this faucet allows water flow to be effortlessly triggered by simply approaching the motion sensor. Turn the water off by repeating the motion, and enjoy the added advantage of automatic shut-off after 3 minutes of inactivity, reducing water wastage and promoting convenience and hygiene through its hands-free operation.
Illuminate your kitchen experience with the built-in LED light feature, indicating water temperature through changing colors. This safety measure is especially valuable for households with vulnerable members like the elderly and children, guarding them against potential hot water hazards.
Embrace versatility with the OWOFAN Faucet's multifunctional sprayer, offering two distinct spray modes for tailored usage, stream for filling and spray for rinsing. The flexible 23.6-inch hose brings ease to daily kitchen tasks, ensuring a more efficient culinary experience.
Crafted from premium food-grade SUS304 stainless steel and lead-free solid brass, the OWOFAN Faucet embodies durability. Its corrosion and wear resistance ensure a lasting fixture in your kitchen. The incorporation of a high-quality ceramic valve that has withstood over 500,000 tests guarantees leak prevention, underlining its reliability.
The OWOFAN Faucet redefines your kitchen dynamics, merging technology, convenience, and longevity into one remarkable product. Elevate your culinary space today with ease and style.
Qomolangma Touchless Kitchen Faucet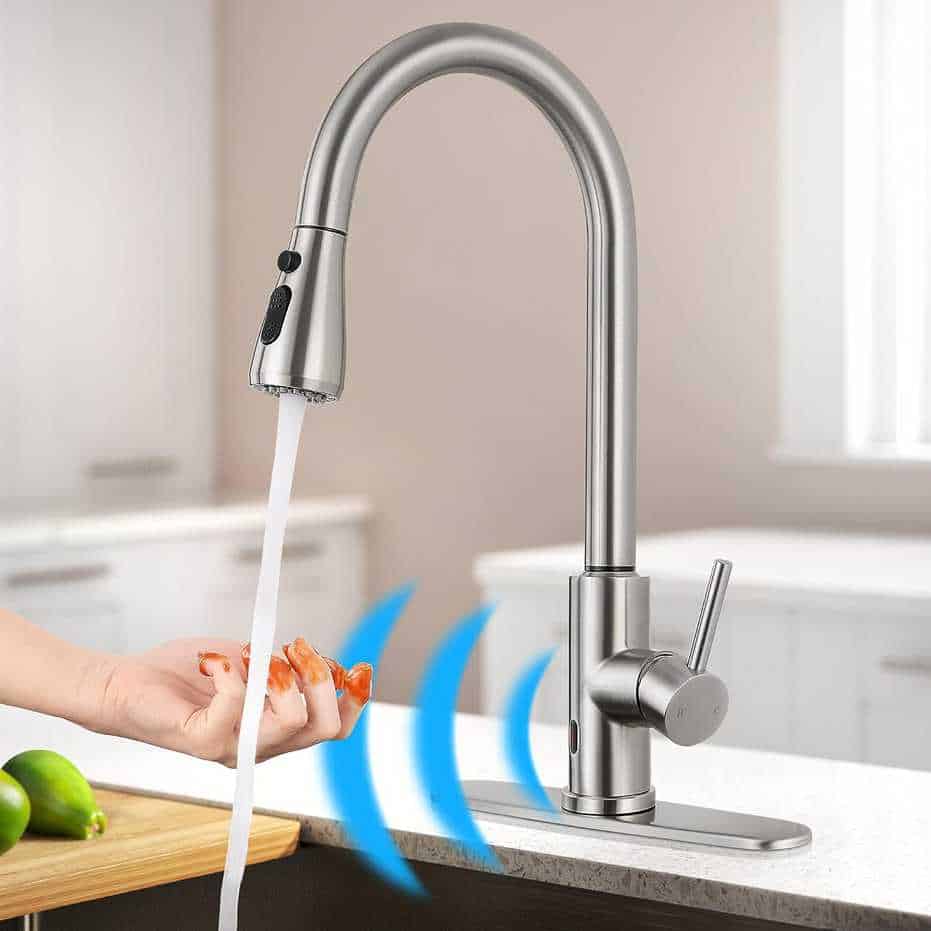 The Qomolangma Touchless Kitchen Faucet, a harmonious blend of innovation and design for modern kitchens. This faucet is equipped with a convenient motion sensor function, allowing users to activate water flow with a simple hand wave. The precision of water initiation ensures efficient usage, while the faucet's automatic shut-off feature halts water within 3 minutes of inactivity, promoting water conservation.
With a brushed nickel finish, the Qomolangma faucet is resistant to oil, water stains, and fingerprints, simplifying cleaning and maintenance. The 360-degree rotation design enhances flexibility, enabling easy adjustments in direction and angle for thorough cleaning, catering to the dynamic demands of busy kitchens.
Safety and durability converge in the Qomolangma stainless steel kitchen faucet. Meeting stringent standards for water quality, this faucet safeguards your family's well-being. Its corrosion and wear resistance, coupled with a high-quality ceramic valve that thwarts water leakage, ensures a lasting, high-quality life for the product.
Experience versatility through the faucet's multifunctional sprayer, offering three distinct spray modes: stream for water filling, and spray for rinsing. The flexible 23-inch hose streamlines everyday kitchen tasks, promising enhanced convenience.
Final Verdict
If you're looking for a sure-fire way to improve the hygiene, water efficiency, and style in your kitchen, there's no better place to start than with a touchless kitchen faucet. They offer unparalleled water flow, flexibility, and function for a reasonable price.
As more and more faucet manufacturers develop touchless faucets, the market will get more challenging to navigate. But we believe that now is the time to invest, with the GEOATON Touchless Faucet being our top choice.
If our top choice doesn't suit your needs, then we have an other 3 brands that should give you everything that you and your family need!
What To Look For When Buying A Touchless Faucet
There are a few things to consider before purchasing a touchless tap for your kitchen. It is imperative not to get caught out buying one that doesn't suit your needs or personal preferences.
As a result, we've layout out here, the most key things to consider before making your purchase.
Sink Compatibility
This is an important one, there are different sink types compatible to different faucet types. Imagine a sink that sits above the counter surface (basin sink), this type of sink would require a different faucet compared to the traditional sink that sits below the counter.
In addition to this, sinks of the same type have predefined water connectors which may vary in quantity and size. A quick measurement for compatibility should do the trick to ensuring your touchless faucet fits and works flawlessly with your sink.
Rate Of Water Flow
Saving on water (or rather, not wasting more than necessary) is good practice to helping the environment. And even if you aren't an environmentalist, well, it will save you money.
You're already halfway to conserving water as the touchless feature has automatic activation which instantly starts and stops the water supply, compared to the traditional method of having to reach the lever which takes a bit more time.
The other factor to consider is whether your touchless faucets aerates the water. This is when water is mixed with air at high pressure.
Did You Know?
It's estimated that the average flow rate of a faucet uses about 10x more water than is required for rinse application – that's a lot of wasted water!
Consider a faucet that has a flow rate of 2.0 gallons per minute or below (average faucet flow rate is about 2.2 gallons per minute). This flow rate should suffice for cleaning the dishes.
Fixed Or Detachable Spout
With the introduction of pull down spouts, users have greater functionality and extended range, where they can position the spout handle to otherwise hard-to-reach places.
Consider a massive tray that more than occupies your sink area with one half sticking well above the sink level. Reaching that area with a fix spout makes it impossible without having to turn the tray around and spilling water everywhere. The sprayer spout can now be brought to these areas, rather than the other way around.
Having said that, with every technological advancement (especially with moving parts) comes potential flaws or issues. The connection that secures the spout in place could loosen over time, leaving the hose loose and permanently resting in the sink (rendering your sink's usable space useless). You might end up replacing your faucet, partially or totally, every year or even less depending on the use.
Also, a typical pull down spout consists of many components, which ultimately means having several connections points and as a result there's more chances of leaks occurring, so be sure to take this into consideration.
Preferred Power Supply
Touchless faucets require a power source to detect the motion (by hand) through sensors. They come in both AC power (mains supply) and DC (battery power).
Personally, batteries are a nuisance as they require being replaced more regularly than anticipated. This will be an expensive option and although using reachable batteries is a good cost effective alternative, it's still a hassle exchanging the batteries over if your unit is power hungry (and that's if you remember to have the other set charged).
If you don't have a power supply under your sink unit, then you have no option but to use batteries, but if you do, then AC power for convenience.
Benefits Of Touchless Faucets For Your Kitchen
With the recent pandemic, it isn't hard to see why hands-free faucets are gaining popularity, with sales growing over 20% in the last 2 years. They have the ability to prevent the spread of germs and viruses by eliminating the need of coming in contact with the faucet's handle.
Did You Know?
According to Healthline, areas where food is stored or prepared has more bacteria and fecal contamination than anywhere else in your home.
Consider this scenario, you have a regular faucet that is operated with a handle. You trigger the handle to get the water flowing, you clean your hands and then go and re-touch that contaminated handle! The hands-free option greatly reduces contamination, period!
References
https://www.familyhandyman.com/project/how-to-install-bathroom-faucet/
https://dataintelo.com/report/touch-free-faucet-market/
---
Frequently Asked Questions
✓ What brand of touchless faucets are recommended
In this list of products, Moen is the recommended brand for touchless faucets. Al Moen started his business after burning his hand on a two-handle faucet. His solution was to invent a single-handle faucet which could regulated temperature easier. Bottom line, they've been in business for a long time and know the industry well.
✓ Do touchless faucets use batteries?
Some do! Touchless faucets require a power source to operate the sensors and valves. Depending on the faucet model, this can come in the form of batteries or an AC transformer that's plugged into the mains.
✓ Can a touchless faucet work manually too?
Most can! These touchless faucets have an override mode that allows the user to operate it by traditional means (using the lever). This allows functionality in the event of power loss.