Over the course of a year, all the time we spend at the faucet washing food, our hands, and doing other tasks can add up. One of the simplest ways to improve our lives is to invest in a quality kitchen faucet.
Touchless faucets have been all the rage recently. Among pro chefs as well as interior designers, touchless technology has eclipsed traditional pull handle designs. However, it can be challenging to find the faucet that checks off all your requirements.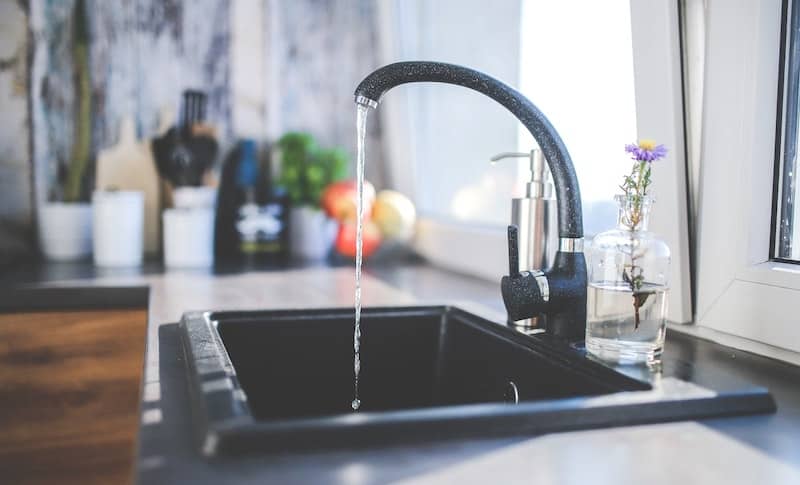 To make the process of picking out the perfect faucet brand a little easier, we've put together our list of the best touchless kitchen faucets that we recommend to all our readers. After checking out our review, we're sure that you'll know the ins and outs of touchless faucets and–who knows?– perhaps even discover a model that's just right for your home.
Quick answer
The best touchless faucet available is the Moen Arbor MotionSense Two-Sensor 7594ESRS. However, you have to consider several factors such as sink type, water connection and budget before choosing the right faucet for your kitchen.
What Is a Touchless Kitchen Faucet?
Although touchless faucets may seem a little futuristic, the basic components that comprise them are straightforward. Touchless faucets take advantage of an infra-red motion sensors that, when triggered by the waving of your hand under the spout, open and close the water flow.
As you might imagine, you can save a lot of time by controlling the water with the wave of a hand, it is estimated that a touchless faucet can reduce water waste by a 50%. Touchless faucets allow you to avoid repetitively twisting a water lever. You'll also keep the surfaces of the spout and lever clean at the same time while keeping away microorganisms that commonly grow in kitchens, preventing cross-contamination and reducing germ spread by half. 
You'll have the option to use the lever too. The difference with touchless faucets is an additional power source for the sensor and a special solenoid valve that responds to the sensor and opens or closes the water. All of the internal parts are easy to repair and replace.
Benefits of Owning a Touchless Faucet
Since the kitchen is the most commonly used room in the home, it's smart to do research on the benefits of the fixtures before purchasing new ones. If you buy a quality touchless faucet like those in our review, you'll notice the advantages right away:
What to Keep in Mind Before Making Your Purchase
Everyone operates their kitchen in unique ways, so you'll likely have unique needs when looking for the best touchless kitchen faucet. There are some features most touchless faucets share, which are useful to keep in mind when looking for your ideal model.
First of all, the finish of the faucet itself. The options run the gamut from chrome and stainless steel to more costly surfaces like nickel and zinc alloys. Since you won't be smudging the faucet with fingerprints often, it's a good idea to find a finish that looks great in your kitchen.
Next, be mindful of the number of sensors the faucet includes. More sensors mean more accuracy and a higher price. Be on the lookout for models with overly sensitive sensors. These fixtures may turn on the water from very slight disturbances in the air and result in wasted water.
Finally, we recommend you research different types of power supply. Less costly models will generally have a battery that needs replacing occasionally (once or twice a month). Pricier faucets will have AC transformers that plug in. If you have access to a power outlet near your sink, direct power is a preferred option.
The 5 Best Touchless Kitchen Faucets Available Today
Now that we've put some of the common touchless faucet features and options into perspective, let's take a look at our top 5 recommended brands you can purchase today!
Moen Arbor MotionSense Two-Sensor 7594ESRS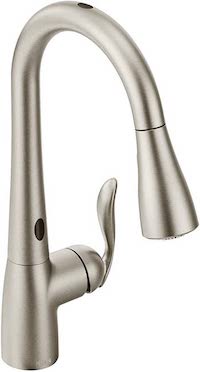 The Moen Arbor MotionSense Two-Sensor is one of our favorite mid-range touchless kitchen faucets on the market. With Moen, you can trust in a quality piece of hardware that will outlast and outperform many of its competitors.
One of Moen's many standout features is its Power Clean spray technology. On average, this model can deliver over 50 percent more spray power compared to similar models. With extra water power (this faucet has a maximum flow rate of 1.5 gallons per minute), you'll notice faster dishwashing on hard-to-clean surfaces. It almost rivals professional kitchen faucets.
| Moen Arbor 7594ESRS Specifications | |
| --- | --- |
| Weight | 7 lbs |
| Dimensions | 15.5" x 2.5" x 7.88" |
| Finish | Stainless |
| Flow rate | 1.5 gpm |
| Sensor type | MotionSense |
| Sensor quantity | 2-sensor |
| Retractable head | Yes (68") |
| Batteries required | Yes (6 AA) |
With two sensors, the Moen Arbor MotionSense is accurate enough to release water flow the instant your hand passes near the spout. And with a retractable Reflex spray wand, it would be hard to find a touchless faucet as versatile as this one.
As far as installation goes, the Moen can be mounted on the sink or a countertop. It has a traditionally three-hole installation guide with an optional deck plate that fits in a majority of domestic spaces.
This faucet comes factory-ready with battery power, but there is an option to use an AC power adapter if you prefer not to use batteries. If you'd prefer hardware that has an AC hook-up, read on below. The Moen requires six AAs if you choose the battery format.
---
Kohler K-72218-B7-VS Sensate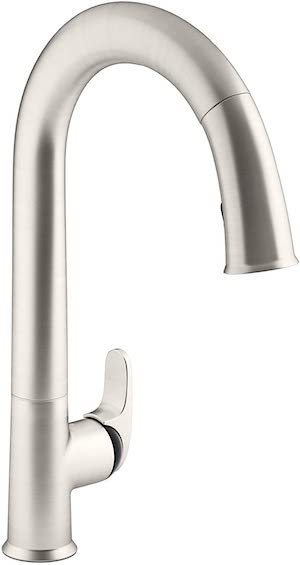 One of Kohler's top-end touchless kitchen faucet fixtures, the Sensate Touchless stands out as a premium model with all the dressings. At first sight, the Kohler's beefy but minimal appearance is impressive–almost industrial. With the flow rate and intuitive sensors that the Sensate Touchless boasts, this faucet is truly supercharged.
It has a 1.8 gallons per minute flow rate for maximal washing potential. For power supply, the Kohler comes standard with an AC power brick that plugs into the nearest kitchen outlet (unfortunately, there are no options to substitute batteries).
The timeless look of the faucet head continues into the spray head. Kohler uses a magnetic technology called DockNetik that assures a solid attachment between the faucet and head. Also included in the internal mechanism is a braided nylon hose and a swiveling ball joint which cuts down on excess noise at the junction between the head and the faucet.
The Kohler Sensate also uses ProMotion technology employed exclusively on Kohler products. ProMotion also improves the connection between the spray head and the faucet for an easy and almost silent link.
Kohler has kept up their reputation as some of the most robust fixtures in the US, and have followed through with its selection of top-of-the-line sensors. They advertise that their dual-sensor design recognizes motion in as little as 20 milliseconds. Many reviewers expressed astonishment at the response speed. If you decide to purchase a premium touchless faucet like the Kohler, you'll probably notice the immediate sensor response too.
This model has a standard no-fuss deck-mounted installation guide like many of the faucets on our list. Overall, the Kohler Sensate has all the features you want in a high-end model with very few drawbacks.
---
Moen Align Motionsense Wave Sensor 5923EWSRS

Above, we took a deep dive at another great Moen touchless faucet. When we turn to the Moen Align Motionsense Wave, there's a whole new world of features to discover.
First, let's add up the features that the Moen Align Motionsense has in common with the Arbor faucet we listed above. Both faucets come with Moen's highly-rated Spot Resistant stainless finish. This feature goes a long way towards making your faucet a focal point in your kitchen. The Align also has Power Clean spray technology installed to deliver 50 percent more spray compared to similar pulldown faucets.
The Align Motionsense Wave comes with a 6 AA power supply, just like the Arbor. However, the Align doesn't allow for power conversion to an AC source.
But the Moen Align Motionsense has many stand-out design features that the Moen Arbor does not. First among them is the dramatic 22.5 in neck spout. In person, the Align has a professional restaurant faucet appearance. Its spout reach when docked is an impressive 10 inches, which further adds to the wow-effect of this faucet.
Where the Moen Arbor included two sensors, the Align Motionsense only has one. With one fewer sensor, users may notice a slight decrease in water response. However, the majority of reviewers for the Align Motionsense didn't notice a difference in speeds. One benefit of having a single sensor faucet is having cheaper repair costs when the sensor inevitably fails.
When considering the installation of the best touchless kitchen faucets, it's always a good idea to check how your unique faucet attaches to the sink. With the Moen Align Motionsense, you get the standard installation guide as well as the Duralock connection system. It doesn't come with a deck plate so you'll need to purchase it separately if you need one.
---
Pfister Stellen Touchless with React Motion Sensor LG529ESAC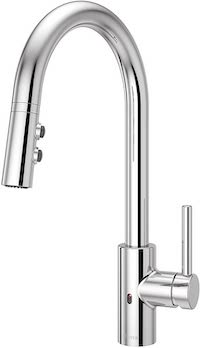 With the Pfister Stellan Touchless kitchen faucet, many people are sure to find an affordable fixture that doesn't make too many compromises on quality and performance.
The faucet stem itself boasts quite a few useful features on the Pfister. The stem has a 360-degree swivel mechanism at the base, allowing for extra flexibility in large sinks. The designers at Pfister have also put considerable time into the design of the end nozzle. They claim that their nozzles are easier to clean, so bacteria are less likely to build up.
The sprayer has a three-way function–spray, stream, and pause. We think this feature is useful for people who use their kitchen sinks to clean different kinds of material–food, clothing, and sensitive surfaces.
Another novel feature included in the Pfister Stellen is a small LCD that blinks when the battery is low. This model also has another visual indicator on the open valve system that lights up when the touchless mode is engaged.
The Pfister Stellen's sensor will react when an object like your hand is as close as 3 inches from the faucet. If you leave the water on for over 3 minutes, the sensor will turn off the water. (There is a manual override option too if you need extended time with flowing water.)
For power sources, the Pfister Stellan comes standard with an AC plug. You can adapt the power supply to a 4 AA battery system, but the adapter is not included. We think it's a good sign that this touchless faucet comes with AC support because users are likely to experience excellent sensor response from day one.
---
Kraus KPF-1612SS Single Lever Pull Down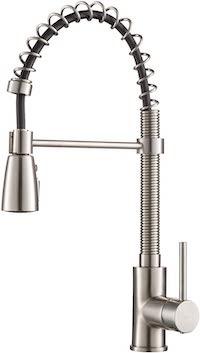 Turning to our final entrant among our best touchless kitchen faucets list, the Kraus KPF-1612SS Single Lever is a popular model with some of the features of much pricier faucets. With a 21 ¼ inch faucet height and a heavy-duty commercial-style design, the Kraus has a stylish appeal.
Unlike many of the faucets on our list, the Krauss has a brass finish instead of stainless steel. You're sure to get a lot of compliments with this unorthodox colorway. While the brass is lead-free (as it should!), don't expect a fingerprint-proof sheen on the faucet over time.
The Krauss has a two-way speed diverter that allows for a little more control over water pressure. This model is also remarkable for its brass clasp that extends from the faucet to the spray head. All these features add to visual appeal.
A 1.8 Gallon per minute flow rate is sure to meet any of your kitchen tasks head-on. Indeed, it's surprising to find such a high flow rate in a touchless faucet from the lower price ranges. Overall, the Krauss KPF-1622SS offers savings without sacrificing many of the features included in higher-end faucets.
Final Verdict
If you're looking for a sure-fire way to improve the hygiene, water efficiency, and style in your kitchen, there's no better place to start than with a touchless kitchen faucet. They offer unparalleled water flow, flexibility, and function for a reasonable price.
As more and more faucet manufacturers develop touchless faucets, the market will get more challenging to navigate. But we believe that now is the time to invest, with the Moen Arbor MotionSense Two-Sensor being our top choice.
If our top choice doesn't suit your needs, then we have an other 4 brands that should give you everything that you and your family need!
What To Look For When Buying A Touchless Faucet
There are a few things to consider before purchasing a touchless tap for your kitchen. It is imperative not to get caught out buying one that doesn't suit your needs or personal preferences.
As a result, we've layout out here, the most key things to consider before making your purchase.
Sink Compatibility
This is an important one, there are different sink types compatible to different faucet types. Imagine a sink that sits above the counter surface (basin sink), this type of sink would require a different faucet compared to the traditional sink that sits below the counter.
In addition to this, sinks of the same type have predefined water connectors which may vary in quantity and size. A quick measurement for compatibility should do the trick to ensuring your touchless faucet fits and works flawlessly with your sink.
Rate Of Water Flow
Saving on water (or rather, not wasting more than necessary) is good practice to helping the environment. And even if you aren't an environmentalist, well, it will save you money.
You're already halfway to conserving water as the touchless feature has automatic activation which instantly starts and stops the water supply, compared to the traditional method of having to reach the lever which takes a bit more time.
The other factor to consider is whether your touchless faucets aerates the water. This is when water is mixed with air at high pressure.
Did You Know?
It's estimated that the average flow rate of a faucet uses about 10x more water than is required for rinse application – that's a lot of wasted water!
Consider a faucet that has a flow rate of 2.0 gallons per minute or below (average faucet flow rate is about 2.2 gallons per minute). This flow rate should suffice for cleaning the dishes.
Fixed Or Detachable Spout
With the introduction of pull down spouts, users have greater functionality and extended range, where they can position the spout handle to otherwise hard-to-reach places.
Consider a massive tray that more than occupies your sink area with one half sticking well above the sink level. Reaching that area with a fix spout makes it impossible without having to turn the tray around and spilling water everywhere. The sprayer spout can now be brought to these areas, rather than the other way around.
Having said that, with every technological advancement (especially with moving parts) comes potential flaws or issues. The connection that secures the spout in place could loosen over time, leaving the hose loose and permanently resting in the sink (rendering your sink's usable space useless). You might end up replacing your faucet, partially or totally, every year or even less depending on the use.
Also, a typical pull down spout consists of many components, which ultimately means having several connections points and as a result there's more chances of leaks occurring, so be sure to take this into consideration.
Preferred Power Supply
Touchless faucets require a power source to detect the motion (by hand) through sensors. They come in both AC power (mains supply) and DC (battery power).
Personally, batteries are a nuisance as they require being replaced more regularly than anticipated. This will be an expensive option and although using reachable batteries is a good cost effective alternative, it's still a hassle exchanging the batteries over if your unit is power hungry (and that's if you remember to have the other set charged).
If you don't have a power supply under your sink unit, then you have no option but to use batteries, but if you do, then AC power for convenience.
Benefits Of Touchless Faucets For Your Kitchen
With the recent pandemic, it isn't hard to see why hands-free faucets are gaining popularity, with sales growing over 20% in the last 2 years. They have the ability to prevent the spread of germs and viruses by eliminating the need of coming in contact with the faucet's handle.
Did You Know?
According to Healthline, areas where food is stored or prepared has more bacteria and fecal contamination than anywhere else in your home.
Consider this scenario, you have a regular faucet that is operated with a handle. You trigger the handle to get the water flowing, you clean your hands and then go and re-touch that contaminated handle! The hands-free option greatly reduces contamination, period!
References
https://www.familyhandyman.com/project/how-to-install-bathroom-faucet/
https://dataintelo.com/report/touch-free-faucet-market/
---
Frequently Asked Questions
✓ What brand of touchless faucets are recommended
In this list of products, Moen is the recommended brand for touchless faucets. Al Moen started his business after burning his hand on a two-handle faucet. His solution was to invent a single-handle faucet which could regulated temperature easier. Bottom line, they've been in business for a long time and know the industry well.
✓ Do touchless faucets use batteries?
Some do! Touchless faucets require a power source to operate the sensors and valves. Depending on the faucet model, this can come in the form of batteries or an AC transformer that's plugged into the mains.
✓ Can a touchless faucet work manually too?
Most can! These touchless faucets have an override mode that allows the user to operate it by traditional means (using the lever). This allows functionality in the event of power loss.