Whether you're looking for the perfect gift for the cigar aficionado in your life or you are starting to build a cigar collection, a cigar humidor is an essential purchase. In our review, we discuss the importance of a cigar humidor and some of the best humidors available on the market right now.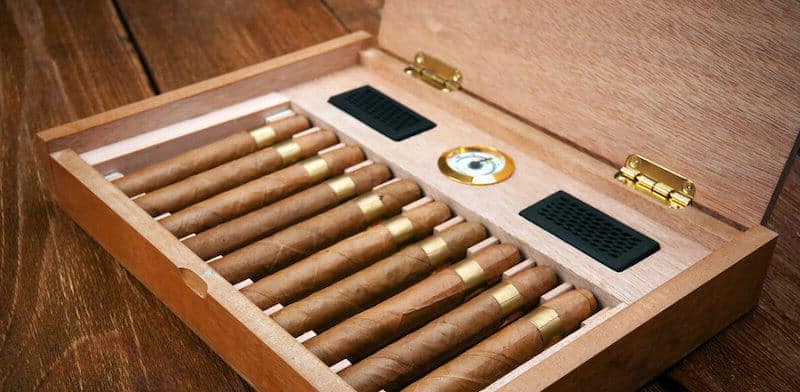 "When selecting a humidor, focus on the seal quality and the consistency of humidity levels. A loose seal can significantly affect the humidity, leading to dry cigars or those over-saturated with moisture. While additional features such as built-in hygrometers can be useful, they should not substitute considering essential factors like seal, space, and material."

Fabian Maverick, Senior Tobacconist
What is a Cigar Humidor?
If you don't know much about cigars, you might not understand what a cigar humidor is or how one works. Humidors are storage containers that allow you to control airflow and humidity to your cigars to keep them fresh and moist, it's is one of the most important accessories along a good torch lighter.
Humidors range in size from a large room to a small box that holds a few cigars. While humidors are popular for valuables and collectibles that require temperature and humidity-controlled storage, they are best known for cigars.
Quick answer
The Case Elegance Glass Humidor is the best cigar humidor available. It is a great humidor for beginners and experts that will protect cigars thanks to its built-in digital hygrometer and tempered glass.
How Essential are Cigar Humidors?
Since many cigars already come wrapped and in a box, you might be wondering how essential it is to have a cigar humidor. The ideal temperature and humidity for storing cigars is around 70 degrees Fahrenheit and 70 to 75 percent humidity. If you store your cigars in an uncontrolled environment, they are likely to dry out or become too moist and become susceptible to mold or cigar beetles.
Like wine collections, cigars get better with age, but to enjoy the optimal taste, it's important to store your cigars properly. While it takes a while, a humidor can help restore cigars that are too dry. It's best to use a cigar humidor as soon as you start collecting cigars.
Things to Consider Before You Buy a Cigar Humidor
Even though we review some of the best cigar humidors on the market, there are a few things to think about before you order a humidor for a gift or your cigar collection.
Box Size
We've already mentioned that cigar humidors are available in a variety of sizes, such as large rooms and cases. In this article, we only review smaller cigar humidors, that can hold up to 50 cigars. If you are looking for a large-scale humidor, it's best to talk to a cigar expert and learn more about having one installed or built in your home.
Smaller humidors are ideal for all types of settings, from offices to dens. Most of them don't take up too much space, and if you're looking for something more portable, there are personal-sized cigar humidors on the market.
Humidor Maintenance
Even though cigar humidors are an essential piece of equipment for cigar lovers, you need to be willing to perform occasional maintenance on your humidor. While cigar humidors protect your cigars and help maintain quality, you need to know how to use your humidor.
It's important to pay attention and monitor factors like light and weather. Cigars store better when they are in dark and cool places. Storing in direct light can speed up humidity. When you first by a cigar humidor, you need to spend time closely monitoring the thermometer (70°F) and hygrometer.
Regardless of what size or type of cigar humidor you buy, you'll need to spend a little time doing your own research on how to use the humidor and keep your cigars in an optimal environment.
Ready to store your cigars properly? Check out our top picks for the best cigar humidors of the year.
Case Elegance Glass Top Handcrafted Cedar Humidor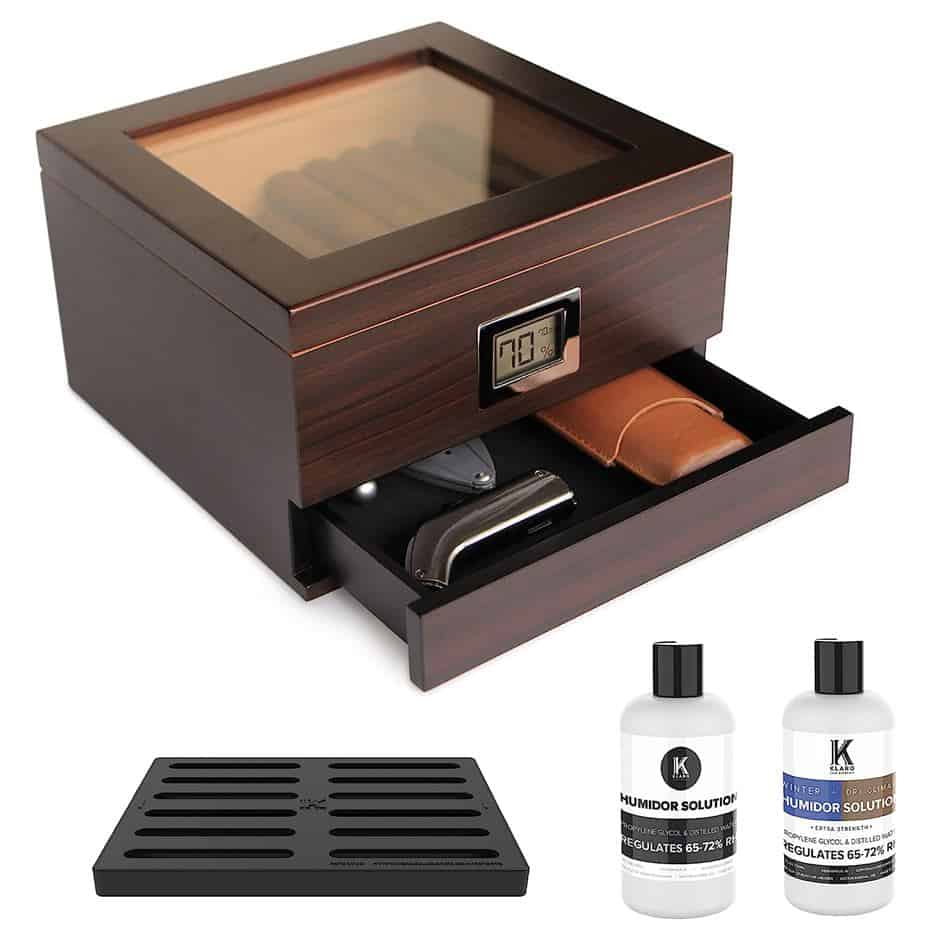 The remarkable CASE ELEGANCE Glass Top is a top-tier humidor meticulously crafted to preserve your cigars in pristine condition. This humidor boasts a custom digital hygrometer, expertly sealed both inside and out using custom molded silicone, ensuring unparalleled humidity accuracy.
Ample Spanish cedar fills the Klaro by Case Elegance humidors, effectively locking in the ideal humidity for your cigars. Every time the humidor is opened, the rich aroma of cedar greets you, guaranteeing your cigars' optimal preservation.
Achieving the perfect humidity has never been easier, thanks to the patent-pending hydro system. The provided detailed instructions and setup videos make installation a breeze, and dedicated phone support is on hand to guide you through the process. This hydro system keeps humidity levels optimal throughout the year with minimal maintenance.
Everything needed to get started is provided, one hydro tray, a crystal gel packet, and two bottles of humidor solution suitable for all climates and seasons. The setup process has been made hassle-free.
Depending on the ring gauge and size of your cigars, the capacity breakdown varies. On average, with a 52 ring gauge cigar, you can store approximately 30 cigars. Smaller Robusto's or coronas allow for storage of 30 to 50 cigars. Larger humidors are available for those requiring more space to accommodate their collection.
Take your cigar storage to a new level of sophistication with the CASE ELEGANCE Glass. Experience precision, luxury, and ease all in one exceptional humidor.
MAG Desktop Humidor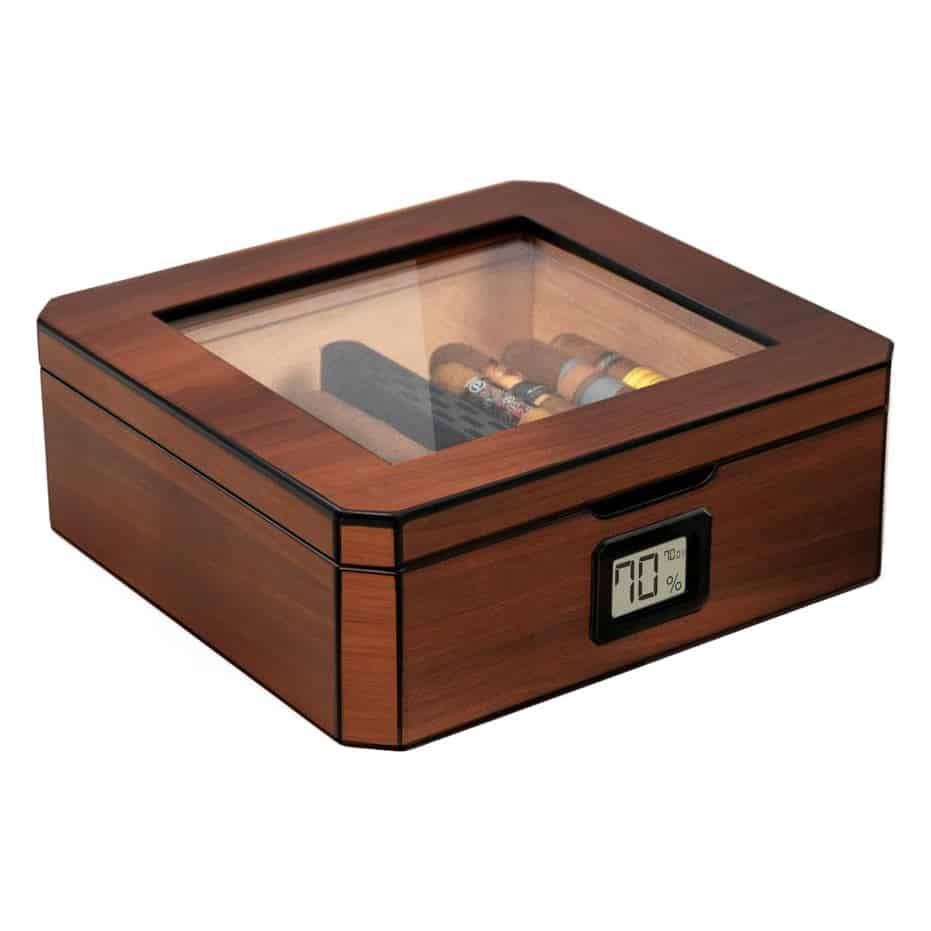 The MAG Desktop Humidor is a pinnacle of quality and innovation in cigar preservation. Unlike other humidors with thin cedar veneers, the MAG boasts a 5mm thick Spanish cedar inlay, expertly designed to absorb, store, and release moisture, ensuring optimal humidity regulation.
Keeping humidity levels just right is now a breeze with the new Hydro Channel. The innovative perforated holes on the channel lid promote natural evaporation, effectively humidifying all areas of the humidor's interior. The channel also doubles as a divider for your cigars, making organization a cinch.
Don't let its smaller size fool you, the MAG still holds an impressive capacity of 20-30 cigars. The humidification system has been reimagined to take up less space without compromising on performance.
Everything you need for simple seasoning is provided. Two types of specially-formulated Humidor Solution, the Regular mixture, and the Winter + Dry Climate mixture, are included to add to your Hydro Channel, ensuring hassle-free setup.
The magnetic lid ensures no humidity leakage, and the gasket-sealed digital hygrometer leaves no room for humidity fluctuations inside your humidor. Rest easy knowing your cigars are well-protected.
Wudytim Cigar Humidor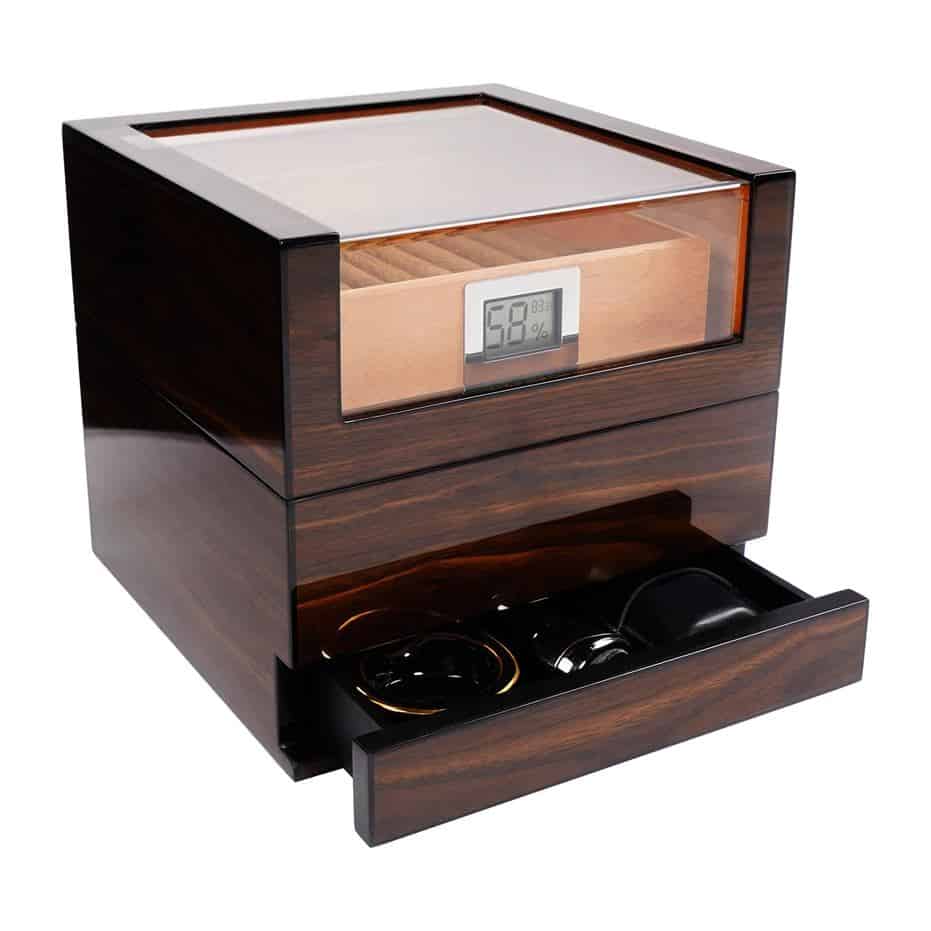 The Wudytim Cigar Humidors is meticulously handcrafted with natural Spanish cedar wood. This exquisite material enhances the cigars' natural flavor, promoting longer and healthier preservation. Each humidor features a unique wood grain veneer on the outside, making it truly one-of-a-kind!
Experience functional excellence with our scientifically designed humidor. It boasts an impressive storage capacity, holding up to 100 cigars (depending on cigar type), twice as many as other humidors at the same price. We've elevated its design by increasing the upper part's height, incorporating a built-in hygrometer, and transforming the traditional 270° transparent top. This enhancement allows for front observation, adding to its functionality and beauty.
Monitor humidity with precision using the custom digital hygrometer embedded in Wudytim humidors. This professional and accurate hygrometer enables you to effortlessly switch between Celsius and Fahrenheit observations according to your preferences.
Enjoy the humidor's unique design with its high-gloss appearance, exuding elegance and luxury. The 270-degree top cover allows real-time observation of your cigars' condition, facilitating meticulous humidity maintenance.
Don't worry about your accessories, safely store your lighter, cigar cutter, and travel case in the large bottom slide-out accessory storage drawer. The plush felt lining ensures maximum protection for your stored items. (Accessories not included)
Case Elegance Octodor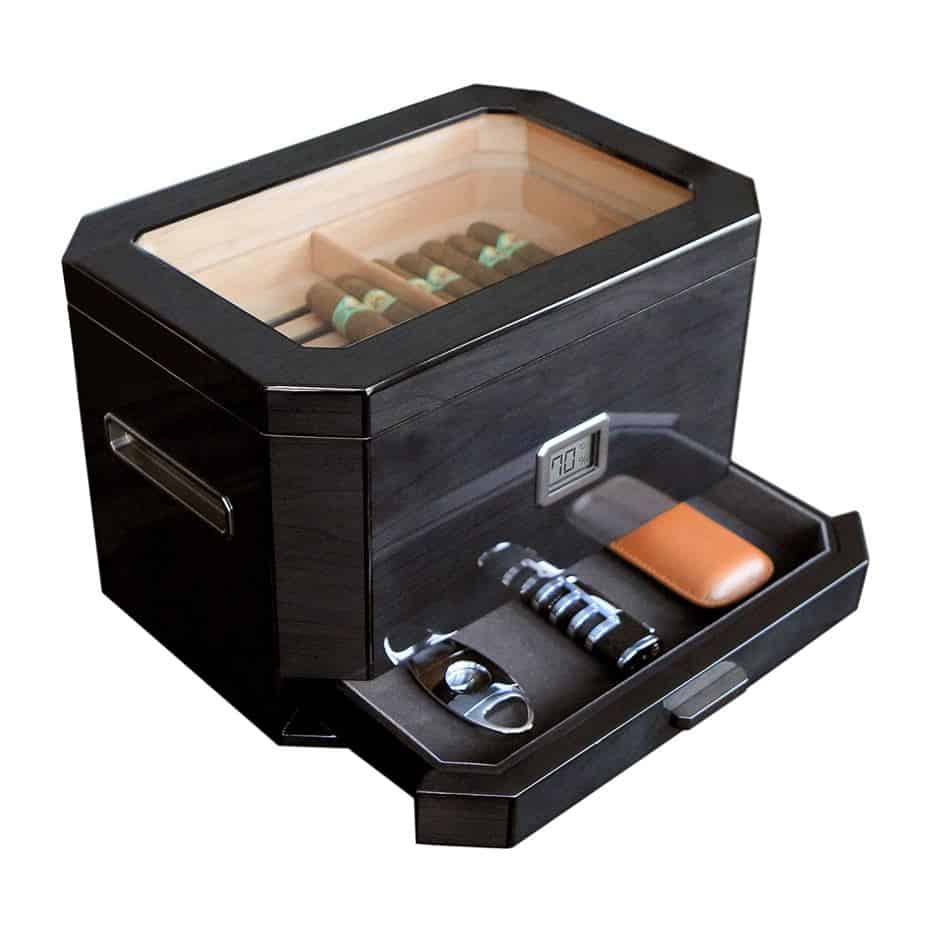 The remarkable CASE ELEGANCE Octodor is a larger humidor with ample space to hold up to 100 cigars, catering to both novice and seasoned smokers. This humidor boasts the coveted Klaro features, including the front digital hygrometer, magnetic lid, and accessory drawer. Meticulously crafted into an octagon shape with an elegant high-gloss black piano finish, the Octodor exudes sophistication and style.
Enjoy the convenience of the recessed humidification system, the Hydro System, which ensures accurate and low-maintenance cigar humidification. Keeping your humidor perfectly seasoned between 65% to 70% RH, it comes with two bottles of humidor solution to get you started. Specially built to recess the system, this humidor saves space without compromising on performance. Consider the Klaro Subscription to maintain year-round seasoning.
Experience the richness of thick Spanish cedar, making this humidor a moisture-holding marvel. As you open the lid, the delightful aroma of Spanish cedar greets you – a testament to the premium materials we use at Case Elegance, honoring the humidor manufacturing heritage.
Monitoring humidity is effortless with the built-in digital hygrometer, a staple of Klaro humidors. Ensuring your humidor is adequately seasoned, the custom-molded space grey metal cover matches the octagon shape, enhancing its unique design.
Organize your accessories in the large bottom slide-out drawer, lined with plush felt and featuring a custom octagon-shaped handle for easy access. Safely store your lighter, cigar cutters, and travel case in this drawer. (Accessories Not Included)
The removable cedar tray enhances cigar airflow and seasoning, while also assisting in organizing your ready-to-smoke cigars at the top.
Our Top Pick for Best Humidor
Whether you enjoy a cigar every day or only on special occasions, a humidor keeps your cigar in perfect condition. While we love the idea of a portable humidor case that you can toss in your bag and take anywhere, our top choice for best humidor is the Case Elegance Glass Humidor.
The humidor design is timeless, and we like the tempered glass top to display your cigars while maintaining ideal temperature and humidity. The built-in digital hygrometer is easy to read the magnetic cover helps ensure a tight seal.
References
https://www.gentlemansgazette.com/humidor-guide/
https://www.cigar-club.com/blog/how-to-use-a-cigar-humidor/
---