Whether you're looking for the perfect gift for the cigar aficionado in your life or you are starting to build a cigar collection, a cigar humidor is an essential purchase. In our review, we discuss the importance of a cigar humidor and some of the best humidors available on the market right now.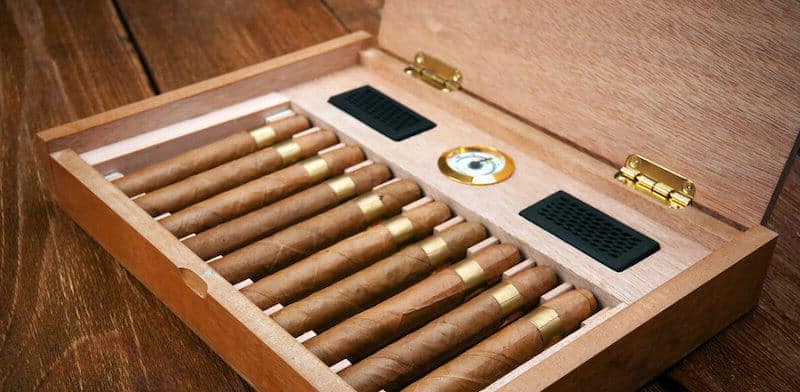 What is a Cigar Humidor?
If you don't know much about cigars, you might not understand what a cigar humidor is or how one works. Humidors are storage containers that allow you to control airflow and humidity to your cigars to keep them fresh and moist, it's is one of the most important accessories along a good torch lighter.
Humidors range in size from a large room to a small box that holds a few cigars. While humidors are popular for valuables and collectibles that require temperature and humidity-controlled storage, they are best known for cigars.
Quick answer
The Case Elegance Glass Humidor is the best cigar humidor available. It is a great humidor for beginners and experts that will protect cigars thanks to its built-in digital hygrometer and tempered glass.
How Essential are Cigar Humidors?
Since many cigars already come wrapped and in a box, you might be wondering how essential it is to have a cigar humidor. The ideal temperature and humidity for storing cigars is around 70 degrees Fahrenheit and 70 to 75 percent humidity. If you store your cigars in an uncontrolled environment, they are likely to dry out or become too moist and become susceptible to mold or cigar beetles.
Like wine collections, cigars get better with age, but to enjoy the optimal taste, it's important to store your cigars properly. While it takes a while, a humidor can help restore cigars that are too dry. It's best to use a cigar humidor as soon as you start collecting cigars.
---
| | | | |
| --- | --- | --- | --- |
| #1 | Case Elegance Glass Humidor | | Made from Spanish Cedar wood ideal for keeping cigar beetles at bay. This humidor has a built-in digital hydrometer as well as hydro sticks for seasoning your cigars. |
---
| | | | |
| --- | --- | --- | --- |
| #2 | MEGACRA Desktop Cigar Humidor | | The MEGACRA has a 50 cigar capacity on a cedar tray with the hygrometer and humidor being concealed inside the box which also prevents direct light from exposing your cigars. |
---
| | | | |
| --- | --- | --- | --- |
| #3 | XIFEI Acrylic Humidor Jar | | Giving humidors a modern look, this acrylic jar has a rubber gasket and a retaining ring. The hygrometer is easy to read through the acrylic and a cedar wood disk helps maintain cigar flavor & moisture. |
---
| | | | |
| --- | --- | --- | --- |
| #4 | AMANCY Travel Leather Cigar Humidor Case | | The ultimate travel humidor case capable of carrying a handful of cigars snugly while keeping them intact. Contains a built in hydrometer ensuing optimal flavor and humidity. |
---
Things to Consider Before You Buy a Cigar Humidor
Even though we review some of the best cigar humidors on the market, there are a few things to think about before you order a humidor for a gift or your cigar collection.
Box Size
We've already mentioned that cigar humidors are available in a variety of sizes, such as large rooms and cases. In this article, we only review smaller cigar humidors, that can hold up to 50 cigars. If you are looking for a large-scale humidor, it's best to talk to a cigar expert and learn more about having one installed or built in your home.
Smaller humidors are ideal for all types of settings, from offices to dens. Most of them don't take up too much space, and if you're looking for something more portable, there are personal-sized cigar humidors on the market.
Humidor Maintenance
Even though cigar humidors are an essential piece of equipment for cigar lovers, you need to be willing to perform occasional maintenance on your humidor. While cigar humidors protect your cigars and help maintain quality, you need to know how to use your humidor.
It's important to pay attention and monitor factors like light and weather. Cigars store better when they are in dark and cool places. Storing in direct light can speed up humidity. When you first by a cigar humidor, you need to spend time closely monitoring the thermometer (70°F) and hygrometer.
Regardless of what size or type of cigar humidor you buy, you'll need to spend a little time doing your own research on how to use the humidor and keep your cigars in an optimal environment.
Ready to store your cigars properly? Check out our top picks for the best cigar humidors of the year.
Case Elegance Glass Top Handcrafted Cedar Humidor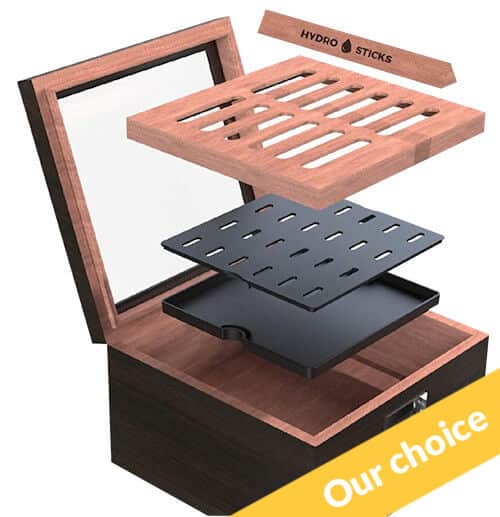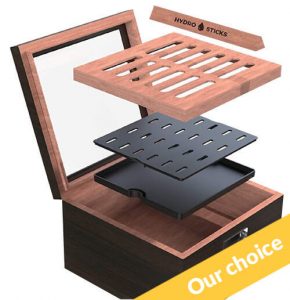 The Case Elegance Glass Humidor has a tempered glass top to protect your cigars while making them easy to show off and put on display. The inside of the humidor is made of Spanish Cedar, which is ideal at keeping cigar beetles away and won't compromise the flavor of your cigar collection.
The humidor also has hydro sticks, which you soak in humidor solution to season your cigar humidor before you store your cigars. The outside of the box has a built-in digital hydrometer, which is easy to read and use, so there's never any guess about the temperature or humidity.
---
MEGACRA Desktop Cigar Humidor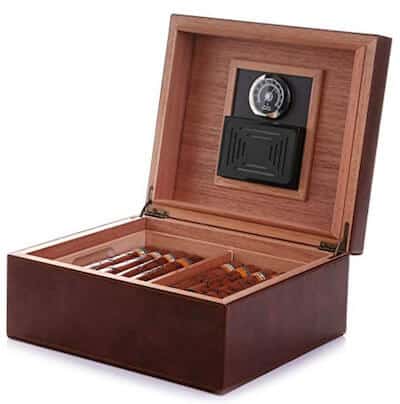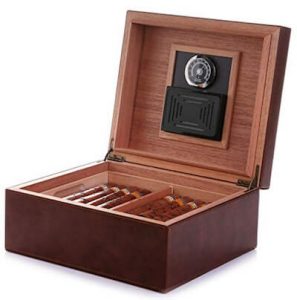 The MEGACRA Desktop Cigar Humidor is an attractive way to display your cigars without exposing them to any light. The interior of the cigar humidor has a cedar tray and divider that easily holds up to 50 cigars without packing them too tightly. The exterior of the humidor has an elegant yet simple design and is covered with PU leather.
The hygrometer and humidifier are located on the inside of the case on the underside of the lid. Even though they are essential to the humidor, they also have an attractive and eye-catching design, which looks nice every time your humidor is open, and you're showing off your collection.
---
XIFEI Acrylic Humidor Jar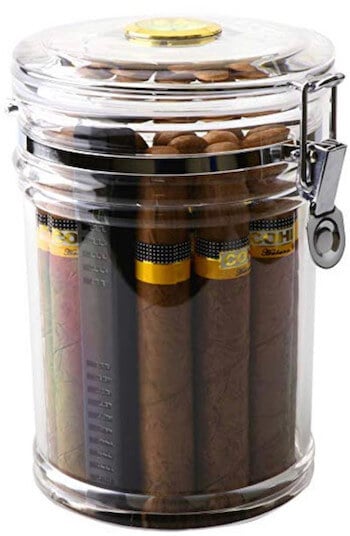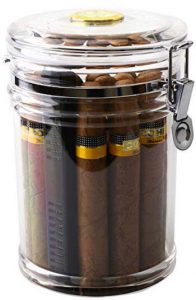 Even though many cigar lovers prefer the classic look of humidor boxes, it may not be your preference or style. The XIFEI Acrylic Humidor Jar is a unique spin on an essential piece of gear for cigar aficionados.
The acrylic jar is clear and has a cover with a rubber gasket and a retaining ring. At first glance, the humidor jar looks similar to a canister that you might have in your kitchen, but it has essential humidor features. The hygrometer is inside the jar but easy to read through the clear acrylic, and the rectangular humidifier fits nicely into the jar. A cedar wood disk helps maintain humidity levels and flavor of your cigars.
---
AMANCY Portable Travel Leather Cigar Humidor Case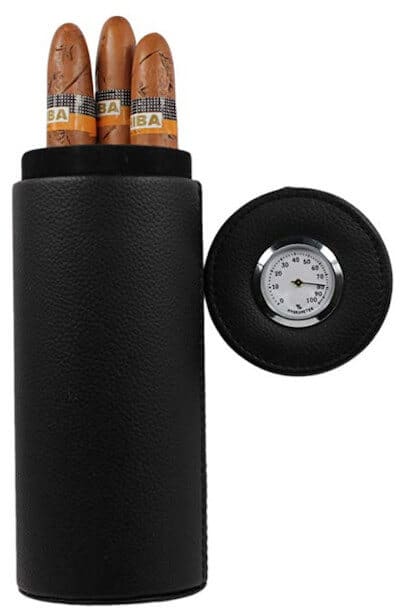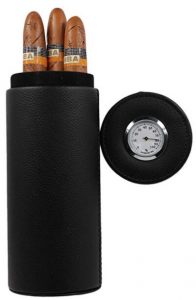 Whether you're traveling with your favorite cigars or heading to the golf course with some buddies, the AMANCY Travel Leather Cigar Humidor Case is the perfect size for a handful of cigars. The case is 7.9 inches in height and is 3 inches in diameter. The hydrometer is built into the cover, and the humidifier is long and fits snug in the case.
The outside of the case is PU leather and the interior is made of cedar. Not only will your cigars stay intact when you toss the case in your bag, but the cover stays on to ensure optimal flavor and humidity.
Our Top Pick for Best Humidor
Whether you enjoy a cigar every day or only on special occasions, a humidor keeps your cigar in perfect condition. While we love the idea of a portable humidor case that you can toss in your bag and take anywhere, our top choice for best humidor is the Case Elegance Glass Humidor.
The humidor design is timeless, and we like the tempered glass top to display your cigars while maintaining ideal temperature and humidity. The built-in digital hygrometer is easy to read the magnetic cover helps ensure a tight seal.
References
https://www.gentlemansgazette.com/humidor-guide/
https://www.cigar-club.com/blog/how-to-use-a-cigar-humidor/
---
Frequently Asked Questions
✓ How full should my humidor be?
As a general rule you want your humidor to be 2/3 full of cigars. This allows air to circulate around the inside and ultimately keep your cigars evenly humidified. Note, it's important not to squish the cigars tightly against each other, to let air also circulate around the whole cigar.

✓ How long should I leave my cigar in a humidor?
The longer you leave your cigar under the right moisture and temperature, the better the flavor profile. Cigar aficionados, however, will say it's best to leave them between 4 and 5 years!
✓ How much does a cigar humidor cost?
Quality and size plays a factor on price. However, you don't have to spend big to find the right box for the job. That's why in our list, the most expensive humidor is just under $100.

1. Case Elegance Glass Humidor - $99.99
2. MEGACRA Desktop Cigar Humidor - $59.99
3. XIFEI Acrylic Humidor Jar - $22.99
4. AMANCY Travel Humidor Case - $19.99