A mattress topper is a type of "pad" which you can add on top of your mattress for an instant change to its characteristics (essentially fine tuning the feel of the mattress).
If your mattress is now too soft for your needs, you can make it harder. Likewise, if a mattress is hard, you can make it softer, and this is determined by the thickness and material of the topper used.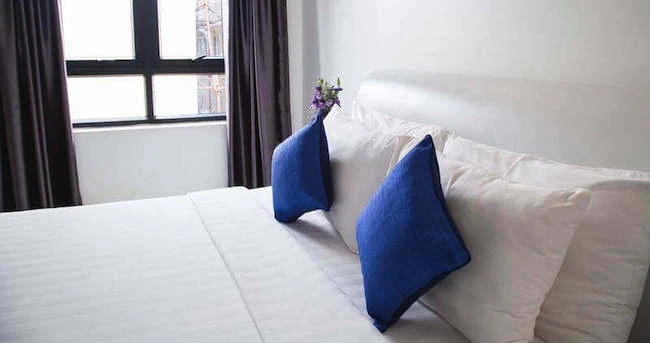 On the subject of materials, latex toppers are gaining popularity due to their bounce-back properties, temperature control and durability, which is why we will be covering it here, particularly PlushBeds latex version.
Quick answer
Plushbeds Natural Latex Topper is the best mattress topper available right now. This a product that combines durability, comfort and affordability.
"As an expert in sleep science, I'm aware that the quality of your mattress topper plays a crucial role in your sleep health. As we evaluate the Plushbeds Natural Latex Topper, we should pay particular attention to its natural and organic composition. This design not only guarantees durability but also promotes healthy sleep by providing superior comfort and reducing exposure to allergens and harmful chemicals. From my professional vantage point, I must vouch that Plushbeds stands as a strong contender for being the best organic pad of 2023 based on the aforementioned benefits."

Presley Noland, Certified Sleep Science Coach
Construction
PlushBeds only have a 6 month period in a year to harvest the latex in its pure state (100% pure latex). They use the Talalay process which is more consistent at removing weaker air bubbles and helps the material contour your body and improves pressure relief.
It's not uncommon for inferior topers to have only a small amount of latex with a blend of other synthetic materials but yet claim to be "latex". In the case of Plushbeds , you can rest assured it is 100% latex.
It's this pure latex that ensures a long lasting quality product without the issue of sagging or breaking down in some areas, they are made to last over 20 years. Simply put, expect the latex to spring back to its original position night after night.
Resists deterioration and has a life span of 20 years

Plushbeds claim their natural latex topper lasts up to 20 years.
What's nice about this latex topper is the variety of choice available. You can pick between 2″ or 3″ thickness while also being able to tailor the surface firmness before purchase.
Support & Comfort
Latex has characteristics that always wants to push back into its original position when a force is applied to it. Therefore it tends to hug itself around your body shape which ultimately provides better support (especially around vulnerable joints such as the shoulders, hips and knees).
However, it is hard to achieve a single topper that can accommodate everyone. People come in different shapes and weights which is why Plushbeds offer the option to choose from 5 different firmness levels and 2 thickness levels.
This gives the customer plenty of options to find a perfectly catered topper for their needs.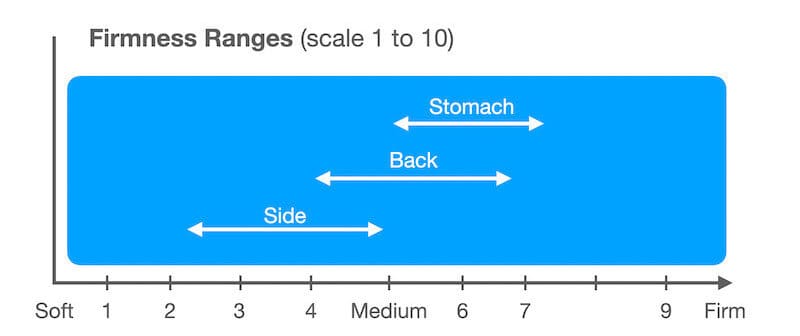 * Determining the level of firmness that suits you, will also depend on your sleeping position.
Side Sleepers
Side sleepers have less body surface area in contact with the topper. If the latex topper is too hard, then digging into the shoulder, hip & knee will occur. These parts of the body need to sink in enough to allow support by other parts of the body. Hence a softer mattress.
Back Sleepers
Sleepers who lay on their backs tend to prefer medium latex toppers as it offers more support on the back area.
Medium latex toppers allow enough sinking to support the curvature of the back, however, too much sinking is undesirable.
Stomach Sleeper
If you naturally sleep on your stomach, then the firmer toppers are ideal for you. This is because the mattress topper support prevents the sleeper's stomach from sinking into the mattress topper too deeply and causing discomfort.
Who Are PlushBeds & Why Are They Different?
The US based company are proud to produce their mattresses, toppers and pillows in locally. Focusing their attention on using natural materials to be more caring to the environment is paramount.
For example, their latex toppers use latex in its purest form and use the Talalay process which is more consistent at removing weaker air bubbles. As no fillers or toxins are added no harmful gases or odors are released, of which children are particularly vulnerable.
The result is environmentally friendlier and hazard-free products with greater support & comfort and lasts for longer.
Find out more:
Safety & Health Certification
Being a company that manufacture their toppers in the USA ensures high standards are followed for the creation and distribution of their products.
Plushbeds take this even further by meeting rigorous third-party chemical and emissions standards such as:

Certified Organic Latex

Certified Organic Cotton

Certified Organic Wool

USDA Organic

GreenGuard Gold Cert.

OEKO-TEX Certified

Eco Institute Certified

Control Union Certified

CertiPUR-US Certified Foam

Arpico Certified Organic Latex
Other PlushBeds Benefits
1. Made In The USA
PlushBeds latex mattress toppers are made in the USA, ensuring product quality standards both in the manufacturing and distribution process.
2. Body Pressure Relief
Improved body weight distribution using their airflow design. This reduces pressure points and supports different parts of the body.
3. Pure Latex Foam
No fillers or toxic additives. Does not emit harmful gasses or odors & is manufactured with the highest quality Talalay latex memory foam.
4. Free from Odors
Fresh Foam Technology along with using pure latex makes PlushBeds toppers practically odor free & without harmful chemicals.
5. Built To Last
Synthetic latex mattress topper made from petrochemicals tends to discolor, lose shape, sag, and break down. It's a good thing Plushbeds toppers are natural
6. Ventilation Cooling
Thousands of ventilation holes allow air to freely flow, drawing heat away from the body for a cool night's sleep.
7. Hypo-Allergenic
PlushBeds latex pads are hypo-allergenic, anti-microbial, dust mite resistant, and mildew resistant (great for allergy sufferers).
8. Shipping & Delivery
Product arrives conveniently at your door. Machine compression, allows pads to decompress rapidly once the packaging is opened.
PlushBeds' Environmental Efforts
PlushBeds only have a 6 month period in a year to harvest the latex in its pure state as they comply with regulations that do not allow trees to be cut during summer and rainy seasons. As mentioned they use the Talalay process which is more consistent at removing weaker air bubbles that help with improved pressure relief due to the latex contouring your body more evenly.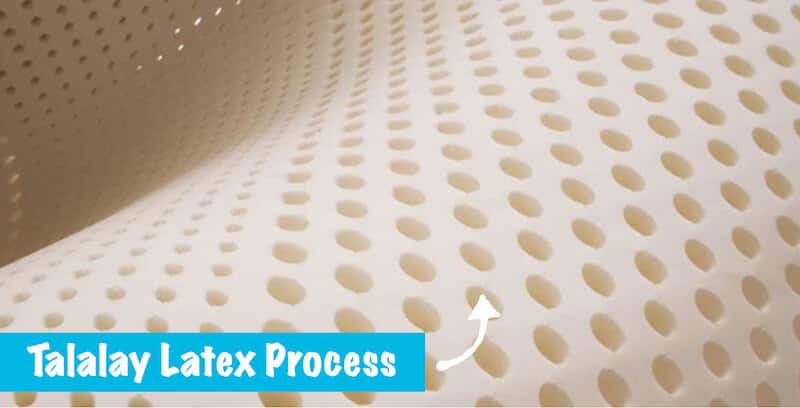 Organic & Hypo-Allergenic
As a result an organically pure mattress topper pad is manufactured free from bleach, pesticides, chemical dyes & toxic adhesives… all the while maintaining its elasticity for unsurpassed full body support.
Say goodbye to chemical-filled sagging foams, and say hello to luxurious, organic sleep for you & our family, with this memory foam topper.

PlushBeds Natural Latex Topper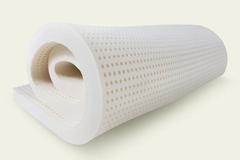 PlushBeds Natural Latex Toppers
This talalay latex topper delivers unique buoyant qualities that relax muscles and relieves tensions, it's no wonder it's a popular product.
Other Benefits Mattress Toppers Can Provide?
There are numerous benefits, from health benefits to cooler night sleeps and, simply speaking, overall quality of sleep that often affects our lifestyle and how we deal with day-to-day chores and simple activities.
Let's mention a few benefits!
Cooler Night Sleeps
Many traditional memory foam mattresses are designed to channel heat away rather than act as an insulator giving you a nice comfortable sleep (as opposed to a sweaty one).
For example, some types of memory foam are made from an open-cell Viscoelastic structure to repel the heat and for latex toppers, this is can be achieved by having thousands of ventilation holes to promote airflow for a cooling temperature effect, which ultimately improves sleep quality. Latex toppers can be almost 50% cooler than other materials.
Isolating Motion Transfer
Who likes to be disturbed while sleeping? If your partner moves a lot in their sleep, or they get up often to go to the toilet in the middle of the night, then a mattress topper might be for you. Properties for isolating motion will provide you and your partner with a great sleep quality.
Affordability (Mattresses Are Expensive)
Mattresses can be expensive to replace. However, an affordable alternative (particularly if suffering from back pain) would be purchasing a mattress topper for a fraction of the cost. Your existing mattress is likely sagging by now and adding an extra layer to it can provide that extra support your need!
This will also extend the life of your mattress up to 2 extra years.
Supportive & Conforming Properties
Most topper mattresses offer a variety of thicknesses, sizes, as well as different materials and densities that shape your body for solid cushioning and ultimate comfort.
Shipping & Returns Policy
Shipping within the US is free and Plushbeds are happy to accommodate and mistakes made in topper sizes. However you will be responsible for the shipping costs of the returned item.
Unfortunately, Plushbeds does not accept returns due to safety and sanitary regulations.
Orders can be cancelled provided this is done before the product is shipped out. The quickest way to do this would be by calling 1-888-286-3404 Toll Free.
Final Verdict
This is by no means a bargain product, however, nor is it overly expensive.
As tempting as it is to find good deals, products that come with a good price tag tend to be of inferior quality.
It's felt that Plushbeds pricing hits the sweet spot when considering comfort, health and longevity. Many might not be able to afford such upfront costs (which is understandable), but in the long run, if this product can resist deterioration for 20 years, then it is well worth the investment.
References
https://www.which.co.uk/reviews/mattress-toppers/article/choosing-the-best-type-of-mattress-topper-awRRS5f5gyKs
https://www.consumerreports.org/mattress/how-to-choose-a-mattress-topper-a6275159190/
Frequently Asked Questions
✓ I have a medium firmness mattress and would like it firmer, can I manage this with wool toppers?
If your mattress no longer suits your requirements due to its age or maybe your preference has changed, you can use a plushbeds topper to change its characteristics. PlushBeds have a variety of sizes, thicknesses, and firmnesses, so it would be a question of ordering the one to your liking.
✓ I want a plushbeds latex topper for support but I am worried it will sleep too warm?
Latex toppers respond quickly while being gentle to your movements and act as a great pressure relief while supporting your body. Some latex toppers can help you sleep cool (cooler than others) because they are air-infused to allow for a cooler sleeping surface. Either way, with a good organic cotton topper, you will be sleeping cool.
✓ Are latex mattress toppers toxic?
No, latex mattress toppers are not toxic (on top of that, it is dust mite resistant). Latex is a natural material made from rubber trees, and it contains proteins that are capable of triggering allergic reactions in some people. To avoid this type of reaction, you should look for mattress toppers that are made with natural rubber or man-made polyurethane. If you're uncertain whether a mattress topper is made from natural latex, you should avoid it.
✓ Is a latex topper good for side sleepers?
Yes, a natural latex topper is good for side sleepers. They provide even body distribution which is excellent for everyday living. The softness of the memory foam conforms easily into the curves of your spinal column giving you enough comfort that lasts throughout the night.
✓ Which is better latex or memory foam topper?
Both are great options. Latex is considered to be one of the more durable materials since it doesn't absorb moisture or body heat easily. Memory foam, on the other hand, conforms easily according to the size and shape of your body. However, memory foam toppers have a greater tendency to sag so it needs more regular flipping or rotation than latex.
✓ How long does a latex mattress topper last?
A latex mattress topper lasts about 10 years, give or take. Although it doesn't sag easily since it is quite durable, this material does lose its natural elasticity after a few years of use. The cushioning also become firmer over time which may not be good for some people especially if they're heavy or have back problems.