Real hardwood floor – beautiful, durable, expensive. There's no doubt that real hardwood floor is an investment when it comes to your home – one that costs, on average, $55 per square metre for materials PLUS $25 per square metre for labour.
While you want to take care of your floors, there are hundreds of vacuum cleaner models on the market for the job – each of which might claim to be effective with best features on the market. So which is best?
In this review we tell you about our best vacuums for wooden floors and the close contenders. From vacuums which automatically adjust their suction settings when moving from rug to wood floors, to others which take on the challenge of pet ownership and allergy sufferers.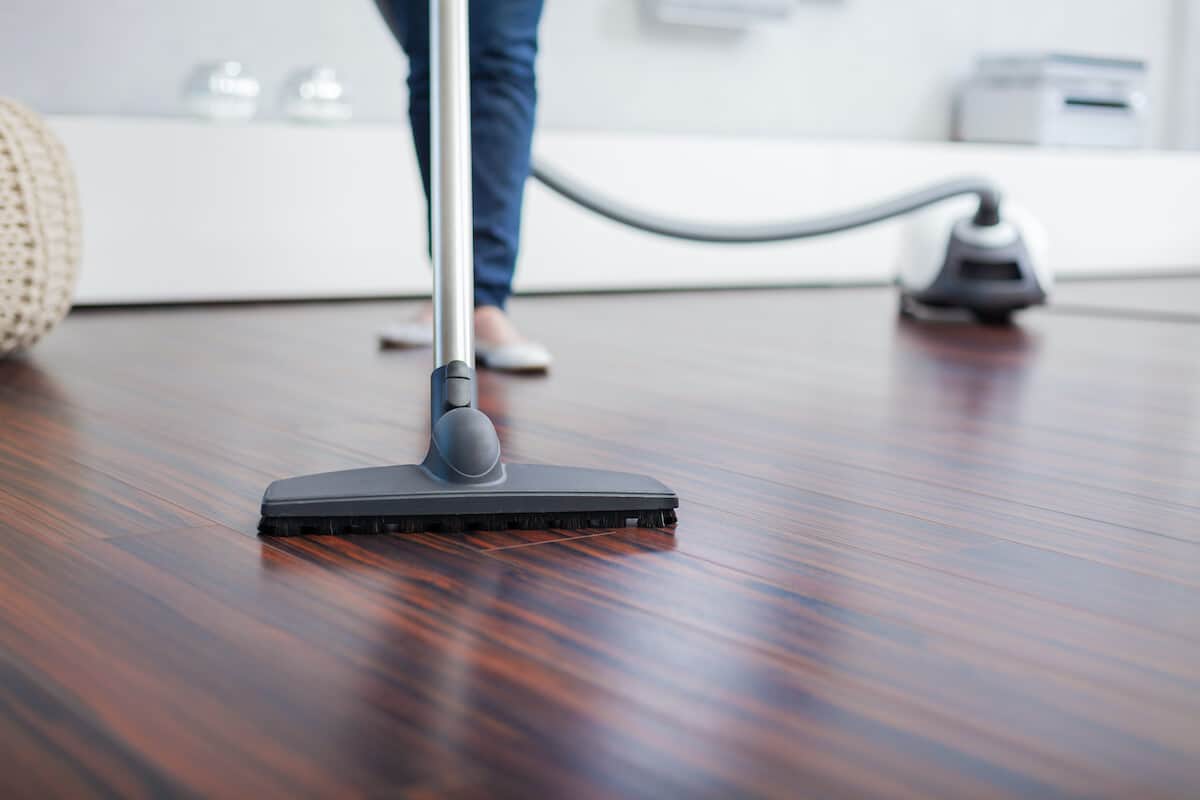 The Benefits Of Hardwood Floor Vacuums
While hardwood floors leaves laminate in the dust when it comes to aesthetics, it's also far more demanding, requiring painstaking care.
Pick the wrong vacuum and you could run the risk of scratching that beautiful wood surface each time you clean. The wrong model can reduce your floor lifespan by 2 or 3 years.
Pick well however, and you'll whizz through the daily vacuuming at speed, leaving your hardwood floors free from dirt, dust AND scratches.
Aesthetics is only one part of the equation, maintaining the wood is the other!
Quick answer
The Shark Rocket Ultra Light Vacuum is the best vacuum for hardwood floors. It is one of the most versatile options available weighing only 13.9 pounds and a $160 dollars price tag.
Our Top Picks
| | | | |
| --- | --- | --- | --- |
| #1 | Shark Rocket Ultra-Light | | Flexible, powerful and compact, weighing in at a nimble 13.9 pounds. This quality floor-to-ceiling vacuum makes light work at cleaning both car and house. |
---
| | | | |
| --- | --- | --- | --- |
| #2 | Dyson V11 Outsize Cordless | | Featuring a soft roller cleaning head, expect exceptional cleaning performance and unparalleled run time on hardwood floors from the Dyson V11. |
---
| | | | |
| --- | --- | --- | --- |
| #3 | Moosoo Handheld Vacuum | | Suitable for small to medium properties, the 20-35 minute runtime of this incredibly budget-friendly machine will cover every room in your home, running from hardwood floor to rug while still putting in high performance. |
---
| | | | |
| --- | --- | --- | --- |
| #4 | Hoover Pet Max Upright | | Tough on pet hair and dirt, the multi-floor performance of this vacuum features an on/off switch to move between brushrolls as you vacuum carpet to tiles and onto hardwood floors. |
---
| | | | |
| --- | --- | --- | --- |
| #5 | JASHEN Cordless Stick Vacuum | | Allergy sufferers rejoice, this HEPA filter fitted hardwood vacuum is the 4-in-1 multipurpose vacuum which shifts from stick to handheld to stairs. Powerful, whisper quiet and everything you want. |
---
Quality Features & Specifications For A Good Hardwood Vacuum
Getting all wide-eyed with the latest features & accessories can be distracting, and that's why focusing on your cleaning needs is probably the best course of action in determining which is the best product for you.
As a result, we understand that some of the machines that have made it on our top list might not suit your needs or requirements which is why we highlight but a few considerations before your next purchase. You can end up spending as much as 50% more if you choose a machine with more features.
Soft Cleaning Brushes On Floors
A vacuum cleaner with soft brush bristles will not scratch your wooden floor. Avoid using machines beater brushes as they are more designed to force dirt, dust particles and pet hair from rugs, as they will scratch wood. You want enough suction to lift all debris from the surface so that when it's time to polish or mop the floor, you don't end up digging that debris into the surface which over time promotes scratching.
Best Suction Power Options
A vacuum cleaner that has low-to-medium suction is all that's needed for cleaning hardwood floors. A good option would be a vacuum that either automatically adjust suction power when changing floor surfaces such as from hardwood to carpets and vice versa. Alternatively you can source a model that you can manually adjust the suction when needed.
Wheel & Padding Type For Wood Floors
The type of wheels and under padding your vacuum cleaner has is also paramount. Plastic wheels and padding can easily scratch hardwood surfaces which is why an alternative material such as rubber or felt strip is better suited to avoid unnecessary scratches during passing. A quality cleaner is not all about suction power, manoeuvrability and state of the art technology, but also about the design of the physical machine itself.
Light Weight, Compact & Easily Storable
Heavier vacuum cleaners will add extra downward forces on your wooden floors and make them harder to manoeuvre, particularly if elder. This only increasing the likelihood of scratches occurring on your floor. Being compact and light means your machine can be easily stored away without taking up too much storage space.
Corded Vs Cordless Cleaners
The limitation of corded units mainly depends on the reach of the power cord, but they do hold an other advantage in that they are generally stronger vacuums and produce a more powerful suction strength than battery powered units.
As for cordless units, this will depend on the energy stored in the onboard battery. The advantage is there are not pesky cables getting in the way of your cleaning path. They also make for brilliant emergency units whereby starting them up without having to unwind several feet of cable and finding a power socket within the vicinity.
Luckily the more modern cordless machines are powered by advanced lithium-ion batteries that are capably of product comparable suction strength to that of corded units, but of course the disadvantage is remembering to charge the unit and charge downtime.
The type of vacuum cleaner you prefer will depend on your personal preference. Some people like canister vacuums while others may prefer the more modern lightweight upright stick vacuums.
As shown on this article, every vacuum has its pros and cons, but one common trend is the traditional upright vacuums with their additional cleaning hoses along with the lighter convertible stick vacuums tend to be the most popular.
This may be because they have less fiddly parts, are easier control when in use and there's less chance of dropping them on your pristine wooden floors.
Before Buying Your Cleaning Machine
All the vacuums that we've featured in this review are safe for use on hardwood floors. However it's important to note that some of the vacuums require you to manually change a setting to move from one surface to another. Some of these vacuums also feature dedicated hardwood floor attachments.
If you're uncertain about how to properly care for your hardwood floors we recommend that you speak with flooring professionals for bespoke advice. Should you do so, take care to undertake due diligence on any cleaning products that they try to sell you.
There is also a trade off between weight and power. A 10lb vacuum will not have the same performance as a bigger version.
So without further ado, here's our choice of the best vacuum for hardwood floors and why, along with the runners up.
Shark Rocket Ultra-Light Corded Bagless Vacuum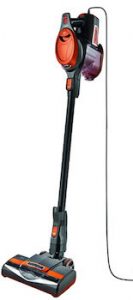 Versatile, powerful and easy to store, the Shark Rocket Ultra-Light is a quality vacuum that glides from rug to hardwood and back again, and even features a dedicated attachment for hard floors – the Dust-Away Hard Floor Hero attachment. This attachment picks up surface litter and stuck-on debris easily for superior bare floor cleaning.
Weighing just 13.9 pounds, this value for money appliance more than lives up to its namesake, making it perfect for quick, effortless cleaning and for users with limited strength.
This vacuum includes Home & Car Detail Kit Micro tools comprising of dusting brush, 12″ crevice, wide upholstery tool, wall mount, dust away attachments microfibre.
| Shark Rocket Ultra-Light Specification Table | |
| --- | --- |
| Weight | 8.2 lb |
| Cleaning path width | 8.5 in |
| Power source | Mains |
| Cord length | 25 ft |
| Bag type | Bagless |
| Bin capacity | 0.118 gallons |
| Filtration | Foam |
Verdict: The Shark Rocket hard floor hero attachment is heralded by homeowners for its impressive performance. But the switching of attachments from normal use to hardwood floor might get wearing for those who also have carpeted areas in their home.
---
Dyson V11 Cordless Stick Vacuum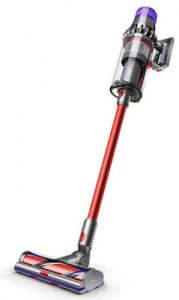 From the vac brand that needs no introduction, the Dyson V11 cordless vacuum boasts plenty of the elite technology that Dyson is well known for, delivering twice the suction of any cordless vacuum. Dyson's most powerful, intelligent cordless vacuum, the V11 overcomes plenty of the drawbacks of handheld vacs, including a good sized bin and full-size cleaner head.
Made for the larger of homes complete with pets and the messiest of kids, the V11 will keep your hardwood floors clear of even microscopic dust, with power levels that adjust as you move from carpet to hardwood to stone – all automatically.
Offering an industry-leading 120-minute run time, the Dyson V11 goes the distance.
This Dyson is also allergy-friendly, with whole-machine filtration which traps 99.99% of particles, dust and allergens as small as 0.3 microns.
Finally the three cleaning modes allows you to switch from Eco, Auto to Boost – for effective whole-home cleaning and the perfect finish.
Verdict: The Dyson V11 is an addition to the world leader's range of vacuums which overcomes many of the common complaints about handheld vacuums. From its 120-minute runtime to the full size bin and cleaner head, there's a lot to love about the V11.
When it comes to hardwood floors, the Dyson DLS technology provides excellent performance whatever the surface being cleaned – on auto-pilot.
Also included is 5 Dyson engineered cleaning tools for versatile whole-home (including under furniture) and car cleaning. Including the mini-motorized tool for removing pet hair from upholstery and tight spaces.
---
MOOSOO Cordless Handheld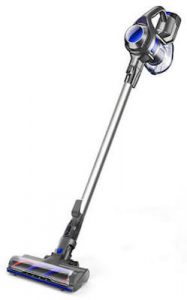 You'd be forgiven if you hadn't heard of vac brand MOOSOO. And while the price point of the MOOSOO Cordless is far under the likes of Dyson, it shouldn't be thought of as a cheap replica.
MOOSOO vacuums are known for offering features that market leaders sometimes lack, such as the LED dust searchlight, one touch on/off button and ergonomic handle – each of which many users make mention of in online reviews.
The MOOSOO Cordless Vacuum Handheld tackles dirt in your car, sofa, and curtains, easily eradicating dust in fabric and swallowing children's food residue and pet hair. It's also exceptionally light in weight while providing impressively strong suction whatever the surface being cleaned.
Verdict: MOOSOO shouldn't be overlooked as a serious contender for caring for hardwood floors and impressive suction. With a price tag that comes in at a third of the price of a Dyson, this brand is more than worth your consideration.
Includes cordless handheld vacuum, Wand, Crevice nozzle, Replacement brushroll, 2 in 1 dusting brush.
---
Hoover Pet Max Bagless Upright Cleaner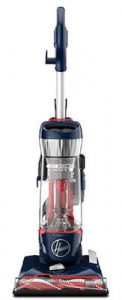 Designed primarily for homes where furry friends can be found, the Hoover Pet Max is the only upright vacuum to feature on our list.
The Allergen Block Filtration System of this hardfloor vacuum captures 97% of pet dander, dust and pollen particles and blocks them from re-entering the air.
Easily work from floor to ceiling, even in the grandest of period homes, with the 12 foot Quick Release Wand, hose and tools. This floor height adjustment switches between four different levels in total.
Verdict: When it comes to multi-floor performance, the Hoover Pet Max delivers optimal results on rugs and hard floors (thanks to its brush roller attachment and adjustable pile height settings). For some users, manually switching from one floor surface to the next might be a pain. For others who take extra care of their beautiful hardwood floors, these extra tools and settings will be welcome additions.
Includes upright vacuum, pet turbo tool, flexible dusting brush, crevice tool, additional rinsable filter.
---
JASHEN Cordless Stick Vacuum w/ LED Brush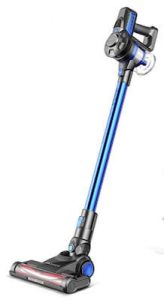 The JASHEN Cordless vacuum switches from stick to handheld to stair vacuum quickly and easily.
With a 180w motor, the powerful but ultra-quiet suction of the Jashen Cordless removes mold spores, dust, hair, dirt and ash in an instant, allwhile being kind to the most beautifully polished of hardwood floors.
The two brush types that you'll find in the box promise high performance on hardwood, carpet, sofa, car seat, curtain, marble and more, with a 2200 mAh battery to keep the vac cleaning for between 15 to 30 minutes.
This machine is by far the most affordable on our list (biggest price difference) while having impressive review ratings.
Verdict: The JASHEN Cordless vacuum, and its cleverly designed attachments, will undoubtedly keep your hardwood floors clean while taking care not to scratch or mark their surface.
But while its performance is impressive given its lightweight and handheld format, its long charge time (in relation to its run time) should be taken into consideration before purchase.
Includes 2-in-1 Motorized floor brush, Crevice nozzle, 2-in-1 Dust brush, Mini power brush and Pet hair brush
Our Top Choice Hardwood Floor Vacuum Cleaner
The Shark Rocket Ultra Light Vacuum pips the Dyson Outsize to the post for our choice of hardwood floor cleaning by a whisker.
It strikes the balance perfectly between advanced technology and budget-friendliness. And it's light enough for older users and for those with limited mobility.
With all that said, what really makes the Shark Rocket our best vacuum for hardwood floors is the Dust-Away Hard Floor Hero attachment, which delivers on the promise of next-level bare floor cleaning.
References
https://redsea.com/en/what-are-the-different-types-of-vacuum-cleaners-and-which-one-to-buy
https://www.kohls.com/feature/vacuum-guide.jsp
---
Frequently Asked Questions
✓ Should you vacuum hardwood floors?
Despite the horror stories associated with vacuuming hardwood floors, if done properly, is actually good for hardwood floors. Nothing can remove dirt, particles or debris from superficial cracks quickly like suction can.

In fact, using a mop not only spreads these particles around, it also helps them scratch those beautiful floors. So if you are to mop your floors, make sure you lift the majority of debris with a vacuum cleaner first.
✓ Would a beater bar help clean my hardwood floors?
The beater bar is effectively a rotating brush attachment with bristles. These bristles are designed to penetrate deep into carpets and brush up any dust ready for sucking up into the vacuum cleaner.

When used on hardwood floors, the rotating bristles can end up damaging the wood surface. This is why it's essential to look for vacuum cleaners that are specifically designed for hardwood floors.
✓ Should I vacuum along or against the wood grain?
It's recommended to vacuum while going along the grain of the wood. This ensures a smooth glide, but more importantly does not go at right angles of the grain which can cause damage if the wood has not be set perfectly even (an almost impossible task).
✓ What type of vacuums are best for hardwood floors?
In our list, this is our top 5 best hardwood floor vacuum cleaners:
1) Shark Rocket Ultra-Light Corded Bagless Vacuum
2) Dyson V11 Cordless Stick Vacuum
3) MOOSOO Cordless Handheld
4) Hoover Pet Max Bagless Upright Cleaner
5) JASHEN Cordless Stick Vacuum w/ LED Brush