In order to understand the definition of deep cleaning a home, we must compare it to something.
Spring cleaning or regular cleaning is different to deep cleaning a house. The difference is the level of cleaning involved and where you which areas of your home you tackle.
Let's take a look at the differences.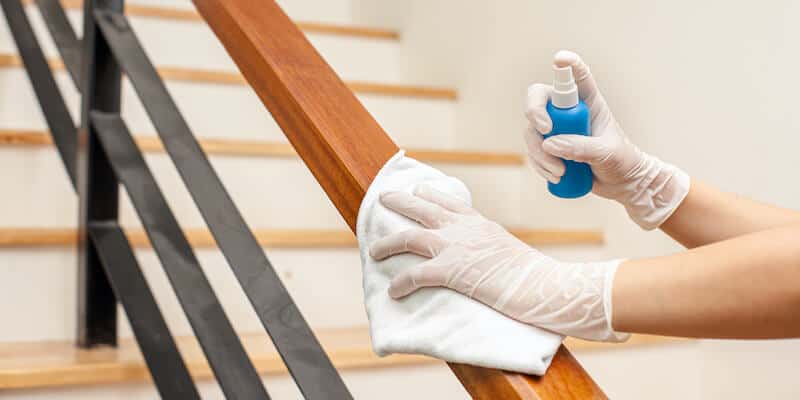 "A 47-point deep cleaning checklist is exhaustive and covers every possible aspect of maintaining absolute home cleanliness. It goes beyond your usual dusting and mopping, comprising intricate tasks like vent cleanups, detailed carpet sanitation, and even spaces behind appliances. These details, though might seem too minute or even unnecessary for many, they make all the difference in the world of deep cleaning – bridging the gap between a visibly clean house and a hygienically clean home."

Jehan Trevelle, Certified Sanitary Engineer
Regular Home Cleaning
Regular cleaning is essentially the type of cleaning you regularly and consistently due within your home… otherwise known as domestic cleaning.
These include regular cleaning tasks you do on a daily or weekly basis which maintains a decent level of cleanliness throughout the house and include such tasks:
Deep Cleaning Definition
Over time (even with regular cleaning) your home will slowly build up with grime and dirt (particularly in those hard to reach places you never touched during regular cleaning).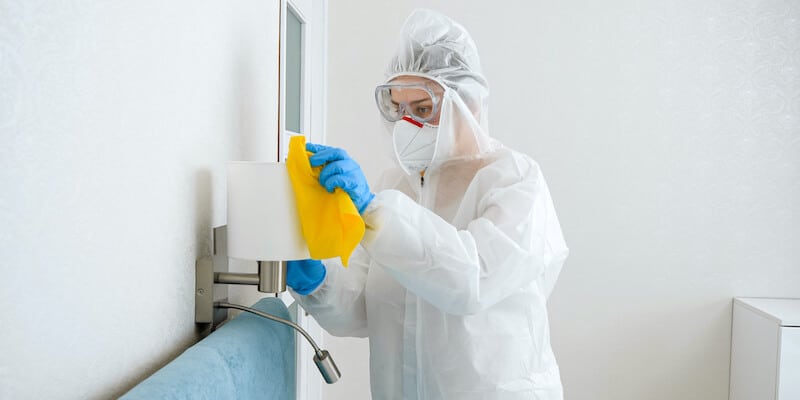 Let's look at this basic list to provide a better idea of what deep cleaning entails:
You get the general idea, it's essentially cleaning out every inch of your home and leaving no stone unturned.
Deep House Cleaning Checklist & How It Varies Room By Room
You may want to clean out your own home or even have a property for rent for new tenants. And the thought of doing it yourself is a daunting one or you may not have the time to do it. You might have to use specialized equipment, like a hardwood floor machine.
This is when a cleaning service can come in handy. However, the problem is, although you might understand the definition of deep cleaning, you may still find it challenging to understand what a service tackles when they say they will deep clean your home.
We have created a checklist of what to expect from a deep cleaning service.
* Note: Every service is different and their checklist may vary, however, be sure to ask for their checklist to see if you are happy with what you see.
You should see something like this that breaks down what tasks will be performed in each room!
For living rooms, it tends to be aesthetics such as scuff marks and stains that show up the most. However, it is important to note that dusting and disinfecting areas that carry bacteria is paramount for hygiene purposes.
Checklist For Living Room
The bathroom tends to be the most unhygienic of the rooms. It is important that the check list focuses on bleaching and / or disinfecting areas that build up in bacteria… this mainly includes the sinks, shower room and especially toilets. Do not forget any mold growth!
The dining room area is similar to the living room area inasmuch as aesthetics such as scuff marks stand out the most. It will tend to have more bacteria growth due to eating in that area, so it's important for the checklist to focus on more deep cleaning.
Checklist For Dining Area
The kitchen probably requires more deep cleaning than the bathroom due to the fact you prepare and cook food in it. Any bacterial infested areas could lead to getting seriously ill. There should be a lot more disinfecting in this room than any of the other (bar the bathroom).
Closing Thoughts
It's worth noting that every cleaning service will have their specific checklist for a deep clean. It is in your best interest to ask for this list beforehand in order to see if their package meets your requirements.
The beauty here, if you feel the checklist is a little small in comparison to what is being quoted, you might be able to get a few added extras thrown in.
So be sure to get a few quotes so you can make a comparison between the checklists and quoted price… this will give you some negotiation leverage.