Most home owners sweep or vacuum their vinyl floors once or twice a week to remove dirt and debris. After that they use a damp mop or a hardwood floor machine with abrasive cleaning solutions more suited for wooden floors.
Though these steps can be beneficial, they are not effective at removing stubborn odors or sanitizing vinyl floor surfaces. They can even cause unnecessary damage in the long run and therefore reducing the floor's life expectancy.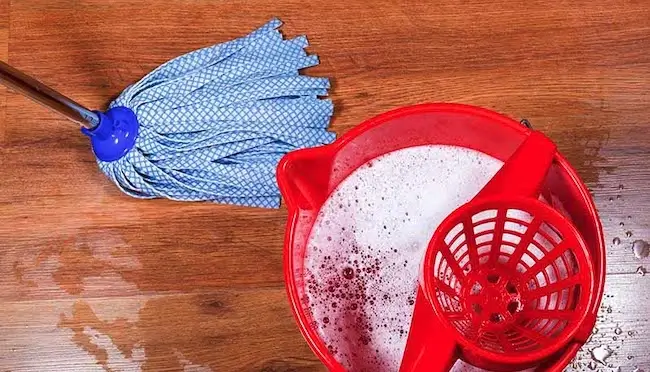 In truth, to clean your vinyl floors, all you need is 1 cup of apple cider vinegar mixed with 1 gallon of water
"Remember, vinegar is an acetic acid and while it does have fantastic cleaning properties, using it undiluted can be harsh on vinyl floors over time. Always ensure you're using a mellow solution – one cup of vinegar to a gallon of hot water should do the trick. With the right approach, vinegar can be vinyl's best friend."

Penelope Sinclair, Vinyl Specialist
Why Vinegar Is An Effective Cleaning Solution For Vinyl Surfaces
Vinegar is mostly made up of acetic acid, which has a low pH. Because vinegar is acidic, it has degreasing properties while also effectively destroying germs and other microbes residing on the floor. However some caution is required because it may damage the vinyl if the acidity level is too high.
Vinegar comes in many varieties, some with higher acidity level than others. Despite white vinegar being more acidic and an effective ingredient at cleaning, apple cider vinegar can also produce the desired results.
Here are the simple steps on how to clean vinyl floors effectively using apple cider vinegar:
Steps To Cleaning Vinyl Floors With Vinegar
Mopping alone is not sufficient at removing all of the dirt and grime from vinyl surfaces.
Secondly, the topcoat on vinyl flooring has a waxy and soft surface. Any abrasives such as dirt and sand can easily damage this topcoat through the mopping process.
This is why, before mopping you should first clean all the dirt and sand with either:
Step 2 – Prepare your apple cider vinegar solution
Different vinegar types have different acidity levels that can be used as a cleaning agent. Depending on which is used, water is needed to dilute it. When using white vinegar, in most cases diluting it with warm water is recommended.
For the most part, you won't need to use white vinegar. We recommend trying something milder like apple cider vinegar for this project instead. Mix one cup of apple cider vinegar with one gallon of water to make a homemade vinegar-based vinyl floor cleaning solution… and remember, this vinegar solution works effectively on cleaning laminate floors too!
If your vinyl appears drab and dry, consider giving it a bit of shine. Just a few drops of baby oil will do the trick. There is no need to go overboard, 3 to 5 drops will do.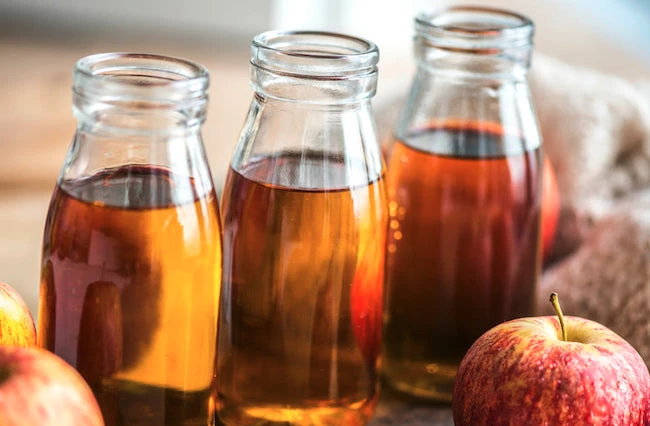 After you have done all of this, you can start mopping the floor.
Step 3 – Strategically mopping the vinyl floors
Mopping is straightforward. For this step you can use:
We recommend using two buckets when cleaning. The vinegar and hot water solution will be in one bucket, while the clean water will be in the other.
Mopping the floor in sections is beneficial. First, use the bucket with vinegar and hot water solution in one section. After you are done with that section, go over it with the clean water mop to remove any left over residue.
Replace the water as required to ensure that you are continually rinsing the vinegar solution with clean water.
When vinegar can't remove the stains
Unfortunately, there are times when stubborn floor stains cannot be removed by mopping alone. If you have spilt red wine or have splattered red spaghetti sauce on the floor, you can use baking soda as a stain remover.
In these cases, a baking soda paste of 2 tablespoons baking soda and 1 teaspoon of warm water will help fade the stain.
Once applied, leave the paste for a while and then use a damp mop or a soft cloth to remove it by dabbing.
Baking soda is very abrasive. That is why it helps with stubborn stains. If the stains are not gone after the first attempt, try applying the paste a second or even a third time and see if it works.
Just be careful and gentle with the application process, because baking soda can damage the waxy topcoat surface.
What about stubborn scuff marks?
WD-40 lubricant is a great solution for stubborn scuff marks. Just spray it on and watch the magic happen.
If you are having a difficult time with lifting stains made from grease, ink, or permanent marker, and no amount of baking soda or WD-40 is working, then it is time to bring out the rubbing alcohol.
Rubbing alcohol and a microfiber cloth is all that is required to get rid of the blemish. To prevent creating a bigger mess, dab the stain from the outside in and do not rub.
Make sure to rotate your cloth to avoid re-staining the floor with the blotted rag once the stain has transferred from the floor to the cloth.
Make Your Vinyl Floors Last Longer
In between cleaning, proper maintenance is what keeps your floors at their best. The first and easiest thing you can do to avoid scratching your floors is to place rugs in the entryways of your home. This way you will not scratch the floor when you go in and out of your house.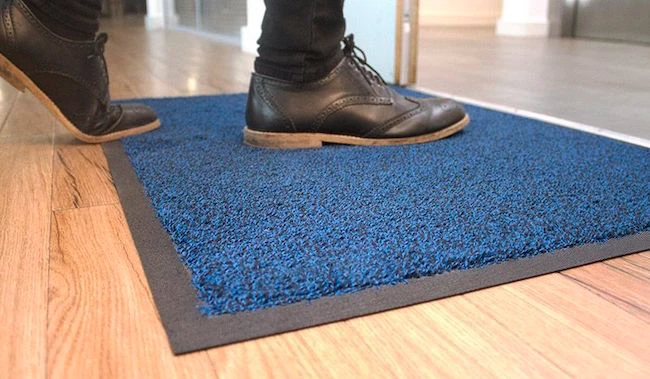 Putting down floor mats around the doorways is the best way of protecting your vinyl surfaces from heavy dirt and debris. The mats will collect the particles, preventing them from being passed on to the floor.
In addition, not wearing shoes indoors is recommended. This will further reduce the amount of dust and debris from entering your home.
Final Thoughts
Cleaning with vinegar is an excellent alternative to harsh and abrasive cleaners that can, not only ruin your floor but also irritate your skin and respiratory system.
Vinegar is an inexpensive and effective organic way to clean your floors and make your home a healthier place for you and your family. So, if you want to reap the amazing benefits of vinegar, get your supplies together now!