When you think of cleaning laminate floors, you probably think that that's an easy job.
And I agree, compared to carpets that need vacuum cleaning on a regular basis and occasional dry cleaning, laminate floors and other wood floors are really easy to clean.
However, we've all faced a sticky stain on the laminate floor at least once in our lives, caused by spilling some juice or soda, or by something else.
Yes, you'll clean the spilled liquid or whatever has caused the stain, but the stickiness won't disappear so easily.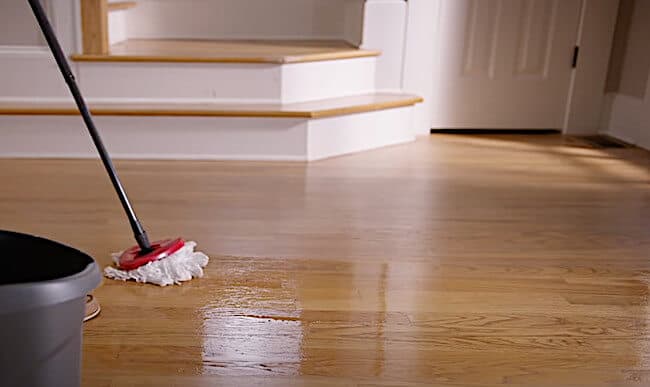 On the contrary, it will stay there on the floor and annoy you every time you step on that part of the floor.
Well, I'm offering you a simple 5 step cleaning solution that includes:
Removing dust and debris from the floor
Choosing the appropriate cleaning solution
How to mop the floor surface correctly
Drying the floor quicker and more efficiently
Preventative measures
So read the text below and forget about sticky floors once and for all.
"It's crucial and often overlooked in our field to use a balance of the right cleaning solutions and moderate heat to eliminate sticky residue from laminate flooring without causing damage. A pro tip I've learned during my years of experience is to let the cleaning solution sit for a few moments before scrubbing, this really helps to loosen the stickiness."

Kenneth Nolton, Floor Maintenance Specialist
How To Clean Sticky Laminate Floors In Just 5 Steps
So, the entire process is very plain and I've decided to divide it into 5 steps.
Therefore, just follow the steps below and sticky messes on laminate floors will become a thing of the past.
Step #1 – Remove the dust
When you have a sticky stain on a laminate floor combined with the dust you get sort of a rubbery and extremely sticky mixture that looks gross and it's unbelievably hard to remove it, practically a sticky mess.
That can happen if you don't react immediately and remove dirt, dust and all loose debris from that part of the laminate flooring.
So, in order to avoid making the situation even more difficult than it already is, the first thing to do after you stain the laminate floor would be removing the dust.
My advice is to use the regular clean mop, but dry, not wet, or a good hardwood floor machine since they are excellent for hard surfaces.
Of course, both vacuum cleaner and regular broom can be used, but from my experience, I'm telling you, the mop will have the best effect.
You can also use a dry microfiber mop if you have one, a piece of soft cloth, and sometimes even a clean paper towel can do the job but it all depends on the stickiness of the stain.
However, remember to replace the pad that you have used for sweeping dust and throw it away since it will be destroyed and unusable.
Step #2 – Choose the cleaner
When it comes to choosing the appropriate cleaner, there are a lot of them on the market and some people even use a dishwashing liquid or some harsh chemicals.
Nevertheless, some of them are truly effective when it comes to sticky floors, but some of them, of course, are not.
If you have some go-to laminate floor cleaner for this kind of stain, if you have used it before, and have been satisfied with the results, feel free to use it.
Just make sure you don't use too much cleaning solution since it can leave a soapy residue that not only adds to the sticky feeling but can result in your laminates floors getting dull and streaky over time.
However, if you don't have a tested cleaning solution for this kind of issue, I have a homemade cleaner that has proved to be an ideal cleaning solution for sticky laminate stains.
The only things you'll need are water and white vinegar.
For cleaning the whole laminate floor, mix a cup of white vinegar with around 4 liters (1 gallon) of warm water. If reading this and wondering whether this vinegar cleaning solution works for vinyl floors too, then you'd be right!)
Nevertheless, for removing the sticky residues, the most persistent and annoying sticky stains, you'll need a stronger blend.
Hence, find a spray bottle (I'm sure every household has at least one) and pour warm water and vinegar in it, but this time in a ratio of 3:1.
I guarantee you that this blend will effectively remove sticky residue from your laminate floor since the acid from the vinegar will corrode the stain.
However, if you still opt for some other laminate floor cleaner, use only the once that you have tested and that have proven to be effective.
Remember, wrong cleaning products can make a situation even worse.
Namely, most cleaners available in supermarkets won't be able to remove the sticky stain and will, on the contrary, contribute to the sticky residue and make it even worse.
Step #3 – Mop the entire floor
First of all, of course, make the mixture that I've recommended in the previous step, unless you intend to use some of your own cleaners.
Anyway, make the cleaning blend in the cleaning bucket and, once again, use either a regular or a steam mop, or a microfiber towel or pad.
Keep in mind that you need to soak the mop really well because it is important that it absorbs as much blend as possible.
Additionally, you also need to drain the mop well since dripping water won't do any good to your laminate floor.
Finally, start mopping and try to do that in straight lines from one side of the room to the other given that mopping in various directions can leave some unwanted shapes and marks on the laminate floor that look pretty bad.
After you've finished mopping the entire laminate flooring, it's time to dry it.
Even though this may look like an unnecessary action since you can always let the laminate floor dry naturally by itself, drying is essential if you want to remove the sticky stain and residue and have a perfectly shiny laminate floor.
For drying you can use a fan if you have one and if not, use the clean mop or the microfiber pad, of course this time, dry ones.
This action will prepare the laminate floor for the final step and practically the main step of this entire text and that is removing the sticky residue.
I know that this seems dull and tiring but I assure you that after you see the results you'll know that all the hard work was worthwhile.
Besides, you are not supposed to do the floor cleaning every day.
A couple of times a month will be enough and will keep your laminate floors almost as good as new.
Step #5 – Clean the residue
Firstly, remember that you have to react immediately after the stain has been made.
The longer you wait, the harder it will be to remove sticky residue.
So, after you've cleaned the laminate flooring, focus on the residue.
I've already presented you the blend of water and vinegar (in a ratio of 3:1) that you should keep in a spray bottle.
Now, simply spray the blend all over the sticky stain and leave it there between 5 and 10 minutes.
It is crucial to leave it and give it time to make an impact and corrode the sticky residue.
After the recommended period has passed, use wet mop, wet pad, or at least a damp cloth and wipe the sticky areas of the laminate floor until the stickiness is gone altogether.
Finally, wipe the spot once again, this time using a dry pad or mop, or a dry cloth and there will be no residue left on the floor.
Of course, the vinegar mixture has unusual and not that pleasant smell, but in my opinion it's more important that it works.
In the end, the smell will eventually vanish but the clean laminate floor will remain.
For steps #3 & #4, the process can also be done using automatic floor cleaners that will more efficiently clean and dry the surface of your floor in one step (while keeping your laminate from getting damaged).
Tips for Preventing Sticky Laminate Floors
Apart from the guide for cleaning a sticky floor, I have also decided to share some useful tips with you.
Tip #1: Exclusively warm water when mopping
Even though it may seem trivial, clean water is a very important factor of a cleaning process and its heat can make a significant difference.
Namely, warm water is the best for laminate floors since it can help with stain removal much better than cold water, but at the same time won't cause any damage to the laminate floor like very hot water would.
Scientifically speaking, when water is heated its molecules move much faster and bounce off each other much more.
That bouncing creates more space between the mentioned molecules and that space hence can be filled with some other matter and that matter is exactly the solvent, or in this case sticky residue, that you want to dissolve.
Thus, hot or at least warm water is much more efficient when it comes to stain removal.
Tip 2: Remember to change water in the bucket
It is highly necessary to change the cleaning water in the bucket, even a couple of times if needed.
Please, don't clean the entire room with the same bucket of water, especially if you don't clean often.
Sometimes, even dirty water can contribute to eventual creation of sticky stains and spots.
Hence, if you are cleaning, do it properly and make sure you change water as many times as possible.
Of course, the number of times will depend on how dirty the laminate floor is and that will, again, depend on how many times, let's say, per month you clean the floor.
So, if you clean the floor once a week, you'll probably be just fine with only one bucket.
On the other hand, if you tend to clean the floor once a month, then you'll have to change clean and dirty water, perhaps even 3 times.
All in all, try to understand how important this can be and try to make yourself change dirty water regularly, although it seems boring and tiresome.
At the end of the day, all that work is worthwhile since you're doing that in order to keep your floors clean.
Conclusion
To sum up, I hope that this text will be useful not only to people who are closely related to this topic, but to all people who have laminate floors and other wood floors, and have issues with sticky stains.
All the steps for clean laminate flooring that I have shared with you as well as the cleaning solutions containing vinegar and water are tested multiple times and they never failed.
Finally, a few tricks that I have mentioned will certainly make your regular cleaning process much easier and that was, in the first place, the very goal of this entire text.
Frequently Asked Questions
Why does my laminate floor feel sticky?
Residue from floor wax or soap more often than not is the culprit for sticky laminate floors. This is similar to the soap scum build up that occurs in your shower. Acidic based cleaning solutions such as vinegar (1 part vinegar to 3 parts water) will do a good job cutting through the residue.
Can vinegar leave a sticky residue on floors?
As vinegar is a natural disinfectant, it leaves no chemical residue behind on your floors. It does a good job at cutting through grease and other similar residues. Just be sure not to use it on any surface that reacts to acid!
Will vinegar remove wood glue from laminate floors
If you happen to glue your laminate floors in place using wood glue and find some excess seeping on your floors, you can effectively remove it using vinegar.

Start by using a white clean cloth and dab white vinegar on it. Wipe your cloth over the glue continuously, repeat the process until the glue has been removed. Make sure to use an other clean cloth with warm water and rub over the area to remove any remains of vinegar over the spot the glue used to be.