Lighters are an invaluable tool for cigar aficionados, and there are few things more annoying than a lighter that won't stay lit or fails to start. Torch lighters are the best type of lighter to use if you're a cigar smoker, but it's crucial to find one that will work consistently and provide you with a high-quality flame.
If you're not sure what a torch lighter is or why you should have one for your cigars, we'll cover it all in our review. We also discuss some of our top picks for the best torch lighters available right now. Whether you're looking for the perfect gift for a cigar lover or you just need a lighter, you can rely on; we've got the perfect one for you.
What's a Torch Lighter?
If you've never used a torch lighter to light your cigar, you've probably used one in a different setting. Torch lighters come in a variety of styles and sizes and are used for cooking, arts and crafts, and even for lighting campfires or in a fireplace.
Torch lighters are ideal for cigars because they burn hot, has a strong flame, is wind-resistant, and will light your cigar quickly. Another benefit of using a torch lighter is that it uses butane fuel.
Butane can reach temps up to 2,500 degrees Fahrenheit, and you'll know you're using butane when you see a blue flame. Butane fuel won't affect the taste of your cigar like other lighter fuels, so it's one of the best options available.
Do you need to use a torch lighter when lighting your cigar? Of course not, but why worry about the hassle of matches or other types of lighters that have weak flames?
What to Look for When Choosing a Torch Lighter
When shopping around for a torch lighter, you might be tempted to buy the first one you find or the best-looking one you come across. While convenience and aesthetics are important to consider, take some time to choose a torch lighter than you'll love every time you use it.
Do You Need a Compact Torch Lighter for Cigars?
If you already have a small torch lighter at home that you use for finishing creme brulee or other dishes, you might be wondering if you need a separate lighter for your cigars. We strongly recommend buying a torch lighter exclusively for lighting cigars.
Even though your small multi-purpose torch lighter can light your stogie in a pinch, don't you think you deserve a nice looking lighter?
Torch lighters for cigars are smaller than other types of torch lighters, which means you have better control over the flame and are safer overall.
The Number of Flames
Some cigar lovers are insistent that you need a lighter that has multiple flames. More than one flame is particularly beneficial for larger cigars, but it's not a necessity. If you have a lighter that only produces one flame, it doesn't mean that your cigar won't light, it might just take a little bit longer.
Keep in mind that if you're interested in a multiple flame lighter, they are likely to cost more.
Function Over Aesthetic
If your main priority is a torch lighter that produces a high-quality, powerful, and hot flame every time, you might end up buying a lighter that's more functional than attractive. There are plenty of handsome looking lighters on the market, but they don't have the power and flame you deserve.
It all comes down to personal preferences, but don't be afraid to buy for function rather than aesthetics.
Ready to find the perfect torch lighter to add to your cigar collection? Check out our top picks for best torch lighters this year.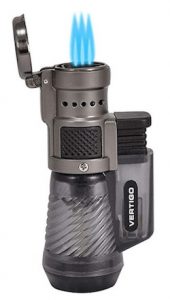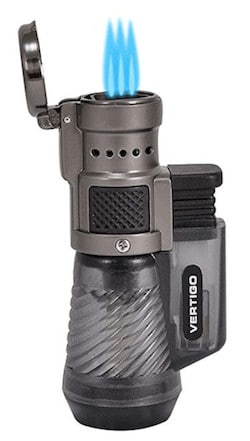 The Vertigo Lotus Cyclone Triple Torch Cigar Lighter is a top-rated and popular option among cigar lovers because it has three flames. As we mentioned above, multiple flame lighters aren't a requirement to light a cigar, but many cigar fans love them for larger cigars.
The Cyclone lighter is compact, fits comfortably in your hand, and is easy to flip open the top and press the ignition button with one hand. The lighter is easy to refill, and the indicator window makes it easier to spot, so you know when you're running low on fuel.
This is a popular pick because it's affordable enough to own more than one lighter and store in places like your car, golf bag, or humidor storage drawer. It's reliable enough to ensure a strong, hot flame and quick light on cigars of all sizes.
Triple flame lighter
Compact and comfortable
Refill with butane
Easy to use with one hand
Flames hold up well in the wind
May leak butane after you refill the lighter
Have a short lifespan
Small sizes mean refill butane more often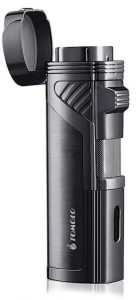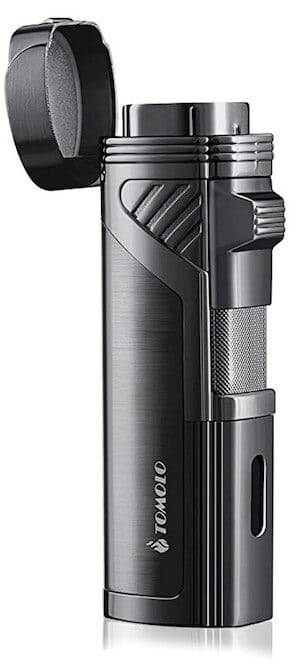 Are you looking for a torch lighter that as even more power than the three flame options? The TOMOLO torch lighter has four flames and is made of durable zinc alloy for a sleek and modern looking lighter.
Although many butane lighters throw a blue flame, the TOMOLO torch lighter has a red flame. The slim design of the lighter is topped with a flip-open lid and a cigar punch design on the bottom. The transparent fuel tank indicates when it's time to refill the lighter.
While this torch lighter is made for cigar lovers, it's a great multipurpose lighter and comes in a gift box if you're planning on gifting to the cigar aficionado in your life.
Four flames equal one big flame
Sleek and compact design
Easy to open and use with one hand
Clear tank window for fuel level
Wind resistant
Difficult to adjust the flame size
May have more flame than you want
Doesn't come with butane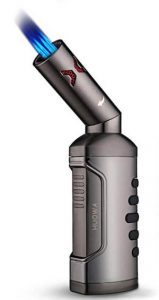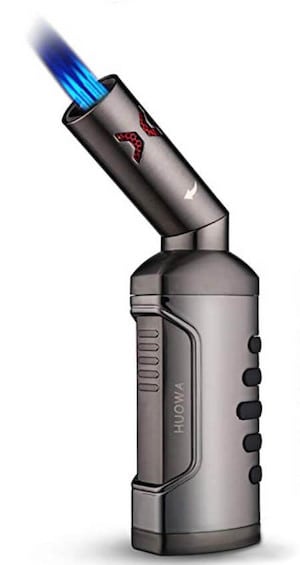 There are dozens of torch lighters with adjustable nozzles, but few are specifically for cigar smokers. The HUOWA Jet Torch Cigar Lighter not only has four flames but also has an adjustable nozzle to ensure a consistent and hot flame at any angle.
The lighter is ergonomic and fits comfortably in the palm of your hand while lighting or adjusting the flame is easy enough to do with one hand.
Zinc alloy body
Adjustable nozzle and flames
Quadruple flame lighter
Refillable
Easy to operate with one hand
You need to fill with butane before initial use
The steady flame is dangerous near your face
The angle may make you more prone to burns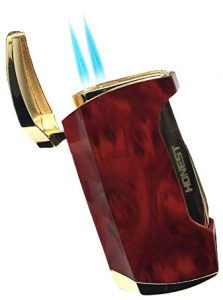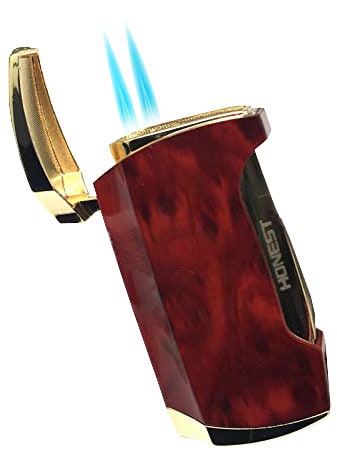 If you're looking for an "old school" cigar lighter with an eye-catching design, the Torch Lighter with Double Jet Flame by Promise Technology might be the perfect cigar lighter for you. The double jet flame lighter doesn't have as many flames as some of the other lighters on our list, but it's still powerful enough to light your cigar on the first try.
The zinc alloy torch lighter is available in red, yellow, or black, but our personal favorite is the wood grain finish. The mix of chrome and wood grain gives it a classic look.
Push-button ignition on the side
Adjustable flame and cigar punch
The double flame is sufficient for most cigars
Comfortable to use with one hand
Sleek design
Some users experience lighter "spitting" butane
Lighter has plastic parts
May not be wind-resistant in strong wind
Our Favorite Pick for Best Torch Lighter
Even though it's smaller than other torch lighters, we choose the Vertigo Lotus Cyclone Triple Torch Cigar Lighter as our top pick. We love the compact size and ease of use. We also like that you can buy more than one and stash one away in various spots where you might want to enjoy a cigar.
The transparent fuel window lets you keep a close eye on how much butane you have. Even though you don't need multiple flames to light a cigar properly, the triple-flame design is an added bonus for this small but powerful lighter.
Frequently Asked Questions
Do they make a reliable torch lighter?
My Xikar lighter seems to be holding up. I've been using it longer than any American brand lighter I've owned.
Why doesn't dynavap make a torch lighter that's actually designed to be used this way?
Damn TV makers not supplying the electricity needed to power their products.....

That's kinda what I'm hearing...

I bought a couple different lighters (used common sense and all of them still work, hell I've got a 4 year old usable orblue torch and only the igniter has gone out) then I built an induction heater for $24.
The options are out there
Do use a torch or a lighter?
I use both ,torch to clean for resin and to start a fat bowl pack so I don't have to sit there for 49 seconds with a bic like an asshole.
Best torch lighter for vapcap?
I'm in the market for the same thing, OP.

I'm looking for a nice reliable single flame torch. I think it will allow me to get the best technique with it.

I just bought a base unit and a woody to take on the golf course with me and I'm looking for a go to setup.
Is it safe to use a regular lighter to flame a torch lighter?
I think I may have found my problem...

>2. NON-PREMIUM FUEL

Premium butane is required to ensure optimum performance of your lighter. Lighters require the cleanest butane available at a pressure of 45 psi. Recommended premium butane brands (Colibri, Nibo, Prometheus, any triple refined butane) are packaged in 10-13 oz. cans with a metal fill tip nozzle. Non-premium butane (Clipper, **Ronson**, Sun) and brands with plastic fill tip nozzles are not recommended as they may cause inconsistent ignition and performance. If you have used a non-premium butane to fill the lighter, bleed the tank and refill.

Damn this sucks, my Xikar will come empty and I don't want to fill it up with Ronson but I bought 2 bottles of the stuff lol....Where can I get the premium Butane?