While dust and dirt are not easily detectable on the lighter surfaces of stone fireplaces, this is no excuse to let your stone fireplace go uncleaned. With stone, there are microscopic pits found naturally that form crevices for dust, dirt, and soot to accumulate and form stains. Over time, these can eventually lead to chimney fires if you don't clean them out. To ensure the safety and efficiency of your fireplace, you should ensure to clean out your stone fireplace on a regular basis, which is easy and cheap to do. Read on for a curated list of tips on how to clean your stone fireplace with household supplies that you likely already own.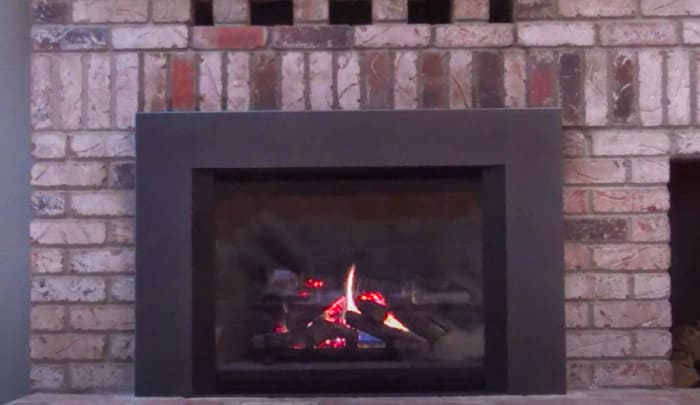 Quick answer
To clean a stone fire place effectively, you have to prepare the area by removing ashes and covering your furniture. Then apply a cleaning agent and let it sit for one day to take effect. Double check that the cleaning product is not flammable or too acidic for the stone.
Cleaning Dirt and Soot
In order to protect the living spaces and items around your fireplace, you should be sure to pre-clean the firebox, which is the place where the fire burns, and its surroundings before attempting a proper cleaning of the fireplace itself. You will need the following materials:
Remove ashes and dust
Allow for at least 12 hours between the time you put out the last fire to the time you want to clean the fireplace. In the interim, you can lay out the drop cloths on the nearby floor and over furniture to protect them from cleaning fluids which are often harsh acids or alkalis, and from any airborne dust and dirt.
After at least 12 hours have passed, you are ready to clean out the fireplace. Bear in mind, the similar steps apply for cleaning and maintaining a sandstone fireplace surfaces. Put on gloves and a dust mask to prevent your nose and skin from being irritated by the dirt. Using the shovel, scoop out ashes in the fireplace into the metal container, ensuring to cap the container so the ashes do not fly out. Fill the container with cold water and store it away from any flammable objects until you can discard them. 
Using a vacuum cleaner, suck out any surrounding dust that was not scooped out. This will aid in speeding up the cleaning process. Vacuum machines with HEPA filters are the best option because they don't recycle the particles back to the environment. With that, your pre-clean is done.
For more information on pre-cleaning a fireplace before starting, consider visiting our in-depth guide on cleaning a stone fireplace over at our test site, WayTooSocial. We are developing a full guide that will help clean even the dirtiest fireplace to perfection. As for now, let's return to the assessment of the fireplace and move on to the next steps.
Assessing the stains
If you use your fireplace almost daily but fail to do routine cleaning, there are bound to be some heavy deposits of dirt and soot that form stains. These stains can prove to be hard to remove and will need the use of more harsh cleaners, these cleaners often include Trisodium Phosphate or Sodium Hydroxide. Prior to cleaning your fireplace with the solution, apply it to a small spot that is not easily visible. This helps you ensure that your cleaning agent of choice does not leave marks or have any chemical reactions with your stone fireplace as different kinds of stones would have different reactions. This should be done 24 hours ahead of the time you intend to clean.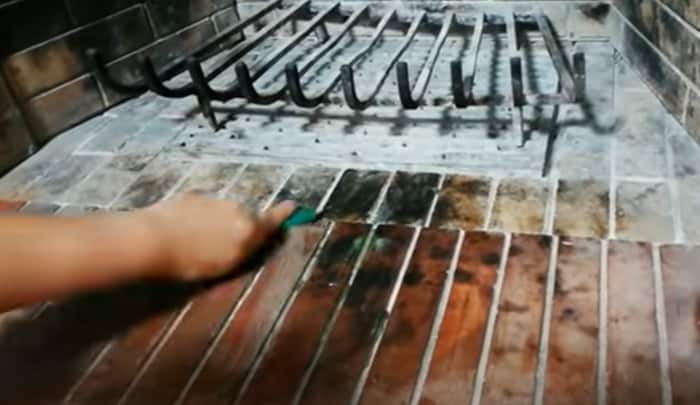 Use a Homemade Cleaning Recipe
Homemade cleaning recipes can help to remove stains, and they tend to be less harsh compared to commercial cleaners. Here is a gentle one that works wonders:
1.-Dilute a quarter-cup of dishwashing soap or other household soap with lukewarm water of the same amount. Stir the solution well to ensure that the soap has dissolved. This will be sufficient if your fireplace is not heavily coated with soot (Which the pre-cleaning routine) should have taken care of.
2.-Put on gloves and a mask to avoid irritation from dirt and dust. Using a clean scrub brush, dip it in the pre-mixed cleaning solution. Use the brush to scrub the fireplace all around, loosening any dirt and grime that has been trapped in crevices within the stone.
3.-Using a fresh bucket of cold water, take a clean rag and dip it in. Wipe the fireplace with the rag to wipe off soap suds and any remaining dirt.
4.-Using a separate cloth, dry the fireplace out as best as you can. Let it air-dry for at least a day before lighting it again.
Avoid Harsh Chemical Cleaners
As much as harsh cleaning agents seem like they'll do the trick for an especially dirty and grimy fireplace that hasn't been cleaned in ages, avoid using strong chemicals such as bleach, as these can cause the stone to fade. You'll also want to steer clear of any cleaners with citrus in them, as those are naturally acidic and can destroy the stone. If you find streaks, abandon the cleaning agents or solutions and try using water first.
Ensure that any cleaning agents you use in cleaning out your fireplace are non-flammable. This is not just a matter of staining your beautiful stone fireplace, but more importantly, can be a fire hazard that could cost you your house and home.
Do Deeper Cleans Occasionally
The time to do deep cleaning is definitely before the first fire of the season that you intend to use the fireplace, so as to eliminate any creosote built-up from previous fires.

On the other hand, if you seldom use your fireplace, you can wait until there are around eight inches of build-up before doing a deep clean. Alternatively, you can hire a professional service for around $200 dollars.
You can create your own solution to use for a deep cleanse as well, by mixing one gallon of lukewarm water with half a cup of trisodium phosphate that can be bought from the local DIY shop or supermarket cleaning department. This will be stronger than simply using dish soap and mixing it with water. Be sure to avoid contact with your skin when using this solution.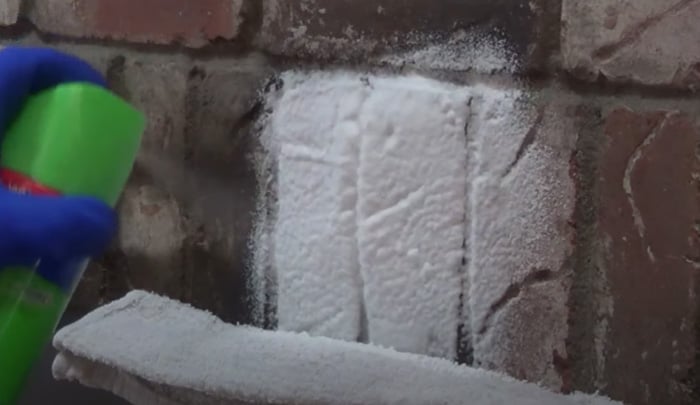 Buy the appropriate cleaner for your area
A beautiful way to elevate any home, stone fireplaces are a luxury that many yearn after. No matter if you have an indoor or outdoor fireplace, it is vital that you deep clean it regularly. This is particularly important for outdoor fireplaces so as to prevent fire hazards from foreign objects that could fall in. So pick up your cleaning tools, lest you end up with a source of soot and grime rather than one of enjoyment in the chilly winters while you and your family enjoy hot cocoa and roast your hands around, we know some great torch lighters that will always ignite your fireplace.
"Cleaning a stone fireplace is a delicate process and requires finesse to prevent any unnecessary damage. Over the years, I've found that using a mixture of salt and dish soap combined with a little elbow grease works wonders when removing soot. However, always proceed with caution and perhaps perform a spot test first in an inconspicuous area to make sure the stone responds well to the treatment."

Elston Parnell, Professional Stonemason
References
https://www.mydomaine.com/stone-fireplace-ideas-5206319
https://coulonstone.com/where-to-start-when-choosing-your-natural-stone-fireplace/