Whether you host large get-togethers regularly or you often find yourself short on fridge space, a freezerless refrigerator may be the perfect solution. There are dozens of options on the market, but many of them might be too big or costly for your needs.
In this article, we discuss our top pick for the best freezerless refrigerator in a compact size, which one to avoid, and a few more of our favorites.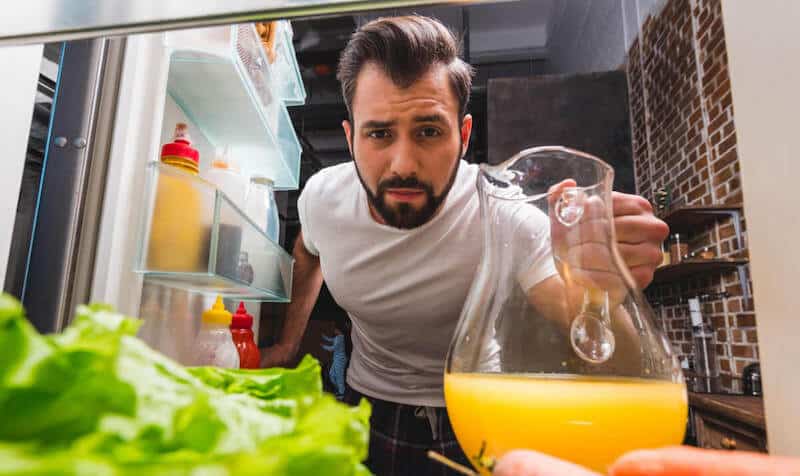 What are Freezerless Fridges?
As the name suggests, a freezerless refrigerator is a fridge without a freezer. For years, large freezerless fridges were only available for commercial kitchens or restaurants.
Now, many homeowners are opting to replace their current unit, buy a standalone freezer and a freezerless fridge.
Compact freezerless refrigerators have been a popular choice for decades, often known as a "dorm fridge," but the reviews were often mixed.
Today's compact freezerless refrigerators are more efficient, it is estimated that they consume almost 20% less energy, regulate temperatures better and store a decent amount items while providing some space saving solutions around the kitchen (or wherever your have the unit).
Quick answer
The best freezerless refrigerator is the Danby Contemporary Classic All Refrigerator. It comes in 4 different sizes and 6 different colors but it is its safety features that make it a great option as an alternative refrigerator that you can just leave in a different room.
How Do I Know if a Freezerless Refrigerator is the Right Choice for Me?
If you frequently run out of room in your current fridge, but don't have space in your kitchen to buy a new full-size refrigerator, a freezerless refrigerator might be a solid option. A compact unit may also be best for you if:
Ready to take a look at some of our favorite picks, to give you an idea on which option is the best choice for you?
4 More Reasons To Buy Freezerless Unit
There's no doubt that most households have freezers and for good reason. They are handy and they allow your food to keep for a lot longer. So there's no need to pretend they are not ideal for most households. However, there are advantages for not having one integrated into your refrigerator.
So here are 4 possible reasons for choosing a freezerless refrigerator:
#1 Encourage Healthier Eating
If serious about eating healthy, then the word "fresh" will undoubtedly pop up in conversation, and that means no freezer option.
We all too often do what's convenient and storing frozen food which can be left there for months on end certainly does make life a whole lot easier.
However, like anything in life, sacrifices have to be made if we want what's good for us. Buy a dedicated fridge for your fresh foods and you will be sure to consume it in time to benefit from all the goodies and nutrients.
Freezerless refrigerators require less energy than those with a freezer. Plenty of energy is needed to turn water into ice and maintain it at that state. So if you can do without a freezer, then you will undoubtedly see a reduction in your utility bills.
Although bigger fridges have a bigger holding capacity, they do have a less efficient storing capacity with certain areas of space going to waste.
That being said, they still require a lot more cleaning than the smaller fridges, mainly because they hold more foods and there's a lot more material to clean… and that's even before having to consider the timely process of having to scrape clean your freezer every so often.
This is extremely important for people that want to keep their space clean all the time, they might prefer a water filter vacuum cleaner.
#4 Dedicated Beverage Cooler
Let's not forget the dedicated drinks cooler.
Having a fridge cooler specifically for your drinks is not a bad idea. Liquids require more energy to cool than foods (especially if you have a lot of beverages). So, it's important that you disturb enough cooling for your foods and enough so that your drinks are super refreshing for those hot summers.
Frozen food contain a huge amount of sodium and sugars. While a freezer represents over 50% of the total refrigerator energy consumption. So one of these units might be a great alternative or complement.
Homdox Mini Fridge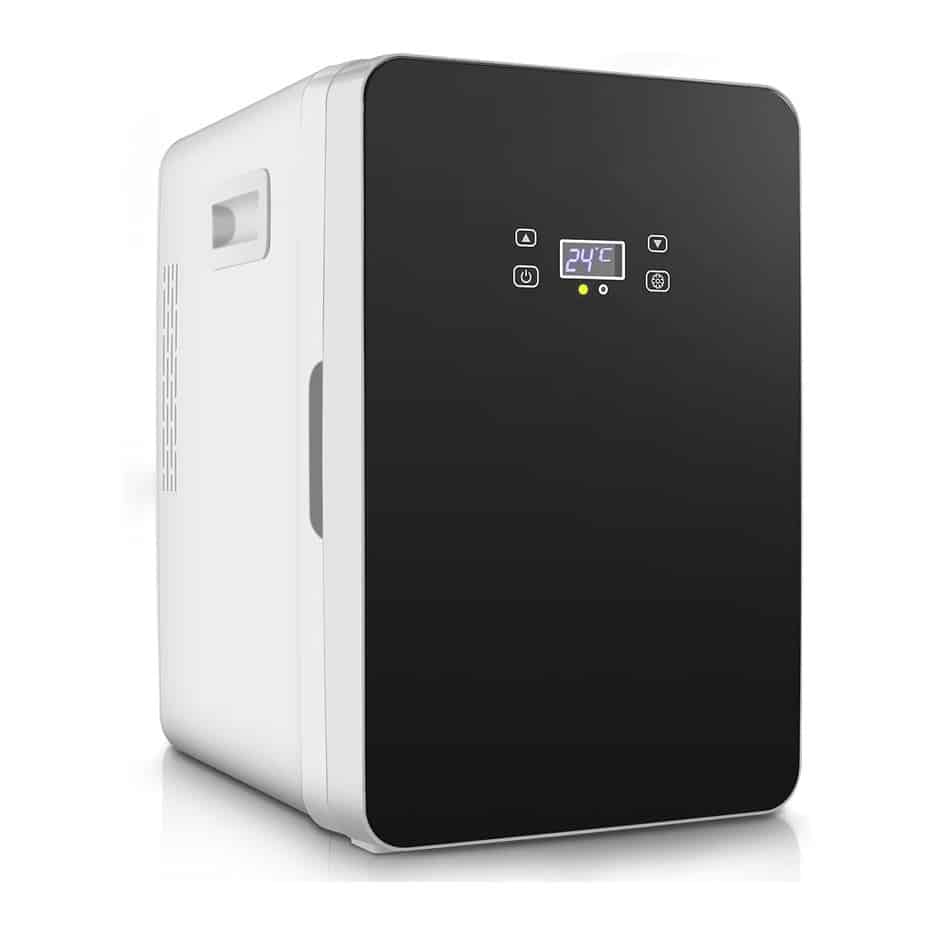 The Homdox Mini Fridge, a compact marvel with a surprisingly spacious interior. Boasting 20 liters of capacity, this small-sized refrigerator is cleverly designed with three layers and a convenient storage basket. Its total dimensions measure 8.3×7.9×13.2 inches, while the outer size stands at 10.6×13.0x15.9 inches. This makes it an ideal companion for long trips, easily fitting into your car's trunk or seats.
Equipped with adjustable temperature control, the Homdox Mini Fridge provides a seamless switch from cooling to heating with just a single touch button. Enjoy a cooling effect ranging from 20°C to 25°C below the ambient temperature or preheat to approximately 65°C, making it versatile for freezing a variety of foods.
But this mini fridge's functionalities don't end there! Beyond its temperature adaptability, it offers ample storage space for drinks, food, medicines, and even doubles as a skincare refrigerator. Treat yourself to a convenient storage solution for personal care and beauty products like facial masks, creams, and serums, a true removable treasure box!
Designed with ease of portability in mind, the Homdox Mini Fridge is not only stylish but also lightweight and compact. Take it on the go without hassle, utilizing the included AC and DC power adapters. Plug it into any standard power socket at home (110V AC) or your car's 12V (DC) adapter for seamless transitions between indoor and car use, perfect for your self-driving adventures.
Rest assured knowing that this mini fridge operates with advanced semiconductor technology. It runs ultra-quietly, while also being energy-efficient and environmentally friendly. Place it in your bedroom or any quiet space without worry, and enjoy peace of mind as you preserve and cool your essentials.
SMETA 12 Volt Refrigerator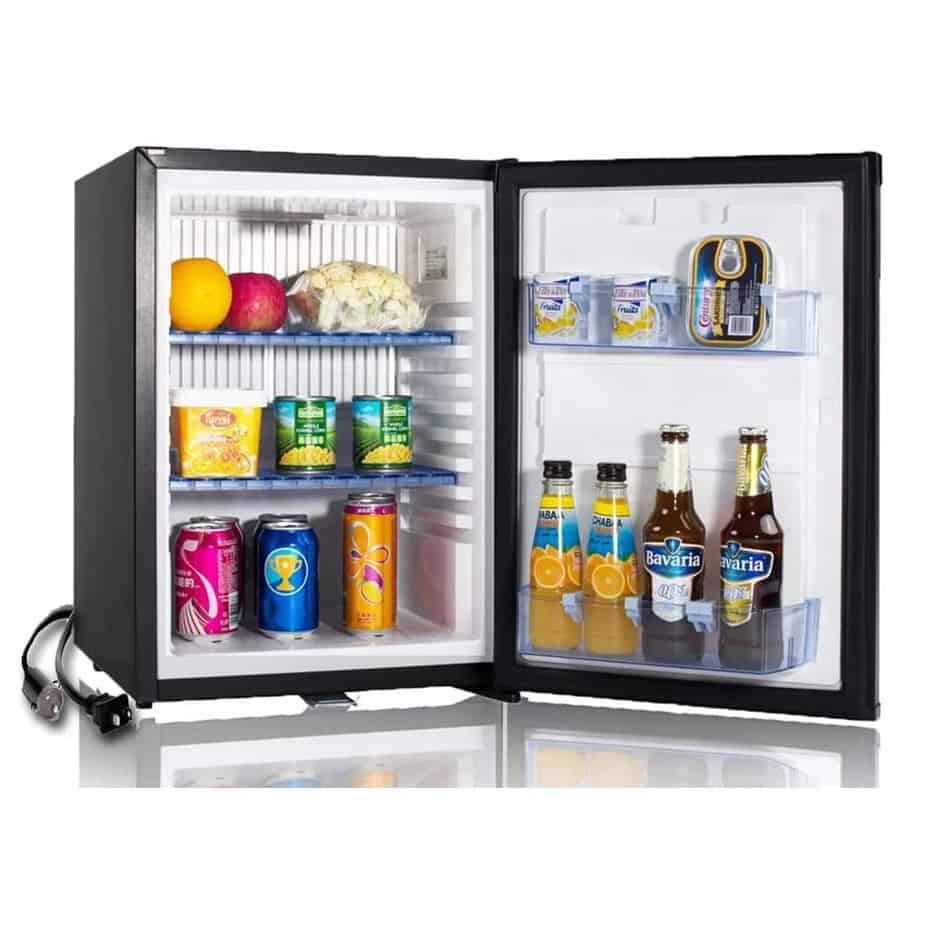 The SMETA 12 Volt Refrigerator, a versatile and compact cooling solution designed for various applications. With dimensions measuring 15.8 inches in width, 17.9 inches in depth, and 22 inches in height, this electric single-door refrigerator offers both 110V and 12V power modes, making it suitable for truck installations or freestanding use on office desks.
Tailored for RV enthusiasts, this mini fridge comes equipped with practical features, including a rear-mounted design, a reversible door for flexible placement, a convenient balcony, and an automatic defrost function. The built-in lock ensures your items stay secure during travel.
Experience the convenience of the LED light that illuminates the interior, making it easy to find what you need. The temperature range of 3253.6℉ (012 ℃) keeps your items appropriately chilled.
With a focus on environmental friendliness, the SMETA 12 Volt Refrigerator operates without Freon, resulting in low energy consumption and zero pollution. Its quiet operation ensures undisturbed sleep for RV drivers during rest stops.
This mini fridge is a perfect companion for various settings, from freightliner cascadia accessories (2015-2021) and semi-trucks to small RVs, dorms, hotels, hospitals, bars, campsites, and more. Whether you're on the road, camping, or at home, this fridge delivers reliable cooling.
Please note that the SMETA 12 Volt Refrigerator utilizes absorption cooling rather than a compressor, ensuring silent operation. Upon first use, allow 8-10 hours for the initial cooling process. Before using the fridge, let it stand for 24 hours. Once the set temperature is reached, the refrigerator will automatically power off, conserving electricity.
Vaykold 12 Bottle Wine Cooler Refrigerator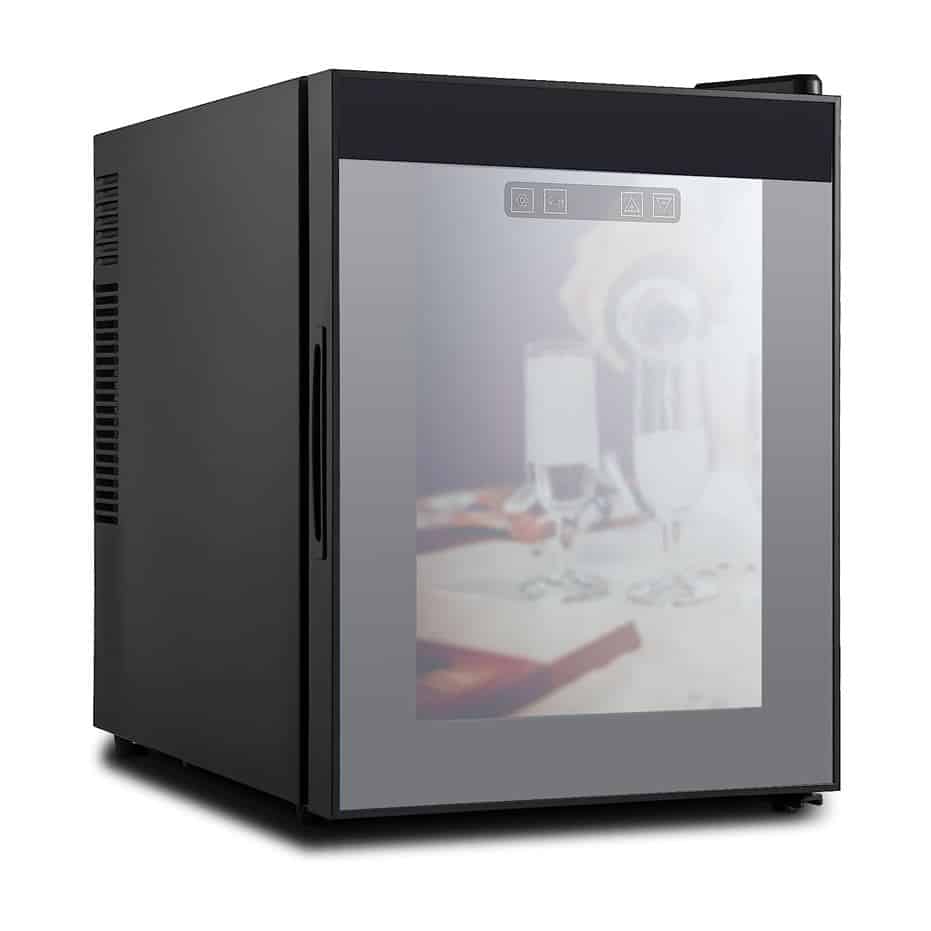 The Vaykold 12 Bottle Wine Cooler Refrigerator, a must-have for wine enthusiasts. With a generous capacity to store up to 12 bottles, this wine refrigerator preserves the flavors and enhances the taste of your favorite Red, White, or other beverage drinks. The unit comes with removable racks, interior LED lighting, adjustable legs, and a discreet hidden handle, ensuring both functionality and style.
Powered by advanced Thermoelectric Technology, this mini wine fridge features a dual-chip and dual-fan cooling system, providing rapid cooling, whisper-quiet operation, low energy consumption, and precise temperature control. It also offers convenient auto functions for effortless operation.
Versatility is at the core of this wine cooler's design. It can be placed freestanding, on countertops, or under the counter, making it perfect for your apartment, condo, cottage, RV, home bar, kitchen, living room, or home office. Its compact and modern design fits seamlessly into any space. It also makes an excellent gift for family and friends.
The Vaykold wine cooler boasts a double-pane mirrored glass door, effectively blocking harmful UV light that can damage your wine and alter its true taste. This feature insulates the interior, minimizing the influence of the surrounding environment. The gray color of the door adds a touch of elegance to its stylish appearance.
Rest easy with Vaykold's guaranteed satisfaction. The product comes with a one-year warranty for the entire unit and lifetime customer service with tech support, ensuring your wine collection remains safe and protected for years to come.
The Cooluli 20L Mini Fridge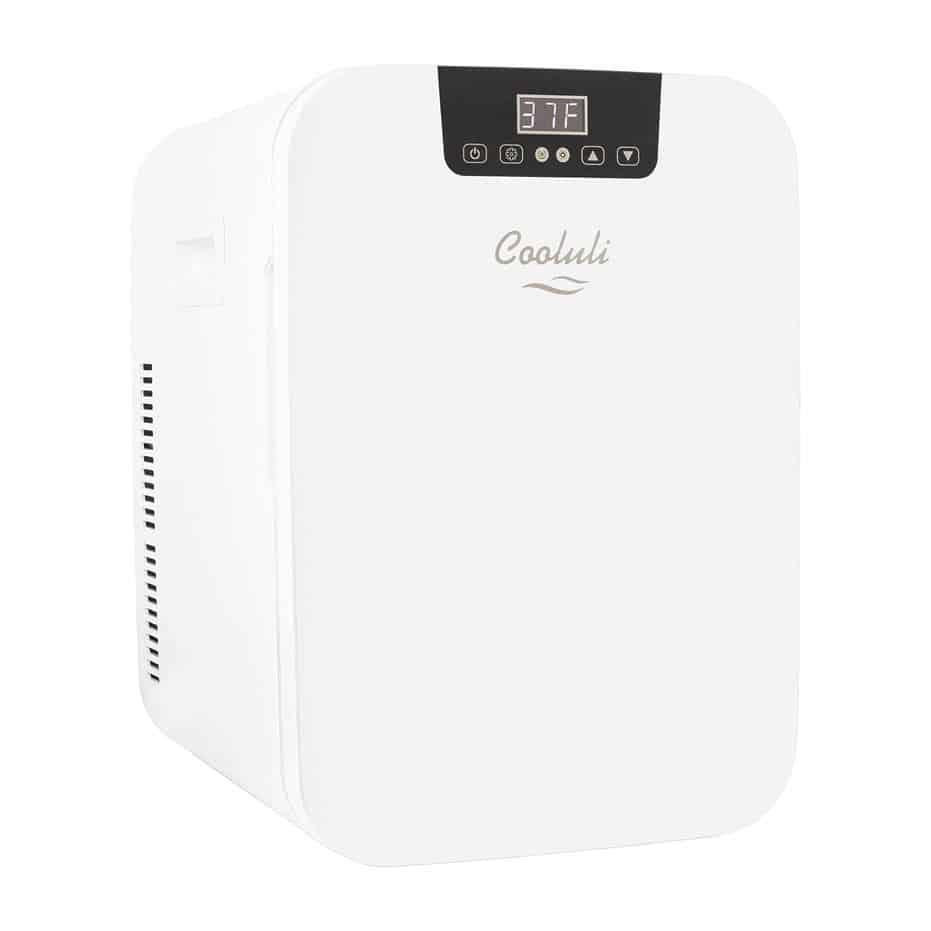 The Cooluli 20L Mini Fridge, the ultimate solution for all your cooling and warming needs. This thermo-electric cooler/warmer/wine cooler is designed to be sleek, compact, and highly portable, making it the perfect companion for your on-the-go lifestyle. With dimensions measuring 11.25″ W x 13.75″ D x 16.25″ H and weighing just 13 lbs. 12 oz., it's incredibly lightweight and easy to carry. The interior offers ample space, with dimensions of 8.8″ L x 9″ D x 13.6″ H, providing a fresh food capacity of 20 liters.
Customize your cooling experience effortlessly with the digital thermostat and easy-to-read display. Adjust the temperature to your preference with just a touch of a button, whether you want to cool or warm your items.
This mini fridge is not just versatile; it's ultra-functional too. Use it as a beer and wine cooler, or store food, snacks, drinks, breast milk, insulin, beauty and skincare products, and medications, it does it all.
Featuring a stylish glass-front design, the Cooluli Mini Fridge is an ideal addition to your home, nursery, office, dorm room, and perfect for road trips, vacations, and tailgate parties.
Thanks to its innovative dual-core cooling system, this mini fridge operates efficiently, ensuring it's ultra-quiet and eco-friendly. Rest assured, it's built to North American electrical standards, and the User Manual provides all the necessary information for smooth operation. Additionally, a 1-year limited warranty is included for your peace of mind.
With the ability to cool down to an impressive 40° below ambient temperature, the Cooluli 20L Mini Fridge is the ultimate cooling and warming companion you've been waiting for.
Our Top Freezerless Refrigerator Choice
You might not think that you need a freezerless fridge until you actually need or wish you had one on hand. If you're looking for a reliable and affordable all-purpose freezerless fridge, we love the Homdox Mini Fridge.
Not only does it have a timeless design, but it's energy-efficient, has plenty of space for cans, bottles, and various sizes of food containers. Don't worry about defrosting your fridge or doing much maintenance with the Danby, it's relatively maintenance free.
References
https://home.howstuffworks.com/5-reasons-to-buy-a-freezerless-refrigerator.htm
https://www.petmycarpet.com/all-fridge-faq/
---
Frequently Asked Questions
✓ Which brands make stand alone refrigerators?
Several brands make stand alone fridges, also known as freezerless fridges.

Here are six that we name in this article:
→ Danby Contemporary Classic (editor's pick)
→ Magic Chef Cooler (2nd place)
→ Whynter Beverage Refrigerator
→ Phiestina 15″ Beer Froster
→ Midea Compact Fridge
→ NewAir Beverage Cooler
✓ Is it better to have a separate fridge and freezer?
If greater capacity is your requirement, then yes, it's better to get a separate fridge and freezer (particularly for larger families). The only downside is the extra space the separate units occupy, which is not ideal if you live in a small premises!

✓ Where is the best location for my fridge in the kitchen?
Think of areas that are hot in the kitchen, and place your fridge as far away from those locations as possible. Keep it away from the window to avoid direct sunlight shining on it and heating it up. Also, be sure your unit is no where near the oven which obviously generates a lot of heat. The hotter the ambient temperature, the harder the unit needs to work to maintain an acceptable temperature to keep your foods and drinks cool.