Whether you host large get-togethers regularly or you often find yourself short on fridge space, a freezerless refrigerator may be the perfect solution. There are dozens of options on the market, but many of them might be too big or costly for your needs.
In this article, we discuss our top pick for the best freezerless refrigerator in a compact size, which one to avoid, and a few more of our favorites.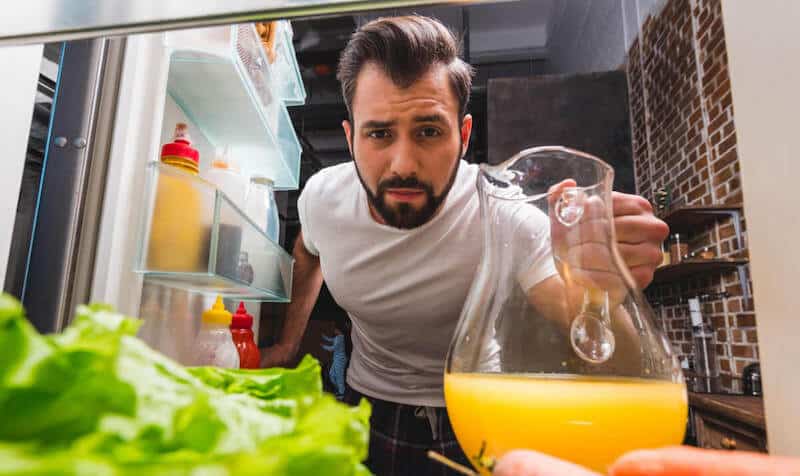 What are Freezerless Fridges?
As the name suggests, a freezerless refrigerator is a fridge without a freezer. For years, large freezerless fridges were only available for commercial kitchens or restaurants.
Now, many homeowners are opting to replace their current unit, buy a standalone freezer and a freezerless fridge.
Compact freezerless refrigerators have been a popular choice for decades, often known as a "dorm fridge," but the reviews were often mixed.
Today's compact freezerless refrigerators are more efficient, it is estimated that they consume almost 20% less energy, regulate temperatures better and store a decent amount items while providing some space saving solutions around the kitchen (or wherever your have the unit).
Quick answer
The best freezerless refrigerator is the Danby Contemporary Classic All Refrigerator. It comes in 4 different sizes and 6 different colors but it is its safety features that make it a great option as an alternative refrigerator that you can just leave in a different room.
How Do I Know if a Freezerless Refrigerator is the Right Choice for Me?
If you frequently run out of room in your current fridge, but don't have space in your kitchen to buy a new full-size refrigerator, a freezerless refrigerator might be a solid option. A compact unit may also be best for you if:
Ready to take a look at some of our favorite picks, to give you an idea on which option is the best choice for you?
---
| | | | |
| --- | --- | --- | --- |
| #1 | Danby Contemporary Classic | | Available in 4 sizes and 6 colors, unlike other appliances this one boasts tempered glass shelves, reversible hinges & a scratch-resistant worktop… and for those who steal your beers, the door is lockable. |
---
| | | | |
| --- | --- | --- | --- |
| #2 | Magic Chef Cooler | | With no added extras and removable glass shelves, the Magic Chef provides space flexibility. We love the crisper drawer, reversible door hinge and adjustable thermostat to set your home beers to the temperature you like. |
---
| | | | |
| --- | --- | --- | --- |
| #3 | Whynter Beverage Refrigerator | | The see-through door allows you to show-off your beer collection under lock & key. The Whynter also provides an impressive interior LED light display and adjustable thermostat for temperature control. |
---
| | | | |
| --- | --- | --- | --- |
| #4 | Phiestina 15″ Beer Froster | | The Phiestina froster holds 100 cans. It accommodates all shaped and sized containers ranging from champagne bottles to soda cans. There's also space for the foods you like to compliment your beverage. |
---
| | | | |
| --- | --- | --- | --- |
| #5 | Midea Compact Fridge | | The nearly all fridge with a separate freezer compartment to quick-chill any drinks in an emergency. The Midea refrigerator is a basic design, but is still energy-saving and spacious. |
---
| | | | |
| --- | --- | --- | --- |
| #6 | NewAir Beverage Cooler | | Has the biggest capacity out of all our fridges, with a nice look and boast many features that top-end appliances contain. There are some downsides that need to be looked out for though. |
---
4 More Reasons To Buy Freezerless Unit
There's no doubt that most households have freezers and for good reason. They are handy and they allow your food to keep for a lot longer. So there's no need to pretend they are not ideal for most households. However, there are advantages for not having one integrated into your refrigerator.
So here are 4 possible reasons for choosing a freezerless refrigerator:
#1 Encourage Healthier Eating
If serious about eating healthy, then the word "fresh" will undoubtedly pop up in conversation, and that means no freezer option.
We all too often do what's convenient and storing frozen food which can be left there for months on end certainly does make life a whole lot easier.
However, like anything in life, sacrifices have to be made if we want what's good for us. Buy a dedicated fridge for your fresh foods and you will be sure to consume it in time to benefit from all the goodies and nutrients.
Freezerless refrigerators require less energy than those with a freezer. Plenty of energy is needed to turn water into ice and maintain it at that state. So if you can do without a freezer, then you will undoubtedly see a reduction in your utility bills.
Although bigger fridges have a bigger holding capacity, they do have a less efficient storing capacity with certain areas of space going to waste.
That being said, they still require a lot more cleaning than the smaller fridges, mainly because they hold more foods and there's a lot more material to clean… and that's even before having to consider the timely process of having to scrape clean your freezer every so often.
This is extremely important for people that want to keep their space clean all the time, they might prefer a water filter vacuum cleaner.
#4 Dedicated Beverage Cooler
Let's not forget the dedicated drinks cooler.
Having a fridge cooler specifically for your drinks is not a bad idea. Liquids require more energy to cool than foods (especially if you have a lot of beverages). So, it's important that you disturb enough cooling for your foods and enough so that your drinks are super refreshing for those hot summers.
Frozen food contain a huge amount of sodium and sugars. While a freezer represents over 50% of the total refrigerator energy consumption. So one of these units might be a great alternative or complement.
Danby Contemporary Classic Compact All Refrigerator:
[highlight-it color-1]Our Top Choice[/highlight-it]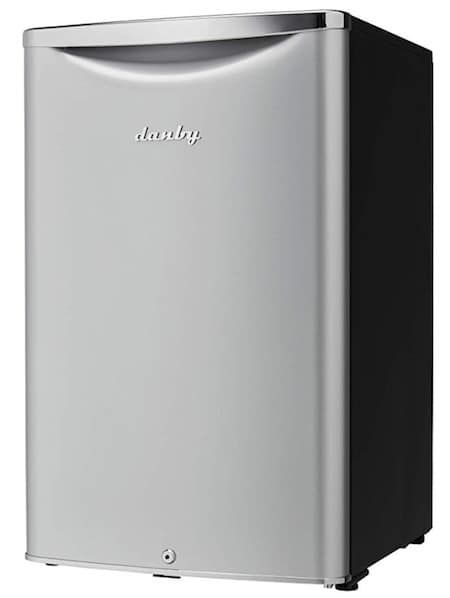 Let's start our review on the right foot and introduce our top pick for the best freezerless refrigerator. Not only is the Danby Contemporary Classic Compact All Refrigerator model an attractive appliance that would enhance any living space with its style, but it's available in a variety of colors and sizes.
If you're looking for a second fridge for drinks, snacks or food to reheat, we recommend the 4.4 cu. ft. size. Interested in something smaller? The Danby fridge is also available in 1.7, 2.6, or 3.3 cu. ft. The color options include black, silver, stainless steel, white, and red.
The compact refrigerator has tempered glass shelves and ample space for cans and even larger bottles (depending on the size fridge you choose). A reversible door hinge means that you can access the unit from the right or left, which is a great option if you're limited on space.
A quality scratch-resistant worktop, ergonomic handle, a door lock, and LED interior lights are some of our favorite features.
| Danby Contemporary Classic Fridge Features | |
| --- | --- |
| Capacity | 4.4 cu. ft. (124 L) |
| Dimensions | 20.75" x 21.30" x 33.07" |
| Weight | 73 lbs |
| Refrigerant type | R600a |
| Reversible door hinge | Yes |
| Lockable door | Yes |
| Automatic defrost | Yes |
| Energy star rating | Yes |
| Energy consumption | 268kWh per year |
| Energy cost | $32 per year |
---
Magic Chef All Refrigerator:
[highlight-it color-1]The Runner-Up[/highlight-it]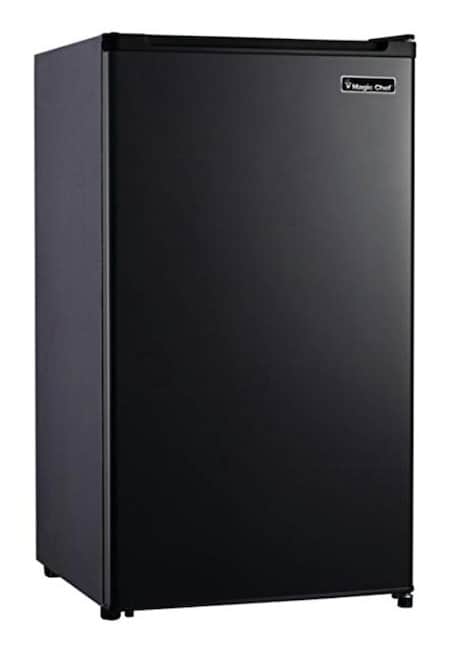 The Magic Chef All Refrigerator is a worthy contender for best compact freezerless refrigerator because it has a practical design or no extras. Like the Danby the Magic Chef fridge has removable glass shelves, and plenty of space for beverages. There's even a beverage can dispenser to keep the fridge more organized and space efficient.
The fridge is a little smaller, measuring at 3.2 cu. ft. and doesn't have the same color options, but the black finish looks sleek and timeless.
The features we love include the crisper drawer, the reversible door hinge, and easy-to-adjust thermostat. This product is a little more difficult to come across due to limited availability, so that's one of the reasons why Danby remains our winner.
---
Whynter Stainless Steel Refrigerator:
The Ultimate Gift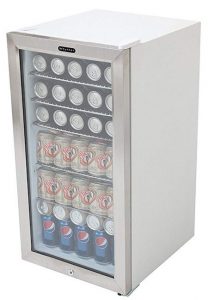 Looking for the perfect gift for newlyweds or someone who has recently graduated or moved into a new house? The Whynter Beverage Refrigerator is our pick for the ultimate gift and filling it with beverages would make this even more of a winner. This fridge might be on the wish list of many who want a sharp-looking appliance just for beverages.
If you want to show off your craft beer selection or want a beverage fridge that is functional and looks nice, the Whynter holds 120 cans. We love the LED lighting, the adjustable thermostat, and the glass doors with stainless steel trim. You never have to worry about your drinks getting in the wrong hands with the fridge lock.
---
Phiestina 15 Inch Built-in Beer Froster Refrigerator:
Best Beverage Fridge for Storing Food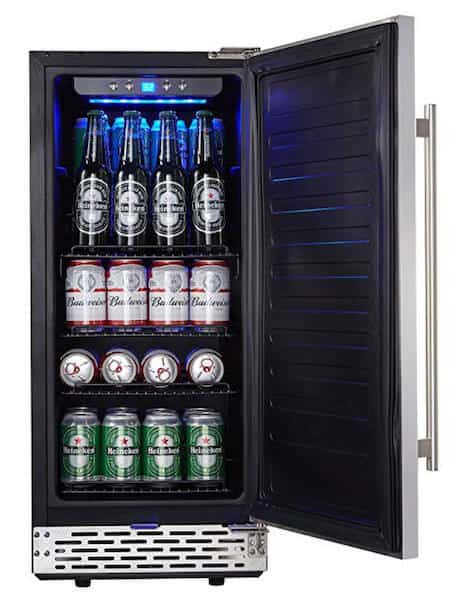 Why pick between a beverage fridge or one that's best for storing food? The Phiestina Refrigerator is one of our favorite compact beverage refrigerators on the market right now, but it's also an excellent choice for food storage.
The Phiestina fridge was designed with beer aficionados in mind and can hold over 100 cans, but the fridge accommodates all types and sizes of beverages from champagne and wine to club soda and cola. There's also room for food, like dips and cheese plates, so you can snack while you drink, and you don't need another fridge.
The stainless-steel fridge measures W 14.9 x H 33.9 x D 22.4 inches and fits well in a breakroom, home bar, or kitchen where space is limited.
---
Midea Compact Refrigerator and Freezer:
Best Choice For Ice Cubes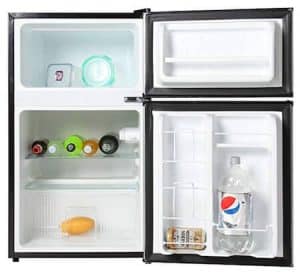 We might be breaking the rules by reviewing a mini-fridge with a freezer, but the Midea 3.1 cu. ft. refrigerator is nearly all refrigerator with a small freezer space. This refrigerator is one of our favorites because even though it doesn't technically fall into the "freezerless" category, everyone needs ice from time to time, especially if you have a dedicated fridge for beverages, right?
The Midea fridge comes with glass shelving and some space in both the fridge & freezer door. The design is basic, but it's still energy-efficient and space-saving.
---
NewAir Freestanding Beverage Cooler:
[highlight-it color-3]The Fridge to Avoid[/highlight-it]
At first glance, this fridge is impressive. It looks nice, like something you might find at a bar and it promises to hold 126 cans. It comes with a door lock, adjustable thermostat, and is energy-efficient (all things we like in a fridge).
Here's why we don't recommend this fridge:
For the price, we expect more from a nice-looking beverage fridge. Considering all the flaws, we think you're better off choosing something more affordable and dependable.
Our Top Freezerless Refrigerator Choice
You might not think that you need a freezerless fridge until you actually need or wish you had one on hand. If you're looking for a reliable and affordable all-purpose freezerless fridge, we love the Danby Contemporary Classic All Refrigerator.
Not only does it have a timeless design, but it's energy-efficient, has plenty of space for cans, bottles, and various sizes of food containers. Don't worry about defrosting your fridge or doing much maintenance with the Danby, it's relatively maintenance free.
References
https://home.howstuffworks.com/5-reasons-to-buy-a-freezerless-refrigerator.htm
https://www.petmycarpet.com/all-fridge-faq/
---
Frequently Asked Questions
✓ Which brands make stand alone refrigerators?
Several brands make stand alone fridges, also known as freezerless fridges.

Here are six that we name in this article:
→ Danby Contemporary Classic (editor's pick)
→ Magic Chef Cooler (2nd place)
→ Whynter Beverage Refrigerator
→ Phiestina 15″ Beer Froster
→ Midea Compact Fridge
→ NewAir Beverage Cooler
✓ Is it better to have a separate fridge and freezer?
If greater capacity is your requirement, then yes, it's better to get a separate fridge and freezer (particularly for larger families). The only downside is the extra space the separate units occupy, which is not ideal if you live in a small premises!

✓ Where is the best location for my fridge in the kitchen?
Think of areas that are hot in the kitchen, and place your fridge as far away from those locations as possible. Keep it away from the window to avoid direct sunlight shining on it and heating it up. Also, be sure your unit is no where near the oven which obviously generates a lot of heat. The hotter the ambient temperature, the harder the unit needs to work to maintain an acceptable temperature to keep your foods and drinks cool.