When was the last time you cleaned your dryer vent? If you can't remember, then you're probably overdue. Even though you take the lint off of the lint trap each time you use your dryer, there's no guarantee that your dryer vent is as clean as the trap.
Since dryer vents are hard to reach without the proper tools, we recommend a dryer vent cleaning kit to remove any lint blockages. We might see new technologies soon, just like the water filter vacuum cleaners that are superior in some many ways vs hepa vacuums.
Check out our best dryer vent cleaning kits on the market right now, and a few reasons why you need to clean your dryer vent system regularly to maintain its health and increase life expectancy.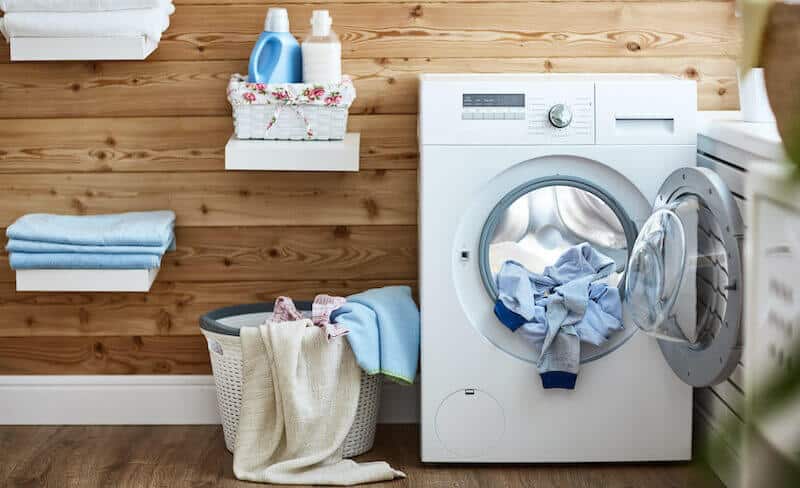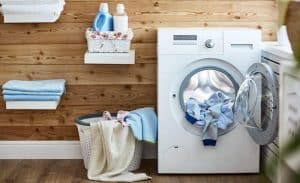 "In my two-decade career, I find that the best dryer vent cleaning kits are those which provide versatility to handle different types of vents, enough length for most dryer vent systems, and robust tools that can ably dislodge lint and debris without causing damage. Whether you're a homeowner or a professional repair specialist like myself, investing in the right kit can prevent dryer fires and extend your appliance's functionality."

Felicity Quiver, Certified Appliance Specialist
Why Should You Clean Your Dryer Vent?
If you peel the lint off of the lint trap every time you use the dryer, you might think that your dryer is clean and clear of dust and excess lint buildup. You may also think that the dryer vent and the lint trap are the same.
Quick answer
The best dryer vent cleaning kit is the Deflecto Dryer Duct Cleaning Kit, it is an inexpensive option with 6 extensions made of aluminum. This is a great option for a deep and long lasting clean.
The dryer vent system is the ductwork that leads to the outside vent. The dryer vent is often known as the exhaust vent. It's normal for lint, dust, and debris to build up in the vent each time you dry your clothes. Even if you are vigilant about cleaning the lint trap, it doesn't mean that the vent is clean. You should clean your dryer vent at least once or twice per year, more times if you use your dryer frequently.
Not only does a clean dryer vent make your dryer run more efficiently but it can prevent house fires too. According to the U.S. Fire Administration, an estimated 2,900 clothes dryer fires occur each year, which results in deaths, injuries, and millions of dollars in property loss.
The majority of dryer fires take place in the cooler months, during fall and winter, and the failure to clean the dryer accounts for about 34 percent of clothes dryer fires. Cleaning your dryer vent is an easy solution for a costly and potentially fatal problem.
Recommended Duct Cleaning Equipment
---
| | | | |
| --- | --- | --- | --- |
| #1 | Deflecto Dryer Duct Cleaning Set | | With 6 extension rods that extend to 12 feet, this type of cleaning kit reaches deep into the ductwork. Can be used manually or attached to a cordless drill to take care of mucky vents easier and quickly. |
---
| | | | |
| --- | --- | --- | --- |
| #2 | Holikme Dryer Vent Cleaning Kit | | Containing a 29-inch long flexible dryer lint brush, a 25-inch flexible hose, attachment, and a round soft brush vacuum attachment. This kit also includes vacuum adapters to reduce mess while cleaning and costs the same as the Vanitek 26″ long stand alone cleaner, making it a bargain. |
---
| | | | |
| --- | --- | --- | --- |
| #3 | Holikme Long Flexible Brush | | The long and narrow brush head combined with a flexible steel rod and stiff bristles makes this tool ideal for those hard to get areas [narrower lint trap openings]. |
---
How Often Should You Clean Your Dryer Vent?
Cleaning a clothes dryer vent is not as simple as pulling out the lint trap and cleaning off the lint, but for safety reasons, you should plan on cleaning the vent at least once a year. If you use your dryer frequently, you may benefit from three times a year. There's no rule that says you can't clean the vent more than a few times a year. A dryer vent cleaning set makes vent cleaning all the easier.
Not sure if your vent needs cleaning? These signs may indicate that your dryer vent needs attention:
Dryers malfunction for a number of reasons, but if your dryer is acting up, it's easiest to clean your dryer vent and take it from there.
Clothes Dryer Do's & Don't's
Here are a few things that can be done to reduce the chances of a fire occurring and keeping you and your family safe at home.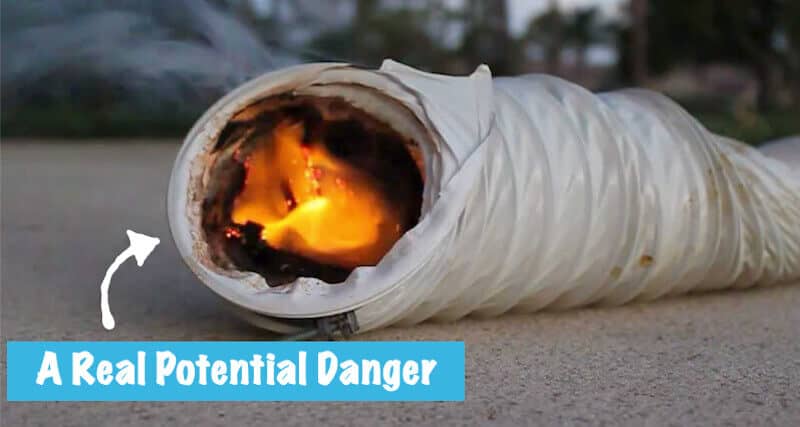 Dryer Do's
Dryer Don't's
How To Clean Your Dryer
Some homeowners are too overwhelmed at the thought of cleaning their dryer vent and will spend at leas $100 dollars to hire a professional. Cleaning your own dryer vent is fairly simple and relatively inexpensive.
Many experts recommend cleaning out your dryer vent with a vacuum or an air compressor. While these are useful and do an excellent job of clearing out excess lint and dirt, you also need dryer vent cleaning brushes. These brushes come in a variety of types & sizes, and are long enough to reach all hard-to-reach spots in the vent.
Feeling inspired to clean your dryer vent, keep your dryer working more efficiently and reduce utility bills & fire hazards in your home? Check out our top picks for dryer vent cleaning kits.
Sealegend 6-Pieces Dryer Vent Cleaner Kit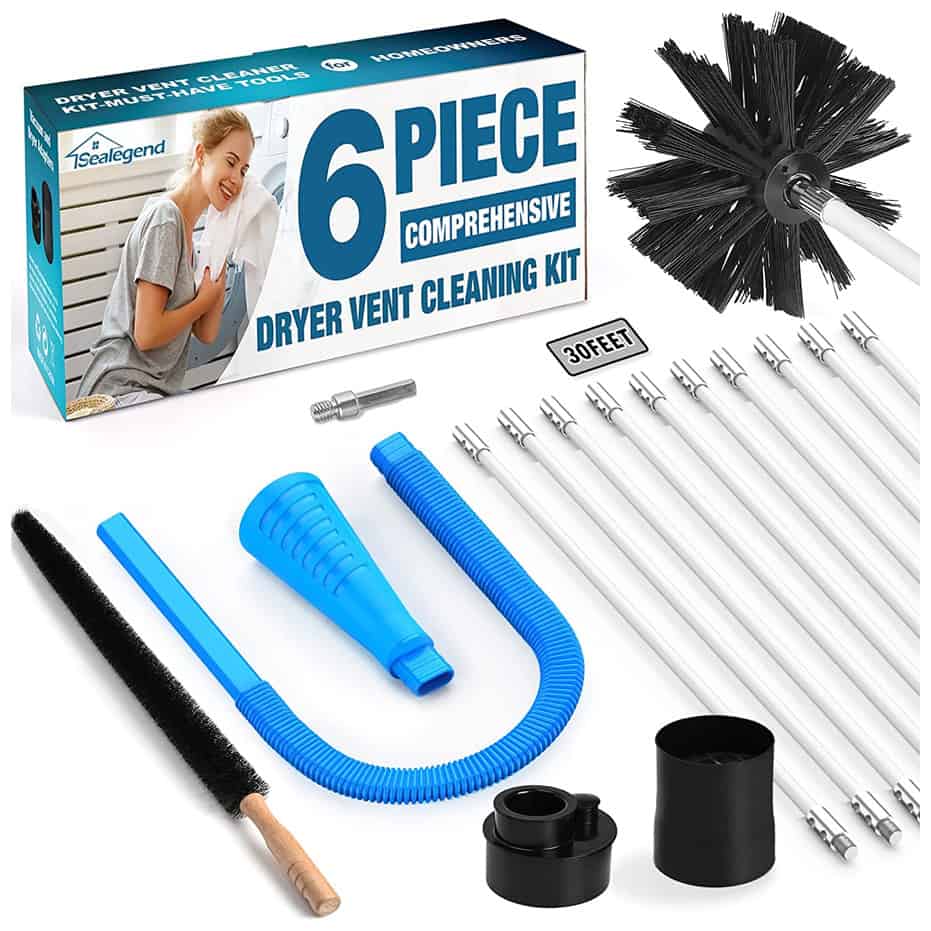 The Sealegend 6-Pieces Dryer Vent Cleaner Kit, the ultimate solution for efficient and thorough dryer cleaning. This professional cleaning tool set is designed to help you deep clean the buildup of lint in your dryer, ensuring optimal performance and safety.
The kit includes a 30-feet Dryer Vent Brush, equipped with 22 flexible nylon rods that can be easily connected and extended to reach a length of 30 feet. With the added adapters, you can utilize the air from your clothes dryer, shop vacuum, or electric blower to completely remove lint from the vent while rotary cleaning, making the process quick and effective. This versatile Dryer Vent Brush is also suitable for cleaning pipes, air ducts, and corners.
For a comprehensive clean, the Dryer Lint Vacuum Attachment is a perfect addition. Compatible with most vacuum cleaners, its flexible hose allows you to reach and remove deeply accumulated lint in your dryer, even from years of use.
The kit also features a Long Lint Trap Brush, designed to clean trapped lint and dust in the dryer gap and exhaust port, as well as the coils behind your refrigerator.
Regularly cleaning your dryer vent with the Sealegend 6-Pieces Dryer Vent Cleaner Kit not only helps prevent deadly dryer vent fires but also improves your cloth dryer's working performance and extends its lifespan. By using this tool set, you can save on high cleaning costs and protect the beauty and safety of your home.
Bluesea 7 Pieces 30 Feet Dryer Vent Cleaner Kit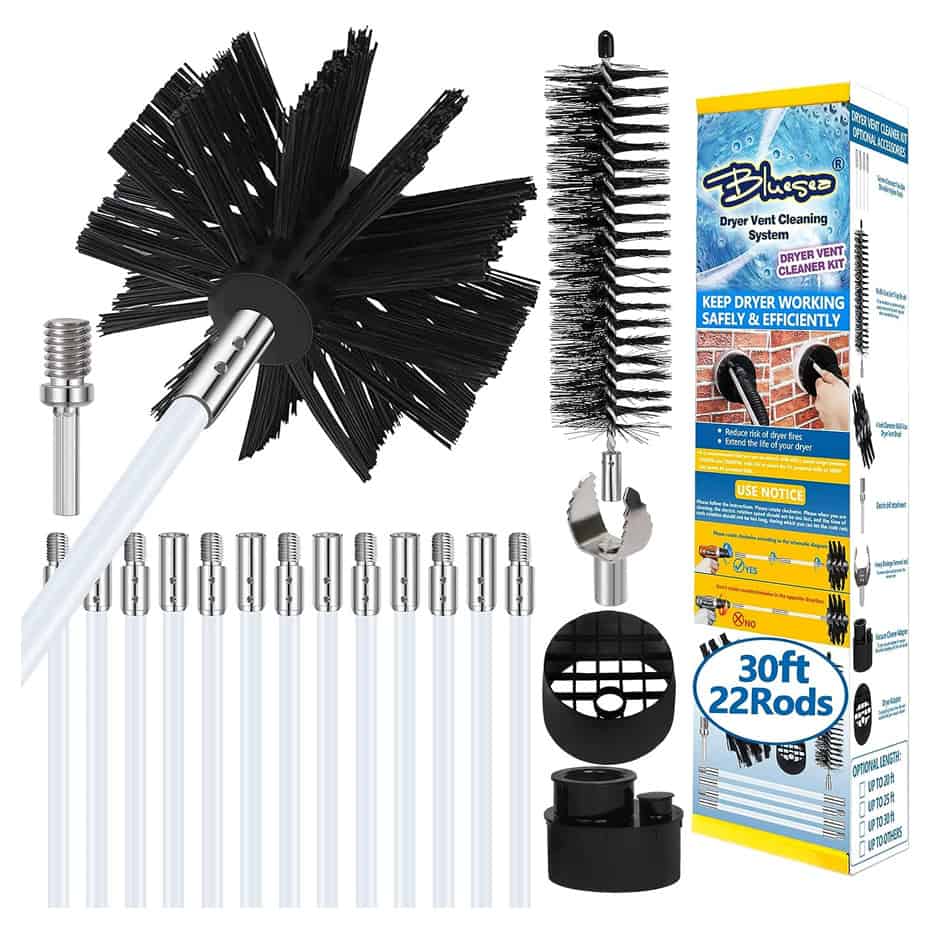 The Bluesea 7 Pieces 30 Feet Dryer Vent Cleaner Kit is your essential tool for preventing dryer vent fires and ensuring the safe operation and efficiency of your clothes dryer. This high-quality cleaning kit is designed to remove lint build-up, a leading cause of dryer vent fires, making it a valuable investment for your home's safety.
Built to last, the dryer vent cleaning kit features corrosion-resistant materials, maintaining a bright surface even after prolonged use. Its flexibility allows it to bend easily, making it suitable for pipes of various shapes and sizes. You can clean multiple turns and hard-to-reach areas in your dryer vent system quickly and effortlessly.
Using the kit is a breeze, simply align the joints of the two poles and rotate them clockwise. It can be used with or without a power drill and comes with a metal drill attachment for achieving professional results efficiently.
During the cleaning process, the included adapters enable you to use the air from your clothes dryer, shop vacuum, or electric blower to effectively remove dangerous lint build-up. This not only keeps your drying cycle faster but also reduces water and electricity consumption, extending the life of your dryer.
The Bluesea Dryer Vent Cleaner Kit includes 22 flexible and durable rods that extend up to 30 feet, a multi-use synthetic brush head, a lint trap brush, a metal drill attachment, a heavy blockage removal tool, a vacuum cleaner adapter, and a dryer adapter, everything you need for a thorough clean.
Our top-notch service and excellent quality guarantee your satisfaction. If you have any questions about the product, don't hesitate to contact us, we are here to help you solve any concerns you may have. Choose Bluesea for a safer and more efficient dryer experience.
The Professional Dryer Vent Cleaner Kit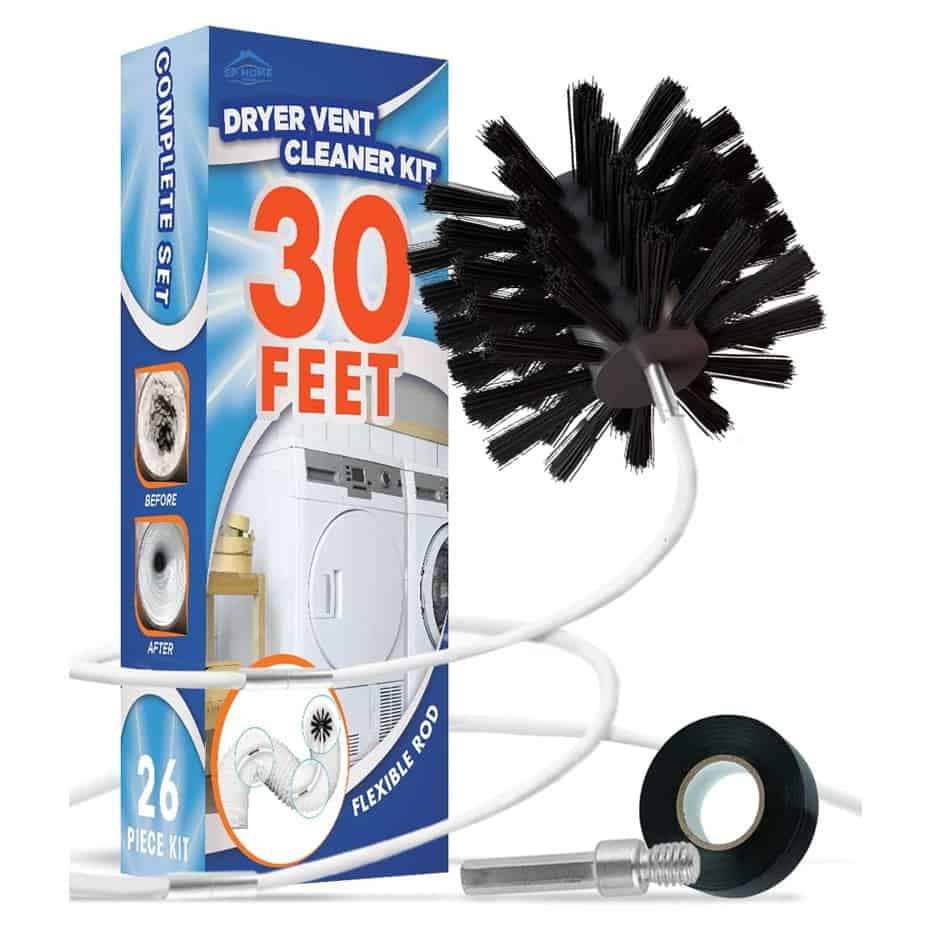 The Professional Dryer Vent Cleaner Kit, the ultimate solution for keeping your dryer vents clean and safe. Unlike other kits on the market, our dryer vent cleaner brush is made from durable Nylon, ensuring superior performance and longevity. The kit includes (23) attachment rods that easily screw together, making assembly a breeze.
No matter the shape or size of your pipes, our dryer vent cleaner is up to the task. The 4-inch wide pipe brush can extend up to an impressive 30 feet, effortlessly maneuvering around corners and turns.
For faster and more efficient cleaning, attach the kit to a power drill using the included drill attachment. With this added power, you'll have spotless vents in minutes, saving you time and effort.
Dirty dryer vents can lead to disaster, but with The Professional Dryer Vent Cleaner Kit, you can prevent house fires and save money on your energy bill. Regularly cleaning your vents is now a simple task, thanks to this air duct cleaning tool.
The PetOde 3 Pack Dryer Vent Cleaner Kit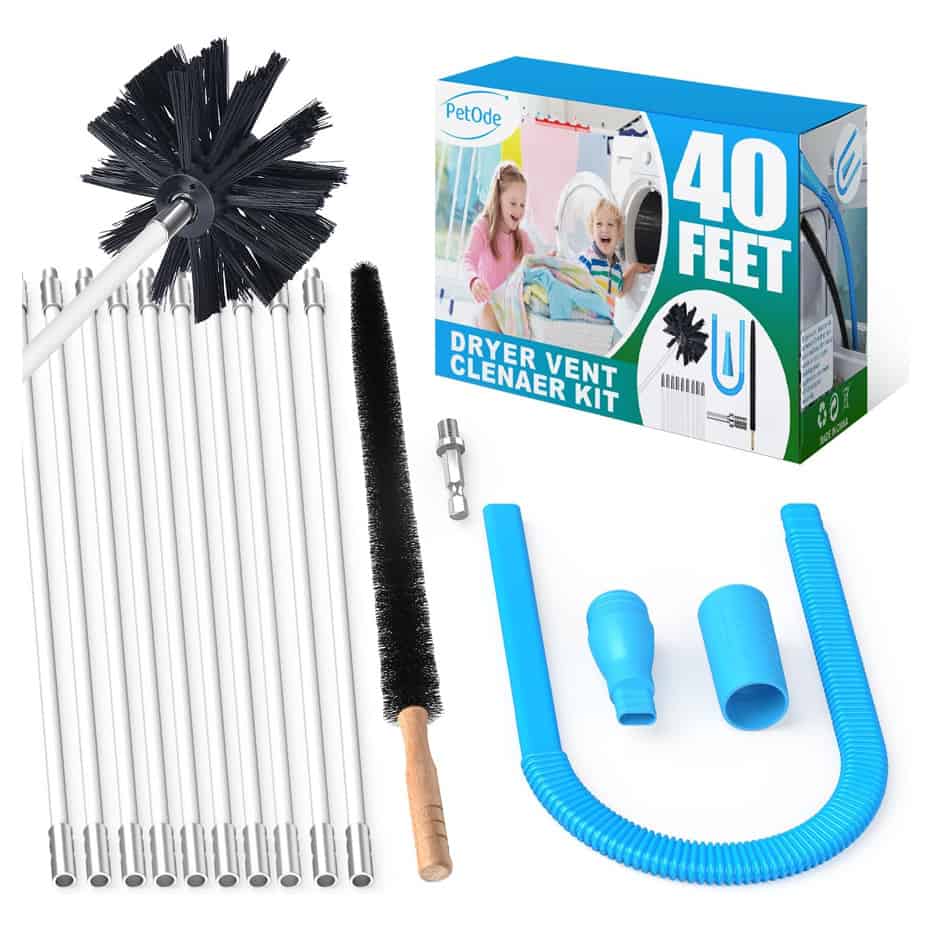 The PetOde 3 Pack Dryer Vent Cleaner Kit – your ultimate solution for a clean and safe home. This versatile kit is designed not only to remove built-up lint from your dryer exhaust hose but also to tackle other cleaning tasks like sofa crevices and fridge coils.
The vacuum hose adapter included in the kit is compatible with most vacuum cleaners, making it easy to connect and assemble. With this handy addition, cleaning becomes more efficient and effective.
The kit features a flexible and durable Up to 40 Feet Dryer Vent Brush that can be used with or without a power drill. Achieve professional results by turning the rod clockwise and moving it in and out slowly. For corners, turns, or stubborn lint traps, simply slow down and accelerate gradually for optimal performance.
The Flexible Lint Brush, designed to reach and clean your dryer's trapped lint, is also ideal for cleaning behind your refrigerator coils. Keep your appliances running smoothly with ease.
By regularly cleaning your dryer vent with the PetOde Dryer Lint Cleaner Kit, you can help prevent deadly dryer vent fires, improve your cloth dryer's performance, and extend its lifespan. Enjoy peace of mind while maintaining a safer and more efficient home environment.
Our Top Choice
If you shop around for dryer vent cleaning kits, you might notice that most of the brushes look identical and work similarly. Vent pipe brushes are relatively simple, so you're not likely to find many that look different from the others. You can compliment your kit with a hardwood floor machine to keep your space clean and fresh.
Our top choice for the best dryer vent kit is the Sealegend 6-Pieces Dryer Vent Cleaner Kit. We love the customizable extension rod and the wide brush head to ensure we get all the lint in the hardest spots to reach. The ability to use the brush with a drill, for fast and efficient cleaning, is an added bonus to this invaluable laundry room tool.
References
https://www.familyhandyman.com/article/indoor-vs-outdoor-dryer-vents/
https://homefixated.com/dryer-vent-hoods/
---
Frequently Asked Questions
✓ How to tell when your dryer went is clogged?
There are several warning signs that determine the likelihood your dryer vents need cleaning in order to prevent a malfunction or worse, a fire!🔥
- Finding lint on your clothing or in the door seal.
- Your dryer shutting down. This can happen as your dryer is overworking due to clogged vents.
- Longer than usual drying times. Your vent may not be completely clogged, but any restriction of air flow will result in longer drying times.
✓ How often should I have my dryer vents cleaned out?
This really depends on many factors such as how often you use your dryer and even the make and model you have. Although dryer fires🔥are not completely common, they still do happen and the culprit is blocked vents!

As a general room of thumb, it's probably best to clean your dryer vents at least once a year to be on the safe side and provide peace of mind.
✓ Why is my dryer taking so long to dry my clothes?
More often than not, it's not your dryer that's the issue. Like all machines, maintenance is a necessity. The usual culprit is vent blockages (lint accumulation), however, sometimes the issue can be venting configuration.

The easiest thing to check first, is blocked vents, if this resolves your drying time issues, then it's likely your venting configuration is on point.