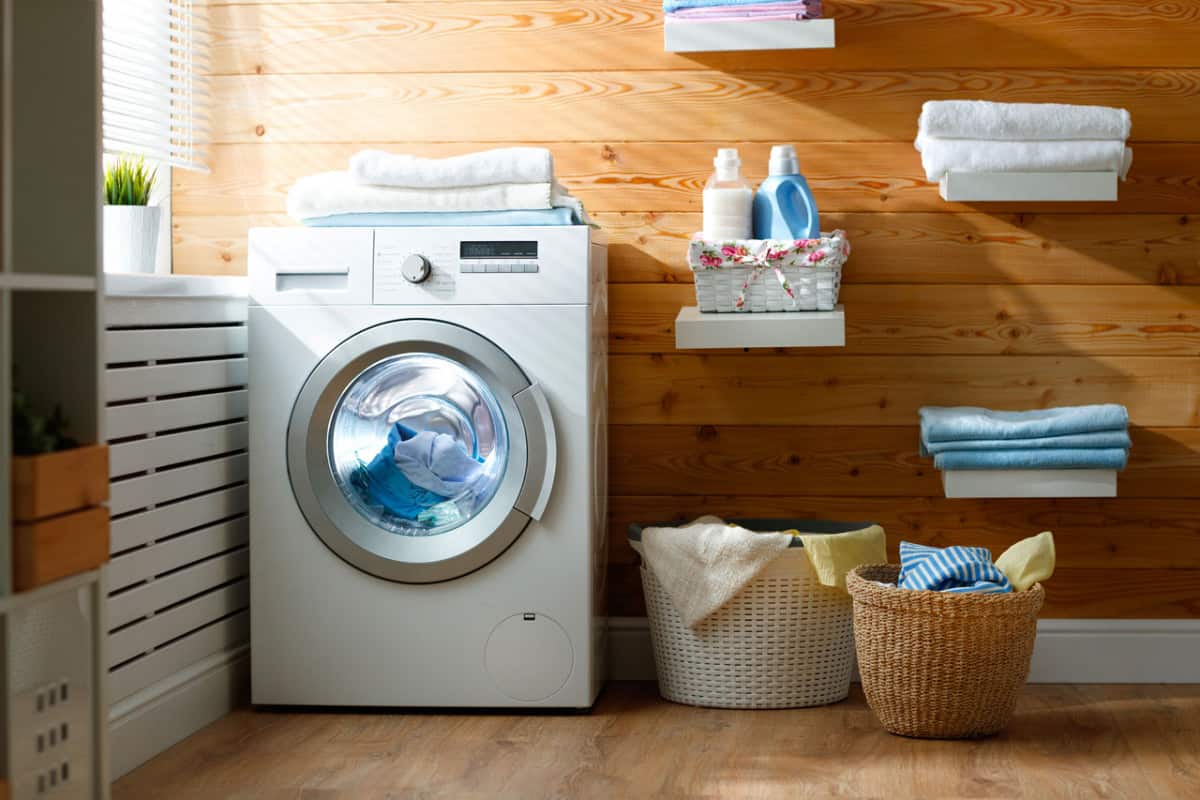 When was the last time you cleaned your dryer vent? If you can't remember, then you're probably overdue. Even though you take the lint off of the lint trap each time you use your dryer, there's no guarantee that your dryer vent is as clean as the trap.
Since dryer vents are hard to reach without the proper tools, we recommend a dryer vent cleaning kit. Check out our review of some of the best dryer vent cleaning kits on the market right now, and a few reasons by you need to clean your dryer vent regularly.
Why Should You Clean Your Dryer Vent?
If you peel the lint off of the lint trap every time you use the dryer, you might think that your dryer is clean and clear of dust and excess lint. You may also think that the dryer vent and the lint trap are the same.
The dryer vent is the ductwork that leads to the outside vent. The dryer vent is often known as the exhaust vent. It's normal for lint, dust, and debris to build up in the vent each time you dry your clothes. Even if you are vigilant about cleaning the lint trap, it doesn't mean that the vent is clean.
Not only does a clean dryer vent make your dryer run more efficiently but you can prevent a fire in your home. According to the U.S. Fire Administration, an estimated 2,900 clothes dryer fires occur each year, which results in fatalities, injuries, and millions of dollars in property loss.
The majority of dryer fires take place in the cooler months, during fall and winter, and the failure to clean the dryer accounts for about 34 percent of clothes dryer fires. Cleaning your dryer vent is an easy solution for a costly and potentially fatal problem.
How Often Should You Clean Your Dryer Vent?
Cleaning a clothes dryer vent is not as simple as pulling out the lint trap and cleaning off the lint, but you should plan on cleaning the vent at least once a year. If you use your dryer frequently, you may benefit from three times a year. There's no rule that says you can't clean the vent more than a few times a year. A dryer vent cleaning kit makes vent cleaning all the easier.
Not sure if your vent needs cleaning? These signs may indicate that your dryer vent needs attention:
Clothes take longer to dry
Bulkier items take two to three times longer to dry
The dryer feels hot, especially near the control panel
You notice excess lint or signs of a bird or rodent home near the dryer vent opening outside
Dryers malfunction for a number of reasons, but if your dryer is acting up, it's easiest to clean your dryer vent and take it from there.
How To Clean Your Dryer
Some people are too overwhelmed at the thought of cleaning their dryer vent and will spend money to hire a professional. Cleaning your own dryer vent is fairly simple and relatively inexpensive.
Many experts recommend cleaning out your dryer vent with a vacuum or an air compressor. While these are useful and do an excellent job of clearing out excess lint and dirt, you also need dryer vent cleaning brushes. These brushes come in a variety of sizes and are long enough to reach all hard-to-reach spots in the vent.
Feeling inspired to clean your dryer vent, keep your dryer working more efficiently, and reduce fire hazards in your home? Check out our top picks for dryer vent cleaning kits.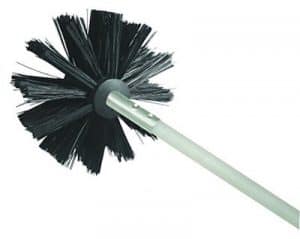 The toughest part of cleaning out your dryer vent is that it's difficult to reach deep enough into the ductwork. The Deflecto Dryer Duct Cleaning Kit comes with a synthetic 4" brush head with 6 rods that extend to 12 feet when you put them all together.
You can attach the Deflecto Dryer Cleaning rod to a power drill to make it easier to clean the vent more quickly, but you don't need to have a drill to use the brush.
Each rod piece is two inches for customization
Synthetic brushes are heavy duty and easy to clean
Four-inch brush head fits in most top-loading lint traps
Works well with or without a drill
Flexible rods
May not work well in narrow lint trap areas
Rods may break during cleaning
You may need other tools like an air compressor or a vacuum to finish cleaning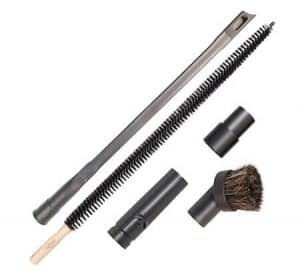 The Holikme Dryer Vent Cleaning Kit comes with a 29-inch long flexible dryer lint brush, a 25-inch flexible hose, attachment, and a round soft brush vacuum attachment.
The dryer vent cleaning kit also includes vacuum adapters so that you can attach your dryer vent brush to your vacuum to reduce mess and ensure that the excess lint goes directly into your vacuum.
Flexible rods and durable brush head
Works with many popular vacuums
Long hose to ensure the whole ductwork is clear of lint and debris
Easy to use and clean
May not work with all vacuums
Some users complain of cracked plastic parts
May clog and not clearly clean out when using a vacuum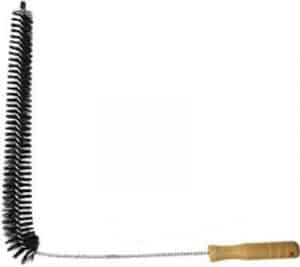 This long flexible dryer vent cleaning brush is long with a narrow brush head, which makes it ideal for narrower lint trap openings. The brush has a wooden handle, flexible steel rod, and a durable and stiff brush for collecting dryer lint and debris.
One thing we love about this uniquely shaped brush is that you can use it for other hard to reach spots like cleaning the coils on your refrigerator. The Holikme brush is available as a two-pack, so you can use these brushes for an extended period before it's time to replace and buy more.
Made from durable materials
Effective for narrow spaces that are hard to reach
Nylon bristles are easy to clean
Long brush with a flexible rod
Affordable
Cannot use with drill or vacuum
Rod may not be flexible or long enough for vent
The brush head is narrower than other competitors
Our Top Choice
If you shop around for dryer vent cleaning kits, you might notice that most of the brushes look identical and work similarly. Dryer vent brushes are relatively simple, so you're not likely to find many that look different from the others.
Our top choice for the best dryer vent kit is the Deflecto Dryer Duct Cleaning Kit. We love the customizable extension rod and the wide brush head to ensure we get all the lint in the hardest spots to reach. The ability to use the brush with a drill, for fast and efficient cleaning, is an added bonus to this invaluable laundry room tool.
Frequently Asked Questions
Dryer vent cleaning do every year or only when a problem?
I use my leaf blower to clean mine. I bring it into my laundry room, place the blower up to the vent and go at it. It's amazing how much lint comes out through the exit vent outside. This way is super fast and easy.
Seemed weird at first to bring my blower into the house, but after seeing all the lint it expelled, I realized how much it needed to be done.
Thoughts on dryer vent tape for low voltage cabling?
Just to be clear: you are asking for opinions on using a different tape, that you have found more useful, for a completely temporary purpose?

If it's temporary, use whatever you like. However, in permanent situations, different tape types are used for important reasons. For example, I don't believe that foil tape is non-conductive, nor will it have any sort of electrical insulation rating. If you are using foil tape in place of electrical tape for permanent uses, yes, that could be a concern.
Can i run electric dryer with no vent for two days or so?
3 loads is fine. Just don't do it every day for months or anything.
No dryer exhaust vent in laundry room install tips?
Make sure the space you're going to put it is clear of things like studs, pipes or wires. Make a hole. Put in a vent closure. Attach your dryer. For the life of me I can't imagine why the person who built it didn't put it in, it's that easy.
Could i somehow exhaust my electric clothes dryer vent into my house for the winter?
Is it electric or natural gas? If it's electric, then there's the only two things you need to consider are lint and humidity. If it's a gas dryer, then there's no way to do it safely as you'll be venting carbon dioxide and carbon monoxide into the house, which could prove fatal.

Edit: I know that the title says that the dryer is electric. I brought this up to make sure no one gets the bright idea of venting a gas dryer inside.