If you notice mold growing in your home, it can be a difficult problem to tackle. Depending on the type of mold that's growing, you might require professional removal, which can be costly and inconvenient.
One of the best ways to handle a mold problem is to prevent it and remove it as soon as you see it forming on the walls or other areas of your home, just consider that some types of mold can easily spread in just 2 days. In our review, we talk about some of the best mold removal products on the market right now, and a few things you should know about mold growth in your home.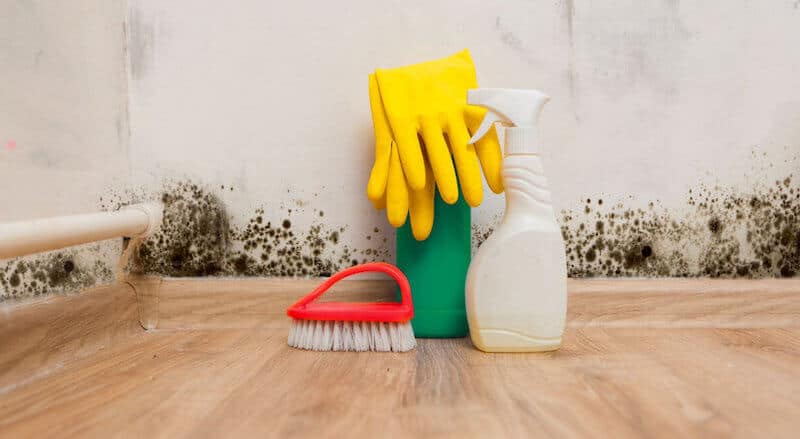 "A universal product for mold and mildew removal must we able to breakdown the complex structures of these organisms without damaging the surface it's applied to. My in-depth understanding of this particular field guarantees efficiency of the products I create, making them not only robust in remedying the issue but also safe for application on varying materials,"

Quinton Ulysses Yager, Industrial Chemist
How Does Mold Get in Your Home?
We've all encountered a moldy loaf of bread or block of cheese that's gone bad, but mold in your home is harder to detect until it grows out of hand. Mold is a fungus that contains small organisms. Mold is virtually everywhere, and it is essential at breaking down leaves and plants outside, but it's more problematic when it's in your home.
Quick Answer
The best mold removal product is the EcoClean Solutions Mold, Mildew & Algae Remover. This product contains sodium hypochlorite and sodium hydroxide. It is important to use the right cleaning solution depending on the type of material.
Mold spores are virtually unseen to the human eye, they are under 100 microns, you come in contact with them every day, and in small doses, they are typically harmless. If your home is damp, mold spores are more likely to stick around and grow in areas of high humidity and moisture.
What Does Mold Look Like?
Depending on the type of mold that is growing in your home, you may notice small black patches growing on your shower curtain or white patches that appear fuzzy in a damp corner. Some mold can look slimy or appears green, orange, or purple. A quick internet image search can give you a good idea of what different types of mold looks like.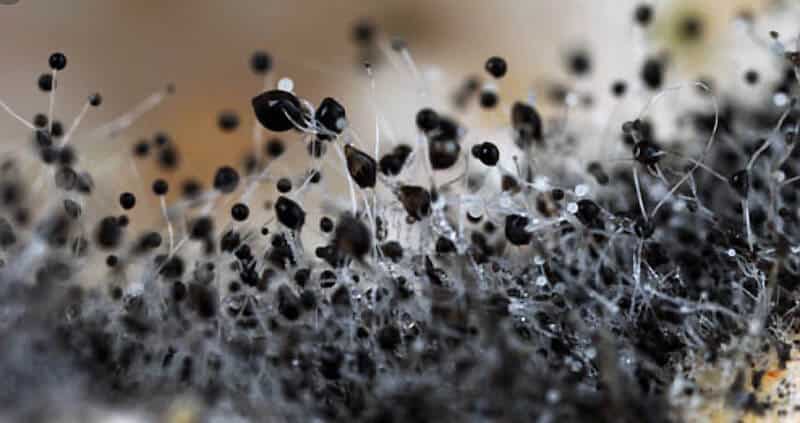 It's best to identify mold before you try to touch it with your bare hands or start to remove it.
Potential Dangers of Mold in Your Home
Most of the time mold doesn't pose any major health threats, but you don't want it lingering in your home. Some people are allergic to mold and infants and the elderly are more sensitive to mold spores which can spur on the following symptoms:
It can get worse for people with compromised immune systems which in extreme cases can worsen the pre-existing condition and lead to:
Of course these are the more extreme circumstances, but even if mold doesn't affect you, you should always avoid inhaling or touching it, particularly over extended periods of time.
Getting Rid of Mold in Your Home
If you have a sensitivity to mold, you may need to hire a professional to remove the mold, this can be quiet expensive coming at a $500 price per room. In most cases, you can manage and remove mold on your own, a hardwood floor machine is a great tool for this. The best way to reduce mold growth in your home is by controlling moisture and to use mold removal products.
When you use mold removal products, always make sure to read the label and follow instructions. It's best to wear a face mask and other protective gear to avoid unnecessary exposure, a N95 mask and rubber glove will be good enough. While there are many DIY recipes for mold removal, it's best to use products that are designed specifically for mold removal to avoid mixing chemicals or other issues.
Ready to manage your mold problem? Check out our top choices for best mold removal products.
Activated Bamboo Charcoal Air Purifying Bag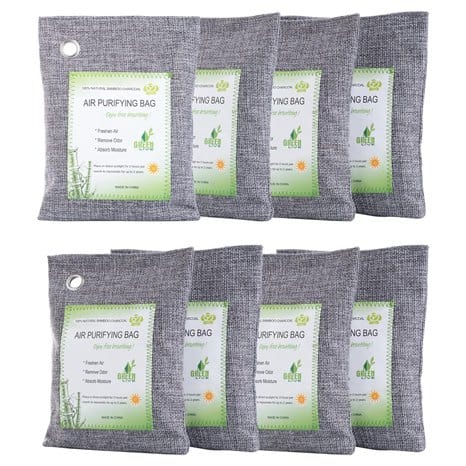 The Activated Bamboo Charcoal Air Purifying Bag, the natural solution to freshening up your space and eliminating unwanted odors. Made from 100% activated bamboo charcoal, these bags contain millions of tiny porous holes that effectively absorb and remove odors, acting as the perfect natural air freshener.
Safety is a top priority, and our activated charcoal air purifier bags are both safe and effective. They are fragrance and chemical-free, providing a 100% natural and safe way to purify your air. Acting like a sponge, they absorb moisture and unpleasant odors without any risk to your pets or children's health.
Versatility is a key feature, as the bamboo activated charcoal odor absorber bags can be used in various settings. Whether it's your car, gym bag, smelly shoes, pet areas, bedroom, bathroom, or fridge, these deodorizers work efficiently to keep the air fresh and clean.
Expect longevity and cost-effectiveness with each 200g bag, as they can be reused for up to two years. To renew their effectiveness, simply place the bags in direct sunlight for one or two hours once a month, releasing trapped moisture and odors from their pores, making them work like new again.
Your satisfaction is guaranteed with our 100% Satisfaction Guarantee. If, for any reason, you are not completely satisfied with our product, we offer hassle-free refunds. Try the Activated Bamboo Charcoal Air Purifying Bag and experience the natural way to a fresh and odor-free environment.
The GELIVABLE Mold Remover Gel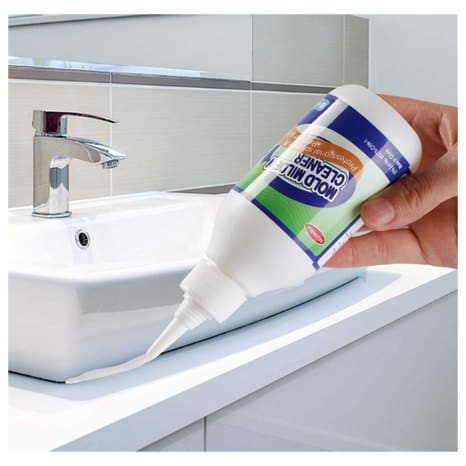 The GELIVABLE Mold Remover Gel is a fast-acting solution to tackle tough mold and stains effectively. Its powerful concentrated gel formula clings to various surfaces, including tiles, silicone sealants, shower-heads, and more, making it perfect for use around windows, sinks, baths, and even in the pool area.
Versatility is a key feature of this product, as it can be used in various places, such as the kitchen sink, ceramic tile joints, bathroom, wall surfaces, glass windows, corners, and toilet joints. It also proves effective in removing stains from white clothes, yellowing, and all kinds of oil spots, making it an excellent spot cleaner.
Safety is paramount, and GELIVABLE Mold Remover Gel ticks all the boxes. It is bleach-free, biodegradable, non-acidic, and low odor, ensuring a safe and eco-friendly cleaning experience.
Using this mold remover gel is simple and hassle-free. Just apply the gel evenly to the area that needs cleaning, let it sit for 3-5 hours, and then rinse with water or wipe with a towel.
We prioritize customer satisfaction, and our super customer service reflects that. If you encounter any issues with our mold remover gel, our support team is available at all times to assist you. We guarantee your satisfaction and are ready to provide a refund or replacement as needed. Experience the power of GELIVABLE Mold Remover Gel and say goodbye to stubborn mold and stains today.
GLASSGUARD Miracle Mold Removal Gel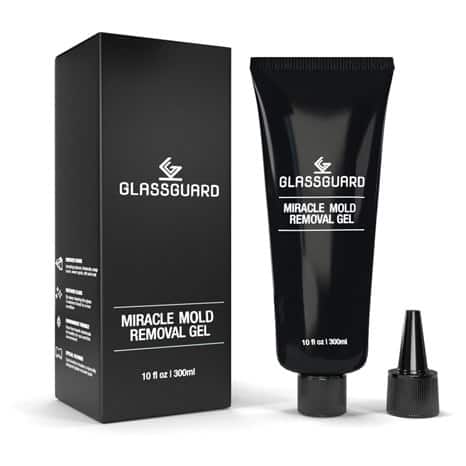 The GLASSGUARD Miracle Mold Removal Gel for Kitchen, the ultimate solution for effectively removing tough mold without the need for heavy scrubbing. Specially formulated, this shower mold remover is designed to restore stained surfaces back to their original condition, making it perfect for tiles, grout, bathroom sinks, bathtubs, and toilets.
What sets this mold remover gel apart is its versatility. It can be safely used on multiple surfaces, including glass, tile, and ceramic, making it ideal for various areas in your kitchen. The 300ml size allows for a quick and deep clean of a large area, ensuring a spotless finish.
With its potent formula, the GLASSGUARD grout mold remover is a powerful tool that can be used in homes, hotels, and restaurants, providing a professional-grade clean with ease.
Your satisfaction is our top priority. We stand behind the effectiveness of our mold remover gel and offer a satisfaction guarantee. If, for any reason, you are not satisfied with your purchase, please let us know, and we will provide a full refund.
Experience the power of GLASSGUARD Miracle Mold Removal Gel for Kitchen and say goodbye to stubborn mold for good. Restore your surfaces to their pristine state with minimal effort, thanks to this efficient and effective mold remover gel.
The Ecology Works Solution Plant-Based Dog & Cat Allergy Spray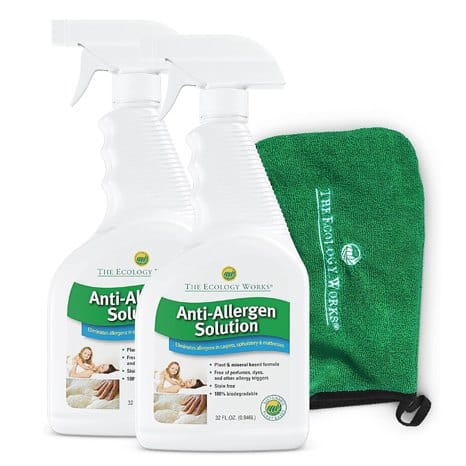 The Ecology Works Solution Plant-Based Dog & Cat Allergy Spray – your ultimate solution for a breath of fresh air. This powerful spray removes common irritants without any dyes or fragrances, effectively ridding your home of allergy triggers like pet dander and dust mite waste.
The versatility of this multi-surface solution allows you to use it on various surfaces, including bedding, fabrics, furniture, upholstery, hard surfaces, and pet beds. Colorless and odorless, the spray leaves no stains or residue behind, ensuring a clean and fresh environment.
Nature knows best, and The Ecology Works Solution is no exception. This effective spray is plant- and mineral-based, offering symptom-reducing benefits without any fragrances or dyes. It's safe for your family, pets, and the planet.
Experience relief in your own home as this gentle spray removes the proteins causing irritating allergy symptoms, leaving you feeling refreshed and comfortable.
At The Ecology Works, we take responsibility seriously. We are fully committed to providing solutions that prioritize the well-being of people and the planet. Our products are thoughtfully designed to reduce waste and protect the environment, making them the responsible choice for allergy relief. Say goodbye to allergies and hello to a cleaner, greener home with The Ecology Works Solution Plant-Based Dog & Cat Allergy Spray.
Our Top Choice For Best Mold Removal Product
Mold removal is often a multiple-step process that requires different products and methods. Some products remove stains but won't kill the mold; others help reduce growth but won't remove stains from your home.
Our favorite mold removal product is GELIVABLE Mold Remover Gel. The concentrated solution is easy to apply, safe for various surfaces, and requires minimal scrubbing. When it comes to mold removal products, we think that this is one of the best products available, but we also think it's important to incorporate preventative methods to reduce mold growth in the first place.
References
https://www.washingtonpost.com/home/2021/11/19/how-to-remove-mold-walls/
https://www.bobvila.com/articles/mold-on-the-walls/
---
Frequently Asked Questions
✓ Can I remove and clean up mold myself?
Yes! However, be sure not to take on too big of a job.

A general rule of thumb is to tackle an area no larger than 10 square feet, otherwise it is unlikely you will succeed in removing all the mold. Combine a mixture of one part bleach to four parts water. Damp the cloth within the mixture and scrub away the mold until it's all gone.

The final step is to make sure that area is dried not to encourage further growth. Sprinkle a layer or two of baking soda over the area and let it absorb the moisture for about an hour (this will also help eliminate bad odors). Then vacuum up the baking soda and dry area with a cloth.
✓ What is the best product for removing mold in your home?
Mold that's in your home is confined indoors and play havoc to your health and breathing. Here are the top mold remover and preventative products for your home:

1. Industrial Strength - EcoClean Mold Remover
2. Best For Home Surfaces - RMR-86 Instant Mold Stain and Mildew Stain Remover
3. Best Preventative - BioCide Mold Bomb Fogger
✓ Can a home have mold in it even if you can't see it?
Of course? In fact, one way to tell is by using your nose. Mold has a distinctive musty or earthy smell to it and you will know what it is the moment you smell it. It is also likely the property will have a damp feel to it too!