A lighter is an essential piece of gear for anyone who smokes a pipe, but any lighter you happen to have on hand won't give your pipe the light it needs.
In this article, we discuss the importance of pipe lighters and give you our top picks for the best pipe lighters available this year.
Whether you're looking for a gift for a pipe smoker or you want to upgrade your current pipe lighter, let this review guide you.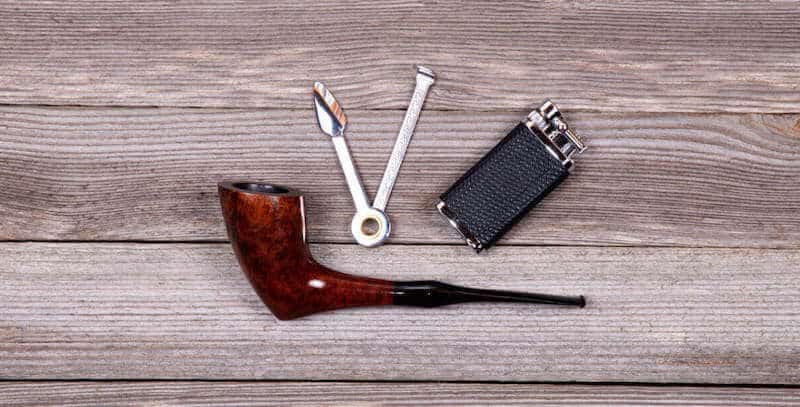 What is a Pipe Lighter?
Wondering if a cheap plastic lighter that you can get from the gas station will work for your pipe? Technically, it's a butane lighter, has a flame, and will light the tobacco in your pipe, but it's not the type of lighter that's ideal for pipe smoking.
The same applies to torch lighters, they too use butane and produce a flame that has the ability to light the tobacco in your pipe. However, they burn hot, can char the tobacco and burn the pipe's bowl. You might want to buy both a good pipe lighter and one of the best torch lighters available.
Pipe lighters are typically butane lighters that are specifically designed for pipe smoking. So, what's the difference between a Bic lighter and a pipe lighter? A pipe lighter provides a softer flame that covers a larger area of the tobacco. Your want a flame that burns around 750°C. Some pipe lighters have a design that delivers the flame from the side, so it's easier to angle without burning fingers or to lose flame before your pipe is lit.
Although butane lighters are the most common, plasma lighters are flameless, electronic, and a popular choice among some pipe smokers.
Quick answer
The best tobacco pipe lighter is the Zippo Pipe Lighter thanks for its design, durability, flame intensity and windproof feature. It might not be the cheapest option, but it will last for a long time.
Things to Consider Before Buying a Lighter For Your Pipe
If you've already started shopping around for a pipe lighter, you probably noticed that there are several brand types and styles available. Some lighters have basic a design and functionality, while others are loaded with tools and features. Here are some things to consider before you buy.
Refill Lighter Types & Taste
Running out of fluid is inevitable, and if you buy a nicer pipe lighter, you want to be able to refill it rather than tossing it out.
Many tobacco smokers use lighter fluid as their go-to since it's available in larger bottles, but it's best to refill your lighter with butane.
Lighter fluid can affect the taste of your pipe tobacco, because they are usually made with kerosene that has a very strong taste and smell, while butane is tasteless out of the two fuels and more likely provide a satisfying smoking experience.
Different Styles of Lighters
The style of pipe lighter you choose can be as unique as the pipe you smoke. While some pipe smokers prefer vintage metal lighters, others benefit from plasma lighters that can be recharged with a USB.
There are plenty of modern pipe lighters that have a retro look but work better and are safer to use than vintage lighters.
With such variety and each lighter having its advantages and disadvantage, you can choose the type of lighter that meets your requirements or need
Do You Need Pipe Tools?
Many pipe smokers have a toolset for cutting and tamping tobacco, but it can be inconvenient to carry around.
There are several pipe lighters on the market that come with tools built-in to the lighter, kind of like a Swiss Army knife.
Even though a lighter with extras isn't a necessity, it might be nice to have on hand when smoking with friends or at a social event.
IM Corona Old Boy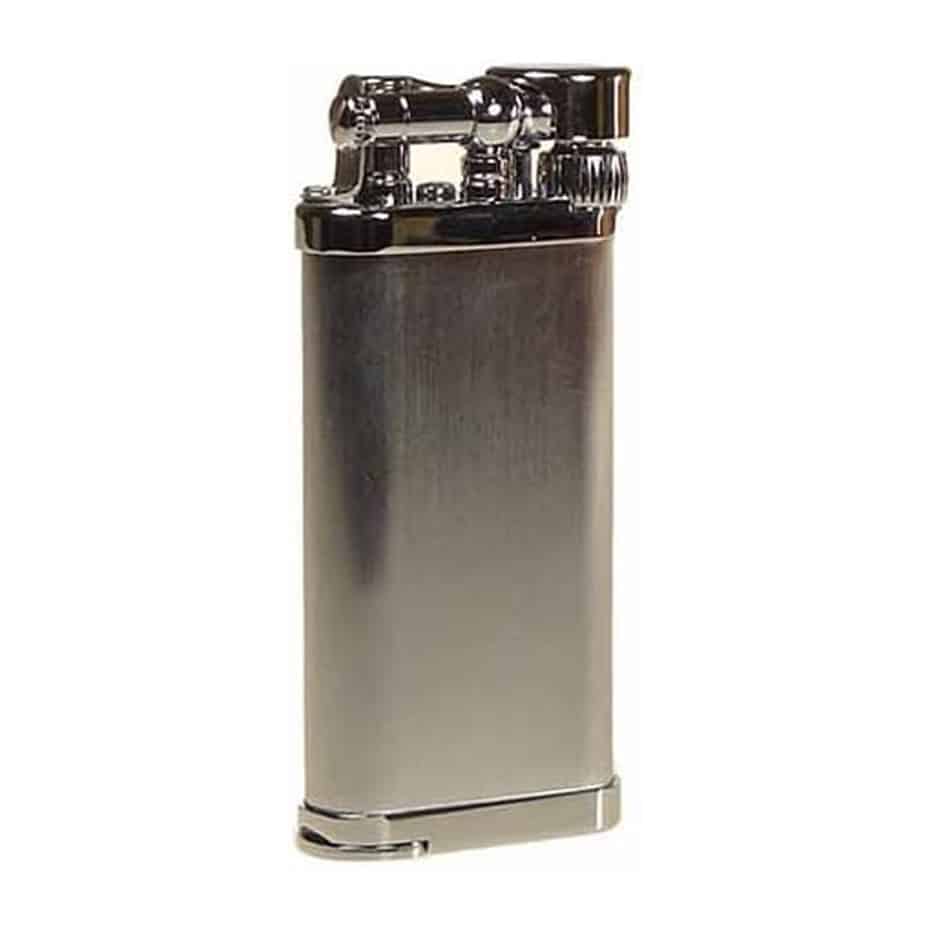 The IM Corona Old Boy, is a sophisticated lighter that boasts a soft yellow flame, providing a gentle yet efficient ignition for your favorite pipe blends. Crafted with precision, it features a flint ignition wheel, ensuring a reliable spark every time you strike.
One of its standout features is the unique ninety-degree angled flame, which allows for effortless and precise lighting of your pipe. Gone are the days of struggling to reach the tobacco evenly; the IM Corona Old Boy makes it a breeze.
Designed with both functionality and convenience in mind, this elegant lighter comes with a built-in pipe tamper. No more fumbling around for a separate tool, it's all within reach, making your pipe smoking experience all the more enjoyable.
To top it all off, the IM Corona Old Boy is proudly made in Japan, a country renowned for its craftsmanship and attention to detail. With this masterpiece in hand, you'll not only elevate your smoking ritual but also add a touch of refinement to your collection.
Indulge yourself or surprise the pipe enthusiast in your life with this exquisite IM Corona Old Boy lighter. Embrace the tradition, embrace the quality, and embrace the joy of a perfectly lit pipe with this exceptional product from Japan.
SKRFIRE Plasma Lighter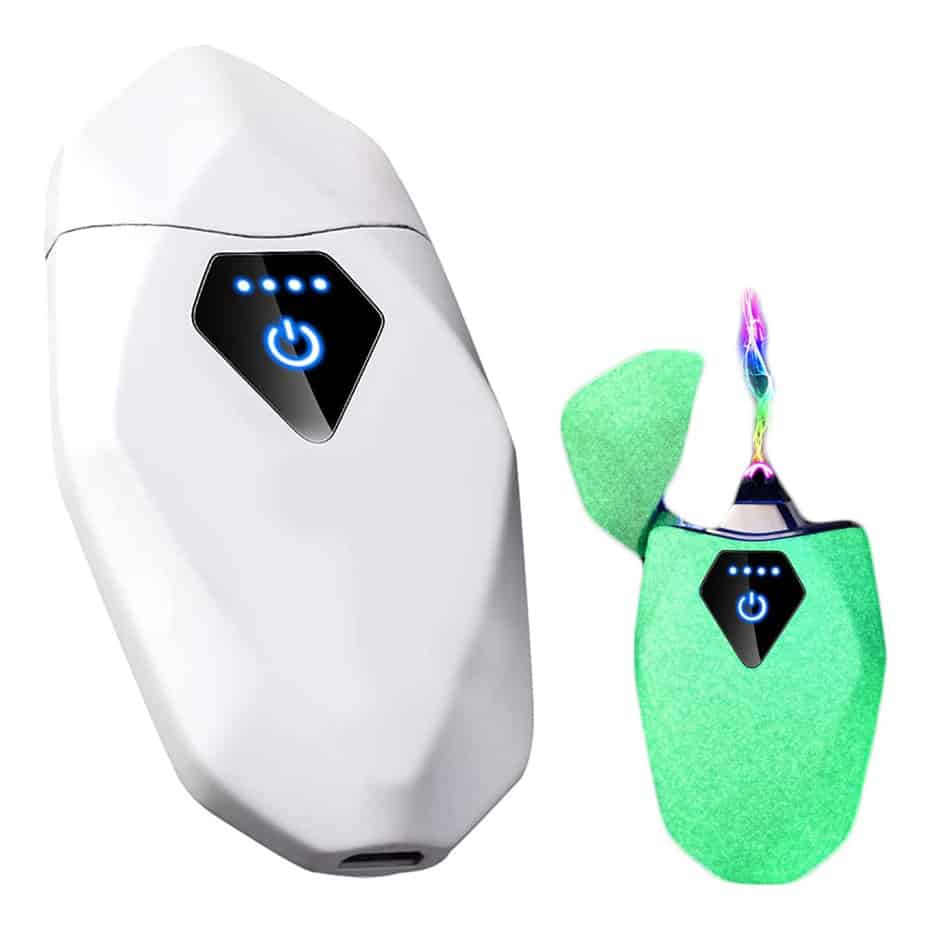 The SKRFIRE Plasma Lighter is a cutting-edge rechargeable USB lighter designed to impress with its sleek and unique gem-like appearance. This lighter is not just a practical tool but also a fashion statement that will make you stand out in any crowd. The touch switch resembles a diamond, adding to its dazzling allure.
Powered by a high-quality lithium polymer battery, this lighter is rechargeable and boasts an impressive lifespan, capable of enduring more than 500 charging cycles. You can easily monitor the battery usage and charging status with the LED battery indicator, ensuring you are always ready to light up.
Equipped with dual electric arcs generated by ionizing air, the SKRFIRE Plasma Lighter offers a windproof solution, guaranteeing quick and stable ignition even in adverse weather conditions. Additionally, its luminous feature makes it exceptionally useful at night, enhancing its usability and appeal.
Crafted using PVD plating technology, the lighter's surface is smooth, delicate, and highly durable, resembling ceramics. This not only adds to its elegance but also ensures it remains wear-resistant for prolonged use.
Perfect for gifting, this exquisite luminous lighter will make an ideal present for family, friends, relatives, and partners.
CHFG Torch Lighter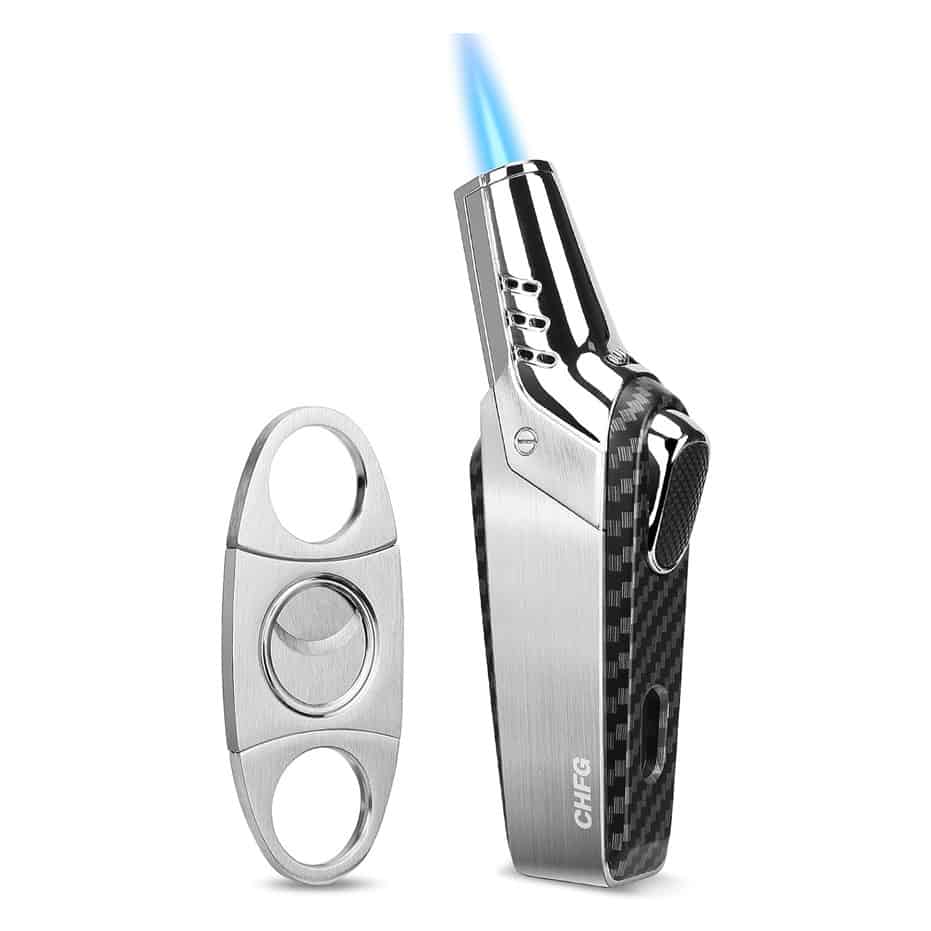 The CHFG Torch Lighter is a perfect blend of durability, power, and safety for your lighting needs. Crafted with a sturdy Zinc Alloy body, these lighters are designed to withstand the test of time. The Copper Butane Lighter Nozzle enhances longevity, ensuring a longer-lasting lighter, while the Cooling Holes and Ceramic Ports effectively dissipate heat, safeguarding it from high temperatures.
Experience the forceful Jet Flame that reaches an impressive maximum of 3 inches at a scorching 2200℉. Thanks to the powerful Direct Injection Design, these lighters perform exceptionally well even on windy days, making them ideal for outdoor use.
Safety is paramount, and the CHFG Torch Lighter comes with a manually opened Safety Switch. This feature prevents accidental ignition when the lighter is stored in your pocket or bag, giving you peace of mind during travel or daily use.
Stay prepared with the convenient Fuel Sight Window, allowing you to monitor the remaining fuel at a glance. This way, you can refill the lighter promptly, knowing that for safety reasons, the gas tank should only be filled up to 85% of its liquid butane capacity.
Refillable and easy to customize, the CHFG Torch Lighter features a Fill Hole at the bottom and a large Flame Knob. You can adjust the flame size effortlessly by turning the Flame Adjustment Knob without the need for any additional tools.
Discover the perfect companion for lighting cigars, cigarettes, and more with the reliable, powerful, and secure CHFG Torch Lighters.
BABOBIU Plasma Lighter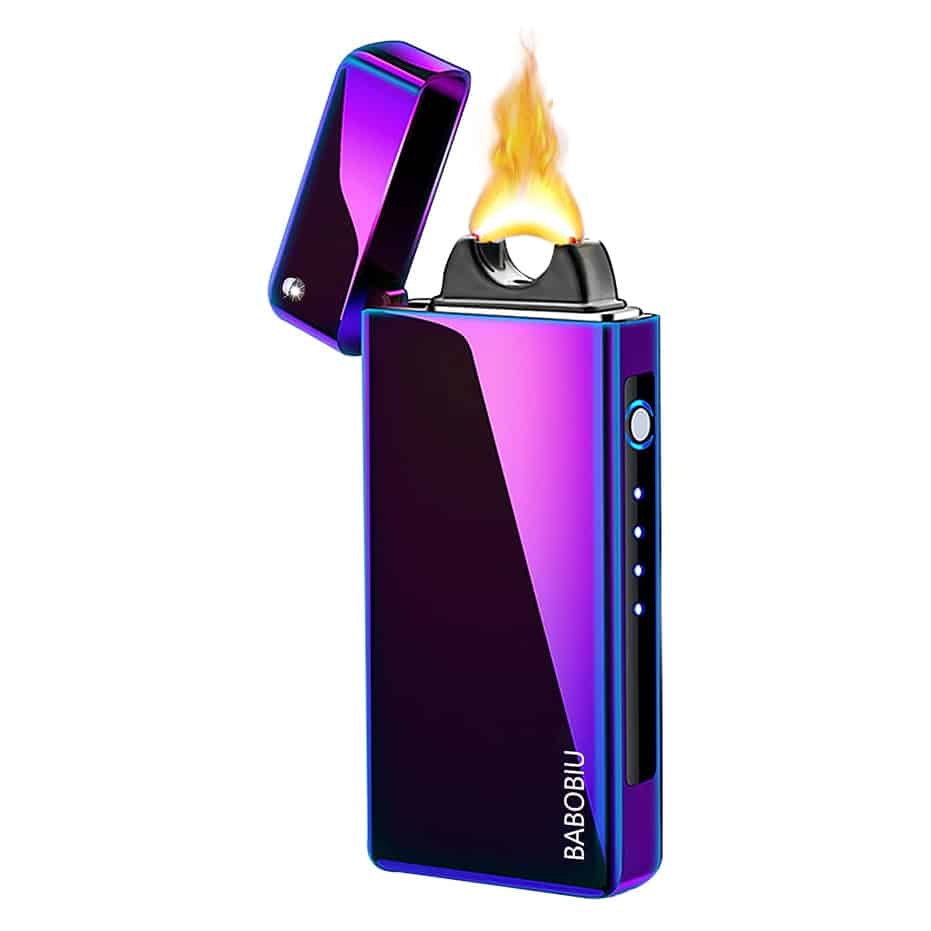 The BABOBIU Plasma Lighter is a cool and magical gadget that will impress you with its unique features. This lighter comes with a special projection stone that can project "I love you" in 100 different languages, allowing you to express your love boldly and romantically in front of your favorite person.
Equipped with a high-power arc, this electric lighter offers fast heating ignition, ensuring quick and efficient lighting of your desired target. The increased heating area enhances stability and minimizes the impact of high winds, making it an indispensable tool for your daily life or outdoor adventures.
Presented in an exquisite gift box, the BABOBIU Plasma Lighter is a perfect gift for your loved ones, relatives, friends, and colleagues. The thoughtful packaging reflects our commitment to quality and aesthetics.
For proper maintenance, it's important to keep the four arc points clean from any foreign objects during daily use. Failure to do so may affect the ignition efficiency and pose safety hazards. If the lighter is not used for an extended period, store it in a dry and cool place, and remember to charge it from time to time to prevent it from becoming unusable.
Our Top Pick for Best Pipe Lighter
Lighters are an essential tool for every pipe smoker, but lighters are not created equal and will not produce the quality of the flame you need. While we like every lighter on our list for different reasons, our top choice is the IM Corona Old Boy.
The IM Corona Old Boy lighter has a design that most people are familiar with, and it's easy to use. We love the windproof screen, and the pipe insert makes lighting a pipe easy.
References
https://www.smokingpipes.com/smokingpipesblog/single.cfm/post/lighter-vs-pipe-lighter-whats-the-difference
https://www.gentlemansgazette.com/cigar-pipe-lighter-guide/
---
Frequently Asked Questions
✓ What's the difference between a pipe lighter and a regular lighter?
Pipe lighters often have a "softer" flame that covers a larger area which essentially heats up the tobacco evenly. Most designs have the flame 🔥 come out of the side of the lighter making it easier to angle it into your pipe without singeing your fingers... we all know how difficult it is to use a lighter when it's upside down.
✓ Can you light a pipe with a Zippo?
With the Zippo pipe lighter you can! The circular cut out on the metal side walls allows the flame to be drawn directly into the pipe without bending over the sides. This means lighting your tobacco evenly without damaging your pipe.
✓ What are the best lighters for your pipe?
Here are the 5 best pipe lighters 🔥 on the market today:
1) Zippo Pipe Lighters
2) Corona Old Boy
3) Lotus Vertigo Puffer Angled Flame
4) Novelty Wares Innovative Flameless Plasma X Beam
5) Foxfires Butane Lighter