A lighter is an essential piece of gear for anyone who smokes a pipe, but any lighter you happen to have on hand won't give your pipe the light it needs. Whether you're looking for a gift for a pipe smoker or you want to upgrade your current pipe lighter, let this review guide you.
In this article, we discuss the importance of pipe lighters and our top picks for the best pipe lighters available this year.
What is a Pipe Lighter?
Wondering if a cheap plastic lighter that you can get from the gas station will work for your pipe? Technically, it's a butane lighter, has a flame, and will light the tobacco in your pipe, but it's not ideal for pipe smoking.
Pipe lighters are typically butane lighters that are specifically designed for pipe smoking. So, what's the difference between a Bic lighter and a pipe lighter? A pipe lighter provides a softer flame that covers a larger area of the tobacco. Some pipe lighters have a design that delivers the flame from the side, so it's easier to angle without burning fingers or to lose flame before your pipe is lit.
Although butane lighters are the most common, plasma lighters are flameless, electronic, and a popular choice among some pipe smokers.
Things to Consider Before Buying a Pipe Lighter
If you've already started shopping around for a pipe lighter, you probably noticed that there are several styles available. Some lighters have a basic design and function while other pipe lighters are loaded with tools. Here are some things to consider before you buy.
Refilling Your Lighter
Running out of fluid is inevitable, and if you buy a nicer pipe lighter, you want to be able to refill it rather than tossing it out. Many tobacco smokers use lighter fluid as their go-to since it's available in larger bottles, but it's best to refill your lighter with butane.
Lighter fluid can affect the taste of your pipe tobacco while butane is tasteless.
Different Styles of Pipe Lighters
The style of pipe lighter you choose can be as unique as the pipe you smoke. While some pipe smokers prefer vintage metal lighters, others like plasma lighters that can be recharged with a USB. There are plenty of modern pipe lighters that have a retro look but work better and are safer to use than vintage lighters.
Do You Need Pipe Tools?
Many pipe smokers have a toolset for cutting and tamping tobacco, but it can be inconvenient to carry around. There are several pipe lighters on the market that come with tools built-in to the lighter, kind of like a Swiss Army knife.
Even though a lighter with extras isn't a necessity, it might be nice to have on hand when smoking with friends or at a social event.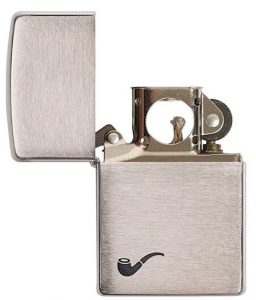 Zippo lighters are iconic and a popular lighter among people who don't even smoke. Nearly everyone who's familiar with a Zippo knows the "click." The Zippo Pipe Lighter has virtually the same design as other Zippo windproof lighters, but the feature that makes it ideal for pipe smokers is the pipe insert.
When you turn the Zippo to light your pipe, the insert continues to protect the soft flame from blowing out. The unique design will also protect the bowl of your pipe from too aggressive of a flame. As with all types of Zippo lighters, there are a variety of designs and finishes to choose from.
A durable design
The pipe insert works in any standard Zippo lighter
Consistently lights at an angle
Windproof screen
Soft flame for broad distribution
Some users complain of pipe insert design flaw
Outer design and decals come off easily
Some users have issues with lighter staying lit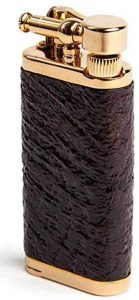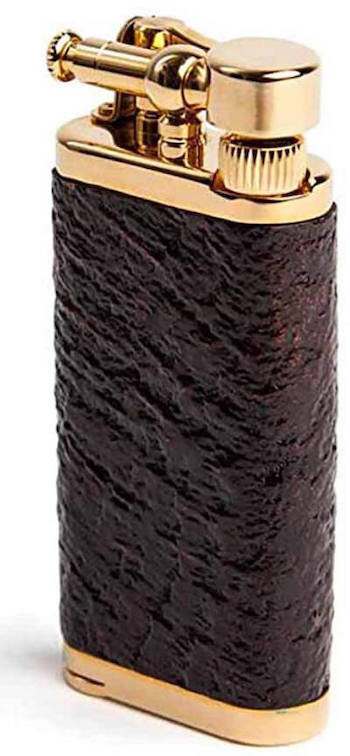 If you're looking for a pipe lighter that looks sophisticated, lights your pipe, and may even spark up a conversation, the IM Corona Old Boy Pipe Lighter is an excellent option. The outside of the lighter is sandblasted briarwood, and the metal parts have a gold plate finish.
The butane flame comes out at a 90-degree angle to ensure a quick and easier light with your pipe.
The Corona Old Boy also comes with a built-in tamper and poker.
Lightweight and durable
A statement piece that functions well
Angled flame ideal for lighting pipes
Authentic and new lighters come with a warranty
Consistently lights
Need to replace flint regularly
Some users think it's hard to use with one hand
Costs more than most pipe lighters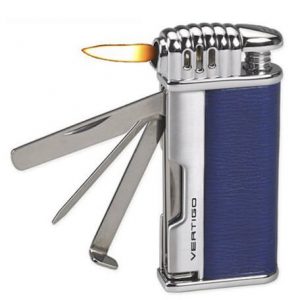 If you're looking for a pipe lighter with built-in tools so that you're always prepared, even when on the go? The Lotus Vertigo Puffer Angled Flame Pipe Lighter comes with a built-in tamper, scraper, and spike to keep your pipe clean.
The metal lighter is covered with faux leather for a sophisticated look and to add a little extra grip when using your lighter. It's easy to refill your lighter with your preferred fuel, and the 90-degree flame lights your pipe better than any standard lighter on the market.
Clean and simple design
Built-in tools
90-degree flame
Easy to refill
A budget-friendly option for sophisticated tast
Outer covering may peel off over time
Built-in tools may be difficult to clean
The flame is not adjustabl
Since plasma lighters are becoming increasingly popular, we had to put a few on our list. When looking for a plasma lighter for your pipe, it's important to find one that's angled. Some are better designed for lighting cigarettes.
The Novelty Wares Plasma X Beam Lighter is rechargeable, has a double arc, and comes with a USB charging cable. You can tip the lighter upside to light your pipe and not worry about damaging the bowl with an aggressive flame or whether or not you can light your pipe in the wind. Like other plasma lighters, the Novelty Wares lighters are windproof, flameless, and butane free.
No flames
Works at any angle
Quick to recharge
Attractive design
Comes with a USB charging cable
Some users complain of weak and inconsistent arcs
Needs frequent charging
Can burn user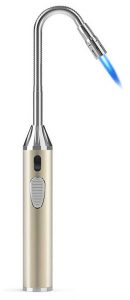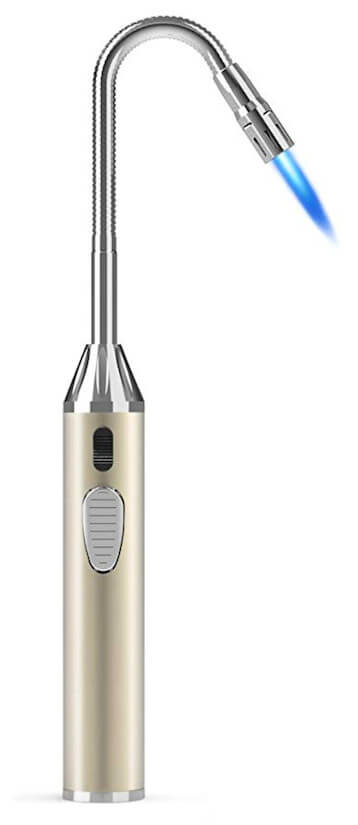 While the Foxfires Butane Lighter may not be the most attractive pipe lighter on the market, it's got the right angle for lighting your pipe quickly and consistently. The butane lighter has a long neck that's flexible, and you can bend to any angle to make lighting your pipe easy and convenient.
The lighter is easy to refill, adjust, and use with one hand. It's also an excellent lighter to have on hand if you're looking for a multi-purpose lighter that's not just for pipe smoking.
Flexible head for various angles
Lightweight
Easy to use and adjust
You can control the size of the flame
Uses butane
Not a "classy" lighter
Goes through a lot of butane
Some users had issues with inconsistent flame
Our Top Pick for Best Pipe Lighter
Lighters are an essential tool for every pipe smoker, but lighters are not created equal and will not produce the quality of the flame you need. While we like every lighter on our list for different reasons, our top choice is the Zippo Pipe Lighter.
The Zippo lighter has a design that most people are familiar with, and it's easy to use. We love the windproof screen, and the pipe insert makes lighting a pipe easy. Even though the decals and designs are likely to wear off over time, we still think the Zippo is a durable and reliable option.
Frequently Asked Questions
What pipe lighter should i buy?
Xikar. Lifetime no questions asked warranty and you can get the Scribe soft flame for ~$35.
Why hold a lighter to my meth pipe when i can use a candle?
You can always use the candle to light your lighter. It saves your thumb from flicking your Bic like a horny monkey with a dick.
You got a good pipe lighter but what about good butane fuel?
Xikar butane works well.
Pipe lighter won't spark often?
Is it a flint or piezoelectric lighter?
Do you prefer lighting your pipe with a pipe lighter or fine matches?
Depends. If I'm smoking somewhere with no wind, I'll use matches. But with any wind at all I'll switch to a bic out of immediate frustration.