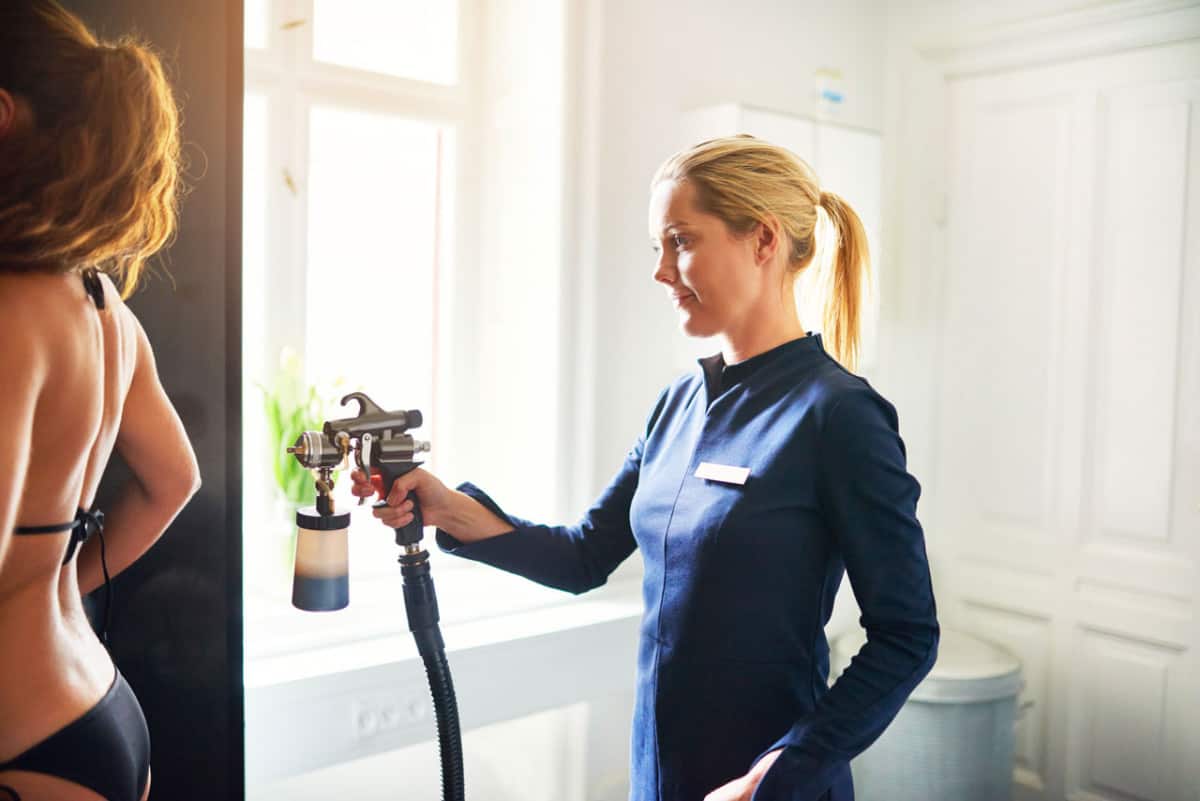 Want to add a little healthy-looking color to your skin without risking a sunburn? A spray tan is an easy and convenient way to get a tan without spending time in tanning beds or laying out and exposing yourself to potentially harmful UV rays.
Many salons and spas offer spray tans as part of their services, but you can get a spray tan in the privacy of your own home. We review some of the best spray tan solutions on the market right now, so you can confidently choose a spray that works for you.
What's the Difference Between Self-Tanners and Spray Tan Solution?
If you've been considering a sunless tan, you might be curious about the differences between spray tan solution and self-tanners. Although spray tan solution and self-tanners have similar results, one of the biggest differences is the application process.
Both self-tanners and spray tan solutions can last anywhere from a few days to up to around ten days. The longevity of either sunless tanning method depends on a variety of factors such as your skin, the quality of the self-tanning solution, and how well you maintain your tan after the process.
Self-tanners are typically available in a spray and easy to find in any health and beauty aisle. If you are looking for a sunless tan solution that's easy to use and only want to apply to small areas of your body, such as your arms or legs, a self tanner spray is an excellent option.
Many people choose self tanner spray because it's more affordable, easy to apply, and has decent coverage.
To use spray tan solution, you need a spray tan applicator to apply it evenly to your body. Although an applicator, which is similar to an airbrush gun, is an additional investment, it might be more cost-effective in the long run. Spray tan solutions are the best option for a high-quality, full-body sunless tan.
Buying your own spray tan solution and gear can save you frequent and costly trips to the salon, but one downside is that you need to know how to apply the solution.
If you want full-body coverage, which includes your back or the back of your arms and legs, applying spray tan requires another person.
In this review, we showcase spray tan solutions but will also discuss a few of our favorite self-tanners to ensure you have options.
Benefits of Spray Tan Solution
Spray tan solution is often an investment that some are hesitant to make, but here are a few more benefits to consider:
Safer than tanning beds or laying out in the sun
Lasts more than a week when applied correctly
No risk of burning skin
You can customize your shade
Give yourself a tan in the privacy of your own home
Today's spray tan solutions look more natural
Ready to give spray tans a try? Check out our top picks for the best spray tan solution on the market right now.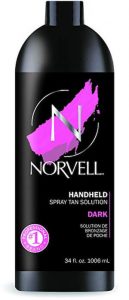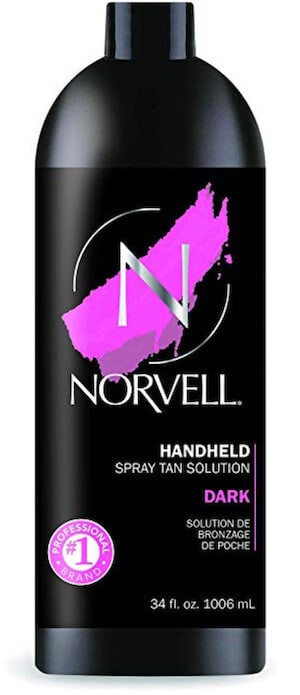 Norvell Premium Sunless Tanning Solution is a professional grade spray tan solution that is available in a variety of shades that are ideal for specific skin tones. The Clear solution contains no cosmetic bronzers and is an excellent option for light to medium skin tones.
The variety of shades, which also includes Dark, Venetian, Venetian One, Venetian Plus, and Double Dark, will ensure that your sunless tan looks natural.
The Norvell solution is available in various sizes, and the smallest is 8-ounces, so you can test out a color or the product without spending too much. It's important to note that the solution is only good for about seven months, and you need to use an airbrush applicator or other spray tan methods to apply the solution.
Lightly scented
No parabens, sulphates, or phthalates
Doesn't have an orange tone
Works with most spray tan machines
Rapid one-hour formula
Short shelf life
The solution may come off and streak
Some users had "orange" results despite company claims


SJOLIE Sunless has a variety of tanning solutions. Ultra One is a rapid one-hour solution, No. 6 is for fair skin tones, No. 9 is for medium, and No. 12 is for darker tones.
SJOLIE tanning solution is for High/Low Volume Sprayers only (HVLP), but some users have success by putting the solution in a spray bottle and using a tanning mitt. Although SJOLIE has a rapid one-hour solution, the other tanning solutions may take up to eight hours for results to show.
The tanning is vegan and all-natural containing ingredients like aloe vera, deionized water, vitamin C, walnut extract, and natural dihydroxyacetone (which gives you color) from sugar cane and sugar beets.
All-natural formula
Minimal scent
Variety of shades
No orange tones
Even coverage that doesn't "soak" into skin imperfections
May cause skin irritation
The tanning solution is runny
Sticky feeling on the skin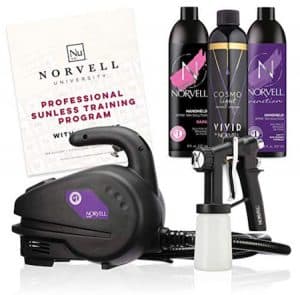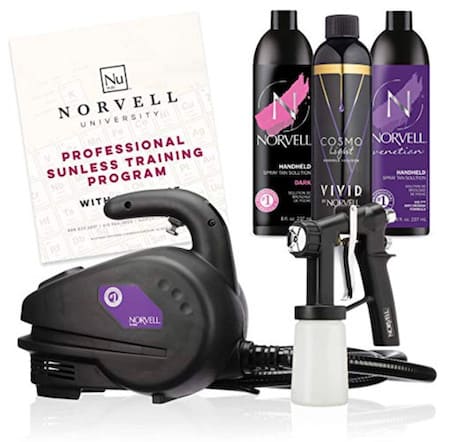 If you're applying spray tan solution for the first time on your own, you might be looking for a complete sunless spray tan kit that includes a sprayer. The Norvell Sunless Kit includes an HVLP sprayer and Norvell solutions in various shades.
The tanning solutions come in 8-ounces bottles, which makes the Norvell Sunless Kit a great "starter kit" for anyone who wants to try out different shades.
The sprayer is lightweight and portable, has an adjustable spray pattern, a standard 110v plug, and designed to have minimal overspray. If you run out of Norvell solution or find a sunless spray tan solution you like better, you can use it in the sprayer.
Kit includes sprayer and solutions
The sprayer is easy to use
Professional-looking sunless tan
Even coverage
The ideal sprayer for beginners
May take several tries before you get desired results
Sprayer is messy
Only small bottles of tanning solutions included

If a sunless spray tan solution sprayer is not in your budget, St. Tropez is a top-rated self-tanning solution that is easy to apply and is available as a body mousse. For best results, apply the vegan-friendly self-tanner with an applicator mitt. Similar to other sunless spray tan solutions, St. Tropez dries quickly and may take up to eight hours for full results.
St. Tropez is an excellent option for all skin tones. Keep in mind that the color will vary based on factors such as how much self-tanner you apply and the after care. Like other spray tan solutions, the bronzing mousse may last up to ten days.
No need for HVLP sprayer
Easy to use and apply to skin
Natural-looking tan solution
Applies evenly
The shade is ideal for all skin types
Even coverage is difficult without a mitt
The warm tone may require adjusting your makeup to look more natural
It takes about five minutes to dry

Applying a self-tanner to your face is often challenging, so many people end up applying makeup in hopes that it will match the tan on your body. Golden Star Beauty Self Tanner is designed specifically for your face and has natural-looking results.
The tanning serum contains natural and organic ingredients, such as rosehip, jojoba, avocado, and evening primrose oils, that are beneficial to the delicate skin on your face. Golden Star Beauty tanning serum also contains aloe, hyaluronic acid, and vitamin B5.
Easy to apply to face
Ingredients that are gentle for delicate skin
Vegan-friendly
Moisturizing and doesn't clog pores
Natural medium tone
Does not contain sunscreen
Can irritate skin
Some users say it looks orange
Top Choice for Best Spray Tan Solution
With dozens of self-tanning spray solutions on the market, it's difficult to know which one works and feels the best with professional-looking results. Our top choice for the best spray tan solution is Norvell Premium Sunless Tanning.
Not only do we love it for its all-natural formula, but that it's also available in small sizes and in a variety of shades.
If you don't have an HVLP sprayer, St. Tropez is our favorite alternative for getting a natural and professional looking sunless tan.
Frequently Asked Questions
To spray or not to spray tan?
If you don't have time for a trial, I think it's too risky. Being pale is 100x better than looking orange. I've seen some very bad fake tans at weddings and I personally think it is a lot worse than being pale (especially because pale is beautiful!).
How many of you providers spray tan or go tanning?
I think tanning is more of a personal thing, as your under the black lights. But whatever makes you feel most confident :)