Updated on August 5th, 2021
The Best Mattress Topper For Back Pain & Comfort In 2021

Buying a new mattress can be expensive, but what if your existing mattress hasn't quite reached its end life, yet it's starting to fail to provide the right support that could even be contributing to your existing back & hip pain?
You might feel caught in the middle, having to dish out big bucks buying a new mattress or compromising your sleep for a little longer until your existing mattress has reached a condition that justifies throwing it out.
That's where mattress toppers come in as a good investment. They come in various measurements (both in area and thickness), material types and support, making it easy to find one that fits over your specific bed size and needs.
What Is A Mattress Topper & What Is It Used For?
Essentially a topper is a type of "pad" whereby adding an extra layer to your mattress for an instant change in the characteristics and feel of the existing mattress.
If your mattress is now too soft for your needs, you can make it harder. Likewise, if a mattress is hard, you can make it softer. Even if your mattress is collapsing slightly in one or several areas, a mattress topper can even it out… although that will depend on how much it is collapsing.
To put it crudely, a topper mattress can be seen as a fantastic "patch up" job that ultimately saves you money! In fact, it could be your existing mattress that's causing your back aches… with a topper being the perfect assistant to removing pressure points.
Our Selection of Mattress Pads
PlushBeds Natural Latex Toppers
Produced from Talalay latex, a natural latex compound extracted from the rubber tree and processed using natural biodegradable ingredients (hypoallergenic material).
This topper delivers unique buoyant qualities that relaxes muscles and relieves tensions, it's no wonder it's a popular product.
Sleep Innovations 4″ Dual Layer Gel Memory Foam
This 4″ thick King-Size topper offers both support and comfort along with maximum cooling thanks to the gel.
Also included, a pillow-top layer for added softness and pressure relief. Sleep Innovations is so confident in their product they offer a 10-year limited warranty.
ViscoSoft 4″ Top Gel Memory Foam Topper
An other 4″ topper mattress containing dual layers. Has plenty of support while also feeling soft to the touch thanks to the foam.
Speaking of foam, the gel, like other mattresses, is specifically designed to keep even the most hottest of sleepers cool throughout the night.
Why Should You Buy A Mattress Topper For Your Bad Back Region?
Here are three reasons why picking a mattress topper for your bad back is a good idea. It's worth noting these advantages only apply if you pick the right topper and that very much depends on the 'type' of sleeper you are.
Likelihood Of Back Pain At Some Point In Life?
With 80% of us experiencing some form of back pain at least once in our life time (assisted by many external factors) it becomes more apparent the importance of discovering ways to preserve our back region.
There are many things we can do during our awaken day to assist with this, but considering we spend 1/3 of our lives sleeping, it also makes sense if something can be done during this period (such as finding the right mattress / topper).
Here are a few contributing factors that may cause discomfort to your back, much of which are a result to modern lifestyle.
How To Pick A Topper For Back Problems
Your requirements depends on your sleeping position preference, where your back pain is and the characteristics of the mattress topper.
Let's look at factors to consider before making a decision!
Did You Know?
A case study was conducted to see if changes in back pain, sleep quality, and perceived stress was reduced after introducing a new bedding system.

Significant improvements were made in each case!
Surface firmness
Personal preference doesn't necessarily translate to what's good for your back. It's unlikely having a soft surface to sleep on will help support your spine and may even worsen the pain over time (even if it is comfortable to sleep on).
If you read a little further down on the correlation between sleeping positions and mattress firmness, you'll see that a soft surface, more often than not, will not do your back any good.
Determining the level of firmness that suits you, will depend on your sleeping position, the material of mattress and its density.
Material type
Quality of a material equates to durability, which usually means cheaper in the long run. However, quality can mean a lot more than retaining its characteristics over long periods of time.
We spend approximately 1/3 of our lives sleeping, so the environment around our bed is not something to ignore. Good quality mattresses and toppers will consider the health of individuals and certify no dangerous chemicals are used, are hypo-allergenic AND use natural ingredients that are not harmful to the environment.
Size & fit
Don't spend all your time souring the perfect topper for your needs, only to find your forgot to check sizes!
Toppers come in a variety of sizes, so sourcing one to fit your bed shouldn't be too difficult. Having said that, if it's possible to source a brand of topper that matches your mattress brand, then that will ensure a perfect fit and peace of mind when making your purchase (especially when ordering online).
Good manufactures will make it easy for you to source mattress sizes on their website, with clear instructions. They also want you to get it right the first time to make your buying experience as simple and comfortable as possible.
Plushbeds' mattress chart clearly marks out topper sizes.
How Sleeping Positions Can Influence Back Pain
Did you know determining the ideal firmness of your mattress pad depends on the "type" of sleeper you are?
Picking the wrong firmness can interfere with weight distribution and add pressure points to various parts of the body. This can cause or promote joint & back pains and even disturb spinal alignment which is far from pleasant. So let's dig a little deeper to see why that is by comparing the three types of sleepers.
For Stomach Sleepers
If you are naturally sleep on your stomach, then the firmer design is ideal for you. This is because the mattress support prevents the sleeper's stomach from sinking in too deeply into the topper and causing discomfort.

For Back Sleepers
Sleepers who prefer laying on their backs tend to prefer the medium topper as it offers support on the back due to the curvature in your back. The firm mattress will offer less support along certain points of the back which is why a little sinking is needed, but not too much though.

For Side Sleepers
Side sleepers have less body surface area in contact with the mattress. If the topper is too hard, then digging into shoulder, hip & knee will take place. These parts of the body need to sink in enough to allow support by other parts of the body… hence a softer mattress.

Without further ado, let's take a look at our recommended premium mattress pads that offer excellent support and cooling properties that should assist with back pain relief and provide a good night's sleep.
---
Talalay latex is what PlushBeds use for their toppers and this type of latex is been called "earth's most perfect sleep material". It's a natural latex compound extracted from the rubber tree and processed using natural biodegradable ingredients (hypoallergenic material). Combine this with latex delivering unique buoyant qualities that relaxes muscles and relieves tensions in joints, it's no wonder it's a popular product.
PlushBeds natural latex toppers – 100% organically pure & cool
This is not the same type of product manufactured using synthetic latex (from petrochemicals) which have a limited life span.
So if you're not ready to purchase a complete latex mattress, this alternative will not only save you money but will last a lot longer than the synthetic alternatives out there.
PlushBeds' Certifications

Certified Organic Latex

Certified Organic Cotton

Certified Organic Wool

USDA Organic

GreenGuard Gold Cert.

OEKO-TEX Certified

Eco Institute Certified

Control Union Certified

CertiPUR-US Certified Foam

Arpico Certified Organic Latex
PlushBeds' Environmental Efforts
Why We Rate PlushBeds Natural Latex Toppers
PlushBeds only have a 6 month period in a year to harvest the latex in its pure state as they comply with regulations that do not allow trees to be cut during summer and rainy seasons. As mentioned they use the talalay process which is more consistent at removing weaker air bubbles that helps with improved pressure relief due to the latex contouring your body more evenly.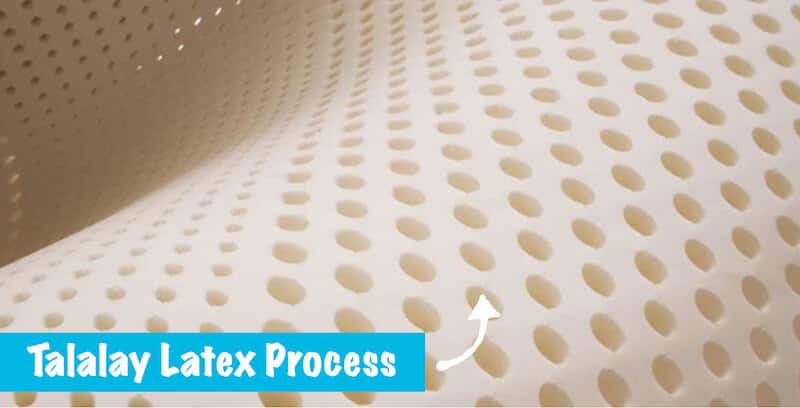 As a result an organically pure topper pad is manufactured free from bleach, pesticides, chemical dyes & toxic adhesives… all the while maintaining its elasticity for unsurpassed full body support.
Added to this, is the topper's durability which has an estimated 20 year lifespan!
Resists deterioration and has a life span of 20 years
Support Environmental Efforts With Your Purchase
We all needs a mattress of some sorts, so why not source one that was manufactured taking quality, purity (matched by less than 1% of manufacturers) and the environment into consideration?
Say goodbye to chemical-filled sagging foams, and say hello to luxurious, organic sleep for you & your family.

PlushBeds Natural Latex Topper
Here are a further 8 additional benefits for purchasing PlushBeds organic latex mattress pads
1. Made In The USA
PlushBeds toppers are made in the USA, ensuring product quality standards both in the manufacturing and distribution process.
2. Pressure Relief
Improved body weight distribution using their airflow design. This reduces pressure points and supports different parts of the body.
3. Pure Latex Foam
No fillers or toxic additives. Does not emit harmful gasses or odors & is manufactured with the highest quality talalay latex.
4. Free Of Odors
Fresh Foam Technology along with using pure latex makes PlushBeds toppers practically odor free.
5. Built To Last
Synthetic latex made from petrochemicals tend to discolour, lose shape, sag and break down. It's a good thing PlushBed's toppers are natural
6. Ventilation Cooling
Thousands of ventilation holes allow air to freely flow, drawing heat away from the body for a cool night's sleep.
7. Hypo-Allergenic
PlushBeds latex pads are hypo-allergenic, anti-microbial, dust mite resistant and mildew resistant
(great for allergy sufferers).
8. Shipping & Delivery
Product arrives conveniently at your door. Machine compression, allows pads to decompress rapidly once packaging is opened
---
Yet an other topper that is manufactured in the U.S. to ensure comfort, quality, durability and more importantly, pressure relieving back support.
With the goal to combine firmness for body support and softness to the feel, Sleep Innovations created a two layered system.
The mattress topper is a total of 4″ thick (as the name suggests) and is made up of two inches of soft quilted filler and two inches of cooling gel memory foam, which provides support and cooling while you sleep.
Key Features: ↓
One important distinction about this product is one that I think will please many. It has a removable snug-fit cover that not only protects your dual layered topper, but also holds it in place so it does not move while it rests on top of your existing mattress. Not only that, the cover is both washer and dryer safe, for quick and easy cleaning!
---
ViscoSoft focused their attention on a design that provides a combination of firmness and a soft feel.
Their Serene dual layer option comprises of 2.5″ of temperature neutral memory foam gel and 1.5″ fluffy pillow top cover which acts as a pressure reliever.
The firmness is designed to support the body and relieve the spine, hips, shoulders and other bodily pains. While the comfy pillow top is designed to conform to the body and fit like a glove to provide a soft and comfortable feel.
Key Features: ↓
---
Other Benefits Mattress Toppers Can Provide?
Rectifying your back pain or at least finding a means to prevent it from getting worse is likely the most important factor when choosing a mattress topper. However, that doesn't stop you from finding a product that includes other benefit to further increase your quality of sleep… especially if you are sharing your mattress with someone else.
Cooler Night Sleeps
Many toppers are designed to channel heat away rather than act as an insulator giving you a nice comfortable sleep (as opposed to a sweaty one).
For example, some memory foams are made from open cell visco elastic structure to repel the heat and for latex toppers, this is can be achieved by having thousands of ventilation holes to promote air flow for a cooling temperature effect, which ultimately improves sleep quality.
Isolating Motion Transfer
Who likes to be disturbed while sleeping? If your partner moves a lot in their sleep, or they get up often to go to the toilet in the middle of the night, then a mattress topper might be for you. Properties for isolating motion will provide you and your partner with a great night's sleep.
Affordability (Mattresses Are Expensive)
Mattresses can be expensive to replace. However an affordable alternative (particularly if suffering from back pain) would be purchasing a mattress topper for a fraction of the cost. Your existing mattress is likely sagging by now and adding an extra layer to it can provide that extra support your need!
Supportive & Conforming Properties
Most topper mattresses offer a variety of thickness, sizes, as well as different materials and densities that shape your body for solid cushioning and ultimate comfort.
Frequently Asked Questions
✓ I have a medium firmness mattress and would like it firmer, can I manage this with a topper?
If your mattress no longer suits your requirements due to its age or maybe your preference has changed, you can use a topper to change its characteristics. PlushBeds have a variety of sizes, thicknesses and firmnesses, so it would be a question of ordering the one to your liking.
✓ How thick should a mattress topper be for back pain?
Most mattress toppers range from 2" to 4" inches thick. Generally, if your back pain is on the higher end, you'd want to go with something like 4" thick. This has more support and ultimately is better at relieving pressure points. If that doesn't work, it might be time to invest in a new mattress altogether.
✓ I want a latex topper for support but I am worried it will sleep too warm?
Latex toppers respond quickly while being gentle to your movements and act as a great pressure relief while supporting your body. Some latex toppers can sleep cooler than others because they are air infused to allow for a cooler sleeping surface.
✓ How do I know if my mattress is causing me back pain?
Even if you acquired your back pain elsewhere, the wrong mattress can further promote the pain by adding pressure to the region. Look out for these tell-tale signs:

1. Feeling stiff when waking up in the mornings.
2. Feeling of your mattress swallowing you up.
3. Your mattress is ageing and ultimately losing support.
4. You wake up often during the night.
5. Always feeling tired even though you feel you slept enough.