The convenience of cordless vacuums are attracting people to make the switch from corded.
I have recently created an article about how technological advancement provide great solution but also come with caveats. Just like how water filter vacuum cleaners have advantages and disadvantages vs hepa vacuums.
The same is true for cordless vacuum cleaners and their run-times. Batteries can deplete in less than one hour, especially with a high demanding machine such as a vacuum cleaner. The time will vary depending on whether you are vacuuming hardwood floors or a carpet for example.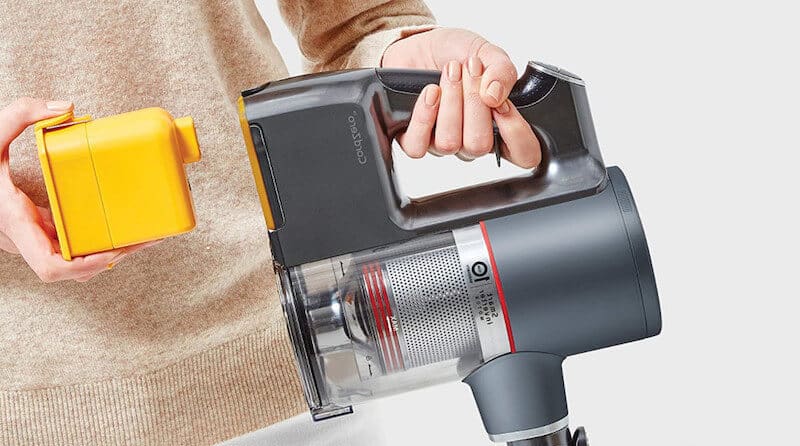 However, technology is advancing and cordless machines can last up to 60mins of run time, which might be sufficient for the average size home.
Quick answer
Most cordless vacuums come with 2 batteries because the average duration is around 1 hour. This way you can use one while the other is getting charged.
The Issue With Manufacturers' Battery Run Time Data
The issue is, manufacturers' run time figures may feel misleading to consumers as tests are design in a manner to make the vacuum last longer.
For example, the vacuum cleaner will likely be set on "eco mode" and run on a smooth surface, such as hardwood to allow air to flow easily without excessive use of the roller brush, in order to prolong run times.
Or with stick cleaners that are detachable to become portable hand-held vacuums. They can be run in hand-held mode where less suction power is need to suck debris (no long shaft for debris to travel up) which conserve energy consumption, but the performance reduces around 30%.
Batteries have to be disposed and replaced with a new one every 7 years approximately. This is also the average lifespan of a vacuum cleaner, so you might as well purchase a whole new set.
You have to consider that a cordless vacuum cleaner tends to be twice as expensive if you compare it with a regular model that provides the same performance.
This is not to say manufactures are being deceptive as data on the best performance of the vacuum cleaner is being provided. However, that information doesn't necessarily translate to consumers expectations of run-times.
The Solution To Greater Battery Life
A little research on the machine you want and its run time is imperative. I've composed a database on the most popular vacuum cleaners and their run times that might come in handy.
However, as explained, even then it's hard to compare these figures directly due to the different ways manufacturers test their machines.
So what is the solution to ensure you get a machine that will hold enough power to cover your entire home (especially a big home)?
Answer: Purchase a unit that provides two batteries as stand!
Manufactures recognize consumers expect long lasting running machines and even though battery technology advances rapidly, it may still be falling sort!
This is where a second power unit comes in handy and why I've spent a good deal of time creating this database of popular vacuum cleaners that provide a second battery as standard for longer lasting cleaning!
Popular Cordless Vacuum Cleaners With 2 Batteries As Standard
So here is the list of a choice of vacuum cleaning machines that come with two power units as standard to elongate your cleaning time and make sure your task isn't left half finished due to a dead machine.
Vacuum model
# of batteries
Run time (per battery)
BLACK + DECKER Extreme

2

78mins

Bosch Unlimited Series 6

2

30mins

DYSON Outsize Absolute

2

60mins

DYSON V11 Outsize

2

60mins

HomeVac S11 Infinity

2

40mins

Hoover H-FREE 500

2

40mins

Hoover ONEPWR Evolve

[aff. link]

2

35mins

HVB160 Henry cordless

2

60mins

INSE S6P Cordless

2

40mins

LG Cordzero A9

2

40mins

MIELE Triflex HX1 Pro

2

60mins

Numatic RSB150NX RucSac

2

80mins

Shark Anti Hair Wrap

2

40mins

Shark DuoClean

2

44mins

Shark ION F80

2

40mins

SHARK IZ251

2

40mins

SHARK WandVac WV362UKT

2

16mins

Vax ONEPWR Blade 3

2

40mins

Vax ONEPWR Blade 4

2

45mins
Author's Closing Thoughts
It's clear that cordless is the future. More people are heading in that direction seeking portability and ridding of that pesky cord that's not only a trip hazard, but always finds a way of resting right in front of your vacuum path.
If every in doubt about the potential run times of cordless vacuums, then the solution is to source one with twin batteries as standard and double the vacuum time.
Simply have one fully charged, ready for swapping over once the other dies. Rinse and repeat and you should never be caught out with a half finished room!
References
https://www.abt.com/learn/cordless-vs-corded-vacuum
https://www.cnet.com/home/kitchen-and-household/best-cordless-vacuum/